Top 10 Games for Saint Patrick's Day
A shamrock-stacked bonanza, Irish holiday St. Patrick's Day is most famous for its kooky connections to leprechauns, pots of gold, and rainbow-related fun.
But much more importantly than that, it's a useful excuse for cramming some vaguely-topical activities into a few of your mid-March classes.
So in this blog post, we've rifled through our massive collection of over 1 million educational games, and carefully curated a list of our ten favorite St. Patrick's Day activities.
Expect some luck-based fun, a few enigmatic anagrams, and lots of challenging trivia. May the luck of the Irish be with you!
---
1. Are They Irish?
by nikola.grablova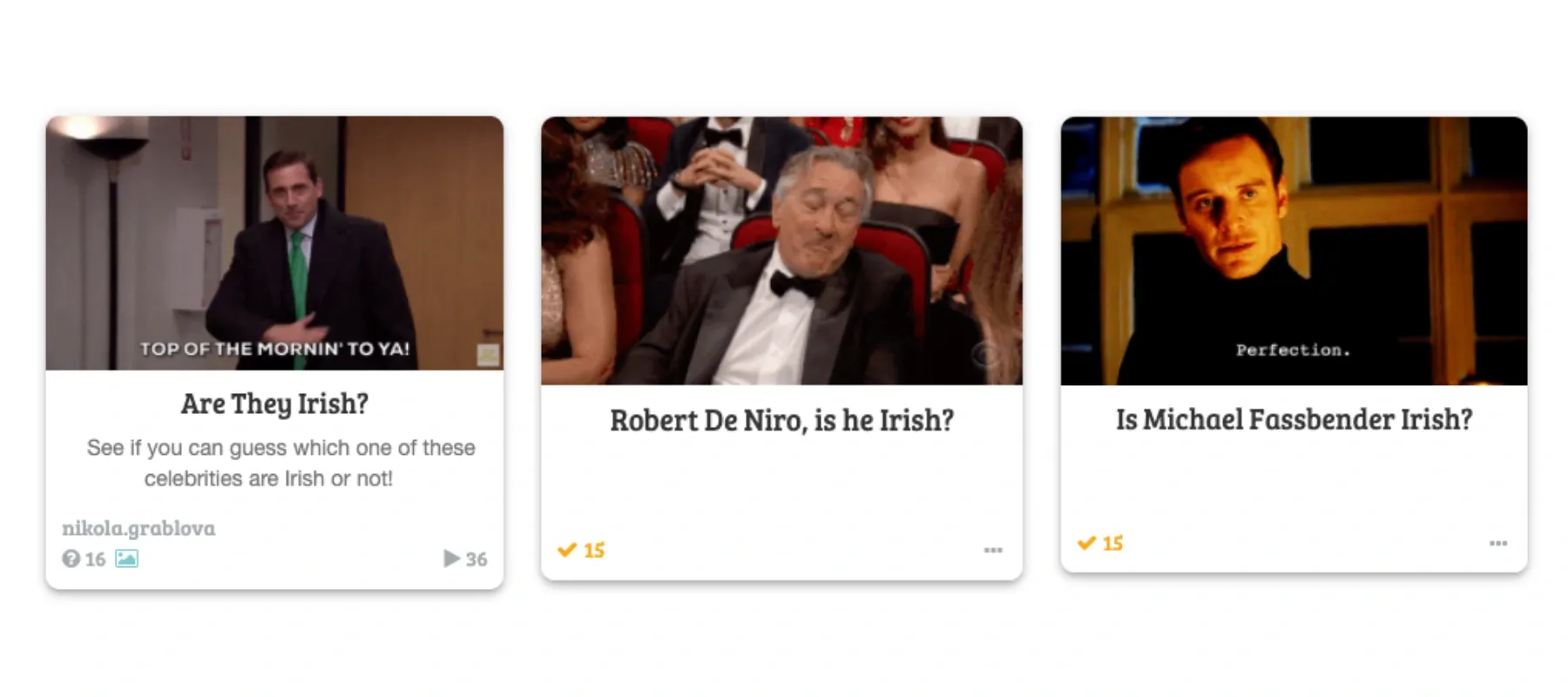 Is Emma Watson Irish? What about Tom Holland? If you squint hard enough and tilt your head a little, is there maybe even an outside chance that Justin Bieber has a mild Celtic tinge?
In this identity-challenged game, students guess who's Irish, who isn't, and who just looks like they might be.
Helps with: Celebrity chats, warming up your students, and a speedy and simple activity
Best for: Grades 7+
Baam-Link: Play now!
---
2. Are You Lucky?
by whitters111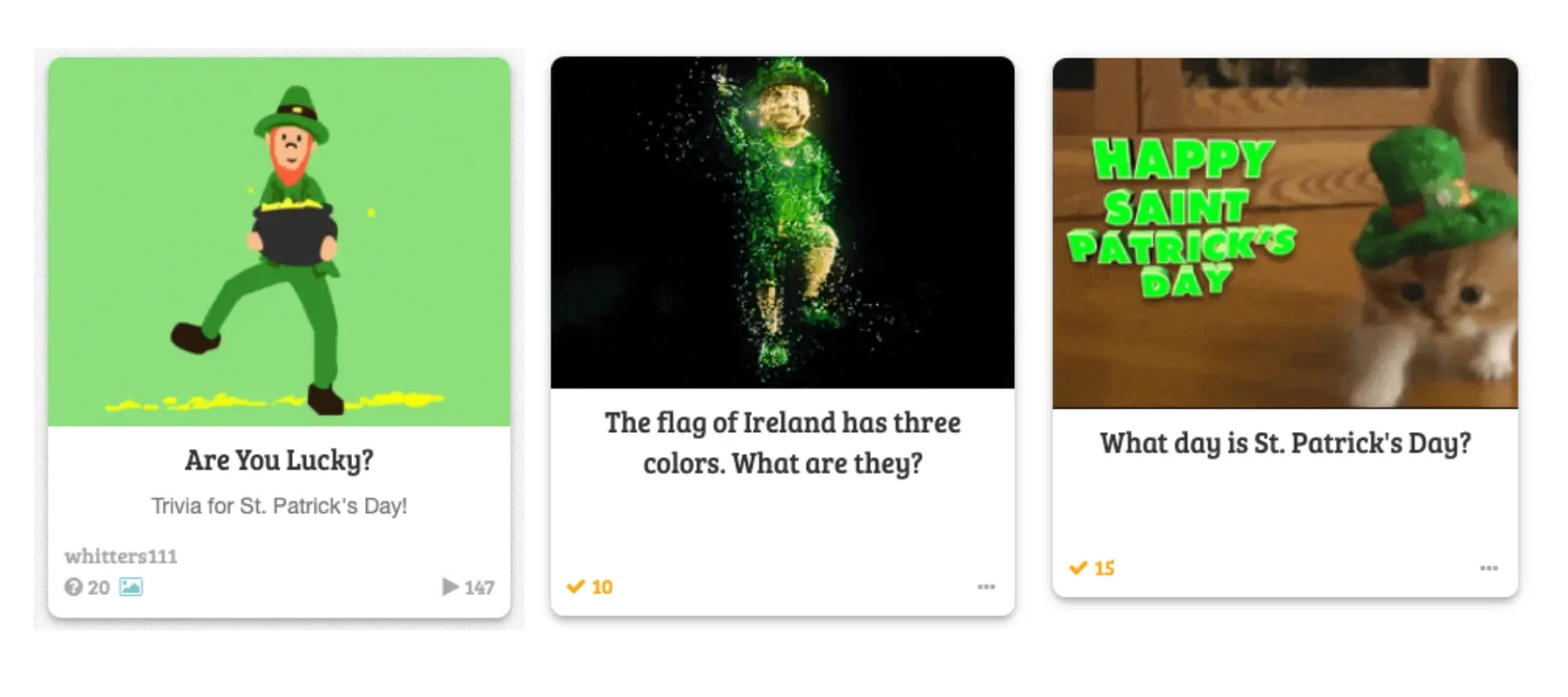 Despite this game's name, you'll be hoping your students might approach this activity with more than just sheer luck… do they have the knowledge required to tackle some questions on Ireland's most famous holiday?
What day is St. Patrick's Day? Which country is the man of the hour from? And which color would he congratulate you for wearing?
Helps with: Topical trivia, recalling facts, and a quick introduction to some Irish culture
Best for: Grades 7+
Baam-Link: Play now!
---
3. How Lucky Are You?
by Winnie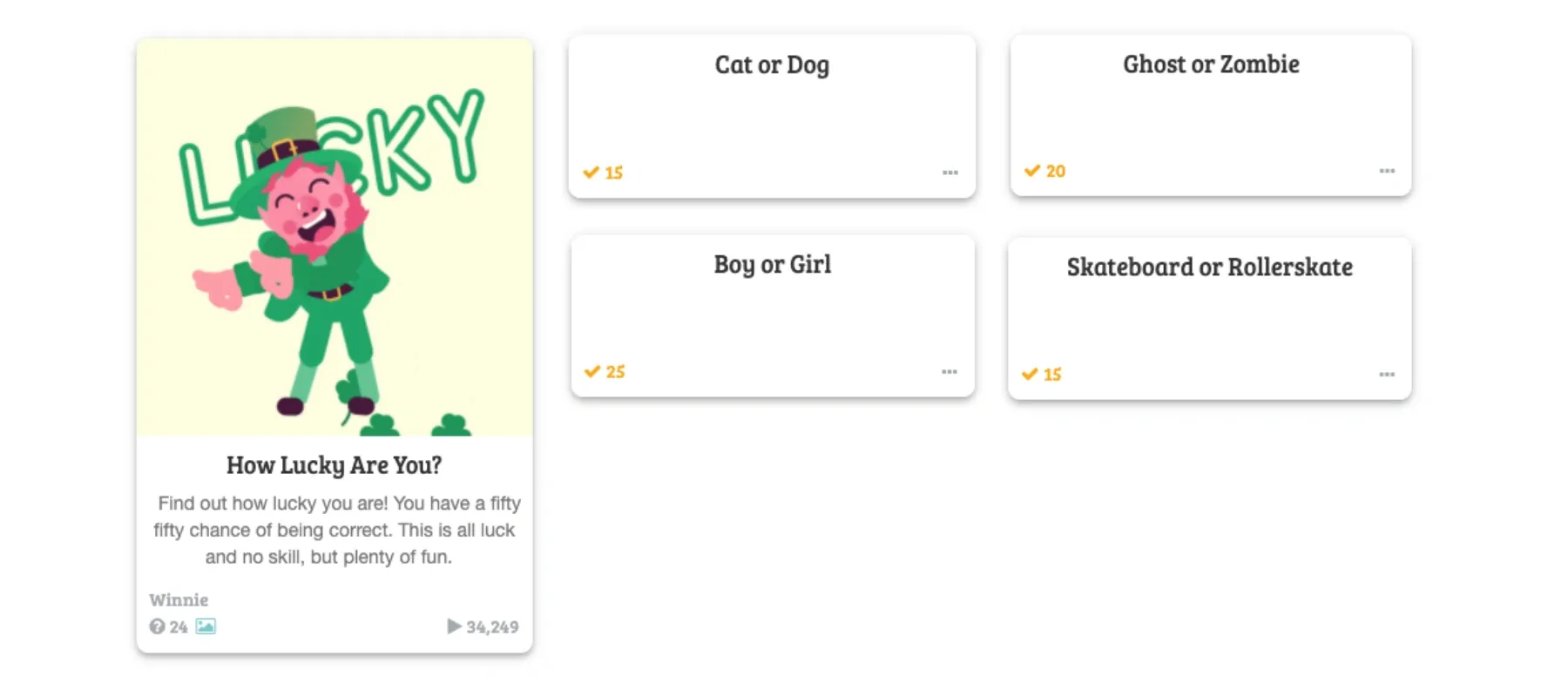 Another luck-named game, but this one really is about fortune favoring the brave.
For each question, students get two choices, and one covered-up mystery image. But when that  puzzling picture is revealed, what will they see?
Will it be a banana, or a strawberry? A zebra, or a kangaroo? A potato… or a cat?
In short, will your students blindly succeed? Or make an accidental misstep?
Helps with: Quick thinking, speedy responses, learning basic vocabulary, and injecting some energy into the classroom
Best for: Kindergarten through to 3rd grade
Baam-Link: Play now!
---
4. Ireland
by paula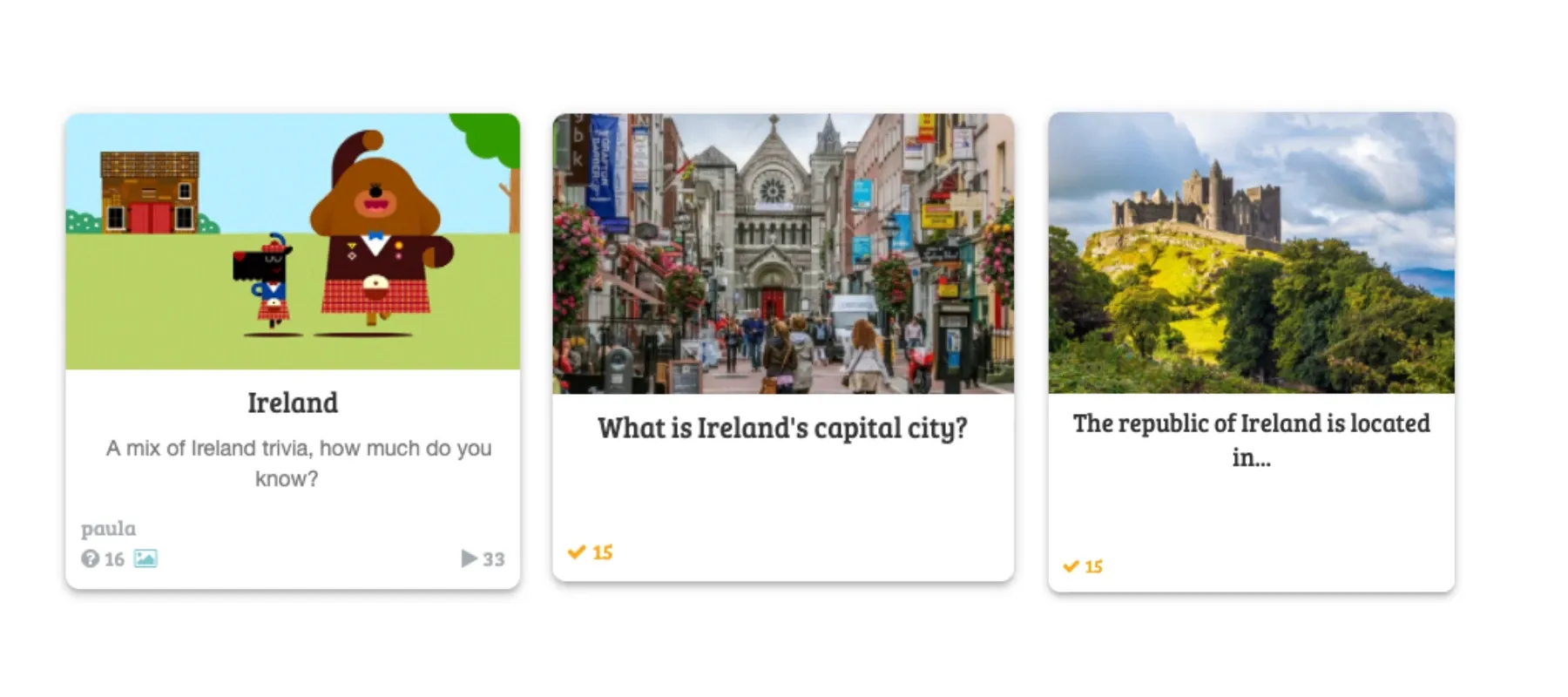 The name of this game doesn't give much away… but trust us, it's a jam-packed adventure brimming with challenging questions and answers.
Can your learners name the longest river in Ireland? Or its capital city? Or what its nickname is? There's only one way to find out!
Helps with: Quick trivia, serving up some surprisingly difficult questions, and lessons on Irish events and culture
Best for: Grades 7+
Baam-Link: Play now!
---
5. Can You Find a… Rainbow?
by JC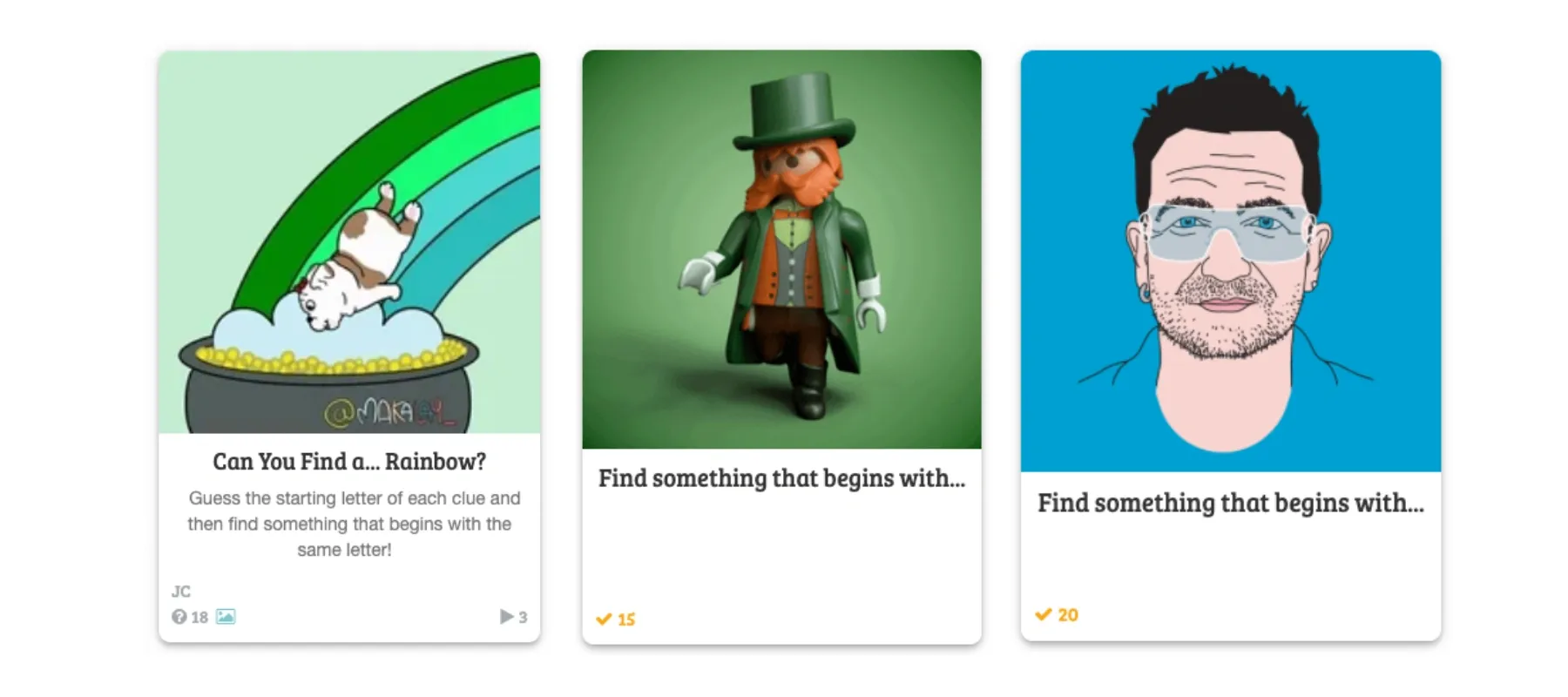 During this multifaceted madness, students are tasked with two different duties.
First up, they're given an image-based clue… and need to guess the starting letter of that very image. After they've correctly guessed, they then need to find a real-life item that begins with the exact same letter.
Expect frantic fun, rushing around the classroom, and some rapid-fire thinking!
Helps with: Spelling, lateral logic, quick thinking, and getting your students moving
Best for: Grades 3+
Baam-Link: Play now!
---
6. St. Paddy's Day Scramble
by Miya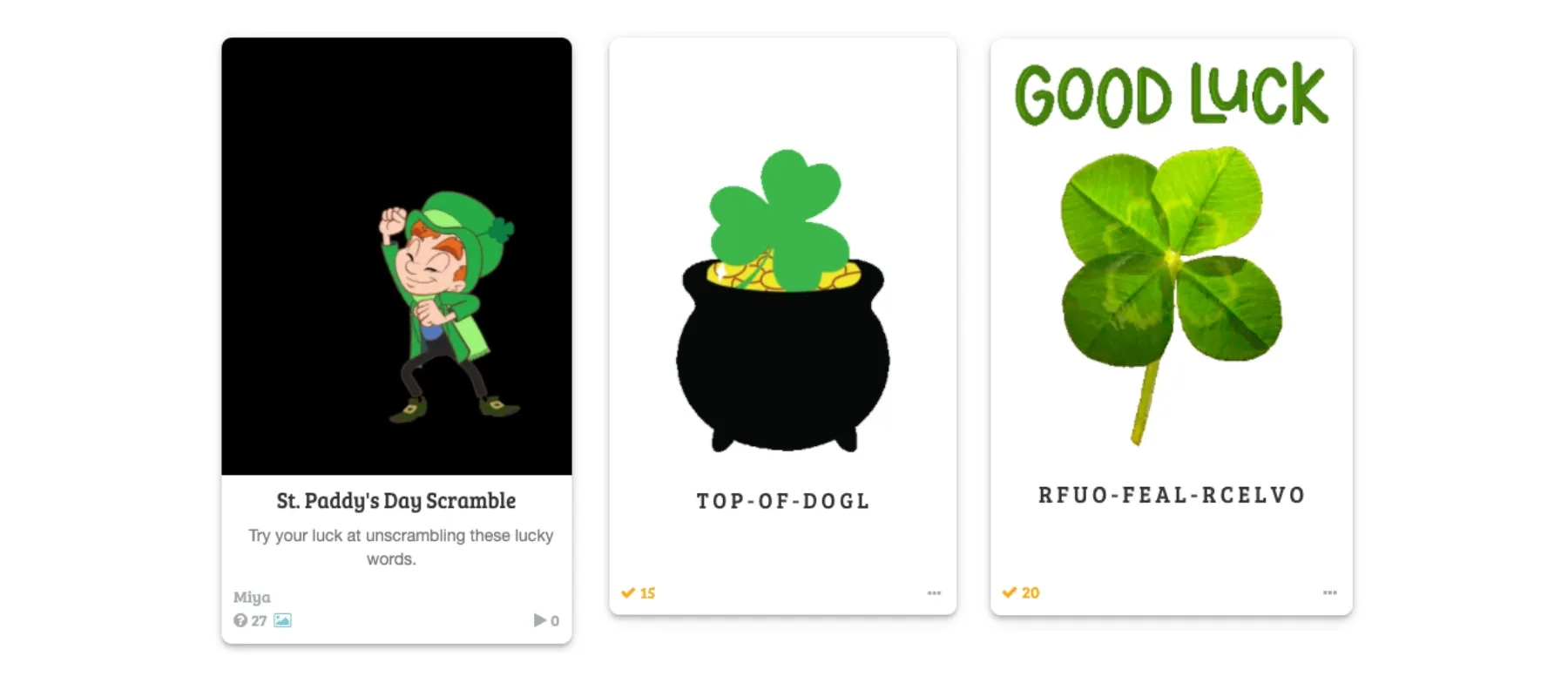 With these brain-boggling Irish anagrams, your students' linguistic skills are pushed to their limits. Can they unscramble the words and come up with some topical terms?
Helps with: Wordplay, lateral thinking, and English lessons
Best for: Grades 5+
Baam-Link: Play now!
---
7. St. Patrick's Day Questions
by Summer vibes
Another trivia-packed spectacular!
But in this activity, lots of the questions are related to St. Patrick himself.
How old was the patron saint when he was cruelly abducted? What's his real name? Where was he born? And most importantly… just how much trivia can one simple game squeeze out of the main man?
Helps with: Tackling challenging questions, history lessons, and learning about St. Patrick
Best for: Grades 7+
Baam-Link: Play now!
---
8. Sneaky Leprechauns
by jjcollier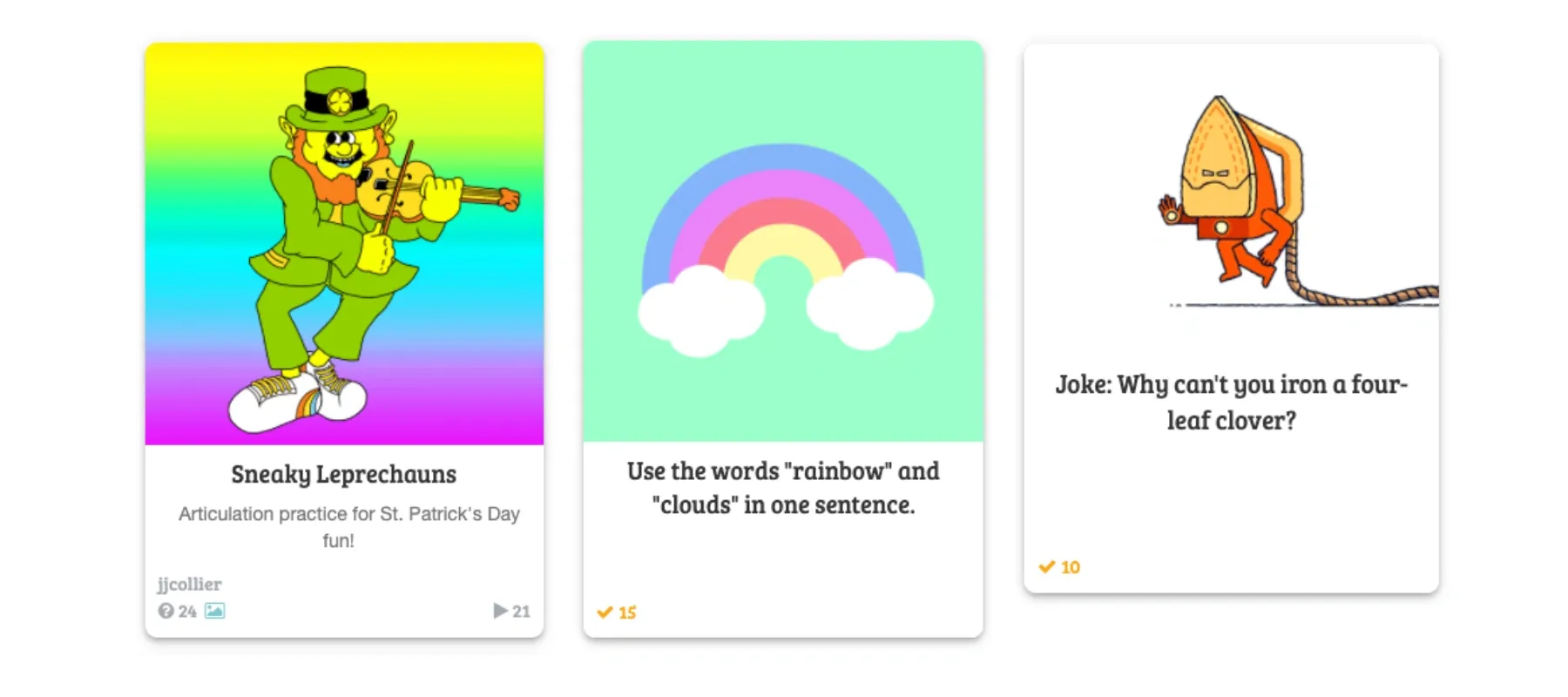 This hodgepodge collection of various challenges includes jokes, wordplay and an assortment of unusual questions.
But most of the activities in this great game are tongue twisters—if the kids in your class can correctly get their mouths around sentences such as "Iris lives in Ireland with Izzy," they'll get some precious points.
Helps with: Wordplay, articulation, confidence, speaking aloud in front of the class, and keeping your students on their toes
Best for: Grades 3+
Baam-Link: Play now!
---
9. St. Patrick's Day Vocabulary
by kandysia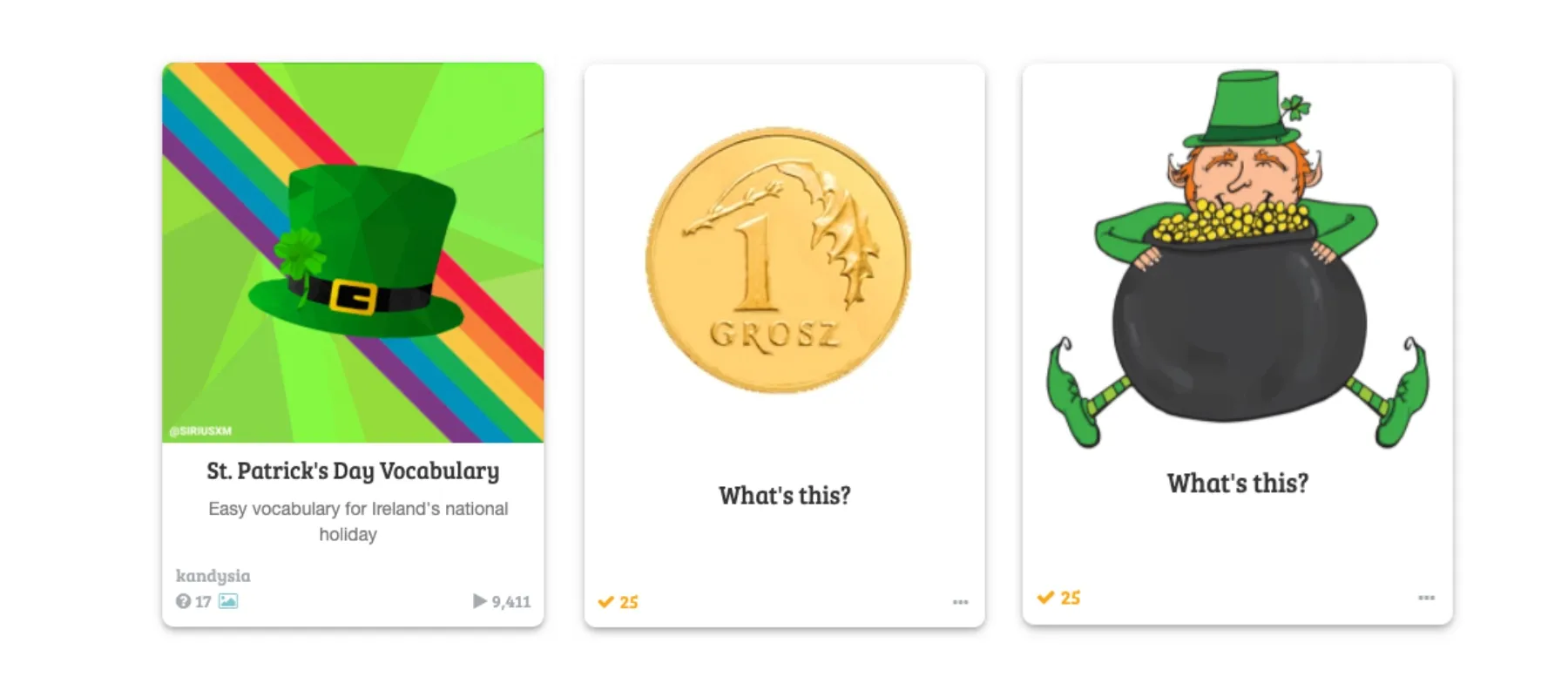 Another vocab adventure, this picture-based game encourages your students to name the items in the images.
This time, it's all pretty simple stuff, featuring scrawls and scribbles of flags, shamrocks, gold, horseshoes, and more. Perfect for younger learners!
Helps with: Quick thinking, image-based fun, introducing the theme of the day, and getting your students warmed up
Best for: Kindergarten through to 3rd grade
Baam-Link: Play now!
---
10. St. Patrick's Day Trivia
by mrsvargo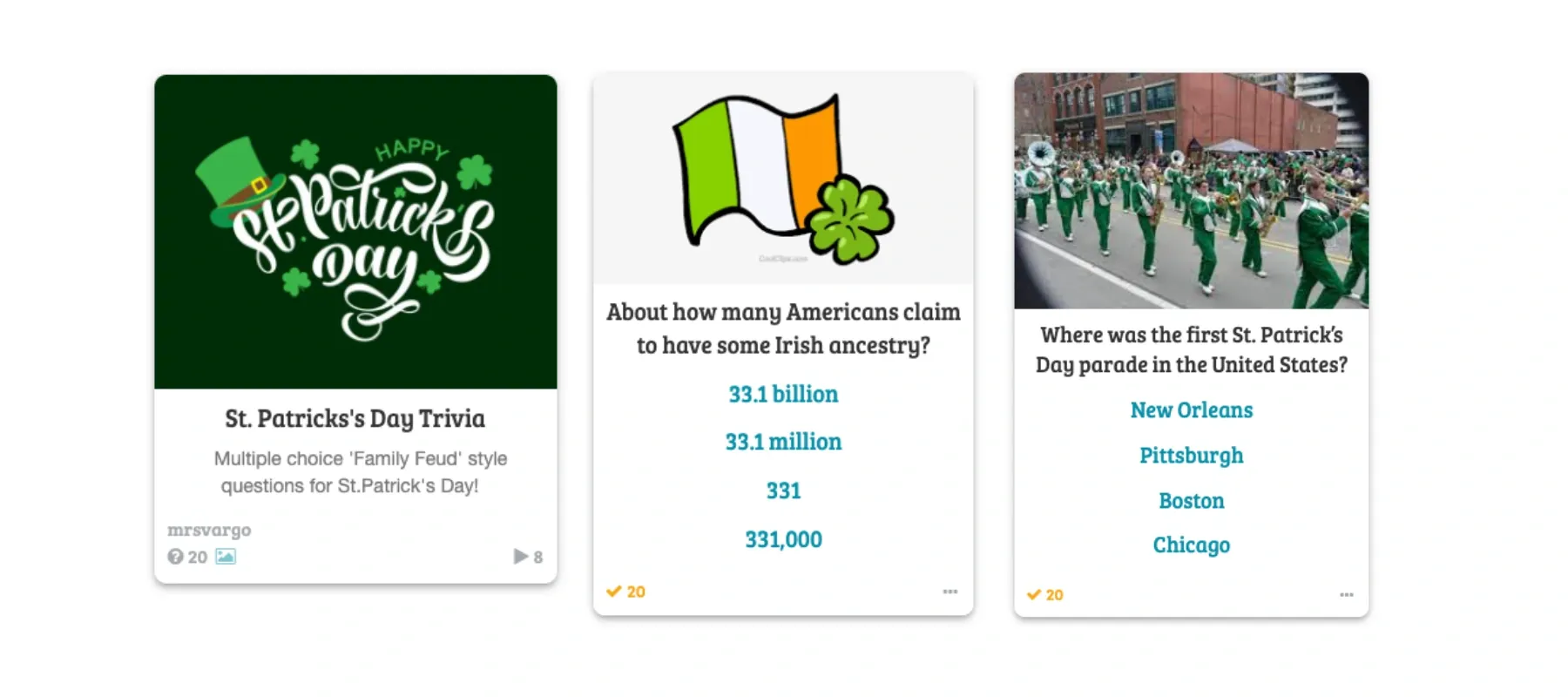 Last up, another question-stuffed trivia challenge.
But this time, there's a major twist: all of the questions are in the style of 'Family Feud,' with four multiple-choice options.
Even more importantly than that, the questions are hugely varied and diverse, featuring brain-teasers related to geography, history, people, places, folklore, traditions, and plenty more.
Helps with: Multiple choice trivia, introducing the topic, and getting students to chat, debate, and work as a team
Best for: Grades 5+
Baam-Link: Play now!
---
St. Patrick's Day School Activities and Games: Final Words
So, that brings us to the end of our beautiful time together… and the end of our favorite St. Patrick's Day games and activities!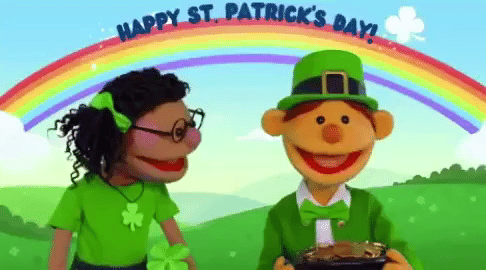 Choose some of your favorites, give them a go, and see if you can cram your mid-March classes with lots of Baamboozle-based fun.
If you're looking for more handy lists of themed games like this one, check out our crafty compilations for Christmas, Halloween, and Valentine's Day. And for even more future recommendations, make sure you regularly check back on our blog.
Thanks for reading, thanks for playing our community's collection of great games, and we'll (hopefully!) see you next time!