Getting Physical with Baamboozle: Benefits, Tips & Tricks
Here at the wild world of Baamboozle, we're all about the wide-ranging benefits of excellent educational games.
And we love all types of games… but we think physical fun in the classroom is often overlooked. Research shows that physical games are actually capable of much more than just slapping a smile on some faces. They improve grades, motivation and concentration, and can help to reduce lethargy and misbehavior.
So in this blog post, we've introduced you to our 20 favorite physical games, along with lots of tips and information on how (and why!) you should use speedy sessions of physical activity in your classes.
So do your warmups, break out your sweatband, and come join the physical fun!
---
Best educational physical activity breaks
As you probably already know, your good buddies at Baamboozle are the proud providers of a mighty bank of over 1 million excellent educational games.
And for this blog post, we've patiently sifted through each and every one to bring you our 20 favorite physical classroom activities.
Want to get your students jumping, jiving and grinning from ear to ear? Read on!
Action Activities
by Ms.Selene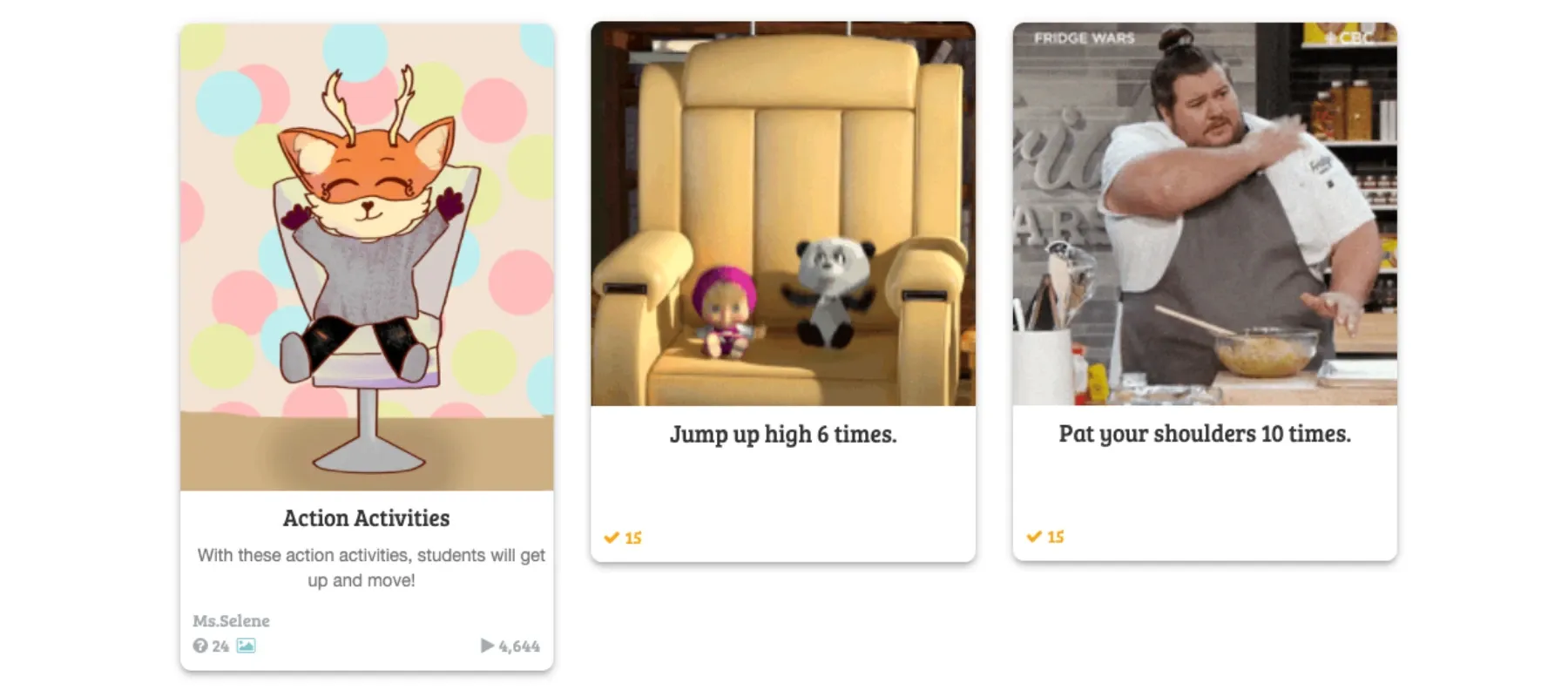 Stomp your feet, flap your arms, shake your head, and plenty more. This game is stuffed to the brim with lots of simple actions to give your students a slice of energetic excitement.
Baam-Link: Play Now!
---
Let's Move!
by HelloHello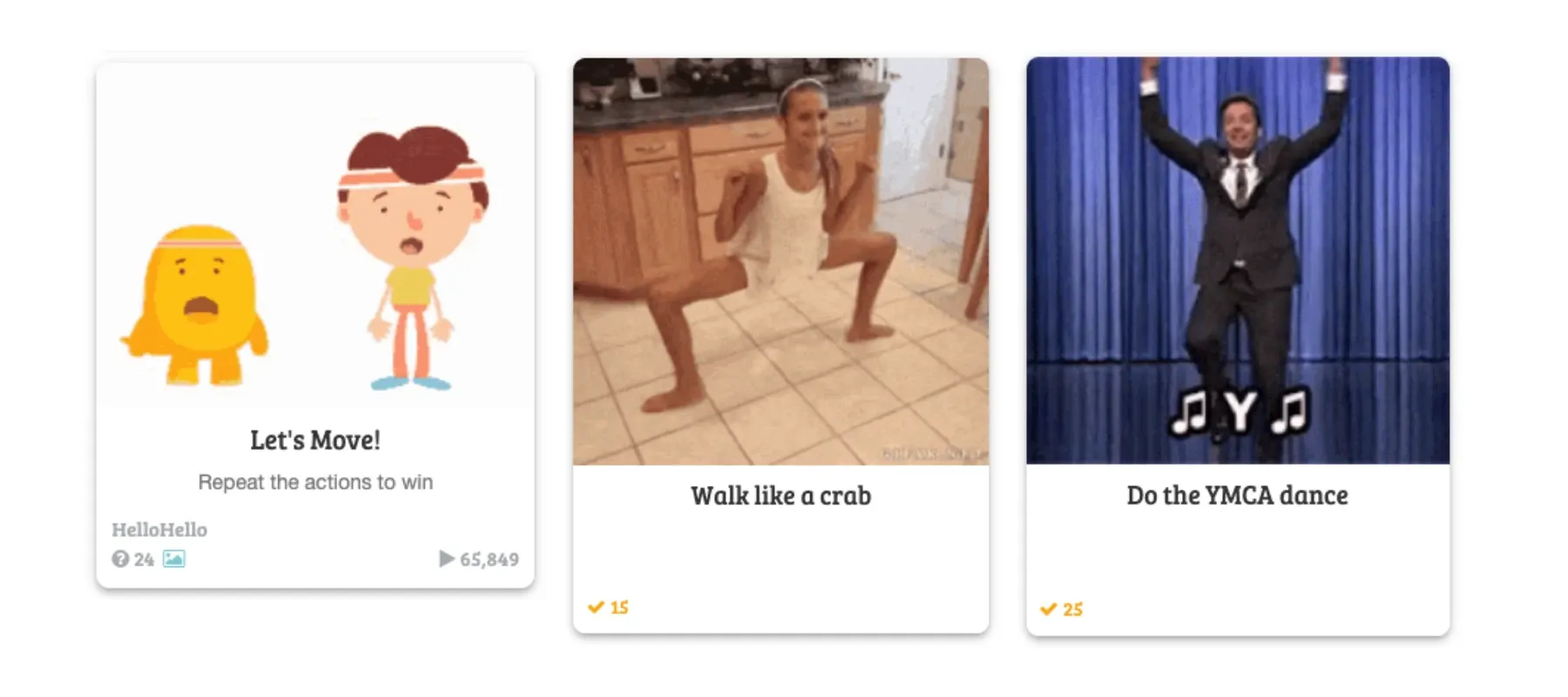 Packed with dancing, stretching, crab-walking, spinning, handstanding and plenty more, this is one of our top physical classroom activities for active engagement!
Baam-Link: Play now!
---
Dance Bulldogs! Dance!
by Mr. Matt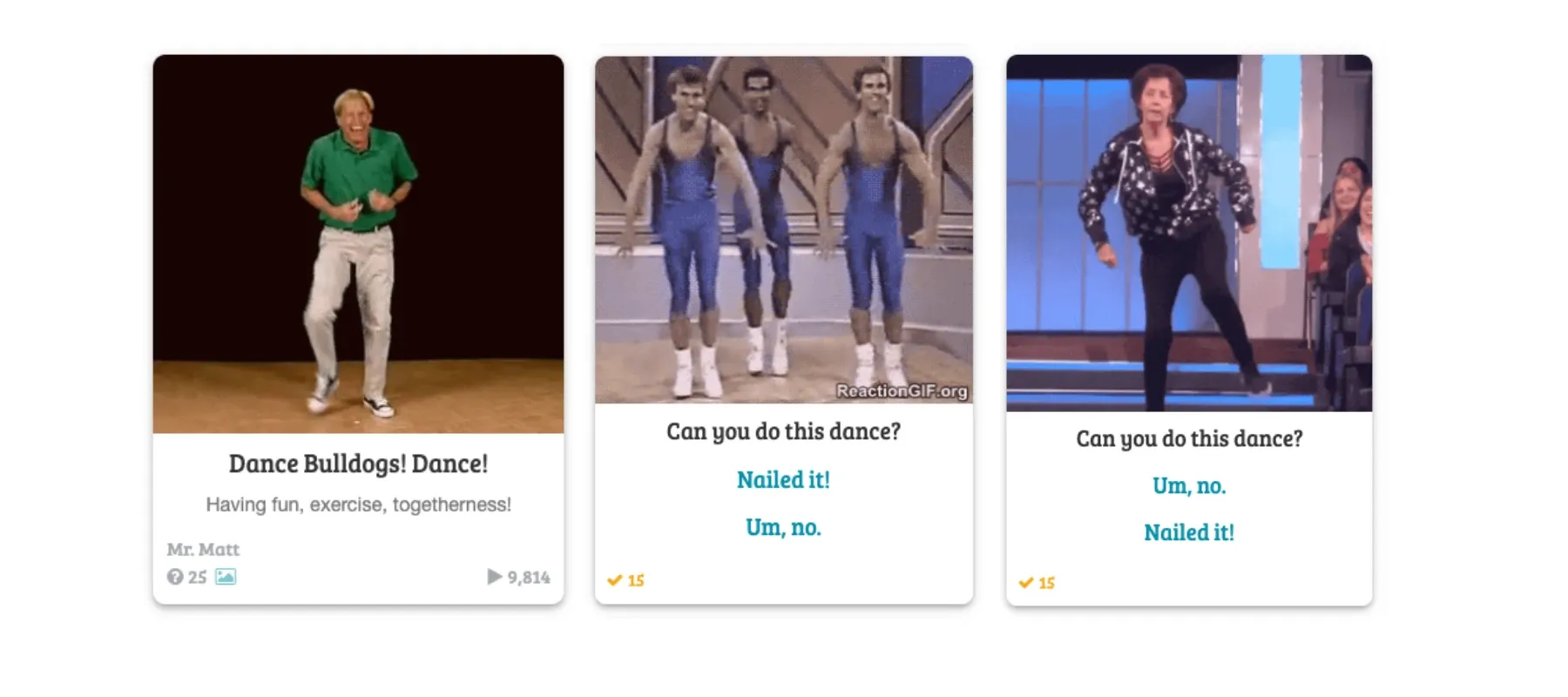 For this game, we've collected a bunch of bizarre dance-related gifs. Your job? To get your students expertly imitating all the groovy moves.
Baam-Link: Play now!
---
Do The Actions
by daniflores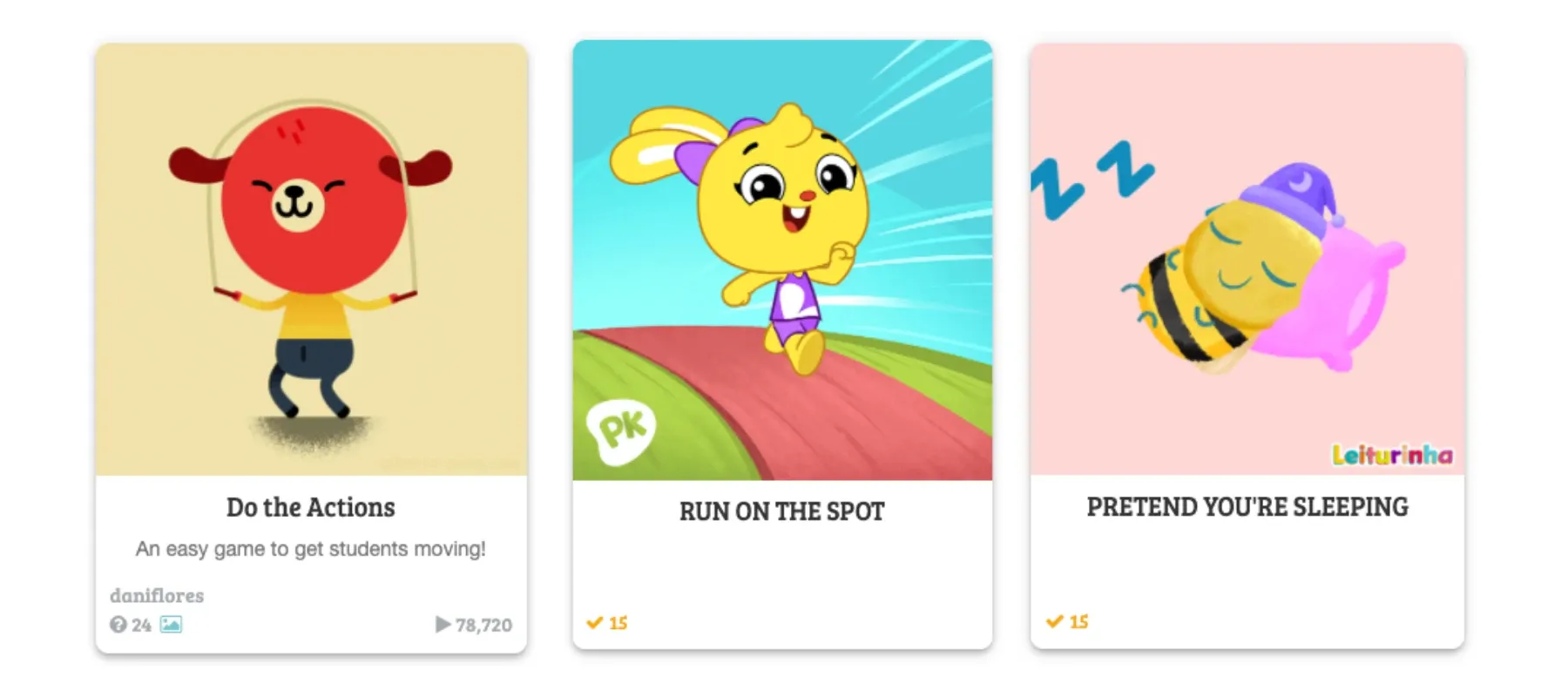 A kooky combo of mimes and movements, this game will have your bemused students jumping, juggling, spinning around, running on the spot, barking like dogs, and pretending to eat cookies.
Baam-Link: Play now!
---
Exercise!
by Mr. Awesome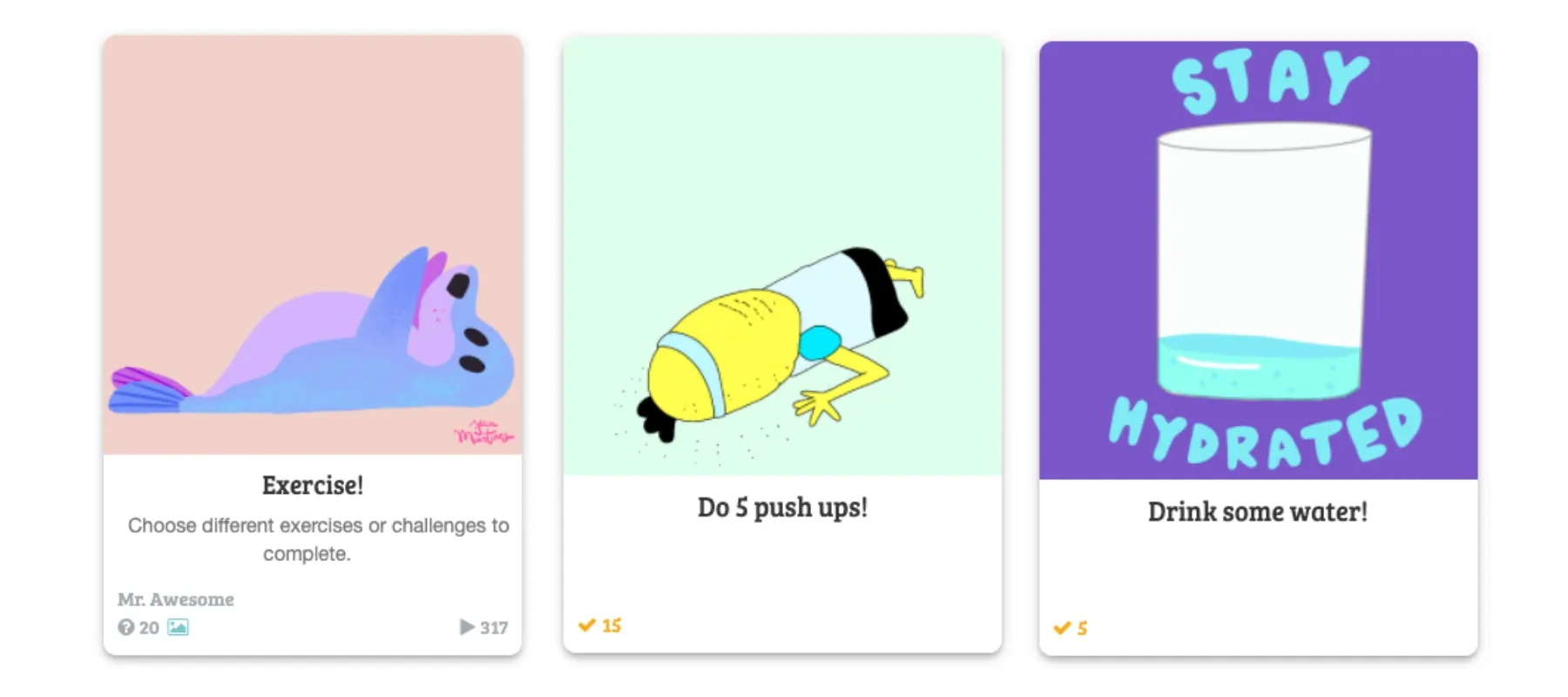 In this popular game, students combine mental challenges with actions, balance tests and workout-style movements. It's one of our favorite physical classroom activities for teachers seeking a bit of everything!
Baam-Link: Play now!
---
Home Objects Hunt
by wormholes63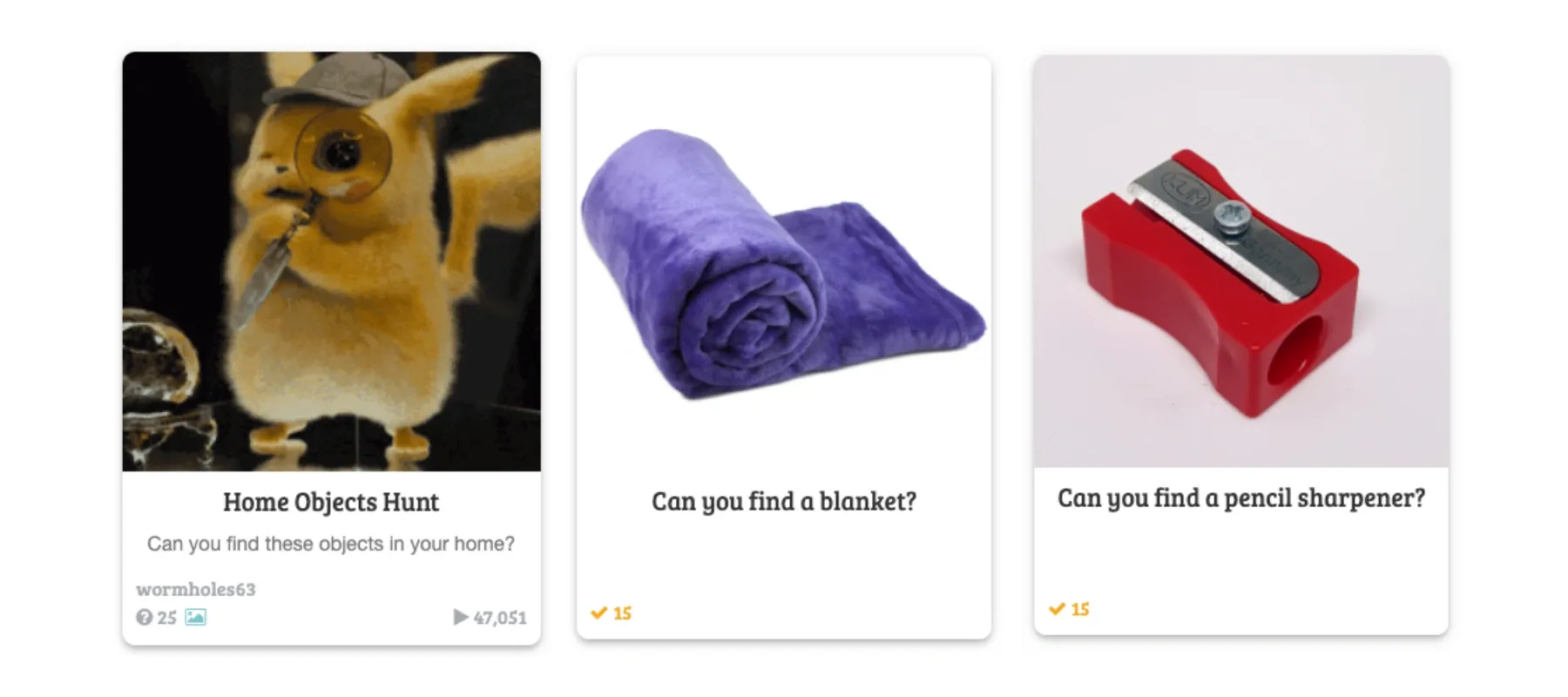 Perfect for online learning, this frantic funfest gets your students raiding and ransacking their home for mundane objects like cushions, bottles, oranges and toilet paper.
Baam-Link: Play now!
---
Go Find It!
by Jack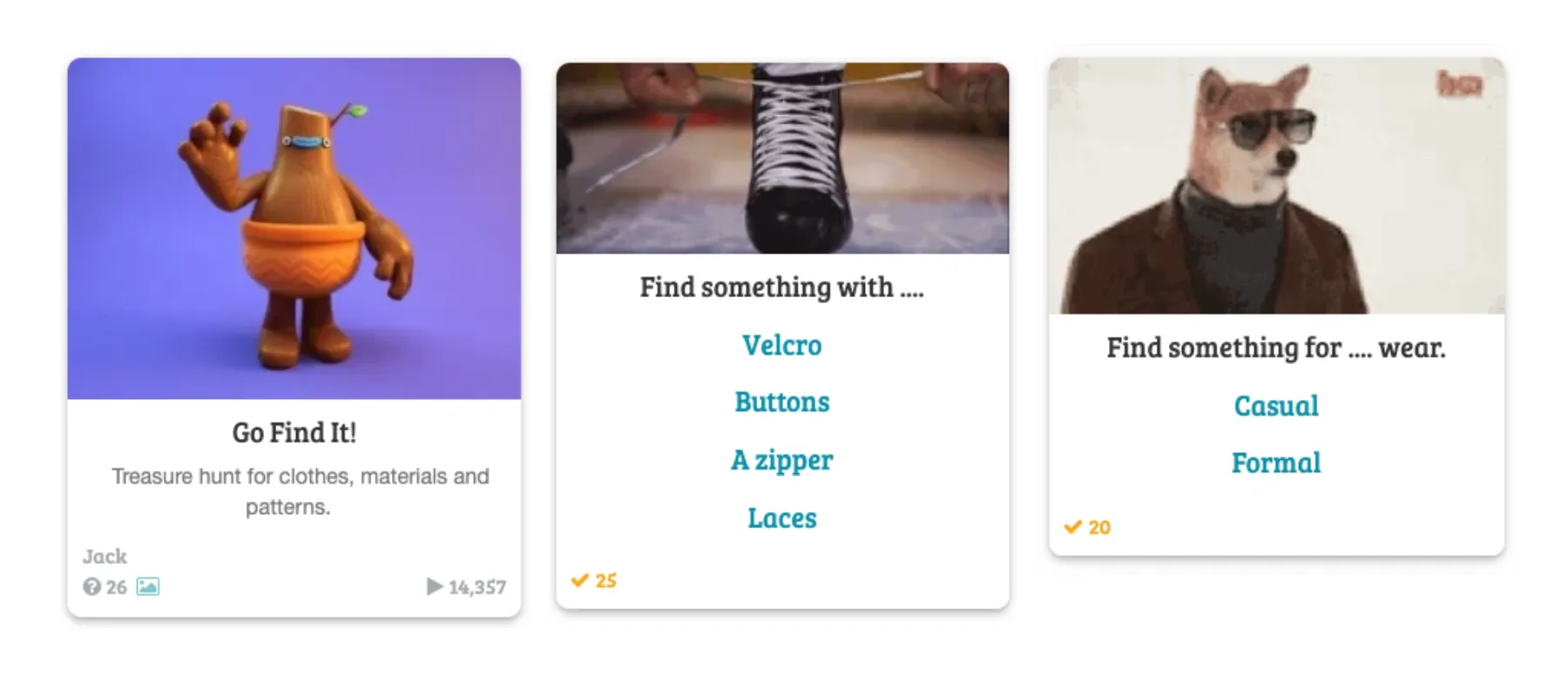 Another treasure hunt, this one encourages students to think about the materials that different objects are made from. Can your learners find something made out of cotton? Denim? Glass? Metal? There's only one way to find out!
Baam-Link: Play now!
---
Home Scavenger Hunt
by Manda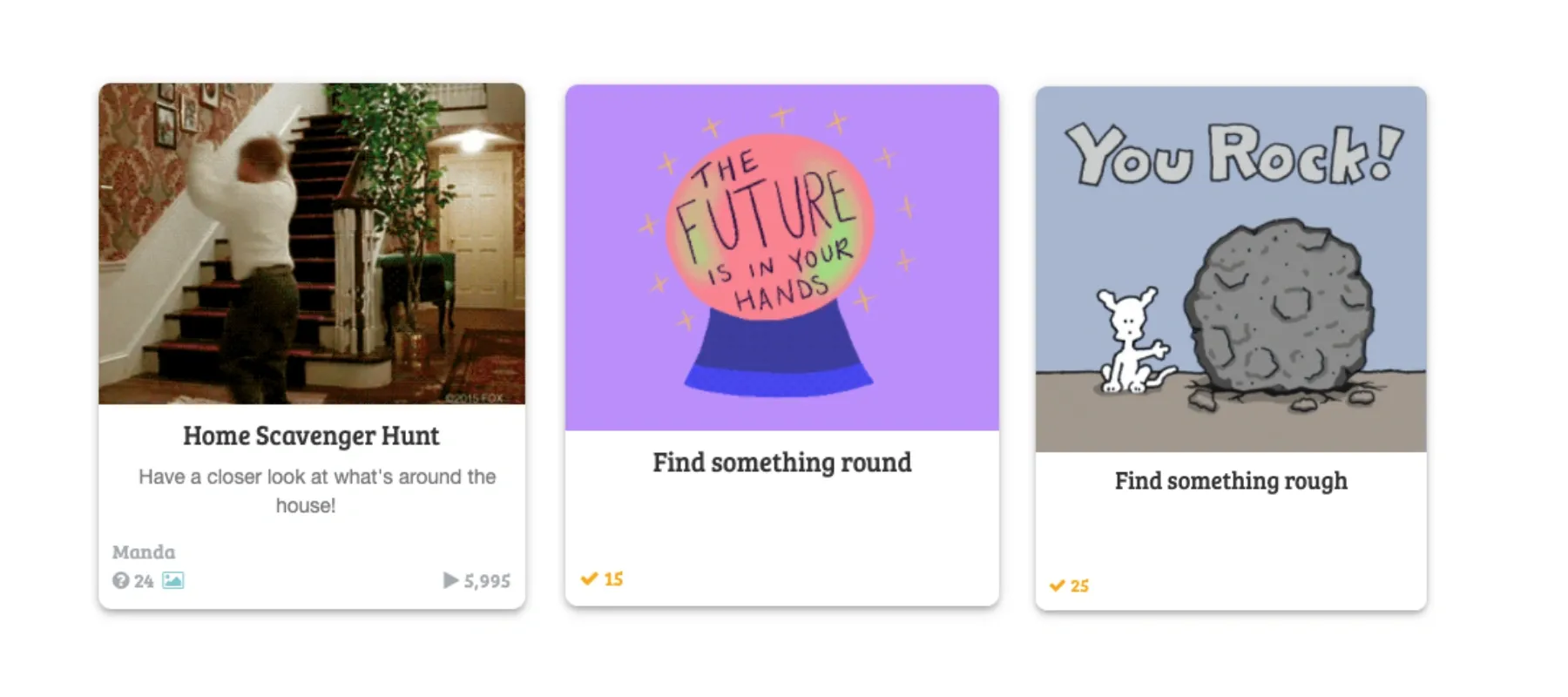 Okay, we've already brought you some treasure hunts… but some of the objects in this game have a personal twist. See if your little learners can find something from vacation, something they're proud of, or something they would have at a birthday party.
Baam-Link: Play now!
---
Find It! 2.0
by Elizabeth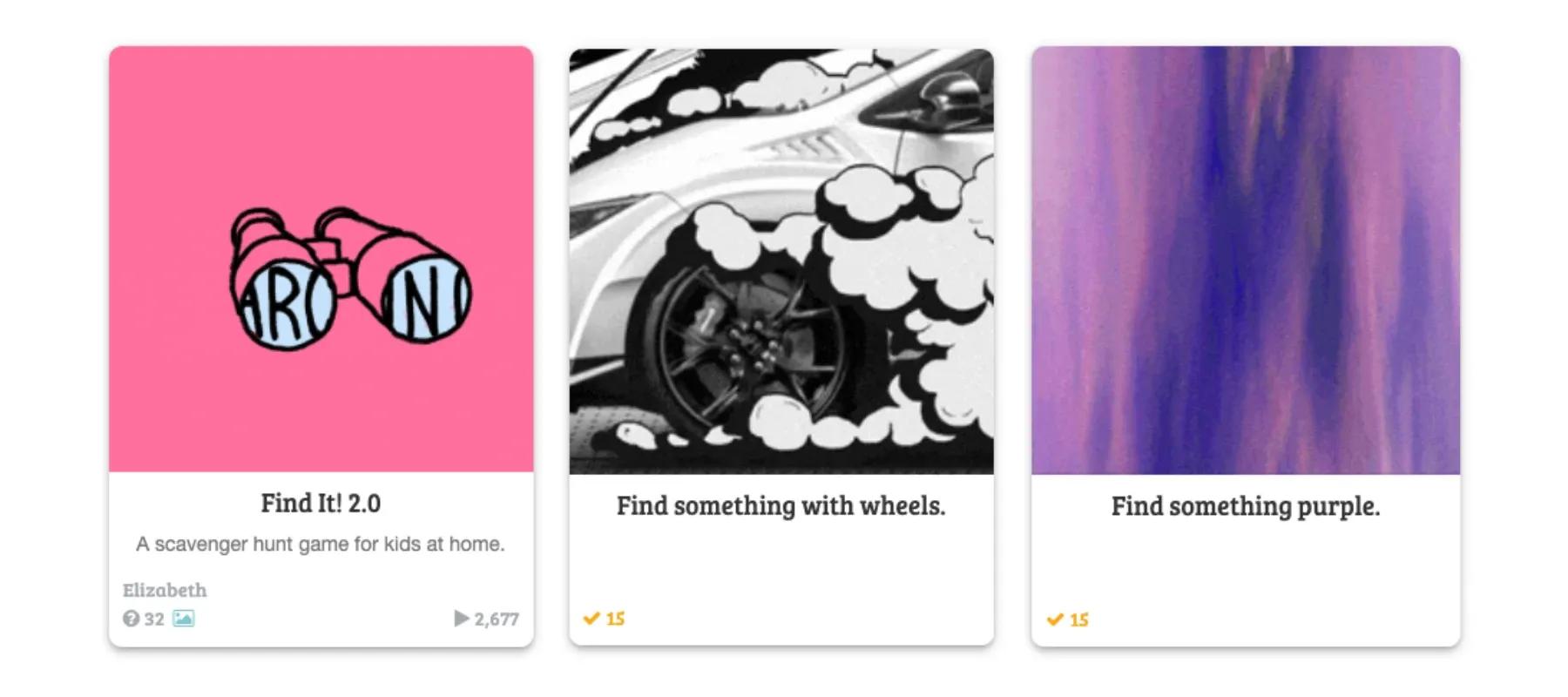 Another scavenger hunt, this home-based activity gets learners searching based on simple clues. Can your students find something blue? Something that makes a noise? Something with a nose?
Baam-Link: Play now!
---
Scavenger Hunt X Miming Game
by willpetley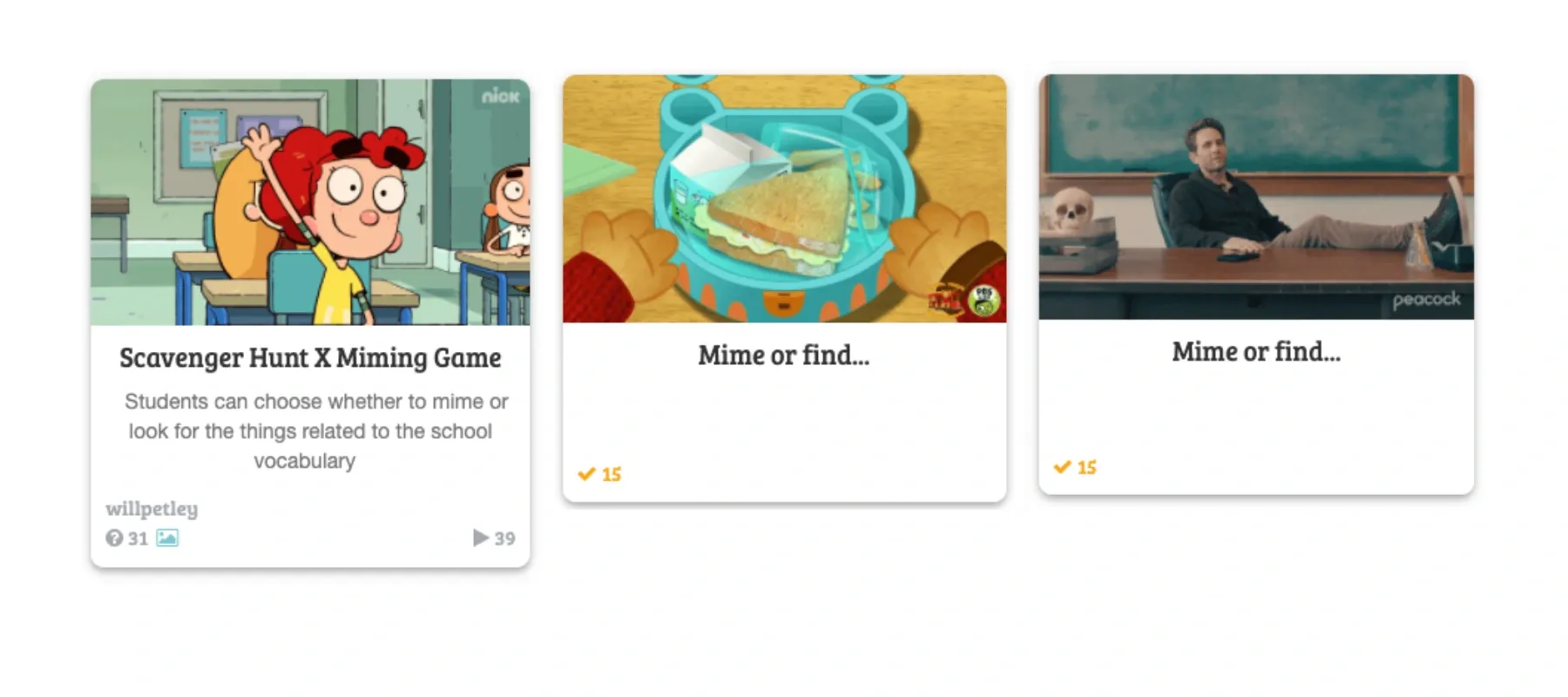 With gifs and images related to school-based stuff (including books, buses, staplers and skipping ropes), this quick-thinking game asks your students to find or mime whatever's in the picture.
Baam-Link: Play now!
---
Move It! Find It!
by candetorres79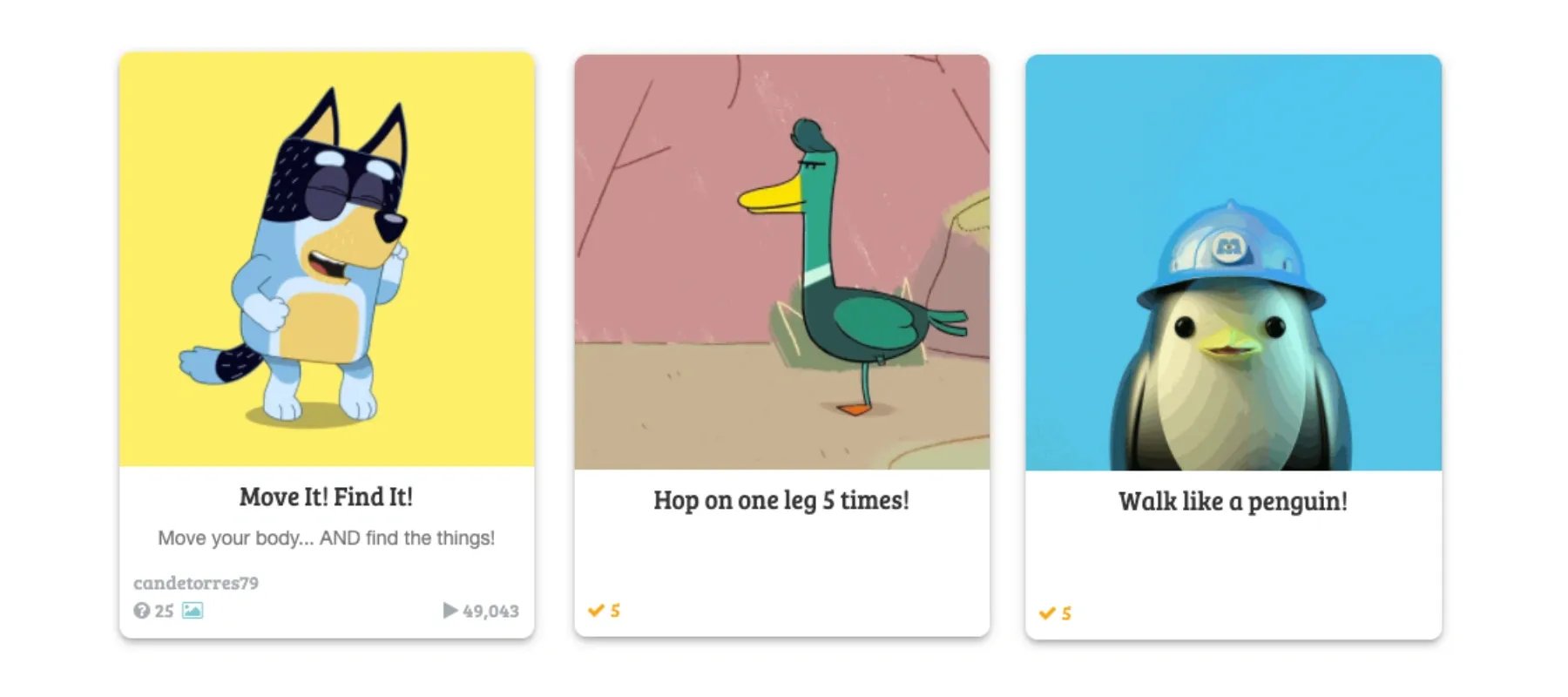 An action-packed combo of moving and finding (though you probably could have worked that out for yourself!), this quirky activity will have your students dancing, hunting, jumping, finding, wiggling and running.
Baam-Link: Play now!
---
Move Around!
by pizzaandcats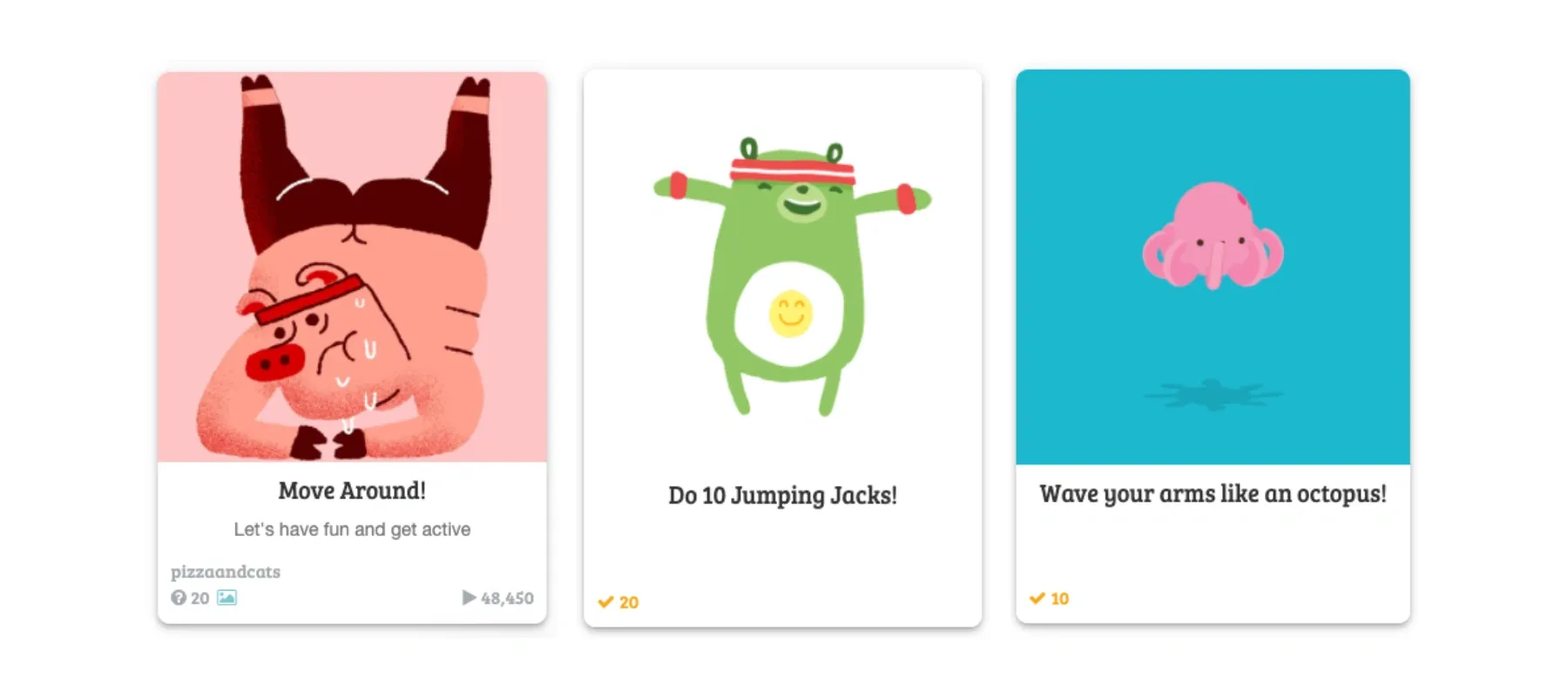 Can your kids walk like zombies? Jump like kangaroos? Flap around like giant birds? This silly sensation is brilliant for encouraging active imaginations.
Baam-Link: Play now!
---
Run Around the House
by Jack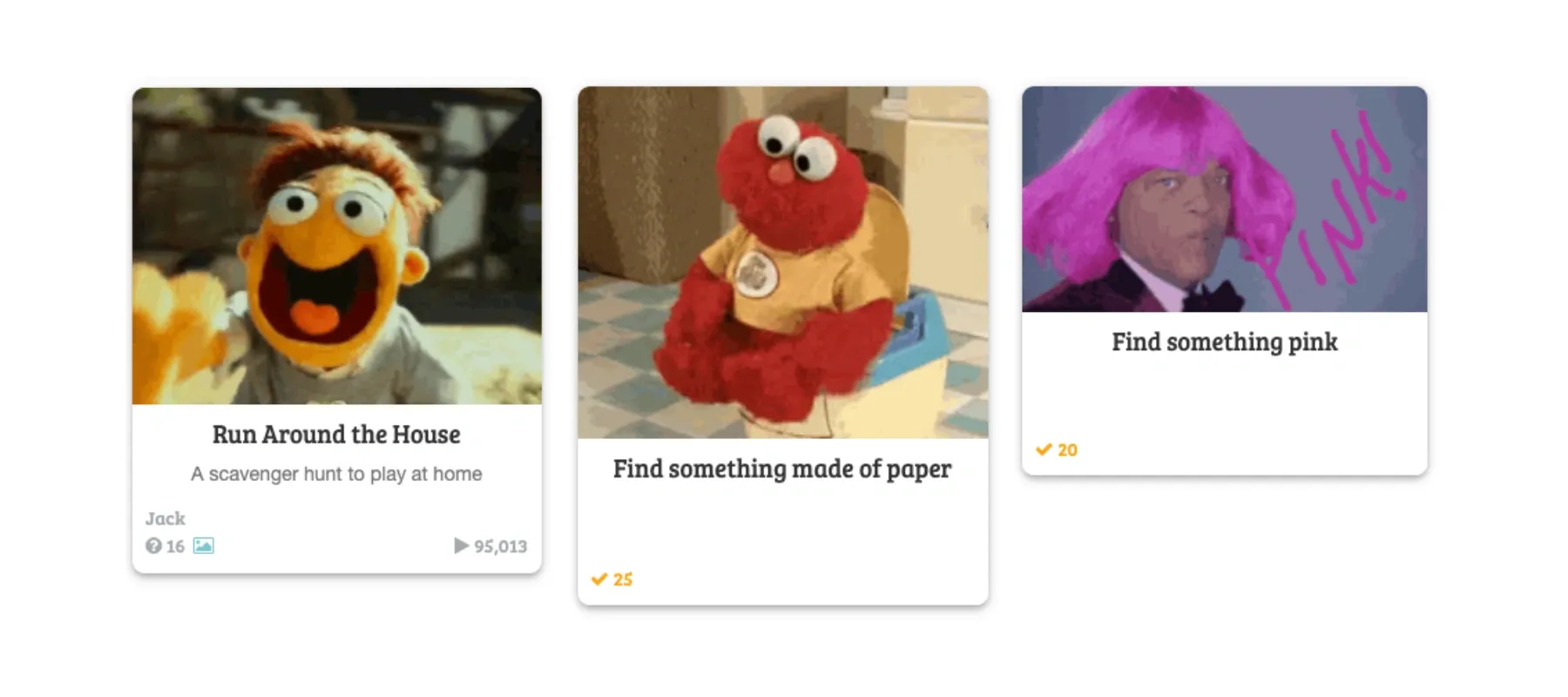 Featuring some of the funniest and cutest gifs we've ever assembled, this crazy game asks students to zoom around their house in a madcap pursuit for a bunch of bizarre stuff!
Baam-Link: Play now!
---
Move Like Me
by HelloHello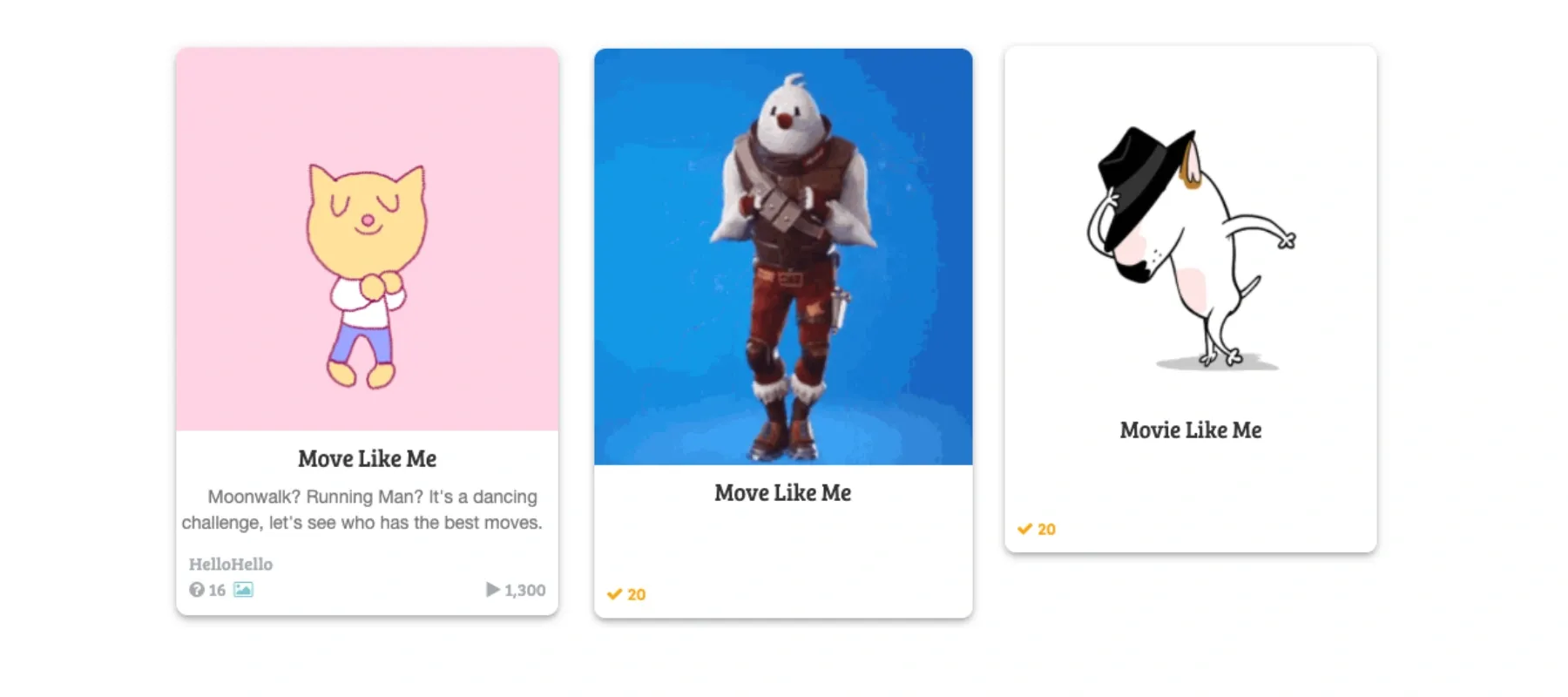 In this slice of funky fun, your mini movers have to mimic some of the grooviest gifs you've ever seen. Ever made a child do the moonwalk? Do an impression of Madonna? Or rock out with the YMCA? Well, now you can!
Baam-Link: Play now!
---
Move Your Body
by jucordeiro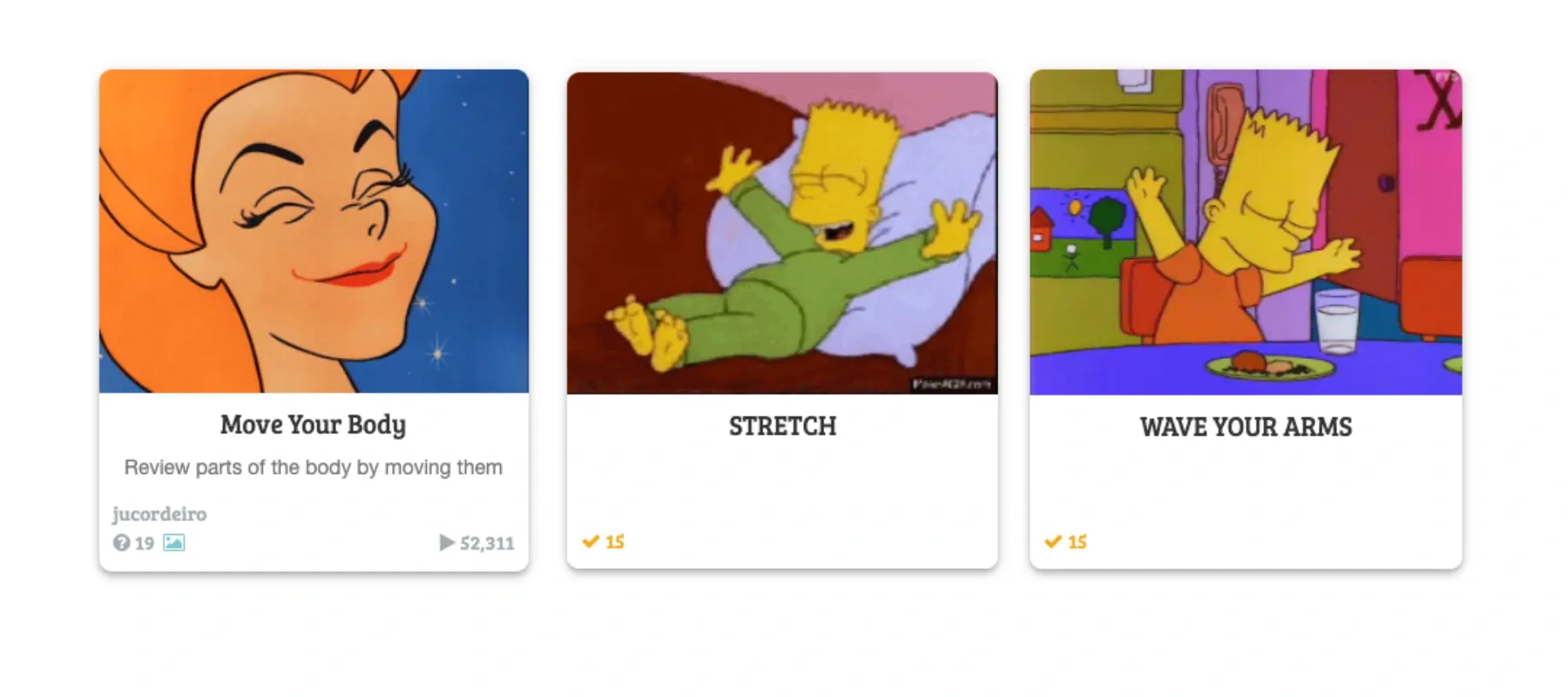 An anatomy-based movement game, this one gets younger learners thinking about different parts of their bodies. Arms, ears, eyes, noses, it's all fair game!
Baam-Link: Play now!
---
Pantomime
by Mateus Vitti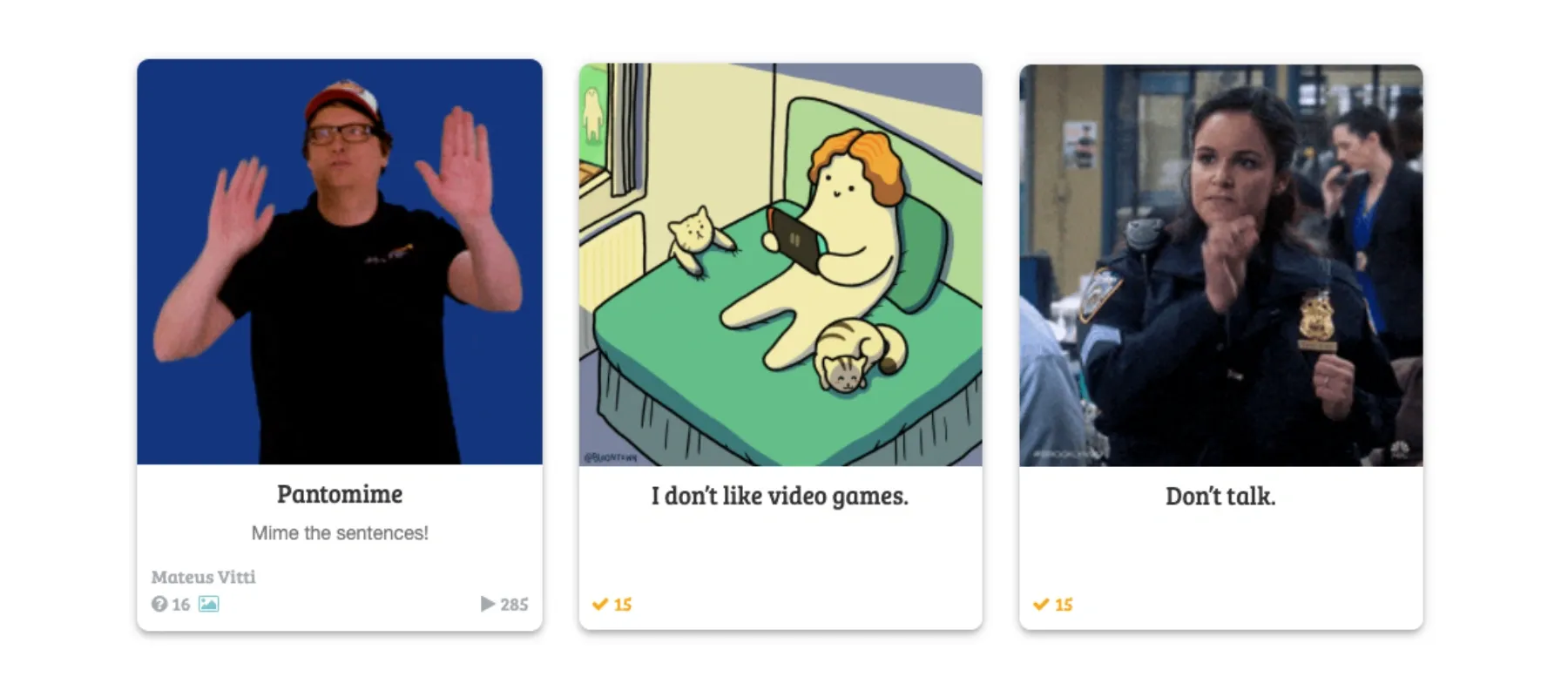 One of our favorite physical classroom activities for warming up learners' imaginations, this action-packed adventure asks your students to mime various different scenarios.
Baam-Link: Play now!
---
Simon Says…
by Mara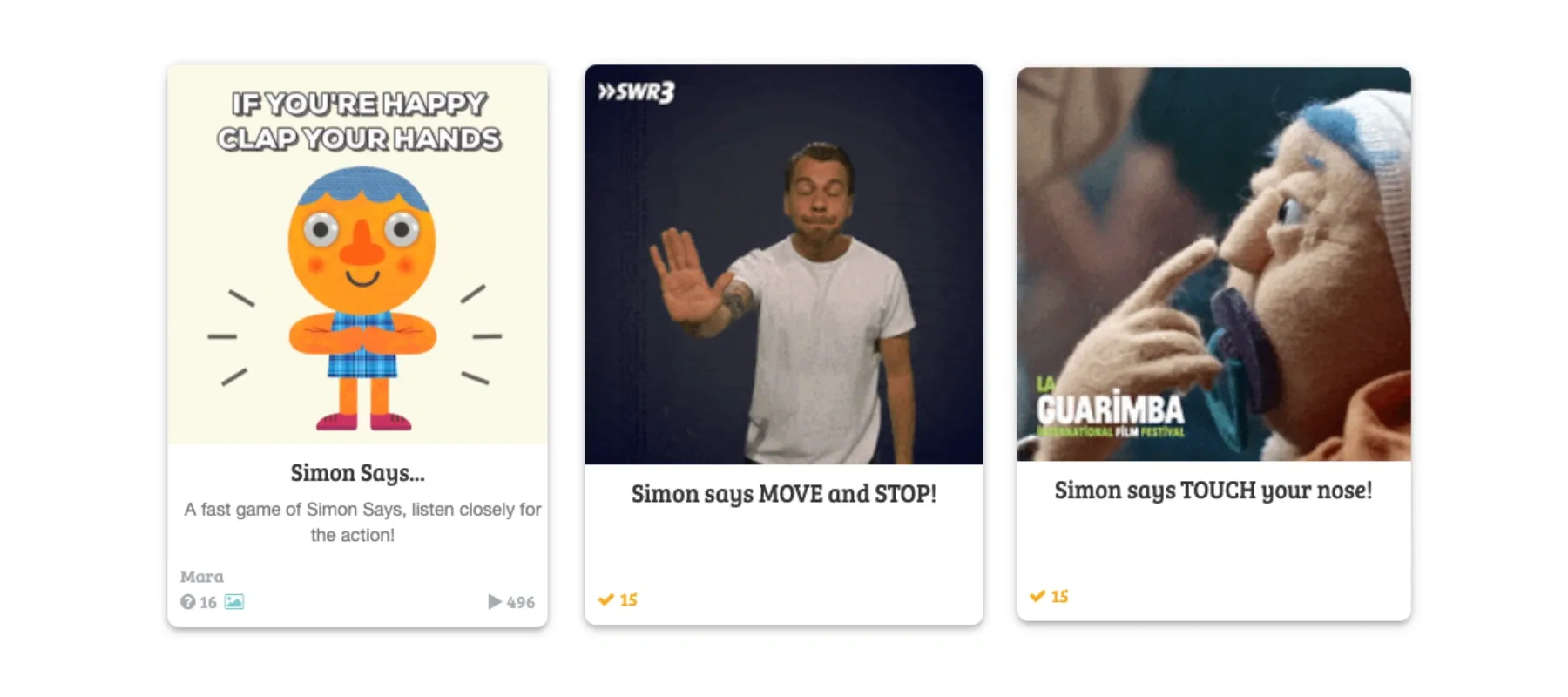 The old classic!
Baam-Link: Play now!
---
Shake It Off
by Miss Fátima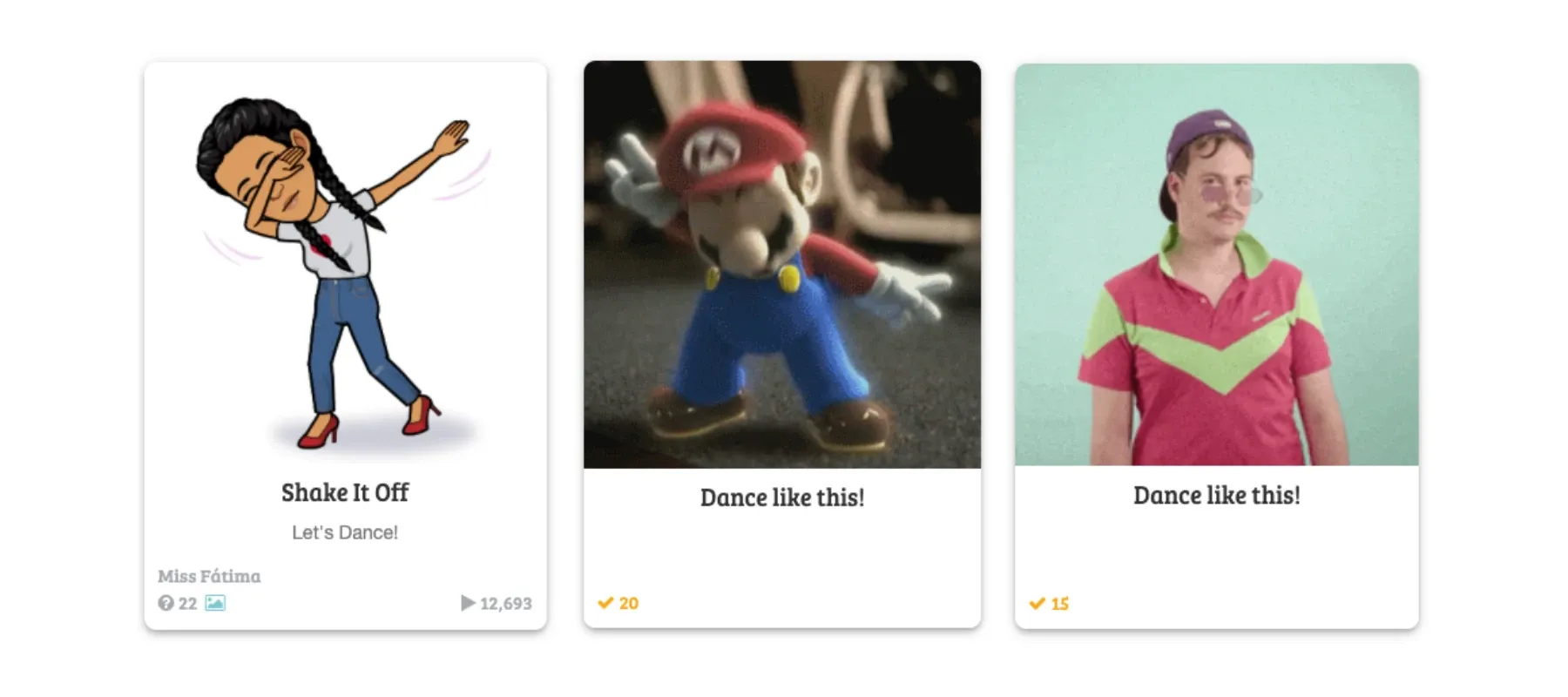 A boogie-based bonanza with endless moves and grooves, this game will have your fleet-footed students pulling shapes from The Simpsons, Mario, Spongebob, Napoleon Dynamite and more!
Baam-Link: Play now!
---
Simon Says
by laneyH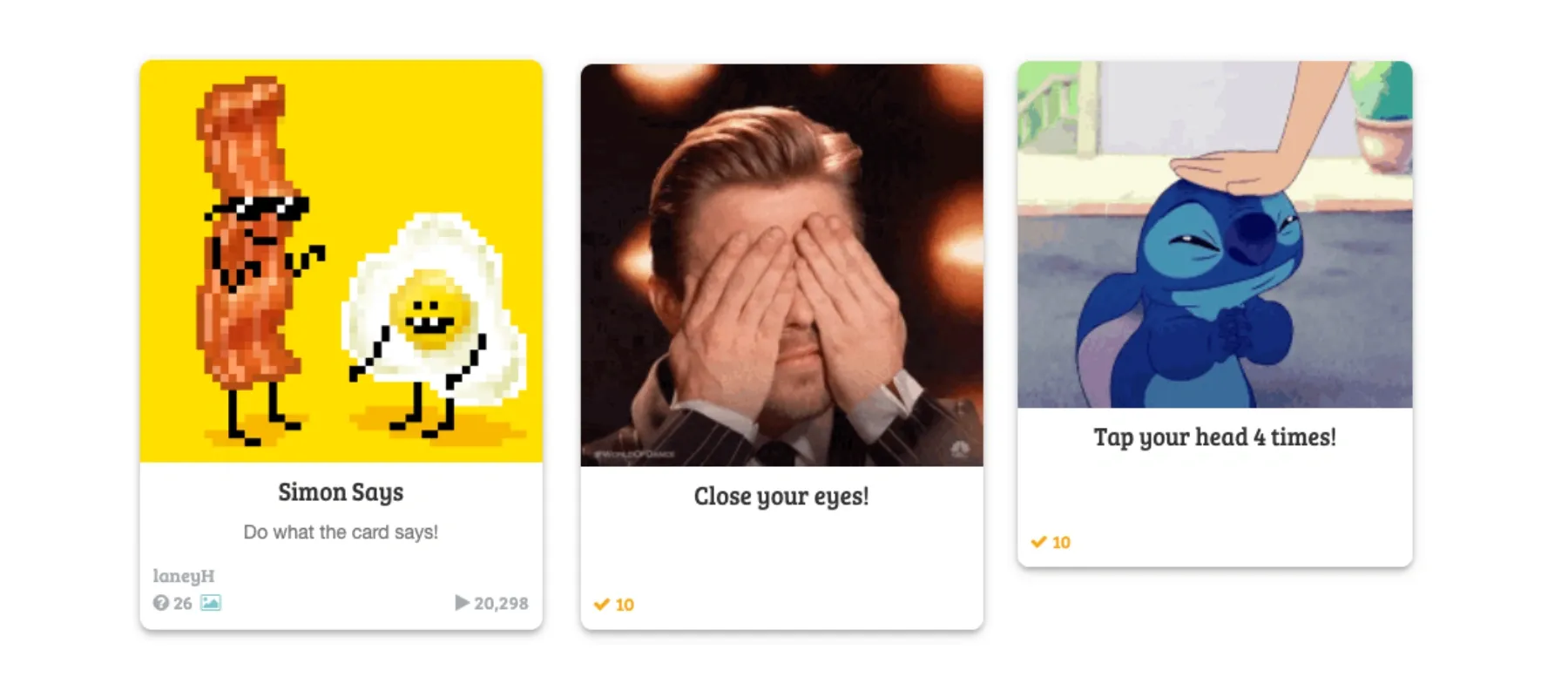 Another spectacular serving of Simon Says, this version includes animal noises, physical challenges, and strange impressions of monkeys.
Baam-Link: Play now!
---
Yoga Poses
by Kaitlyn Principi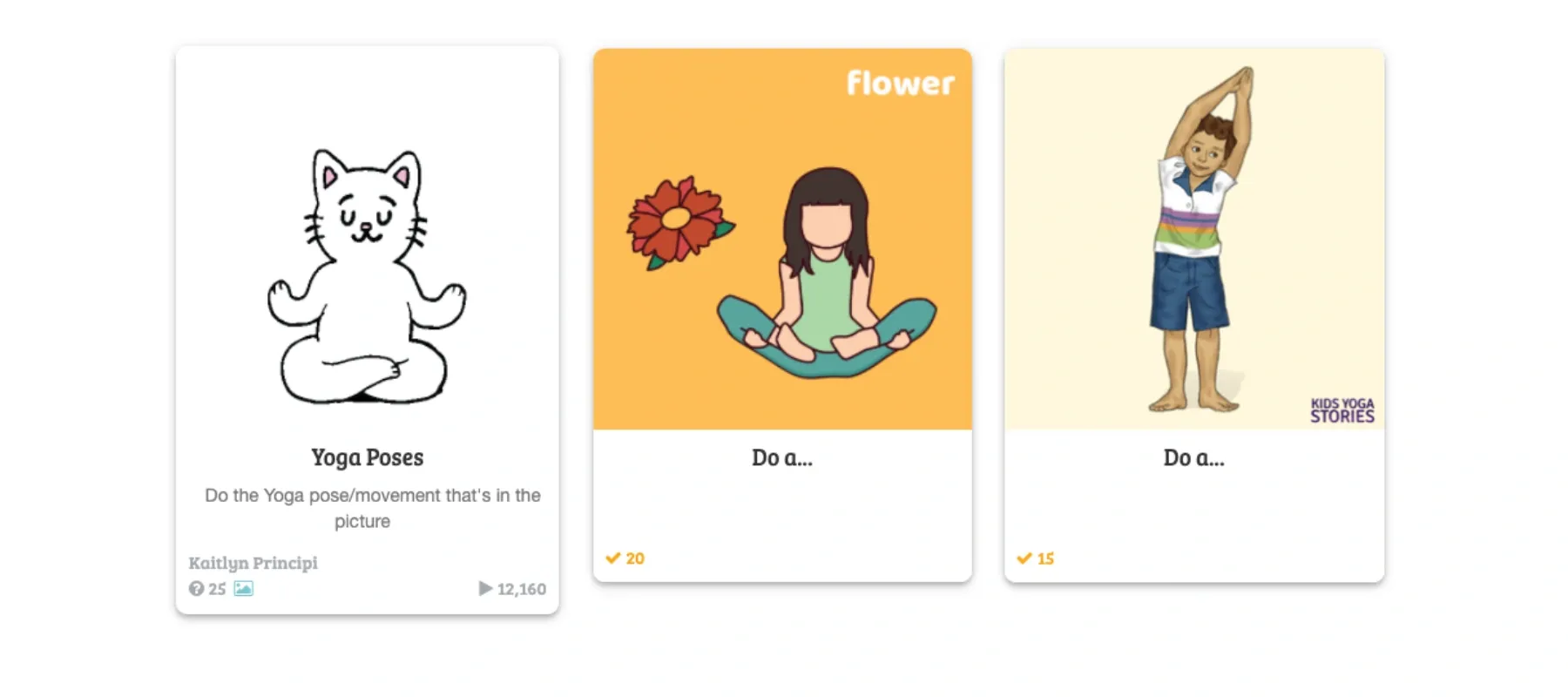 Relaxing and peaceful, this is one of our favorite physical classroom activities for warming kids down at the end of a lengthy lesson. A great flexible finale!
Baam-Link: Play now!
---
The benefits of physical activity and exercise during class
Okay, we all know that regular physical activity is good for both physical and mental health (and if you somehow didn't, you do now!).
But the importance of physical activity in education goes way beyond that, and into some surprisingly beneficial territory—physical games and activity can actually help students to learn, thrive and succeed in various different ways.
According to this 25-page CDC report on physical classroom activities (and those guys know what they're talking about!), regular physical activity during classroom time has five big benefits (among many more):
"Improving their concentration and ability to stay on-task in the classroom
Reducing disruptive behavior, such as fidgeting, in the classroom
Improving their motivation and engagement in the learning process
Helping to improve their academic performance (higher grades and test scores)
Increasing their amount of daily physical activity"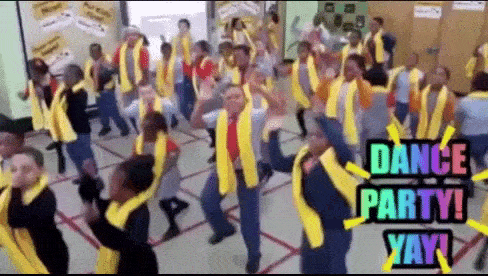 For much more information on the importance of physical activities in school, we totally recommend having a little read through that entire report. It's absolutely brilliant, and packed with tips, tricks and recommendations.
But in short, here's what you need to know: regular physical activity during classroom time is good for the brains and bodies of the students you're teaching. On top of that, it'll give you a much more productive and proactive classroom, and more successful students with better social skills, stronger bonds, and wider smiles.
And as a juicy little bonus, physical activity breaks in the classroom are fun!!
---
How often should physical activity be incorporated into classes?
Broadly speaking, that's up to you—and you might find that different approaches work depending on how you're teaching, who you're teaching, and what you're teaching.  
But here at Baamboozle, we're big fans of incorporating games very often (which given what we're all about, probably doesn't come as a big surprise).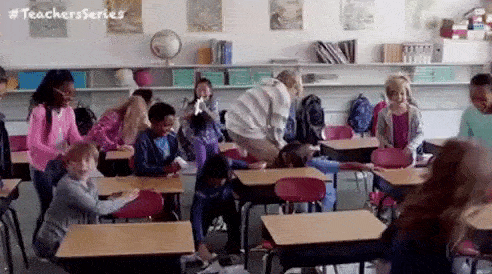 So here's what we suggest: include one session of 5-10 minutes of physical activity into each of your classes, and you'll start seeing the benefits right away.
From there, you can play with your approach a little, and work out what's too much, what's not enough, and what's just right.
In quick time, you'll become the Goldilocks of physical in-class games, and you'll find the perfect balance between sit-down learning and quick bursts of activity.
---
How to incorporate physical activity in the classroom, both in-school and online
There are various ways to approach this one—and, again, it'll probably take some trial and error.
Some teachers like to use physical activity at the start of each class, to get students engaged right away. Others prefer to incorporate physical fun at the end of a class, to get their students energized after sitting down for too long.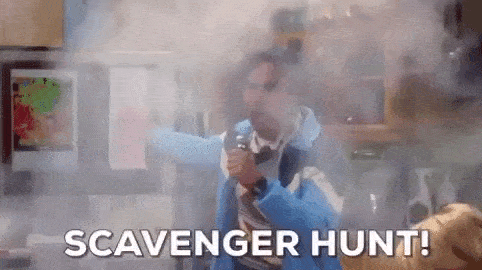 You could even slide a game right into the middle of your teaching session, to break things up with a welcome slice of frantic fun!
But the most important thing to remember is this: ensure your physical activity somehow complements your teaching and your topic, so it slips effortlessly into class time without seeming unnecessary or irrelevant.
It's also hugely important to note that no matter whether you're teaching in-class or online, you should still plan these physical breaks—the benefits are the same regardless of the venue.
---
Final Thoughts
There you have it—everything you need to know about the importance of physical activities in school!  
From a superficial point of view, offering physical activity breaks in the classroom might seem unnecessary, but that's not the case at all. In-class physical breaks are becoming much more popular, and the science shows they're an absolute necessity—so have a search through our hefty bank, and find some great stuff for you and your students.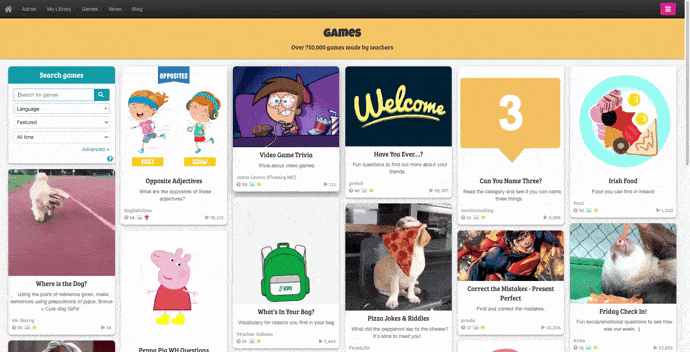 Or if you want even more bespoke excitement and adventure, consider signing up for Baamboozle+, our hugely popular (and hugely affordable!) premium package.
And last of all… if you want to know anything else about our fun-packed platform, here's our quick beginner's guide!
Thanks for reading, thanks for playing, and make sure you stick around for much more!