Baamboozle 101: A Beginner's Guide
Looking for a handy and helpful Baamboozle guide?
Well… we don't mean to be presumptuous… but as the pioneers of the platform, we're probably the best-suited people for putting one together.
So in this quick blog post, we've covered it all, including who we are, how you can use us, and how our award-winning website can make your classroom much more exciting and engaging.
But before we get going, here's the main thing you need to know: no matter who you are or who you're teaching, our platform is super simple and intuitive. So even if you're a 800-year-old technophobe with an aversion to adventure, you'll still be able to use our site with no fuss and no stress.
---
What is Baamboozle?
Baamboozle is action. Baamboozle is no-holds-barred educational immersion. Baamboozle is getting your students to learn in unusual, exciting, interesting ways.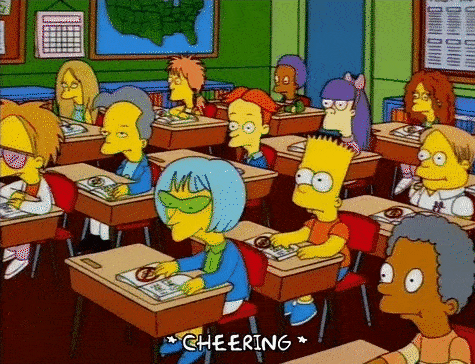 But in reality, Baamboozle is a very simple (yet very effective!) thing: we're a bunch of enthusiastic teachers and educators who are passionate about bringing game-based learning to the classroom.
We have a bumper bank of over 1 million excellent educational games, for all ages and abilities, and we're a perfect complement to your classroom.
Over half a million teachers use our site, and around 50,000 classrooms around the world play our games every day. Get this—more than 20,000 teachers signed up for Baamboozle this week alone!
---
How do I find and play my first Baamboozle game?
Like every part of the Baamboozle experience, this is super easy and accessible.
First of all, you go to the main page of our website. You then click 'Games,' and you're swiftly taken to our hefty collection.
Next, click on a game.
On the following screen, click 'Play' (see, we told you this stuff was easy).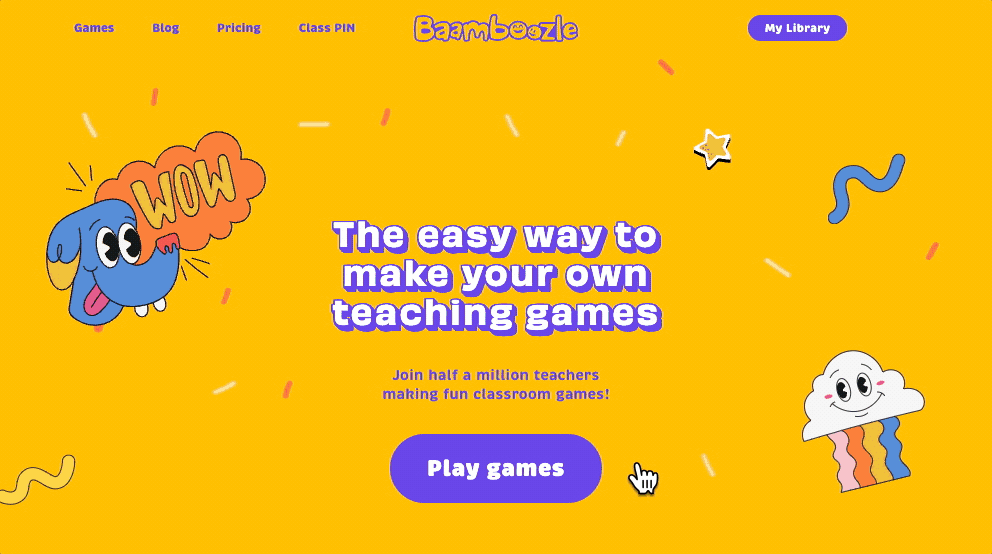 From here, you're almost ready. But first, if you so wish, you can make things bespoke beyond belief, choosing between various themes, versions, power-ups, and plenty more. You can make things as complex or as basic as you like—but if you're in doubt, start out with something simple to get a feel for how we work.
How to split your class into teams—and how to get going with our games
Okay, the most fun-filled part of our Baamboozle guide… here's how to actually start playing!
First up, you want to split your class into teams—anything between 2 and 4 teams is fair game (or even up to 8 teams with Baamboozle+!).
The easiest way to split your little learners into teams is by giving each student a random number. Say, for example, you have 4 teams. Allocate each student a number between 1 and 4, and you have some quickly-constructed teams ready to play right away.
(If that's not interesting enough, and you want some fun and creative ways to split your class into teams, here are some great ideas).
Before you get started, set some brief ground rules by discussing how things are going to play out. Are teams allowed to shout out? Does each team have a designated answerer? Are there any rewards? Or punishments? Do the students understand exactly what's gonna happen next?
Once all the ground rules are established, it's time for some frantic fun!
---
How do I play if I'm teaching in class?
Unlike some platforms, your students don't need access to any of their own devices, which keeps the whole process simple and stress-free. They don't need iPads, Chromebooks or any other expensive equipment.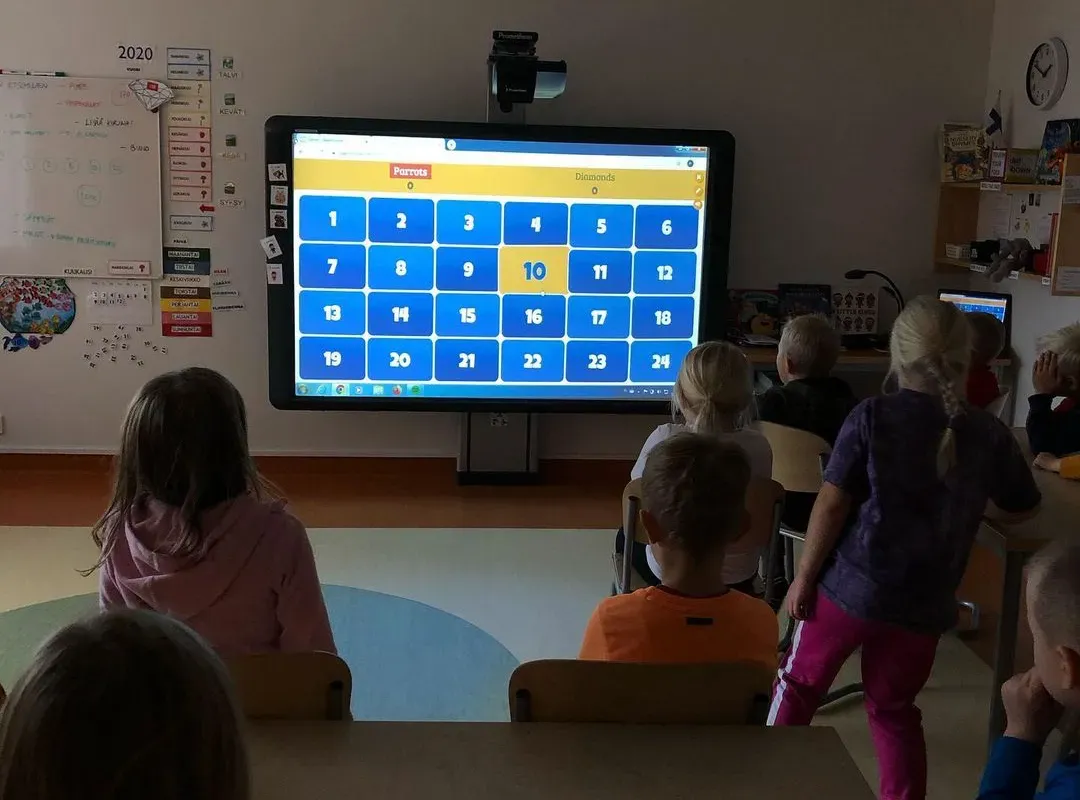 So long as you have one main screen in your classroom (such as an interactive whiteboard or whatever), you don't need anything else. You simply project our website onto your classroom screen, and get going with the fun!
---
How do I play if I'm teaching online?
If you're teaching remotely, simply share your screen with your students.

Again, for online learning, your kids don't need access to anything beyond what you'd use for a normal lesson. With us, devices are never necessary.
Here at Baamboozle, we know teachers value simplicity—and we value simplicity too!
---
How do I find high quality games with Baamboozle?
No matter what your students are learning about, it's ridiculously easy to find perfectly-suited games on Baamboozle.
On our games page, you'll see a small search box in the top left-hand corner.
Using that box, you can search for games by popularity, language and more to find the perfect activity to take your lesson to whole new levels of fun!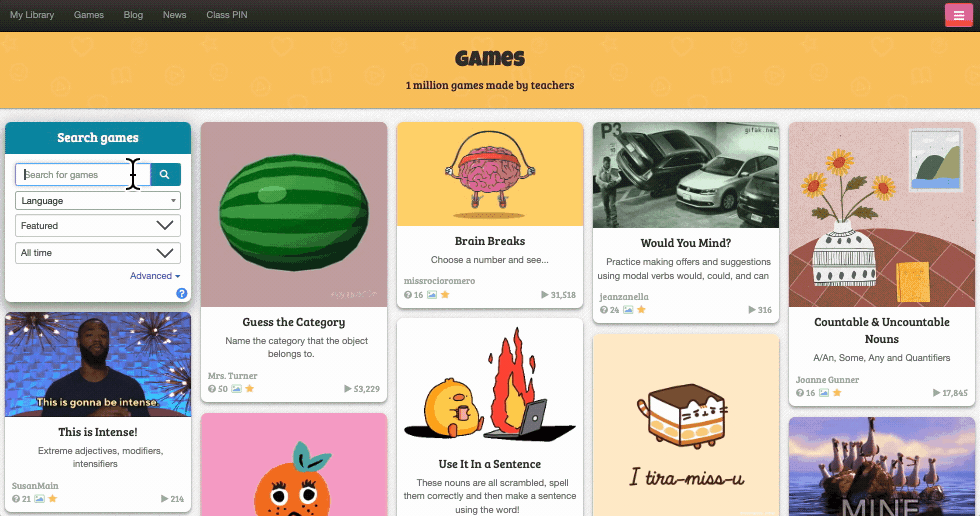 If you're looking for an even easier way to find something topical or popular, we also regularly publish blog posts with specific recommendations. Want a lengthy list of our best icebreakers? Keen to use our favorite festive Christmas games? Looking for some horrifying Halloween fun? We've covered it all!
If you're ever short of inspiration, check our blog for regular updates, and you'll always find lots of helpful recommendations.
---
How do I create my first Baamboozle game?
Because we're the proud owner of so many thrilling fun-fests, don't be surprised if you never feel the need to make your own games with Baamboozle.
But if the urge arises, crafting and creating your own games is all very easy, and it'll only take you a quick few minutes.
Once you've signed into your account, go to 'My Library.' From here, click '+ Game,' and you're already onto the final page of the process. On this page, you can add a title, a description, and lots of funky images and gifs.
Once you're done, your game will be immediately added to our existing database… and teachers from around the world will be able to play your crafty creation!
To make things even easier, you can even create a game by importing directly from a Quizlet or Kahoot URL!
Read more: 10 Best Kahoot Alternatives
---
How do I save games with Baamboozle?
Found a brilliant game you want to play again? Or play later? Or show to all of your colleagues?
With Baamboozle, there are two ways to keep quickly coming back to the games you like best.
The first way is by arranging games into folders. After you click on a game, you're taken to a new page. On that page, you can see a box on the left-hand side of your screen. Click 'Save', and you're able to place that game into a bespoke folder, crammed with all your favorite creations.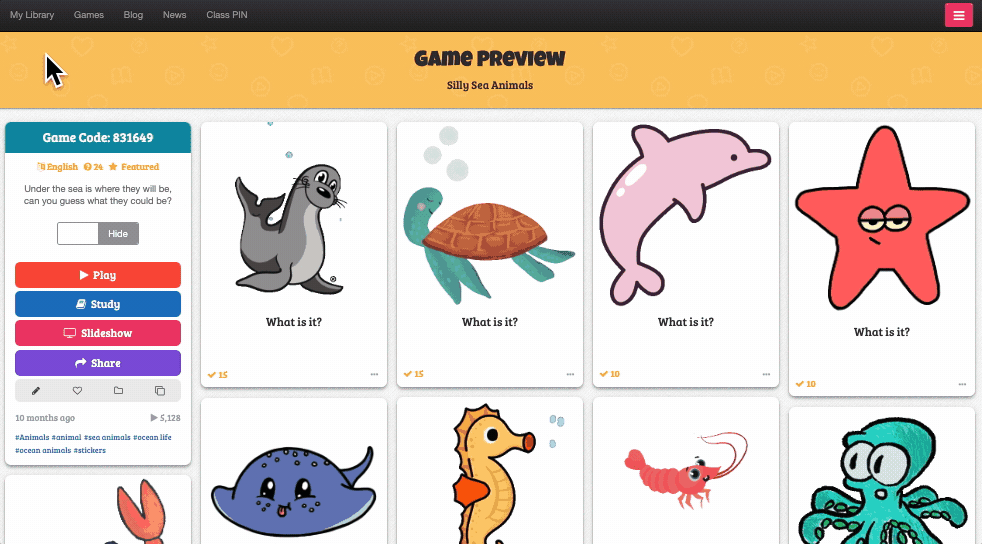 The second (and easiest!) way to save a game is simply by clicking that game's 'Like' button, which you'll find in that same left-hand box.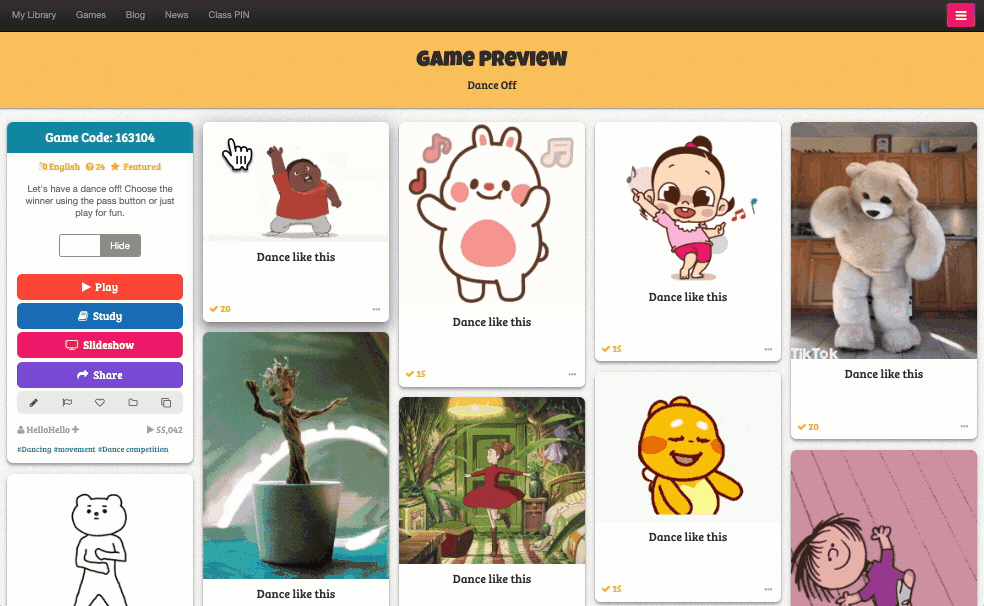 However you save or arrange your favorite fun games, you can find them all quickly and easily by heading to 'My Library'
---
How do I share a Baamboozle game?
If you have an insatiable urge to share one of our great games, it's easy to do so, with countless ways to spread the word.
After you've clicked on a game, look at that left-hand box I keep endlessly going on about. In it, you'll see a share button.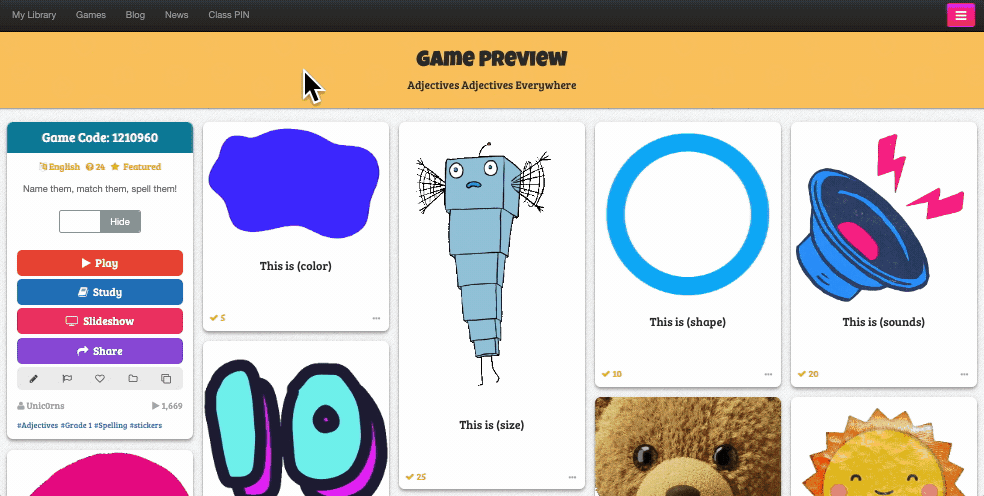 Click that share button, and you can spread the game far and wide via Google Classroom, Facebook, Twitter, WhatsApp, email and plenty more!
---
What Exactly is Class PIN?
Up at the top of our page, you've probably spied a nifty feature called 'Class PIN.'
Before we get going with an explanation, here's an important note: this sweet little perk is only available to teachers with a Baamboozle+ account.
As you might already know, a Baamboozle+ account gives you loads more ways to play (including our fun-filled versions of Snakes and Ladders, Story Dice, and plenty more). But here's the thing: with Class PIN, your students don't need access to Baamboozle+ to get the playable perks of Baamboozle+.
If you (assuming you're a teacher) have access to a Baamboozle+ account, you can generate a unique 6-digit Class PIN each time you share a game with your students. When you share your chosen game along with that PIN, your students get access to all the Baamboozle+ features without needing a Baamboozle+ account of their own.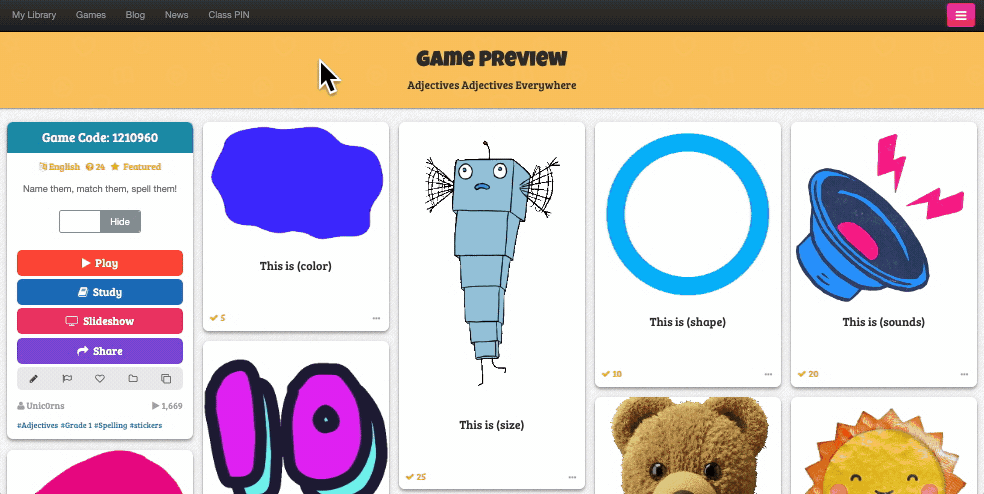 And it's super simple to dispense the fun: you click that share button we've just explained… and you choose 'on' for the 'Class PIN' option. When you've told your students the PIN number, it's outrageously easy for them to get access… they just enter the PIN (from the homepage or the game page), and they're ready to get going with the fun!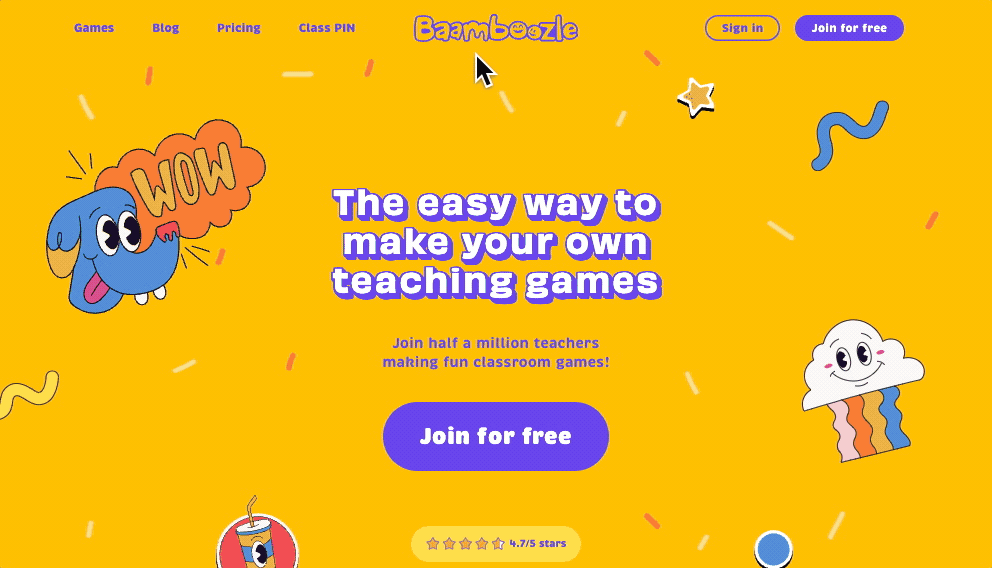 In short, Class PIN is just a quick, convenient and affordable way of sharing the Baamboozle+ joy. Each time you generate a Class PIN, your students can enjoy 14 fun-packed days of all of our game modes—and they can play these games alone, in groups, or with friends.
Your students can use the Class PIN feature to study in their own time, recap what they've already learned, work on out-of-class assignments, and prepare for tests or classes.
And because Baamboozle is so fun, it's good for keeping kids occupied at other times… your PIN-given students might even want to play our games during recess (when they like playing games anyway!), or while they're waiting for other students to finish tasks or assignments in-class. Or if you're teaching online, the Class PIN feature is useful for encouraging breakout rooms to be productive and proactive.
---
Baamboozle guide: Final thoughts
And that brings us to the end of our speedy Baamboozle guide. It's been a pleasure!
You're now fully equipped to join the playable party, and add the magic of Baamboozle to your life. With our help, you can make your job easier, your classroom more fun, and your students more engaged and entertained.
Sign up, have a play around, and see if all the excitement is for you. And if you want even more options for crafting bespoke classroom experiences, consider signing up for Baamboozle+, our much-loved all-access package. With it, you get the premium perks we've already mentioned, along with lots of other great stuff.
Whichever version you use, and whichever games you play, we guarantee you'll love us. Thanks for reading, you educational hero, and make sure you stick around for more!