25 Christmas Games Saint Nick Would Be Proud Of
As we grind through the final teaching days of the second most challenging year in living memory, it's time for teachers to put some focused attention into planning their final lessons before Christmas.
As excitement builds towards Saint Nick's imminent arrival, your kids' behavior will wobble as familiar routines change and 'ordinary' lessons fail to compete with the hype of the festive season.
You already know this, of course. But you also know that if there's one thing kids respond positively to at any time of year, it's fun and novelty. Ideally, intelligent fun and meaningful novelty.
Now, if you've used Baamboozle before, I don't have to tell you how simple and fun it is to use. For those of you who are new to Team Baam, however, a brief word of warning:
While it IS true that Baamboozle's eye-poppingly attractive platform covers every conceivable subject across all age groups, and that using your free account enables you to play any of the million+ teacher-made games available immediately with your class with close to zero preparation time…
I MUST tell you that the educational experience we deliver is certainly not a passive 'glued-to-the-screen' one. Zombification is NOT on our Christmas wish list y'all.
Teachers are regularly in contact with us, often in a state of surprise or shock, to tell us about their class' responses to our games. And, oh boy.
Tears, tantrums and triumphant celebrations were noted as surface reactions to our games; yet, considered teacher-led reflection yielded deeper responses from many children who struggled with 'losing', 'failing' or collaborating with others. Baamboozle allowed teachers a way into these challenging subjects.
Now, if there's a more valuable gift to give your students this Christmas, I'd love to hear about it ;)
Without further ado, here are Baamboozle's top 25 games for Christmas.
1. "I Spy" for Christmas
by Susan Tourdot

👁 Spy with my little eye, something beginning with Awesome!
Baam-link: Play Game
---
2. Christmas Fun
by HelenM

A mixed Santa's sack of festive icebreaker questions. 🎅
Baam-link: Play Game
More Icebreakers: 35 Essential Icebreaker Games to Hook Your Class
---
3. Christmas Missing Numbers
by MONISP

Gingerbread men as teaching tools?! What spiced sorcery is this! Sharpen your class' number sequencing skills with this seasonal segue 🎄
Baam-link: Play Game
---
4. Christmas Scavenger Hunt
by Mrs. B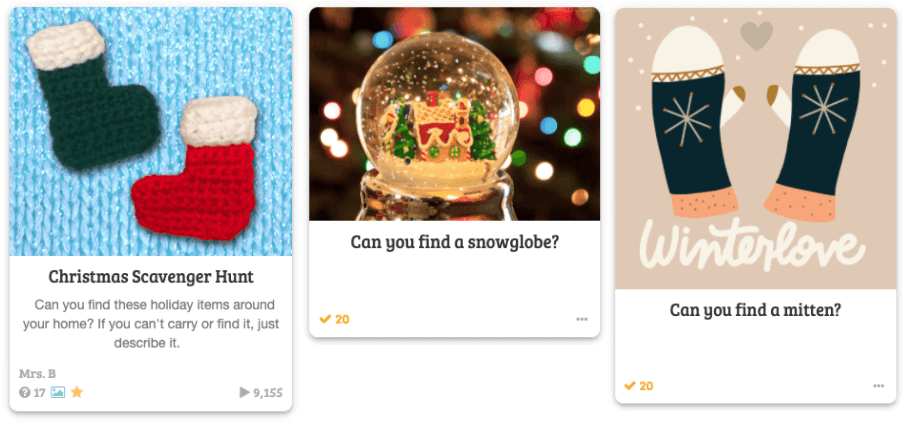 Need some help getting full bellies moving after Xmas dinner? We've got you covered with this fast-paced scavenger hunt 🔎
Baam-link: Play Game
---
5. Christmas Songs
by Brinkerhoff

Sadly, some schools have been unable to sing for the last 12-18 months, due to restrictions. What better time to test 'n' refresh their musical memories?
Baam-link: Play Game
---
6. Christmas Words
by Paul

Holy stockings! Here's a rapid-fire recall game to get young tongues wagging 🧝
Baam-link: Play Game
---
7. Christmas Time
by Sigita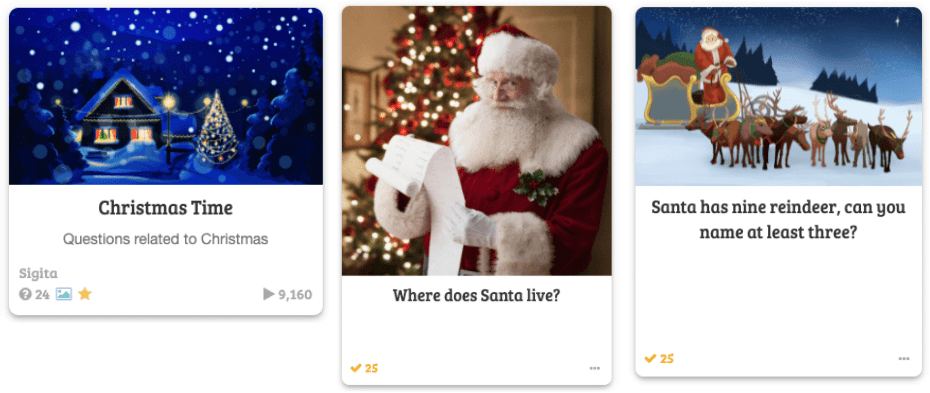 Snappy little quiz covering all things Christmas, and why Christmas wouldn't be Christmas without Thomas Edison 💡
Baam-link: Play Game
---
8. Christmas Speaking
by Kasia Gie

All I want for Christmas is… your opinion! What do you think of this highly opinionated game? Now featuring the coolest Santa Claus in history 🤘
Baam-link: Play Game
---
9. Describe Christmas Scenes
by Susan Tourdot

Challenge your kids to describe the Christmas scenes as accurately or creatively as possible. Can be differentiated in myriad ways to include figurative language, or a written challenge ✍
Baam-link: Play Game
---
10. Christmas Spelling Bee
by Miya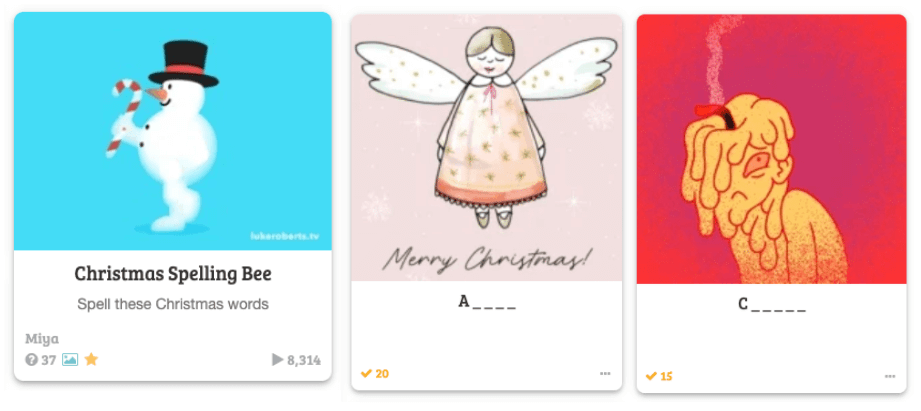 Fun and festive attention-snagger to get little minds engaged and lock in some spelling practice 👄
Baam-link: Play Game
---
11. Festive Vocab Fun
by Sam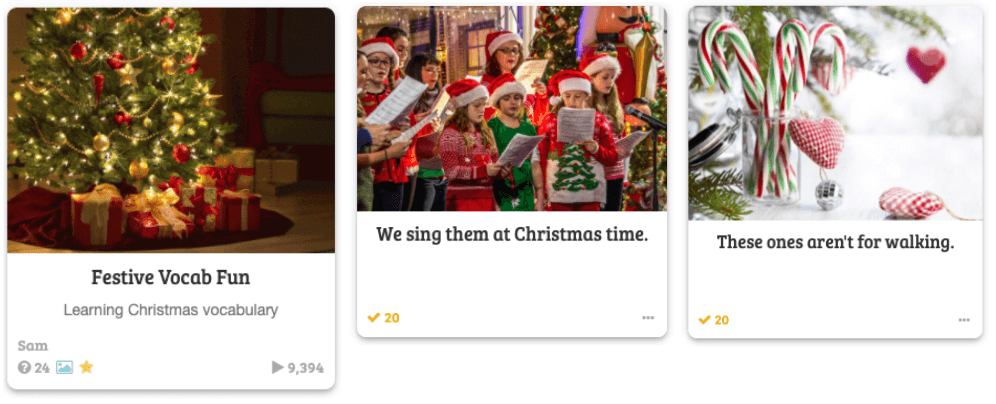 Micro-riddles given to build their festive vocabulary, plus an excellent opportunity to lock down some tricky spellings 😉
Baam-link: Play Game
---
12. Emoji Christmas Game
by Dr. Ting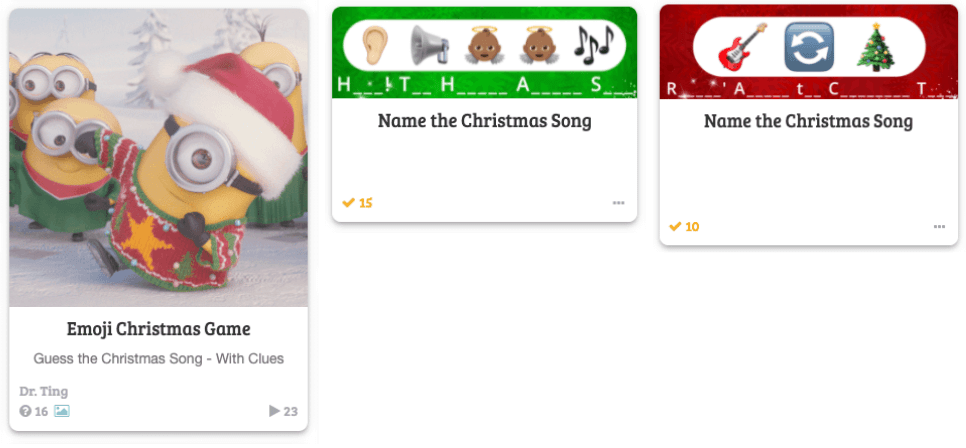 Is there anything emojis can't improve? Probably! But this game 'deduce the Xmas song' revolves around emoji magic 🌠
Baam-link: Play Game
---
13. It's Almost Christmas!
by brchambers555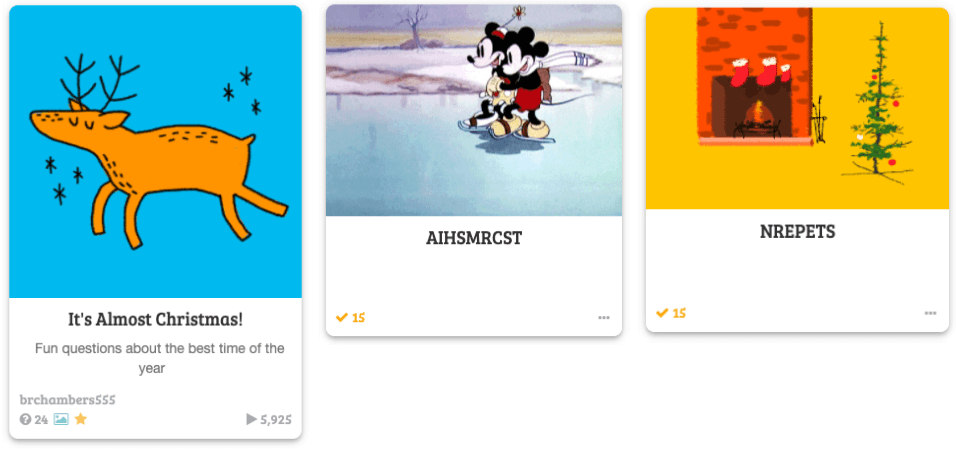 Psst - Baam games are seriously versatile 😎 they can be dropped in at the start or right at the end of a lesson, or even as part of the main activity. Meanwhile, check out this festive mini-quiz!
Baam-link: Play Game
---
14. How Many Can You See?
by Sam

Well? Take a look! Cool, calm and collected (and Christmas-y!) observation skills are needed here - which team will prevail?
Baam-link: Play Game
---
15. Junior Christmas Word Scramble
by Ronan

I jsut konw yuor kdis wlil lvoe tihs adtivdcie ftivsee-tmeehd agraanm gmae 😄
Baam-link: Play Game
---
16. The Christmas Movie Quiz
by speechiebee77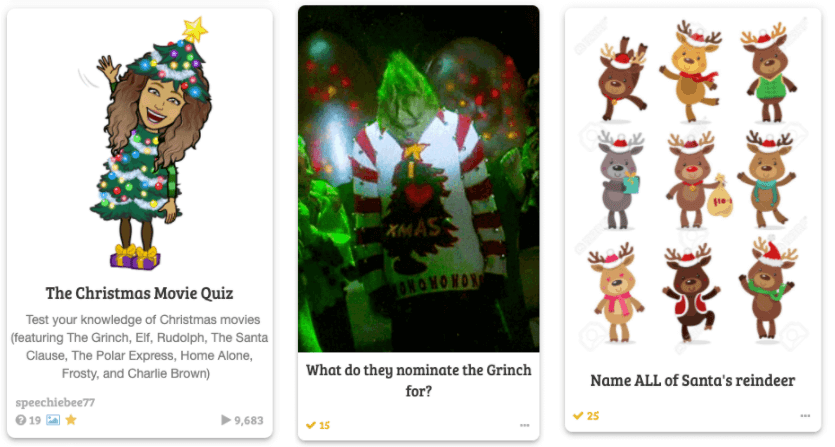 The holidays wouldn't be complete without a festive movie or two 📽 but, if it's a tad too soon to crack open your Netflix account, whet your class' appetite with this Xmas Movie naming game!
Baam-link: Play Game
---
17. What Do You See at Christmas?
by Madzia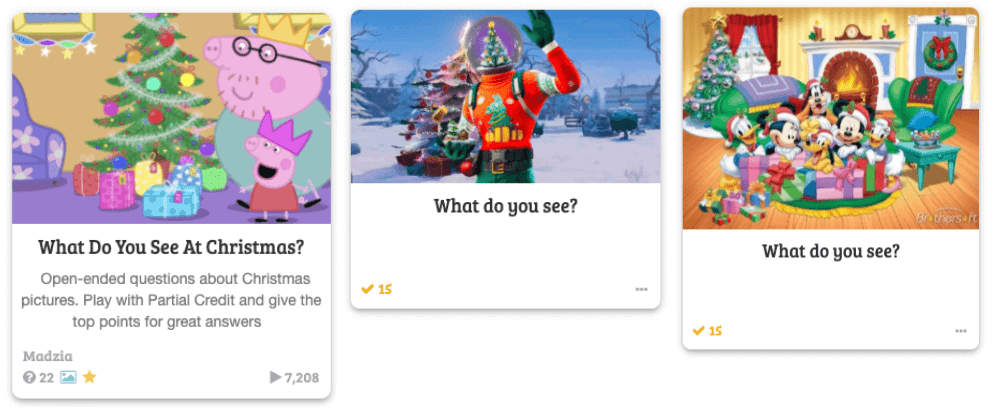 Can your kids describe these seasonal scenes to your satisfaction? Only YOU can be the judge!
Baam-link: Play Game
---
18. Would You Rather Christmas?
by MrsRSpeech

Would you rather spend Christmas at Disneyland? Or at home? That's a no-brainer right? But… Can your kids use full sentences to explain why? 🧚
Baam-link: Play Game
---
19. Simon Says Christmas
by Winnie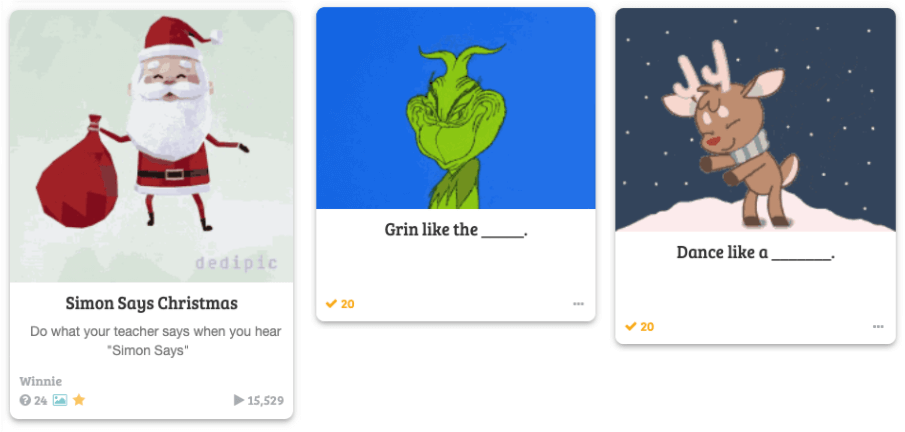 Dance like a reindeer! Melt like a snowman! Walk like an elf! Who says? Simon, of course 👦
Baam-link: Play Game
---
20. Holiday Jeopardy
by Adventures in Learning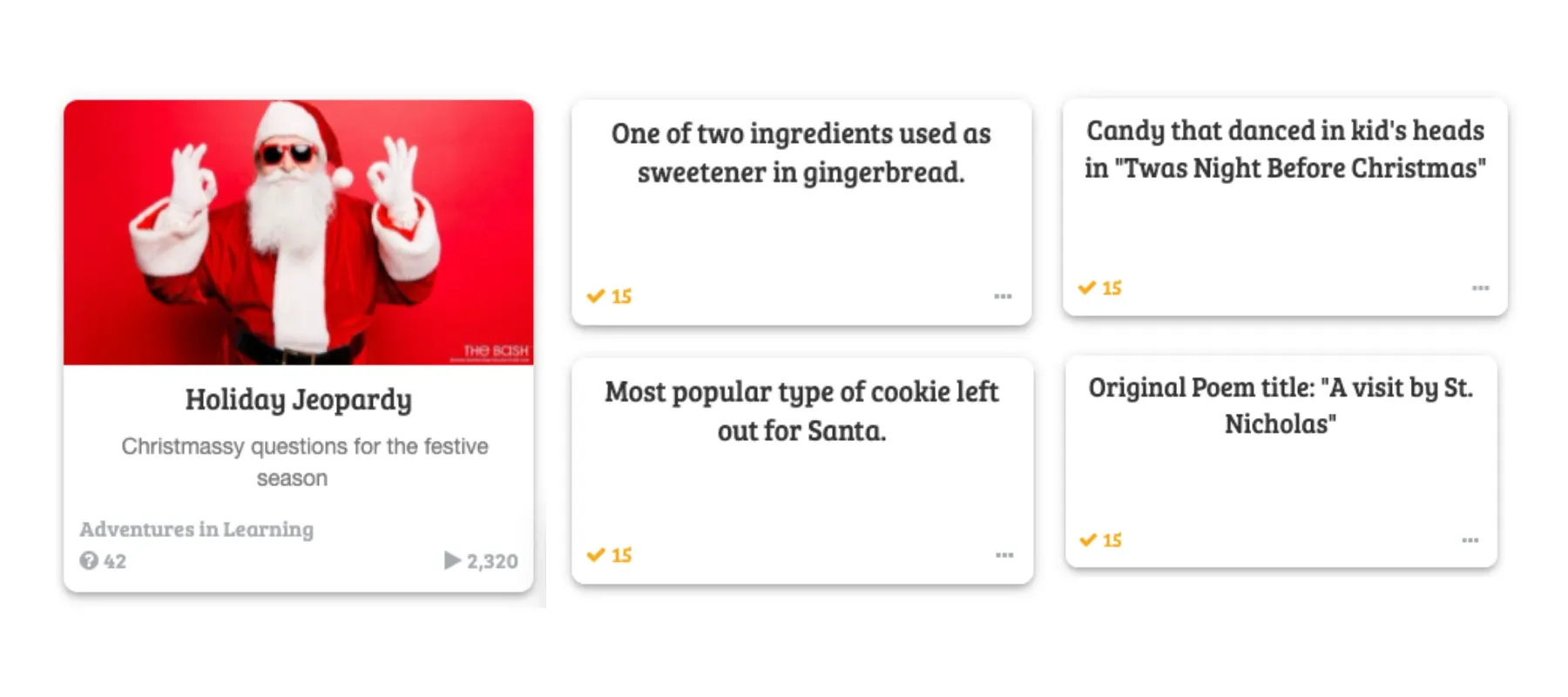 Bringing the classic gameshow 'Jeopardy' bang up to date with a Baamboozle twist. Correct answers to general knowledge questions mean points, and what do points mean? Glory for the winners!
Baam-link: Play Game
---
21. Christmas Taboo
by sinead tr

Speedy and cute, Taboo means three clues point to one object which kids have to guess. Some teachers set time limits, some teachers use power-ups to up the ante. Which type of Baam teacher will you be?
Baam-link: Play Game
---
22. Xmas Traditions in the US & UK
by Ms Maria

Some say the UK and US are separated by a common tongue, but here at Baamboozle we like to celebrate our differences and get to know each other through our various traditions. Happy Chrimbo!
Baam-link: Play Game
---
23. Christmas Quiz
by Fanny Bernard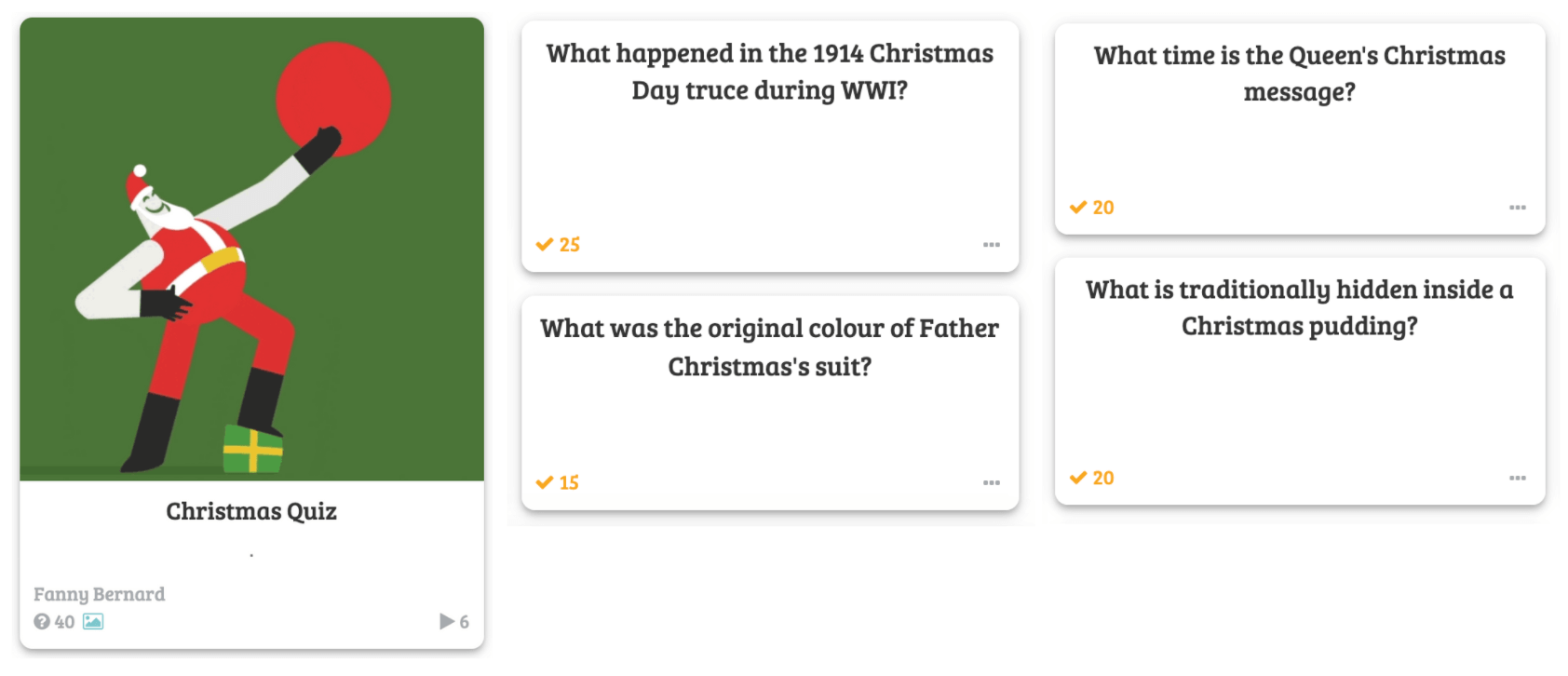 Merry little quiz with a wide range of cultural topics dipped into. And who doesn't know by now which country tucks into a KFC meal on Christmas Day? YOU don't?! Hit that link right now!
Baam-link: Play Game
---
🎅 🎄 But Christmas isn't the only festival being celebrated this Winter…
24. Festivals around the World!
by Mi Mi

Ever heard of Kwanzaa? And what do you know about Eid? Bastille Day anyone? Celebrations that'll pique your kids' curiosity are covered right here in this tantalising little Baam
Baam-link: Play Game
Even More Festivals: Top 10 Educational Halloween Games 2021
---
25. Hannukah
by Mrs. Morgan Adams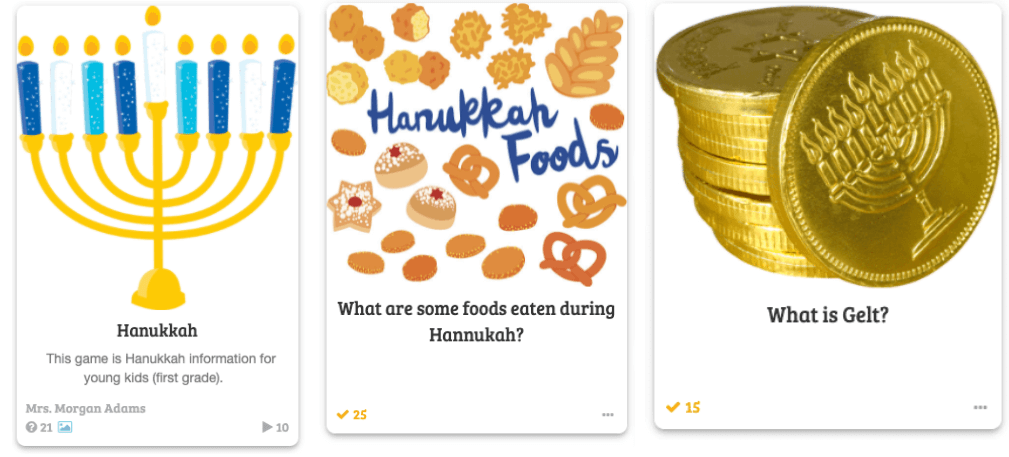 Have you touched on Judaism in your Religious Studies lessons so far? As many children and adults don't know the story of Hannukah, this Baam maybe the introductory activity to it you've been looking for..
Baam-link: Play Game
---
'Twas the night before Christmas…
If you've never used Baamboozle in your classroom before, Christmas is probably the best possible time to get the ball rolling. Timetables are more changeable, your kids are more open to trying new things in the run-up to the holidays.
Being educators ourselves, We're painfully aware of how tempting it is to cling to safe, tried and tested activities that 'get the job done'. Here at Baamboozle, we're huge advocates for simply diving in and having a go.
You'll find that many of the activities on offer are rooted in familiar classroom activities, except our platform aims to rid you of the time consuming, unnecessary planning that comes with them.
We recommend trying it with your colleagues first, using one of the growing number of hilarious Professional Development games already being played by teachers the world over (check out Teachers say the Funniest Things for example).
Baamboozle was developed by one renegade Educator whose mission was to marry up the power of intuitive gaming technology with an inclusive, collaborative approach to learning. In 6 short years we've seen the time-saving, lesson-invigorating benefits of Baamboozle surge into hundreds of thousands of classrooms across the globe.
Learn more: Baamboozle 101: A Beginner's Guide
We're seriously passionate about the wellbeing of our loyal teacher-creators who've come with us on our journey so far. For that reason, I want to pass onto you a hard-won yet cheeky little tip based on the Law of Reciprocity:
Try something new during these last weeks of 2021 (whether you're using Baamboozle or not)! The more memorable experiences you give your kids during this time, the more likely you are to receive genuinely heartfelt gifts at the end of term; handwritten cards, crafts and artworks are sooo much more wholesome than another batch of mugs and random objects with 'Best Teacher Ever' emblazoned on them, right?
Ooh, that reminds me! From all the team here at Baamboozle, we wish you a merry, happy, safe and fun end to the year 🎄🎅🎁
And by the way, if you're loving what Baamboozle is giving you so far, we're unveiling some SERIOUS educational firepower in 2022 that are going to totally blow your stockings off.