Top 10 Educational Easter Games
As you probably already know, Baamboozle is home to a user-crafted collection of over 1 million excellent educational games.
And although they're all brilliant, we know you're a busy bunny—we don't expect you to trawl through them all in your hunt for some topical Easter adventures.
So to save you the hassle, we've done all that stressful stuff for you—in this egg-shaped article, we've blasted through our cracking back catalog to bring you some of our favorite Easter games. We've brought you tongue twisters, strange scribbles, scavenger hunts, kooky quizzes, and a whole load of Easter excitement.
Chow down on that chocolate, brush up on your Bible stories, and get ready for some exciting new beginnings. Today, your good buddies at Baamboozle are bringing you our top 10 Easter-inspired games!
---
1. Bunny Says…?
By KlaudiaGO89

In this action-packed adventure, the classic game of Simon Says undergoes a topical twist, as Simon is replaced by a demanding bunny.
Can you march? Hop? Wiggle your nose? Roll like an egg? And more importantly, can you ensure you're only doing so when dictated by our poofy-tailed protagonist?
Helps with: Warming up the body, having some quick fun, and placating an exacting bunny
Best for: Kindergarten through to second grade
Baam-Link: Play now!
---
2. Draw an Easter Bunny
By DanielFerraz

In this artistic activity, your students are tasked with scribbling and scrawling some inspired images of the Easter bunny.
But this isn't just any ol' basic drawing game: instead, your learners need to come up with the silliest-possible version of everyone's favorite Easter animal. How many teeth will the bunny have? How long will they be? Why does it have four eyes? And why is its head so small?
Helps with: Drawing and doodling, getting all imaginative, and some always-welcome silliness
Best for: Kindergarten through to second grade
Baam-Link: Play now!
---
3. Easter Grammar
By m&m

Are there few yellow Easter eggs here? How many sugar do you need to make these cupcakes? Do you always eat too many food at Easter? And, last of all, have you noticed something wrong in each of those sentences?*
*We really hope so.
In this grammatical challenge, your little learners are tasked with choosing the correct quantifiers for a variety of Easter-themed sentences.
Helps with: Grammar, English classes, and learning about sentence structure
Best for: Grades 2 to 4
Baam-Link: Play now!
---
4. Easter Facts and Traditions
By monicatehrani

A spring-themed serving of multiple-choice mayhem, this quirky quiz gets your students answering questions on Easter places, events and traditions.
You'll cover food, flowers, omelettes, diamonds, pots of water, and plenty more.
Helps with: Learning some facts, having a quick quiz, and lots of kooky questions
Best for: Grades 7 to 10
Baam-Link: Play now!
---
5. Easter Riddles
By Jola

During this brief brain-boggler, students are given mysterious descriptions of objects associated with Easter. But can your learners successfully work out what is being described?
What gets boiled on Easter? What are brown, oval and sweet? And what was plonked on Jesus' head when he was cruelly crucified?
Helps with: Lateral logic, thinking outside of the box, and demonstrating some Easter knowledge
Best for: Grades 6 to 10
Baam-Link: Play now!
---
6. Easter Jokes
By Lisa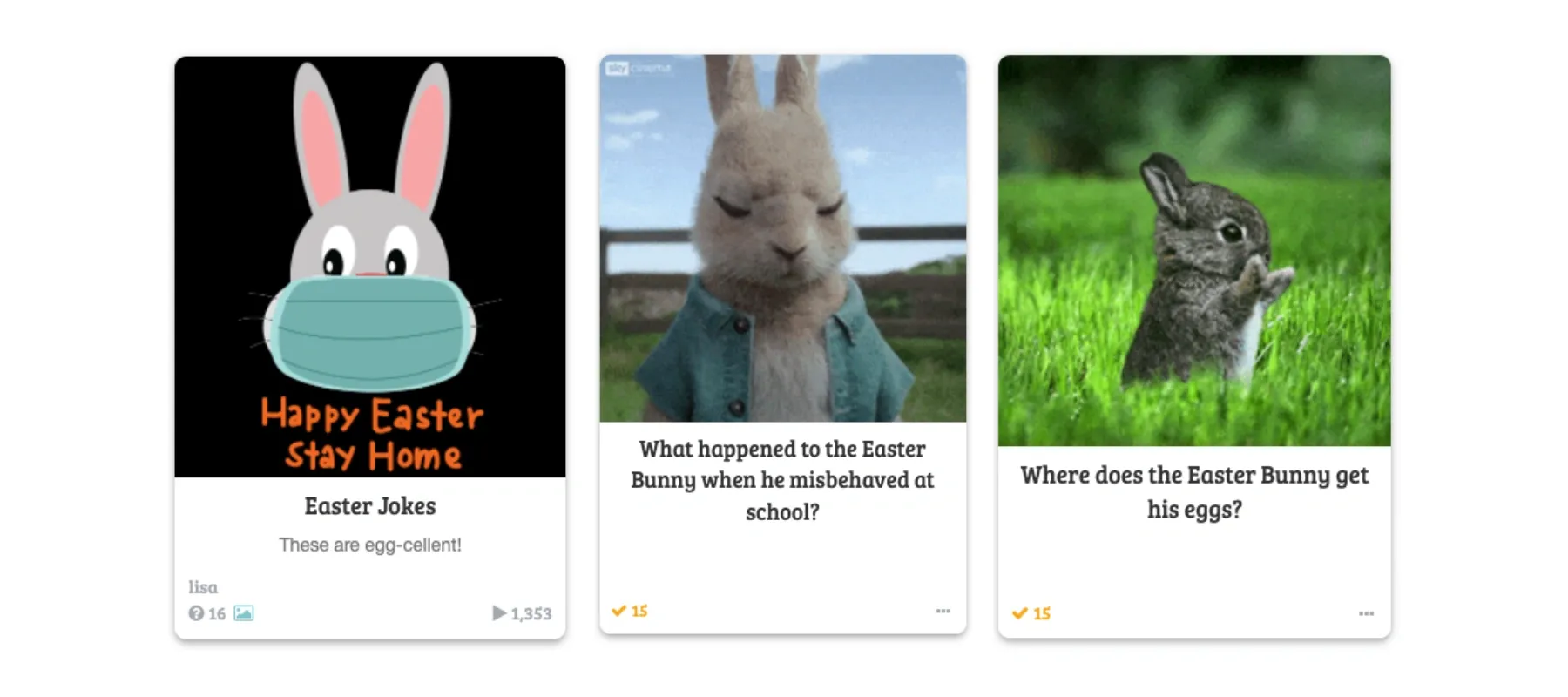 In this rib-tickling laughter-fest, can your students correctly guess the punchlines to some witty jokes and japes?
What kind of bunny can't hop? What do you call a rabbit with fleas? And has learning ever been this fun?
Helps with: Lateral thinking, sharing some laughter, and having some laid-back fun
Best for: Grades 4 to 7
Baam-Link: Play now!
---
7. Easter Eggs-travaganza
By Miya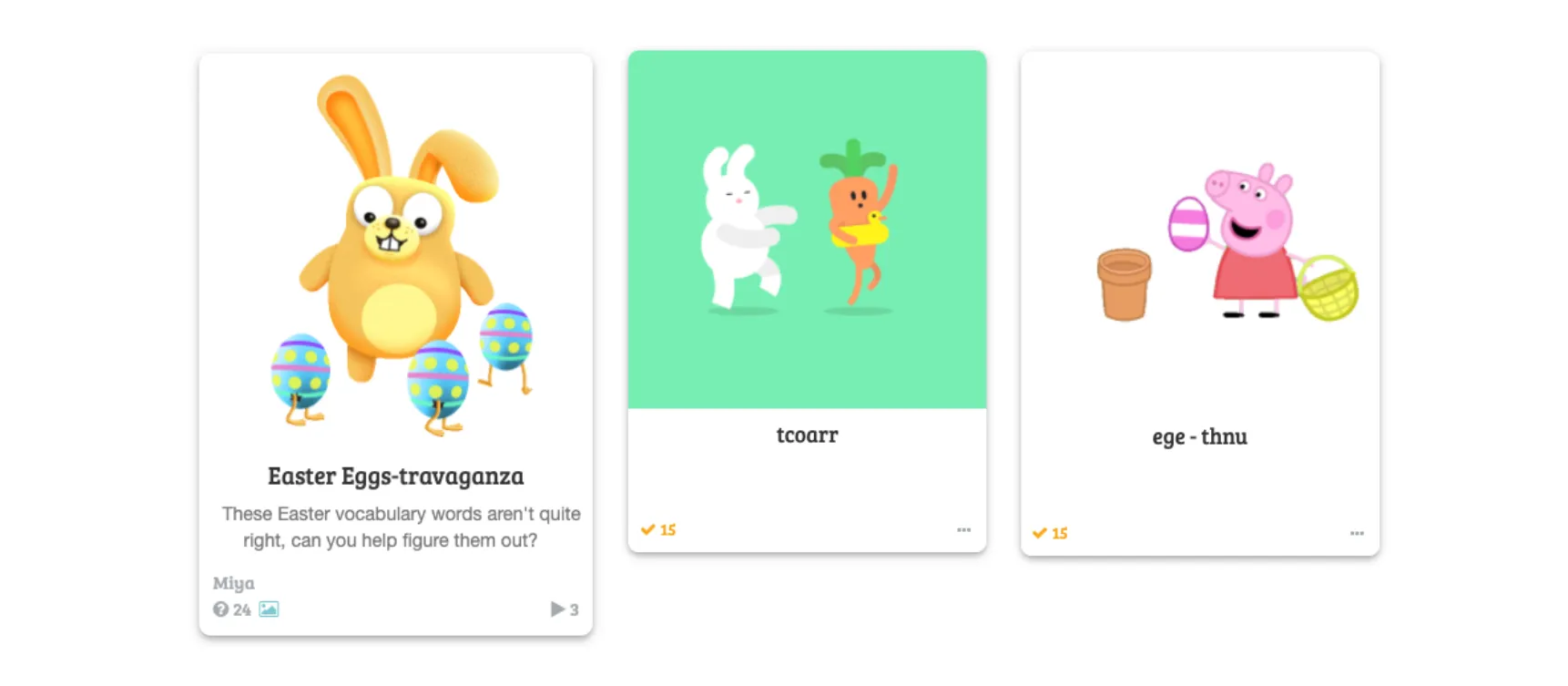 This puntastic game is all about wicked wordplay. With fill-in-the-blanks and tricky anagrams, your students need to use their English skills to come up with some topical solutions.
Each tricky conundrum is accompanied by an Easter-themed gif—and each question is great for developing English abilities.
Helps with: Wordplay, English skills, and analytical thinking
Best for: Grades 4 to 7
Baam-Link: Play now!
---
8. Easter Scavenger Hunt
By Jack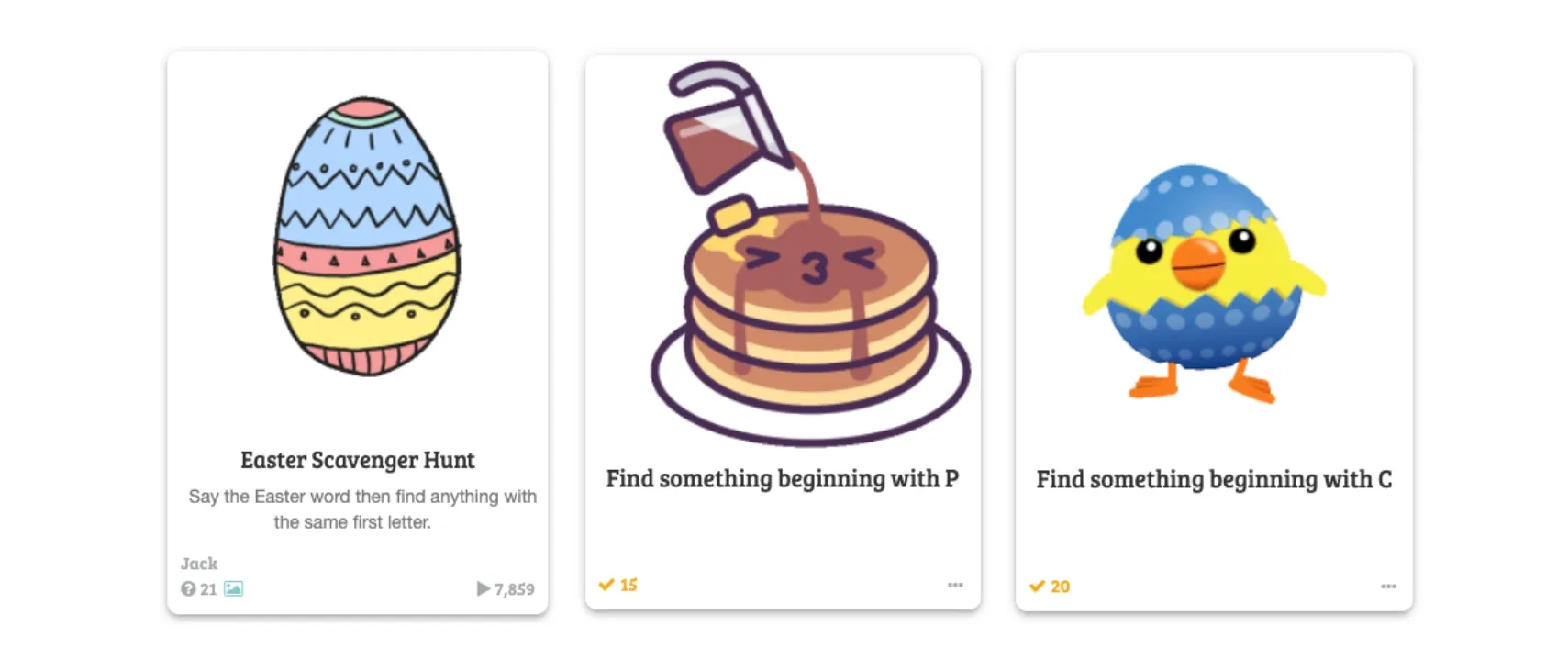 During this adrenaline-fuelled adventure, your students need to think fast—and act even quicker.
Firstly, they need to name the Easter-themed item in the image… then when they've arrived at the correct answer, they need to find an object beginning with the exact same letter.
This is a great activity for some spontaneous in-class fun. But it's even better if you're teaching online—during on-screen lessons, your learners can frantically search their homes in pursuit of some interesting items.
Helps with: Quick thinking, language skills, and a fun burst of action
Best for: Grades 3 to 6
Baam-Link: Play now!
---
9. Name 3 for Easter
By Barley Teacher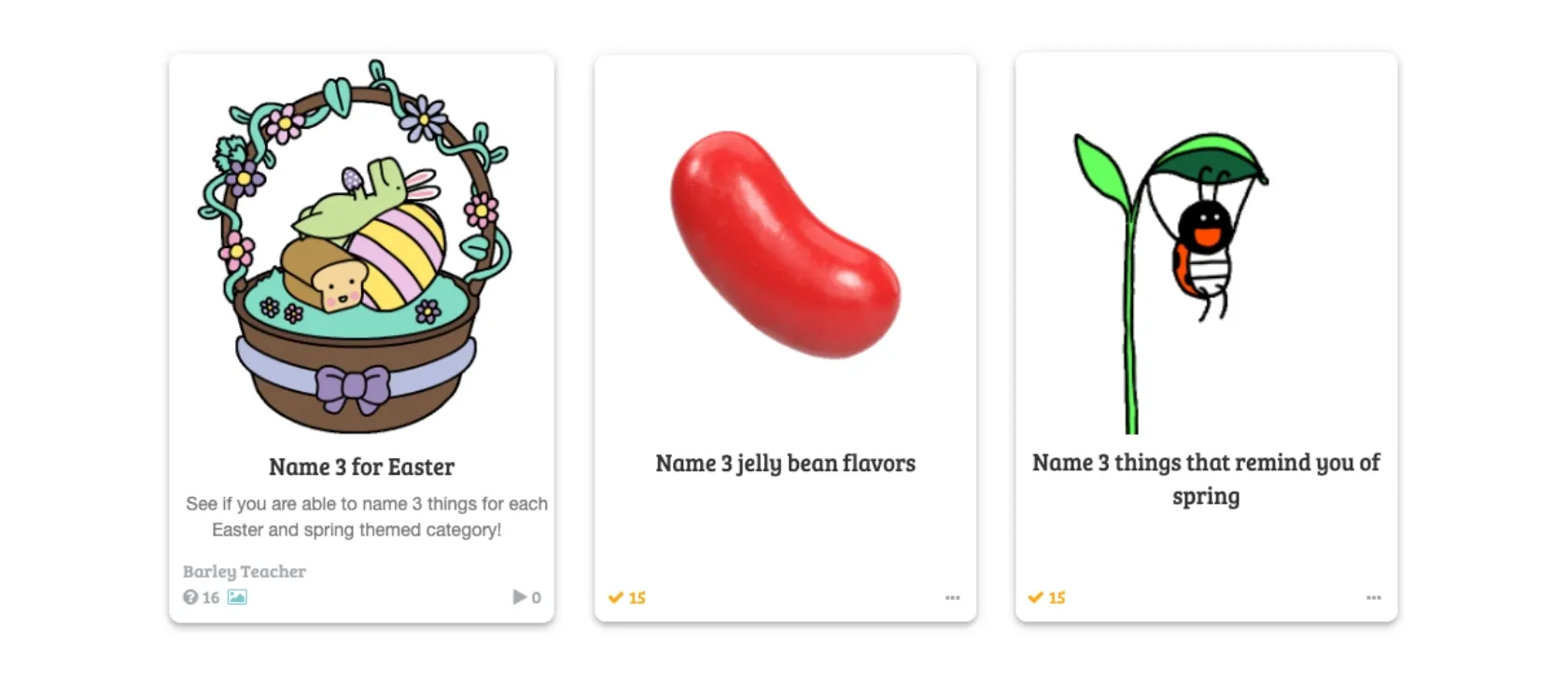 For this quick game, your students need to conjure up three speedy examples for each Easter-related theme.
Can you name 3 Easter symbols? 3 Easter desserts? 3 animals that lay eggs? Or 3 better ways to have fun than Baamboozle?
*Yep, that last one was a trick question—of course you can't!  
Helps with: Language, spelling, quick thinking, and some speedy interaction
Best for: Grades 3 to 6
Baam-Link: Play now!
---
10. Easter Tongue Twisters
By TeacherPaddy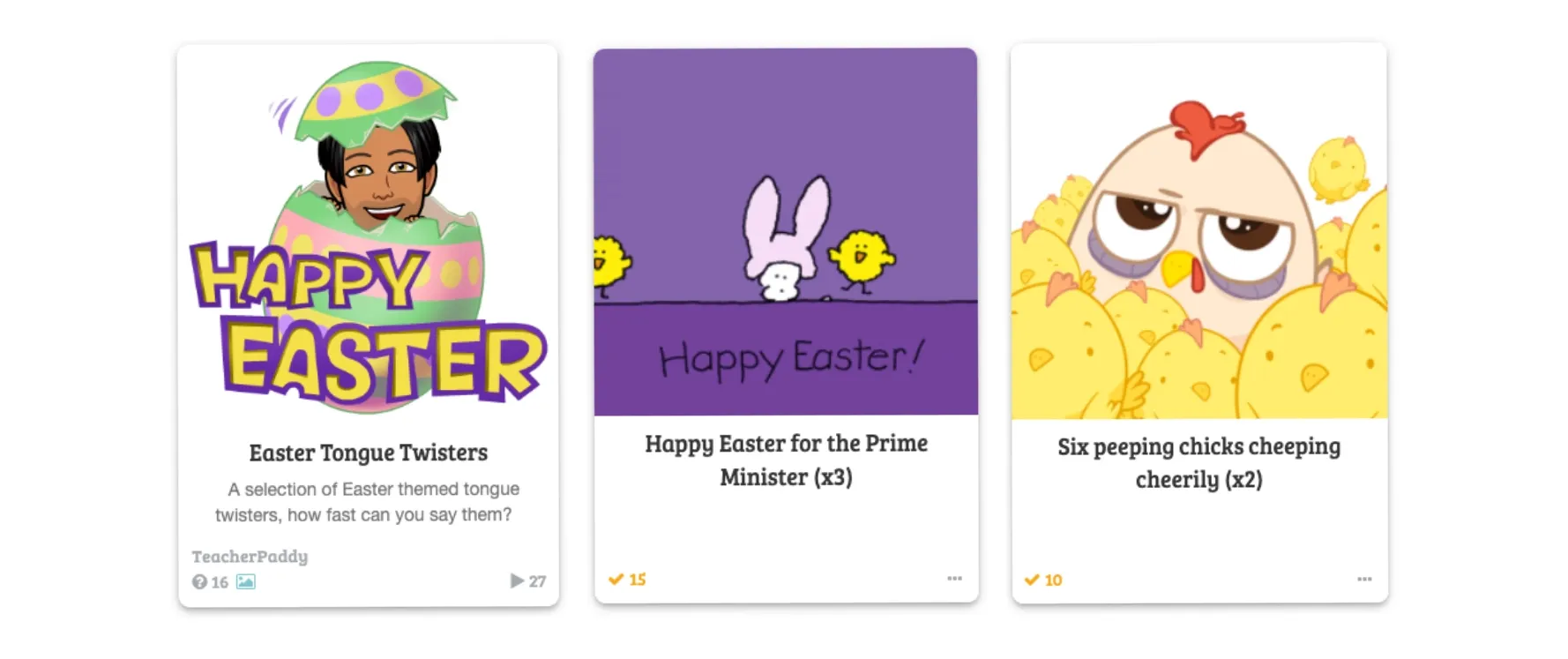 In this tongue-twisting challenge, only the most skillful linguists come away with top points.
How quickly can your students successfully stumble over these tricky spring-based phrases? Rhymes, alliteration and Easter sentences have never been so fun!
Helps with: Articulation, speaking confidently, and laughing at everyone's mistakes
Best for: Grades 5 to 7
Baam-Link: Play now!
---
Best Games for Easter: Final Thoughts
And just like that, we've reached the end of our time together, and the end of our Easter-inspired compilation of in-class adventures.
Pick your favorite, prepare for fun, and get cracking with some action!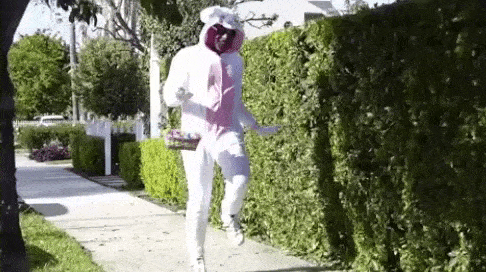 If you're looking for more themed collections of excellent educational games, wander over to our activity-packed blog posts for Christmas, Halloween, April Fool's Day, and St. Patrick's Day.
And for even more ways to play, get your chocolate-covered fingers around a subscription to Baamboozle+, our super-popular (and super-affordable!) premium platform.  
Thanks for reading, your educational inspiration—and make sure you stick around for much more!