Top 10 Games for April Fools' Day
Before we get going with this quick listicle, we have a (pretty big) announcement to make.
Here at Baamboozle, we've decided to take things in a different direction. After years of lovingly laboring on this site, we're stepping down, closing shop, and leaving the world of education behind.
GOT YA! April Fools'!
Course we're not!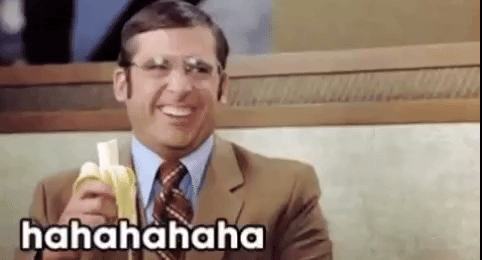 This teaching train is just getting started, and we've got a long way to go yet.
If you think you can dampen our untameable passion for educational excitement, you better think again. We already have a user-crafted bunch of over 1 million  games, and we're on the way to collating and collecting loads more.
And today, we're here with some of our favorites—for a slice of topical teaching, we've sifted through our mighty collection to bring you our top 10 games for April Fools' Day.
We serve up riddles, jokes, silly puns, and a whole load of learn-along laughter. Come join the foolish fun!
1. 21 Illusions to Break Your Brain
By babybilly2.0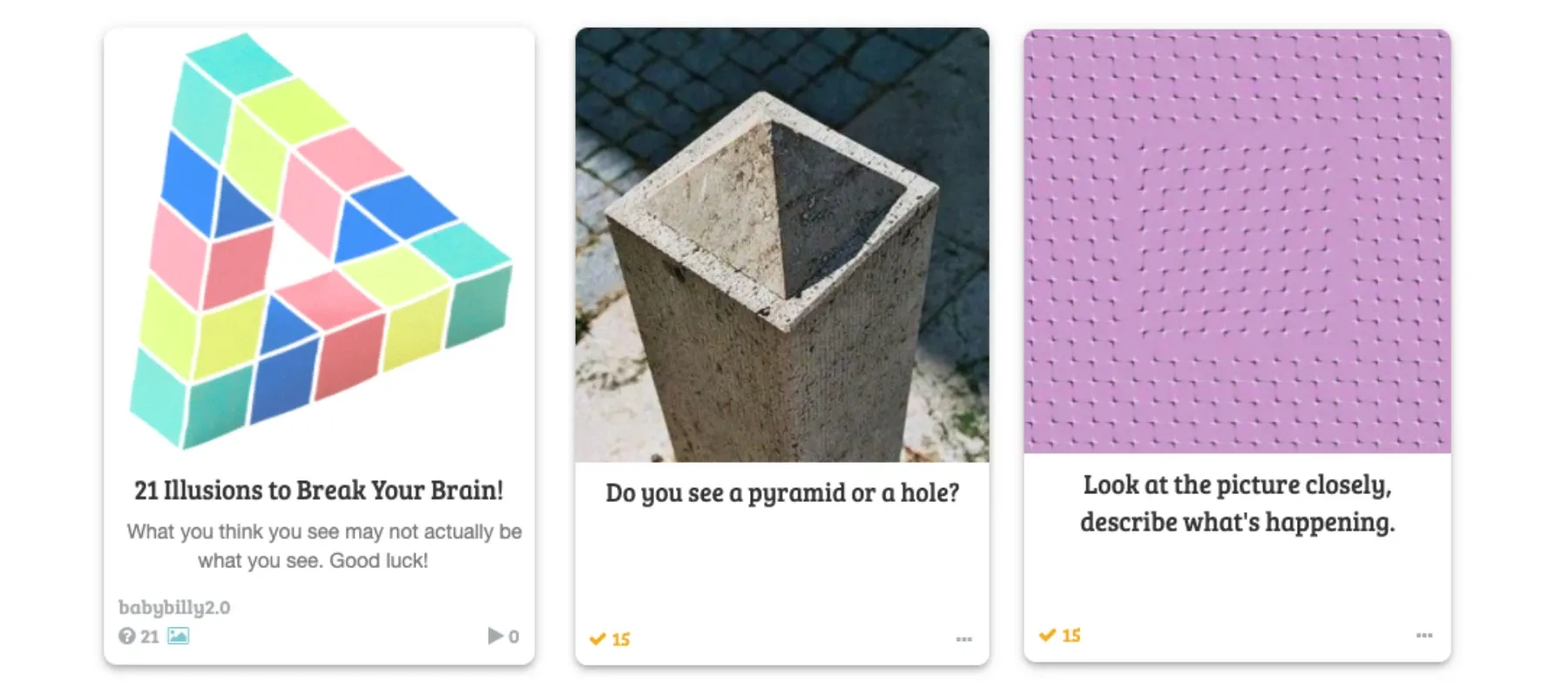 In this wicked game, your brain becomes the biggest fool of all, as it's callously coerced by some unusual illusions. We cover some classic mind-benders, a few modern oddities, and lots of reasons to be confused.
Expect your students to be shocked, surprised, and probably more than a little outraged.
Helps with: Lateral thinking, brain engagement, and seeing a different perspective
Best for: Grades 3 to 7
Baam-Link: Play now!
---
2. Can You be Fooled?
By Ally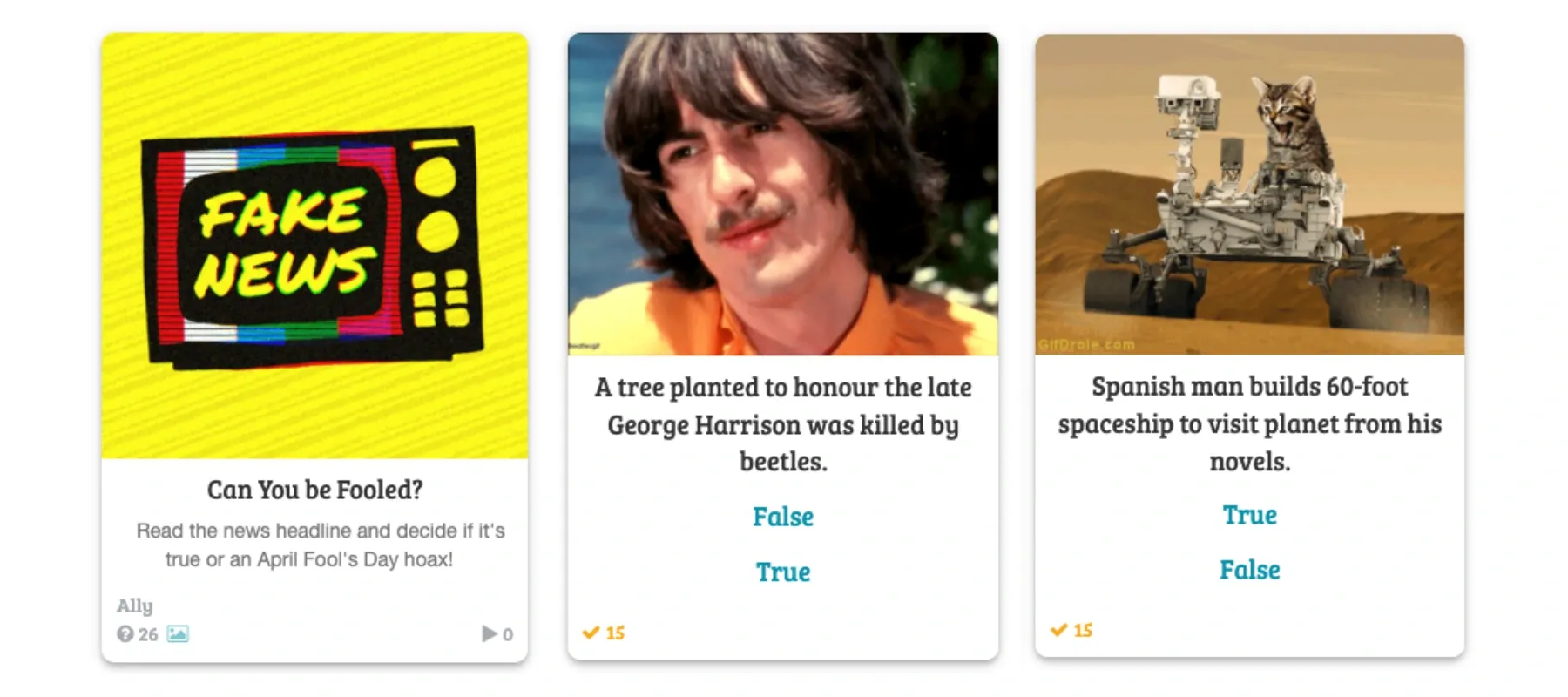 In a world of fake news, it's good to keep your wits about you, and know how to separate fiction from fact. In this game, can your students do exactly that?
We bring you some hard-to-believe tales, and your students need to wisely decide which are true and which are false.
Helps with: Logical thinking, learning some weird facts, and laughing at the absurdity of life
Best for: Grades 7+
Baam-Link: Play now!
---
3. Do You See What I See?
By Brendanryle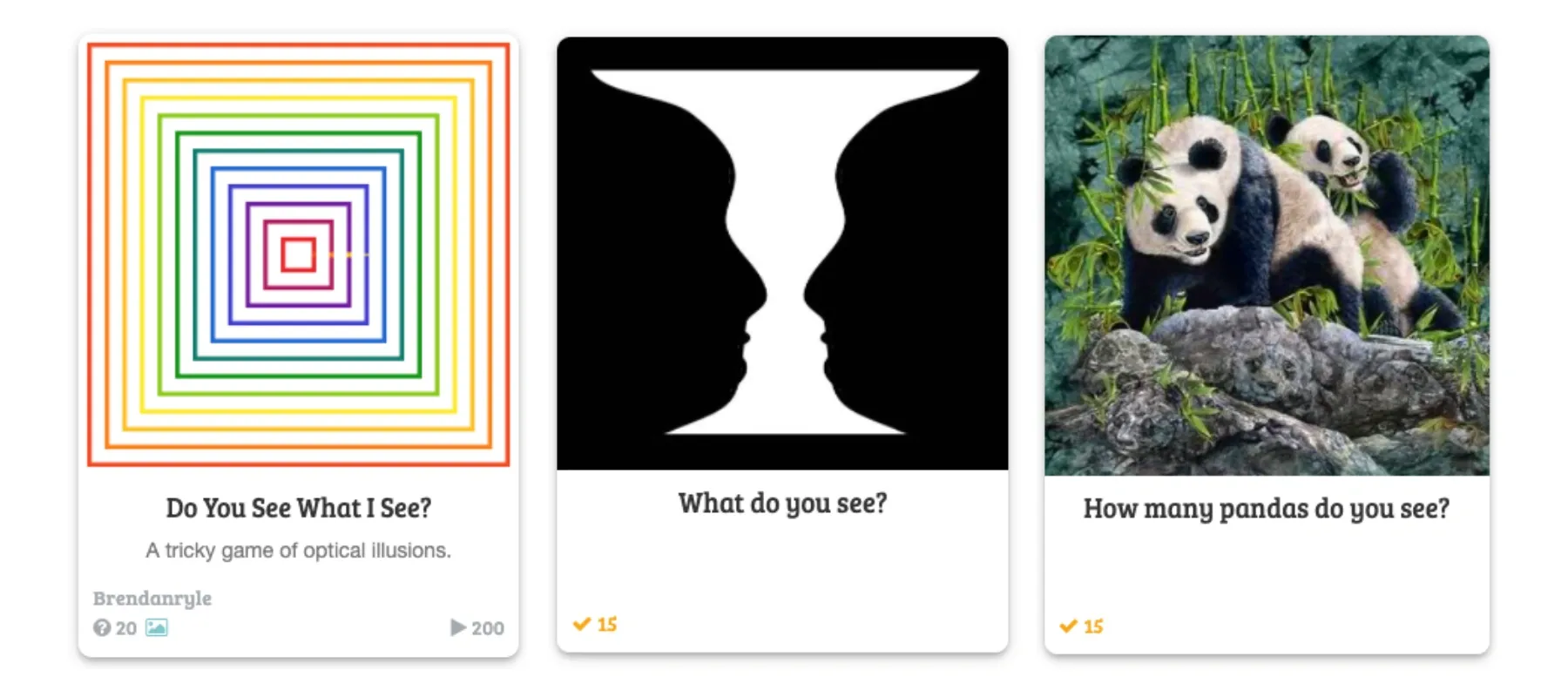 Next up, another set of optical illusions.
But this time, most of the images have some pretty concrete solutions (or so your students might think). Is that an image of an eskimo, or a face? A skull, or a woman's reflection? A rabbit, or a duck?
Helps with: Lateral thinking, squinting very hard, and lots of healthy debate
Best for: Grades 5+

Baam-Link: Play now!
---
4. Fact or Fiction... Can I Baamboozle You?
By Michelle Marino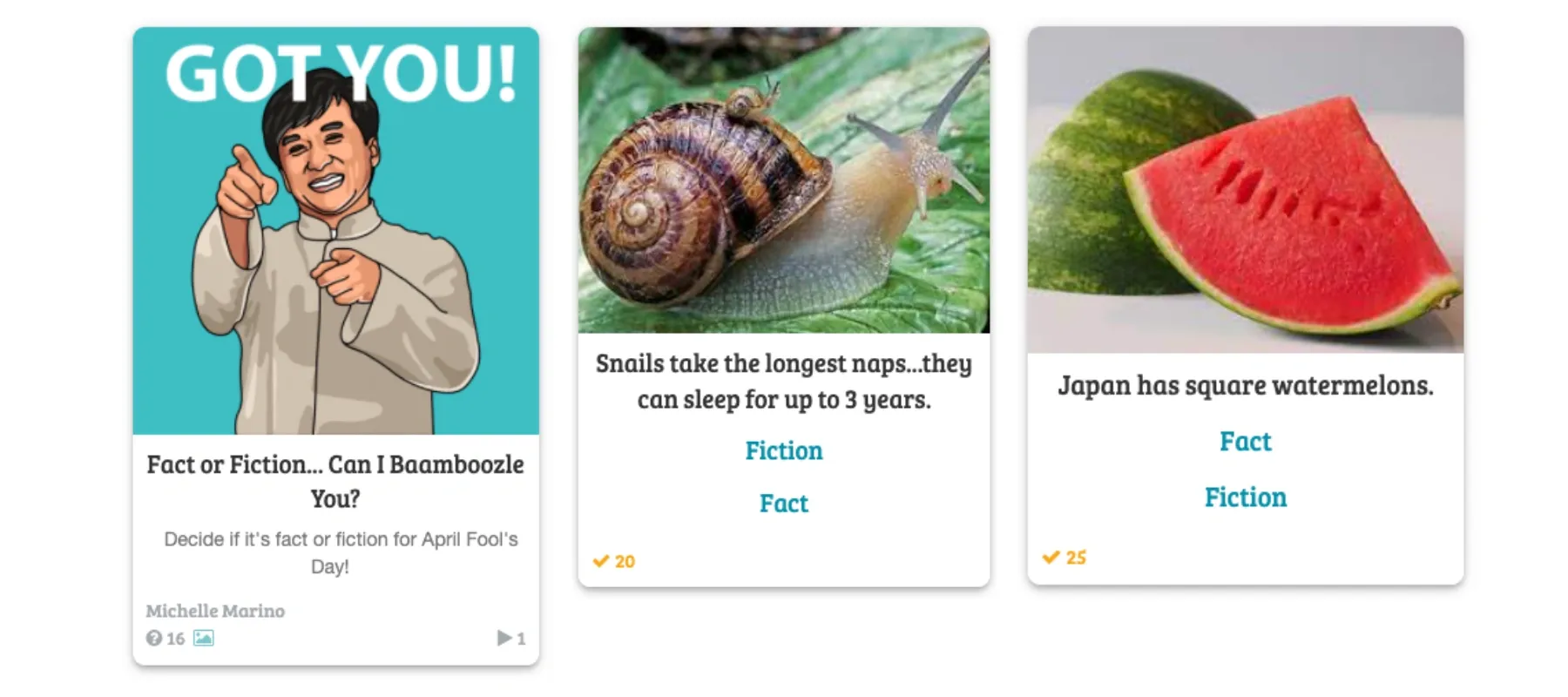 In this eponymous activity, your students must once again sift the tales from the truth. But this time, all of the brain-boggling statements are in the form of short facts (or are they?).
Do your toenails grow quicker when you're cold? Are there 400 days in a year? And can sharks blink?
Helps with: Applying some logic, getting the truth, and warming up your class with some swift brain teasers
Best for: Grades 7+
Baam-Link: Play now!
---
5. How Funny Are You?
By Winnie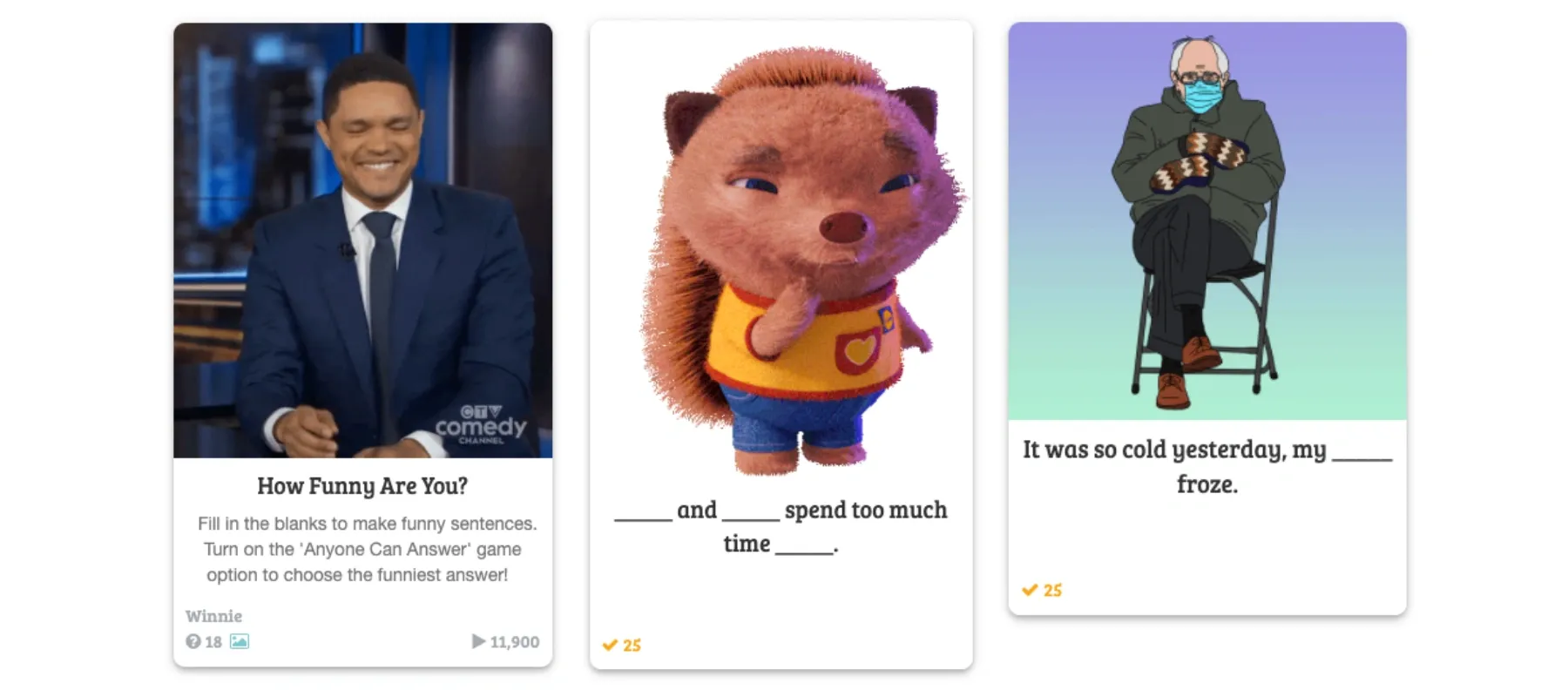 Obviously, if I was asking myself this question, the answer would be 'very'. But are your students as effortlessly hilarious as me?
In this rib-tickling laughter-fest, your students are given some simple sentences.
But here's the twist: the sentences have some missing words, and your students must wittily fill in the blanks to conjure up some funny phrases.
Helps with: Wordplay, quick thinking, and having a laugh
Best for: Grades 7+
Baam-Link: Play now!
---
6. Riddles
By Ms Cushway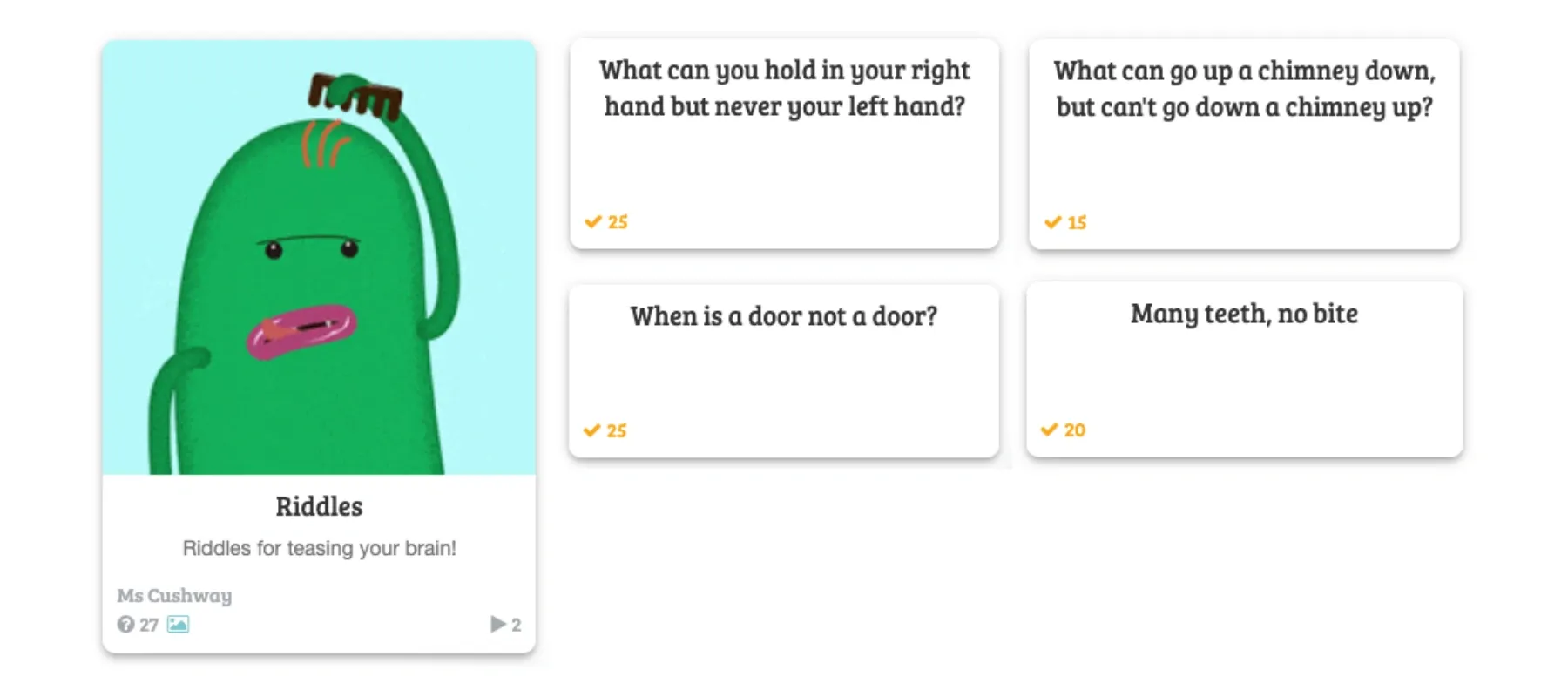 A solid classroom favorite, everyone loves a good riddle.  
These tricky brain teasers get your students thinking outside of the box, and each one is accompanied by a quirky image-based answer.
Can your learners apply impressive leftfield thinking and arrive at some unusual answers? There's only one way to find out!
Helps with: Thinking differently, being creative, and getting students to communicate
Best for: Grades 5+
Baam-Link: Play now!
---
7. Funny Stuff
By Susan Main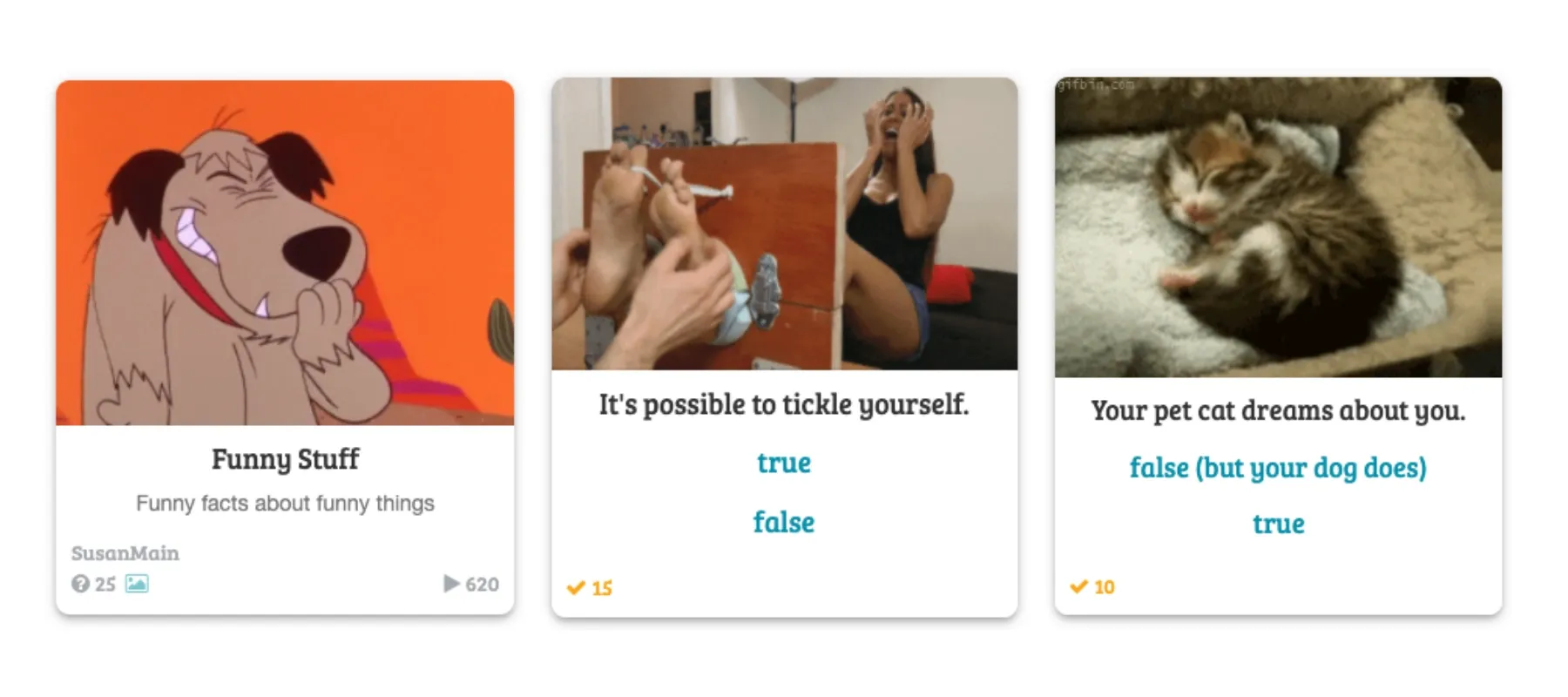 This multiple-choice quiz-fest is packed with questions on laughter, happiness, friendship, and other things that make us smile.
What was the oldest joke in the world about? When's the most cheerful time of day? And can faking a smile make you happier?
Helps with: Teamwork, quick question and answer sessions, and learning some zany facts
Best for: Grades 5+
Baam-Link: Play now!
---
8. R Jokes
By cconnches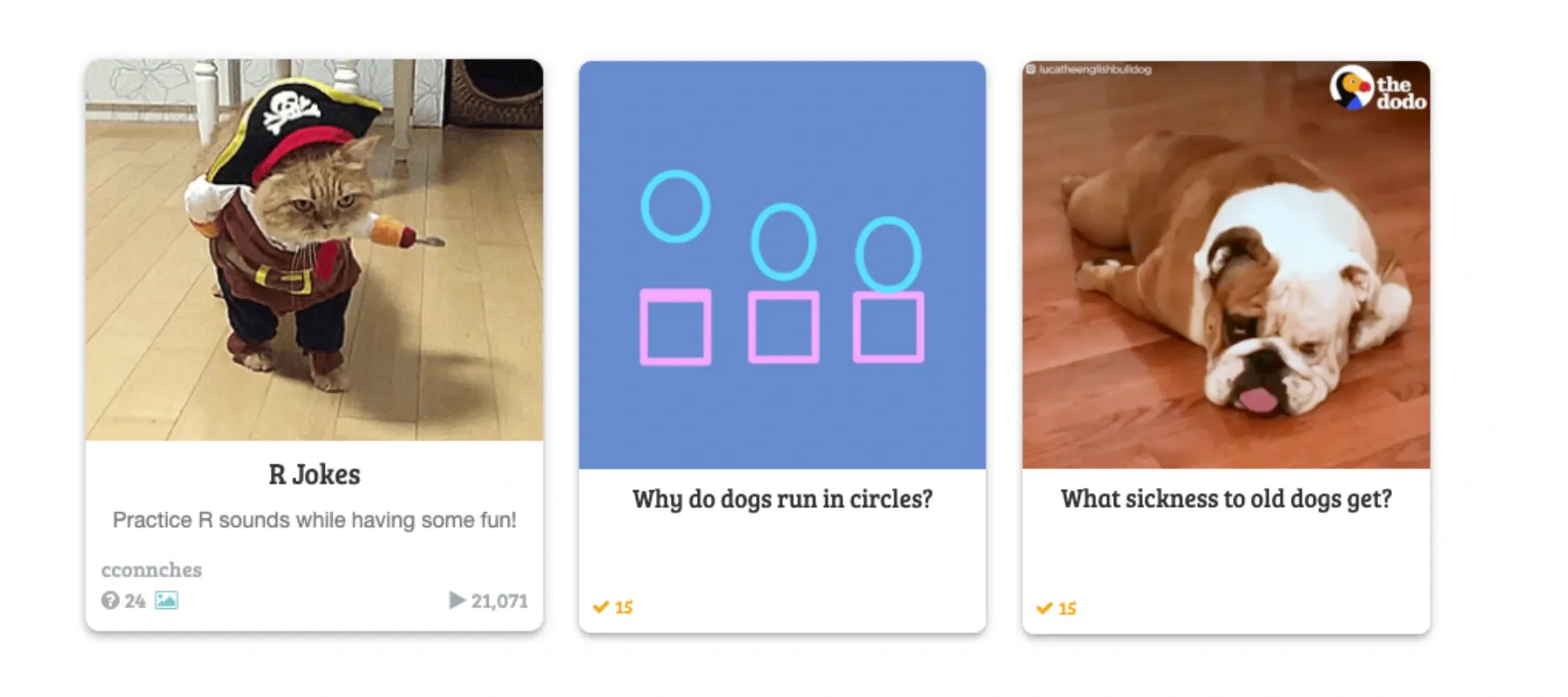 In this joke-jammed game, you take two vaguely-connected themes… and arrive at some much-needed chortles and chuckles.
All of the jokes in this activity have 'r' sounds in them, so your students can practice their articulation while they laugh their way through some learning. April Fools' Day games don't get much funnier than this.
Helps with: Articulation, proper pronunciation, and laughing at silly jokes
Best for: Grades 3+
Baam-Link: Play now!
---
9. Trick Questions
By kbuzek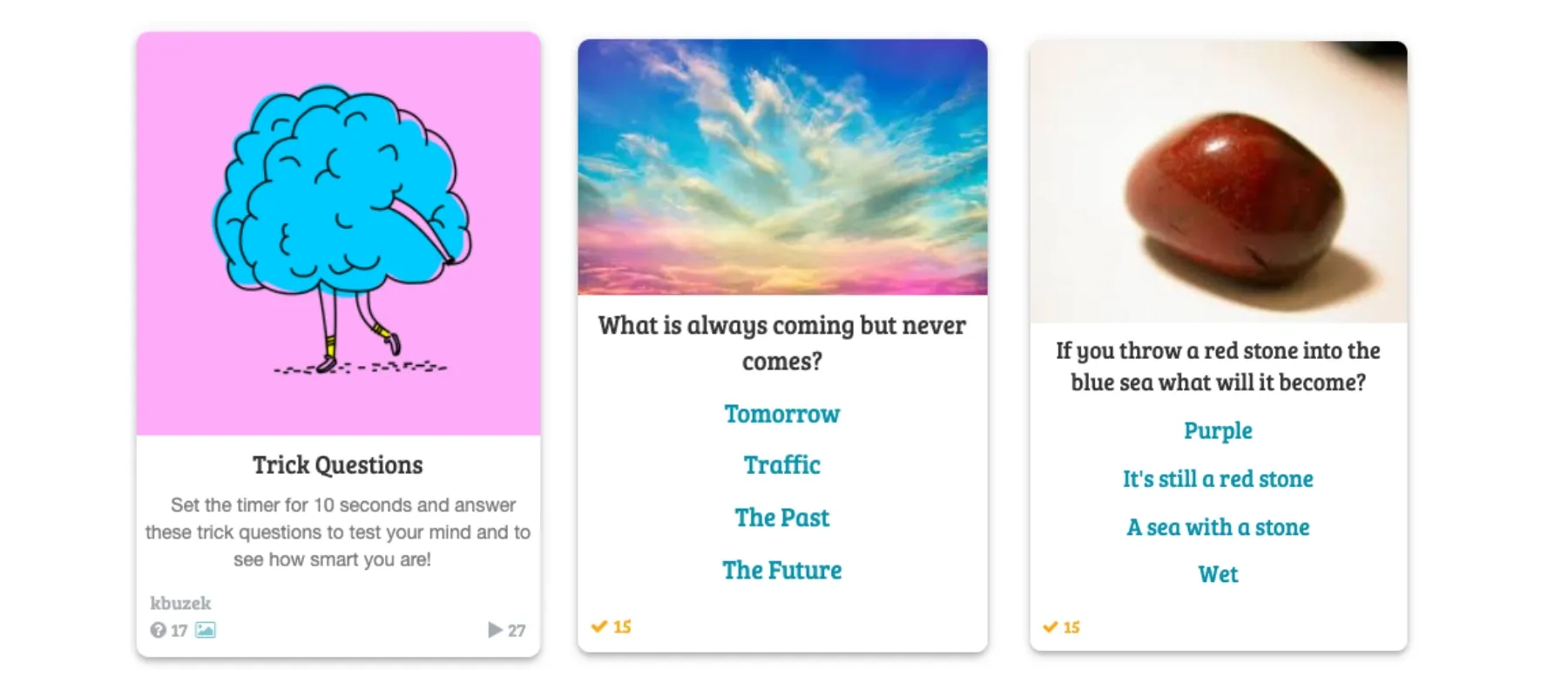 Brimming with tricky conundrums, this game gets your students thinking fast.
For each challenge, your time-tested learners have 10 seconds to answer. Themes include math, physics and wordplay, for a surprisingly-varied combo of tough questions and riddles.
Helps with: Quick thinking, tackling several topics, and frantic fun
Best for: Grades 7+
Baam-Link: Play now!
---
10. You Laugh, You Lose
By willpetley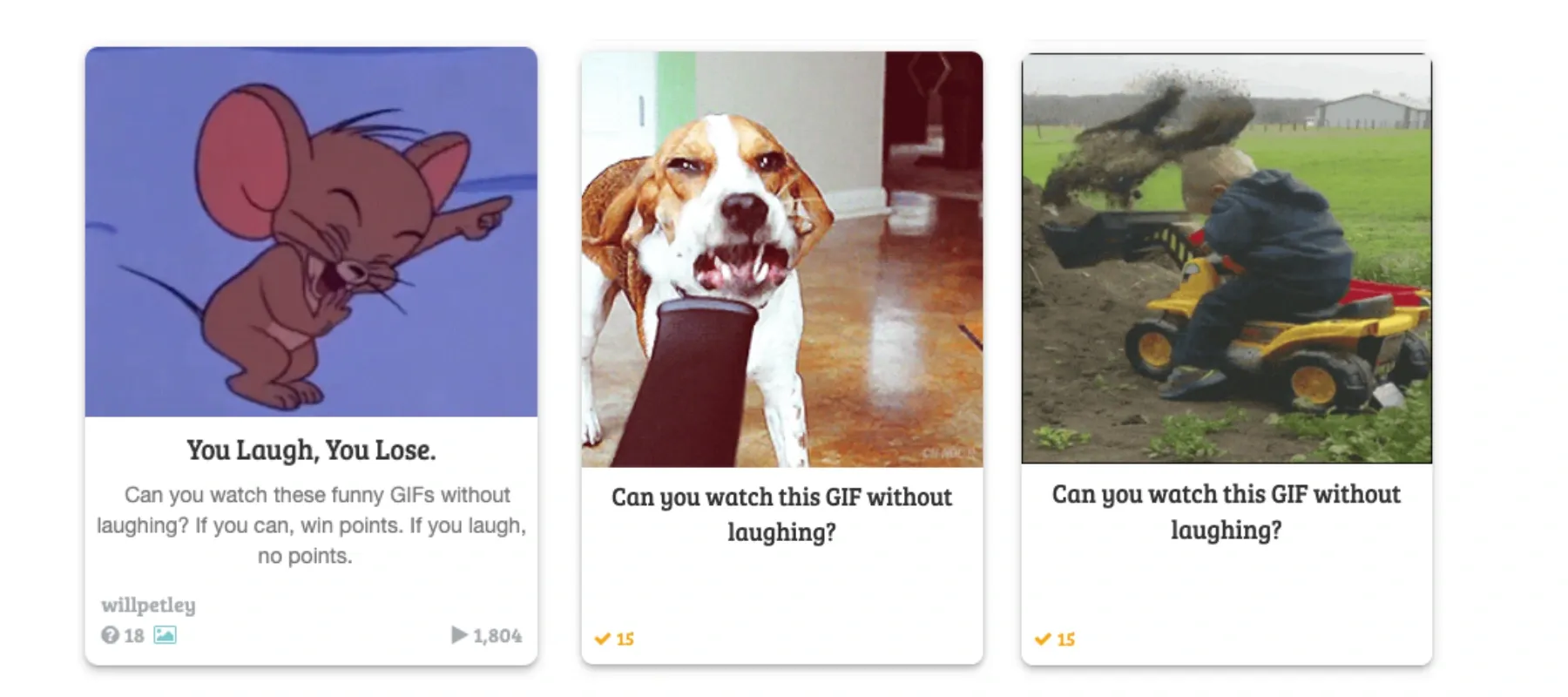 Perfect for po-faced frown-lovers, this game is all about staying stern in the face of fun.
Can your students watch these silly gifs without letting a giggle slip out? None of our staff can, so the kids in your class will probably struggle too.
Helps with: Laughing, smiling, and having some fun
Best for: Kindergarten through to 3rd grade
Baam-Link: Play now!
---
Games for April Fools' Day: Final Words
And that brings us to the end of our laughter-fuelled blog post. Thanks for reading!

For some tricky topical fun, we definitely recommend cramming a couple of these games into your April Fools' classes.
If you're looking for more themed lists like this one, here are some hand-picked activities for Christmas, Halloween, St. Patrick's Day and Valentine's Day. And for more future recommendations (and lots more educational mayhem and musings!), make sure you keep wandering over to our blog.
See you next time, you brilliant Baamboozlers!