Top 10 Educational Halloween Games 2021
Halloween's nearly here, and we're scared stiff.
No, Baamboozle HQ isn't overrun by zombies. Nor are there moaning mummies crashing the school gates.
We're afraid that we haven't given you the latest (and greatest) of Baamboozle's Halloween-themed games to dazzle your kids with. Today, we're pulling ourselves together and hooking you up with some new takes on old classics, as well as a clutch of madcap alternatives.
Best thing is, there's more than enough here for you to keep the kids engaged and focused for the duration of the spookiest time of the year, without losing an afternoon to planning or drowning in reams of paper.
This will be (unbelievably) our second Halloween under pandemic restrictions, so it remains a stressful period for many of our fellow educators, parents and kids. So, if you're not feeling particularly inspired right now, no worries! We've got your back 👌
Here's your terrifying(ly awesome) top 10 for Halloween 2021:
1. Fix The Sentence: Halloween Version
by Susan Tourdot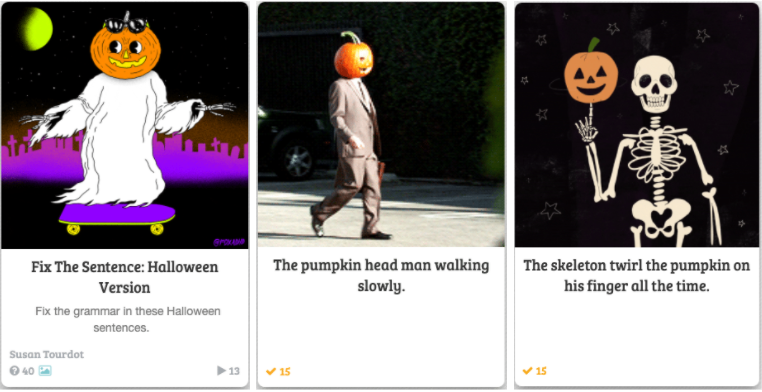 Correct the grammar in these Halloween-themed sentences. This pumpkin-infused game helps to build and consolidate grammar, vocabulary, and writing skills in kids, not to mention speaking skills.  Framing this as a quickfire plenary or as a fun starter activity will help to get brains fired up at home, in class and even over Zoom.
Helps with: Language, speaking, writing, editing.
Best for: 1st & 2nd Grades
Baam-Link: Play game
---
2. Halloween - Truth or Scare?
by Luh

Addictive ice-breaker activity seamlessly mingling together off-the-wall challenges with more adventurous 'dares'. There are excellent opportunities here for children of all abilities, personality types and confidence levels to participate and interact within a class setting using their acting skills, speaking with expression and displaying their sense of humor.
Helps with: Confidence-building, participating within a group, mime, expression.
Best for: 2nd Grade+
Baam-Link: Play game
---
3. Simon Says Halloween
by JC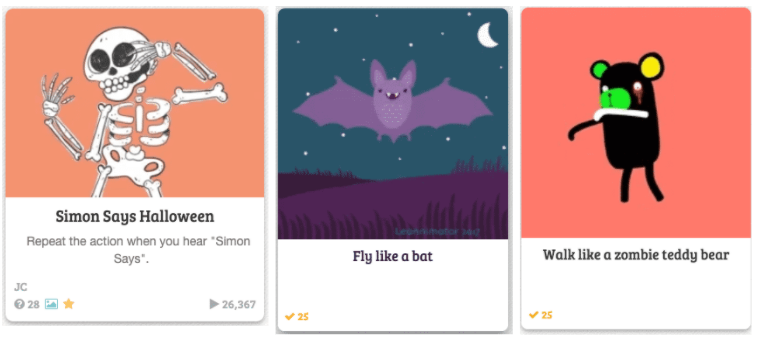 A stone cold Classic revamped for the Baamboozle era! Designed to be played with speed with an emphasis on mime and physical expression, this is perfect 'brain break' fodder to get the kids moving and exercising their muscles of attention. O yes, the GIF game is strong with this one :)
Helps with: Brain breaks, whole class participation, physical exercise.
Best for: 1st Grade+
Baam-Link: Play game
If you need more help, check out this full guide to physical activity in the classroom.
---
4. Halloween Jokes
by czambri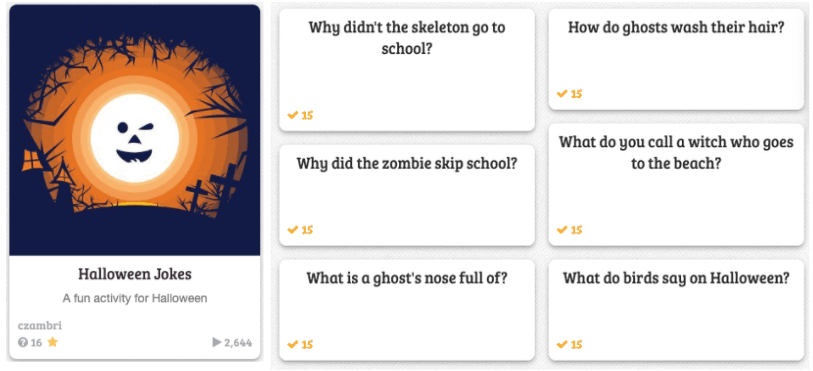 Why did the zombie skip school? What does an evil hen lay? Why was the broom late?
I would put you out of your misery with the punchlines… but I want you to click the link to feel the full impact of the dad jokes on offer :) Aside from being knee-slappingly hilarious, kids adore these puns, wordplay and double entendres (even more than candy corn!)
Helps with: wordplay, homophones, lateral thinking, idioms, humor.
Best for: Grade 2+
Baam-Link: Play game
---
5. Halloween Kids
by Winnie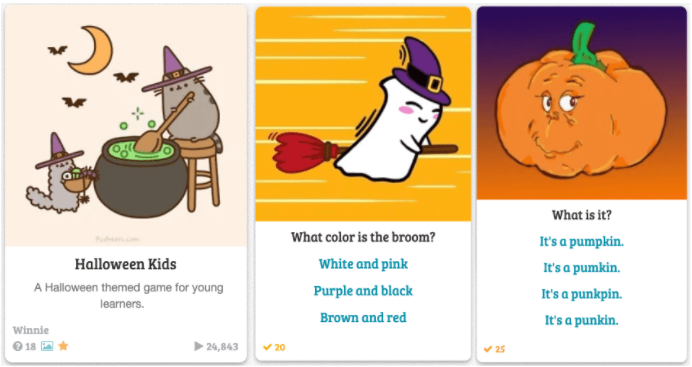 Fast-paced observation game designed to strengthen mental acuity and recall in smaller children. The creator has made excellent use of the GIFs, ensuring gameplay is pacey, competitive and challenging (depending on the rules you implement and the power-ups you set!)
Helps with: Observation skills, retrieval, spelling, speed.
Best for: 1st Grade
Baam-Link: Play game
---
6. Halloween Scramble Spelling
by Miya
Did you know: Rosiest Input is an anagram for Superstition?
If your kids love scrambled words as much as we do, then you're in for a real trick-or-treat here. One of the best Baamboozles we've seen using anagrams that get gradually more challenging as the game progresses, meaning that no-one is left out and that kids of all abilities can show off their spelling prowess, either verbally or on their whiteboards. Great starter, plenary or attention-grabber activity.
Helps with: spelling, speed, linking words and images.
Best for: 1st Grade+
Baam-Link: Play game
---
7. Halloween Trivia 2021
by Fitz4th

While Halloween is one of the most fun times of year for kids, many aren't aware of its surprising history. This simple yet curiosity-laden quiz game seeks to address that. On one level it's an end of day team quiz, but on another level the questions are conversation starters that get kids thinking and joining the dots between their own experiences and those of other cultures… with a few pop culture references thrown in for good measure ;)
Helps with: recalling facts, teamwork, quiz, conversation builder.
Best for: 2nd Grade+
Baam-Link: Play game
---
8. Silly Sentences: Halloween
by A.P.Chacon-Kreysa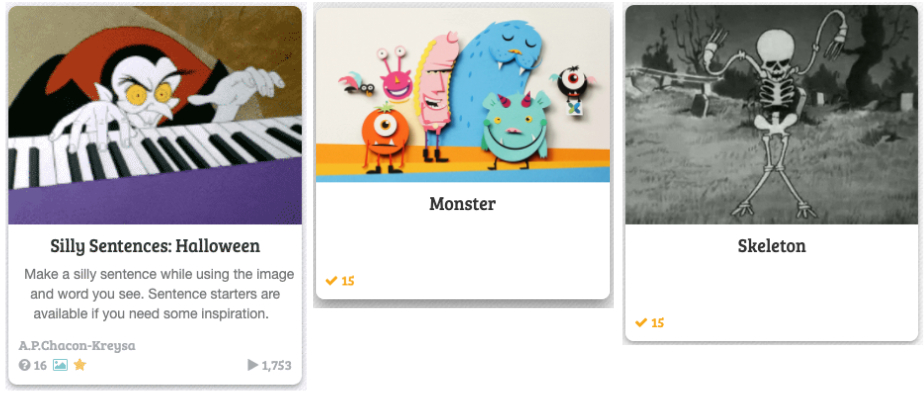 One ghoulish day, I was wandering through Baamboozle's magical forest, and stumbled upon a witch's house. Of course, this was no ordinary witch, but a talented game creator named A. P. Chacon-Kreysa. She'd conjured up an incredible sentence-building game using popular Halloween characters. Scarily simple, yet amazingly powerful when coupled with creative writing, grammar or drama input. You (and your kids) will be cackling with delight over this one.
Helps with: fluency in speaking and writing, vocabulary building, easy differentiation.
Best for: 2nd grade+
Baam-Link: Play game
---
9. Spot It - Halloween
by kathrynnapolio

Eerily awesome observation game with a distinctive visual style. Works superbly using the slideshow feature and is also an excellent challenge for adults; OK, OK... I confess! I stumbled on some of these against my class (much to their delight!)
Helps with: Observation, attention strengthening, competitive, simple yet tricky.
Best for: 1st Grade+
Baam-Link: Play game
---
10. Happy Halloween!
by Winnie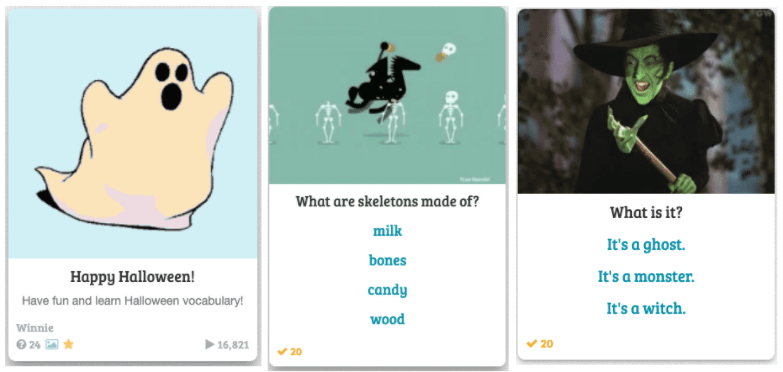 Pacey and with an array of punchy GIFs, this quick recall and identification game is a perfect tongue-loosener to kick off Halloween week. Enjoy... if you dare!
Helps with: Quick recall, ice-breaker, multiple choice.
Best for: 1st Grade+
Baam-Link: Play game