Top 20 Educational Halloween Games 2022
Halloween's nearly here, and we're scared stiff.
No, Baamboozle HQ isn't overrun by zombies. Nor are there moaning mummies crashing the school gates.
But we're afraid.
Afraid we haven't yet given you the latest (and greatest) of Baamboozle's Halloween-themed games! So in this blog post, we're bringing you a creepy collection of madcap oddities, unique frightfests, and some new takes on old classics.
There's plenty here to keep kids engaged and entertained during the fright-filled days of the spookiest time of year. And best of all, you don't need to do any planning!
Here's our terrifying(ly awesome) collection of Baamboozle's best and most popular Halloween games. Come join the fearful fun!
---
1. Halloween - True or False?
By itsteachermery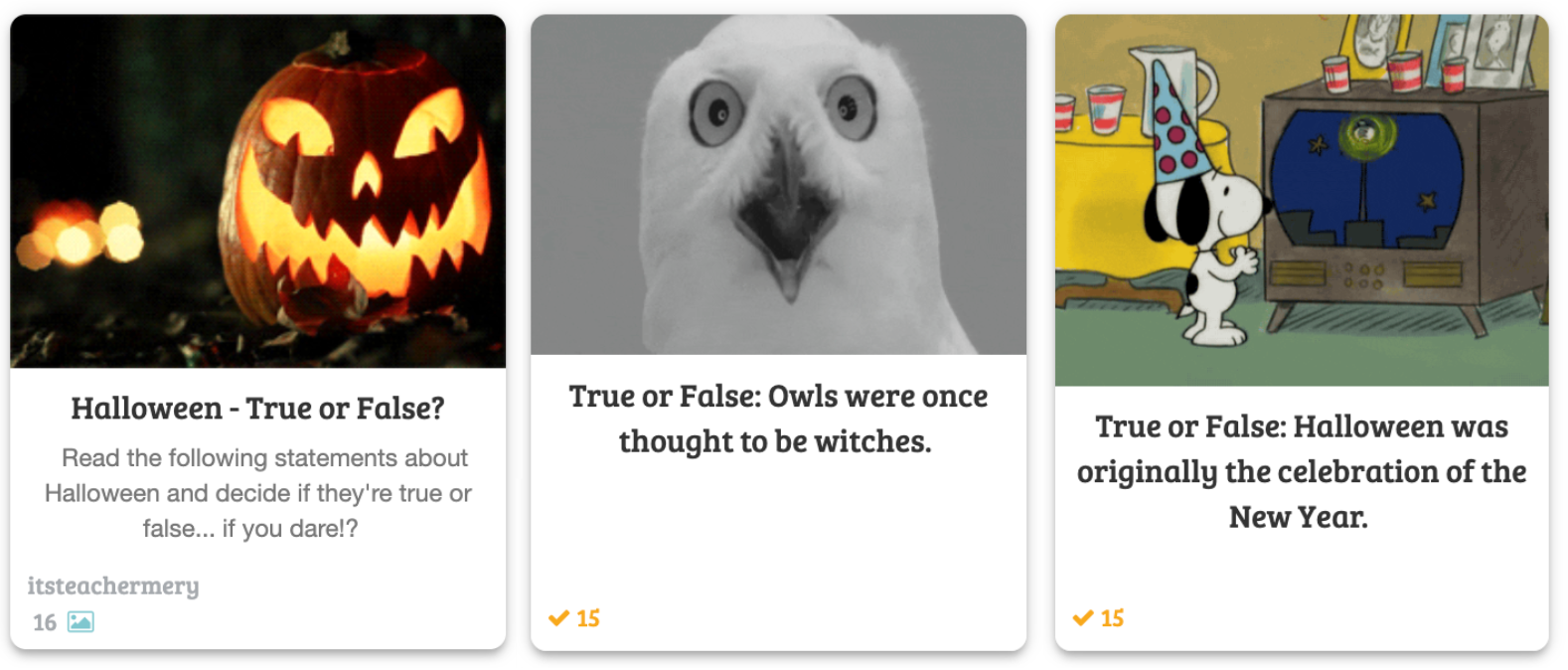 Were two dogs once accused of witchcraft? Are Italian priests banned from performing weddings on Halloween? Does the Czech president annually deliver a Halloween address while wearing spooky clothes?
And is it perhaps possible that all of these ridiculous statements are completely made-up?
One of our top Halloween games for focusing on fun facts, you probably won't believe any of these creepy claims are true (but trust us, some of them really are).
Helps with: Introducing Halloween-themed classes, shocking your students, and a fun burst of unbelievable energy
Best for: Grades 5 to 8
Baam-Link: Play now!
---
2. Halloween Bingo
By jorgebf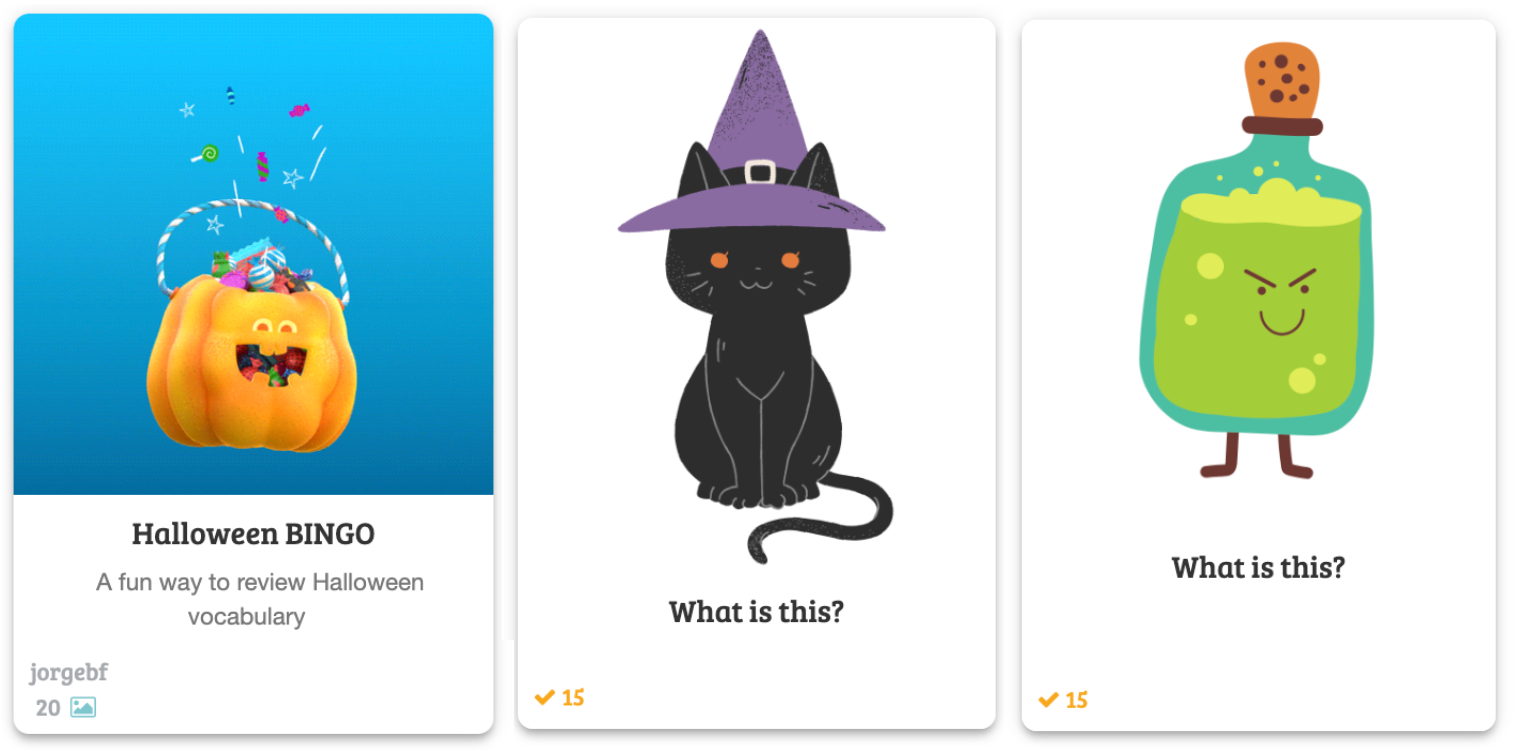 One of the best Halloween games for reviewing and recapping vocabulary, this Halloween Bingo takes the well-known retro classic, and fills your tiles with terror.
Stacked with a load of different images, this game is great for covering a variety of nightmarish nouns.
If you want to turn things up a notch, you could even ask your students to spell each word (and, in the process, to recap some spooky spellings).
Helps with: Recapping and recalling nouns, making bingo productive, and (maybe!) adding some extra doses of Halloween-themed spelling
Best for: Kindergarten and first grade
Baam-Link: Play now!
---
3. Halloween Extravaganza!
By fnachX2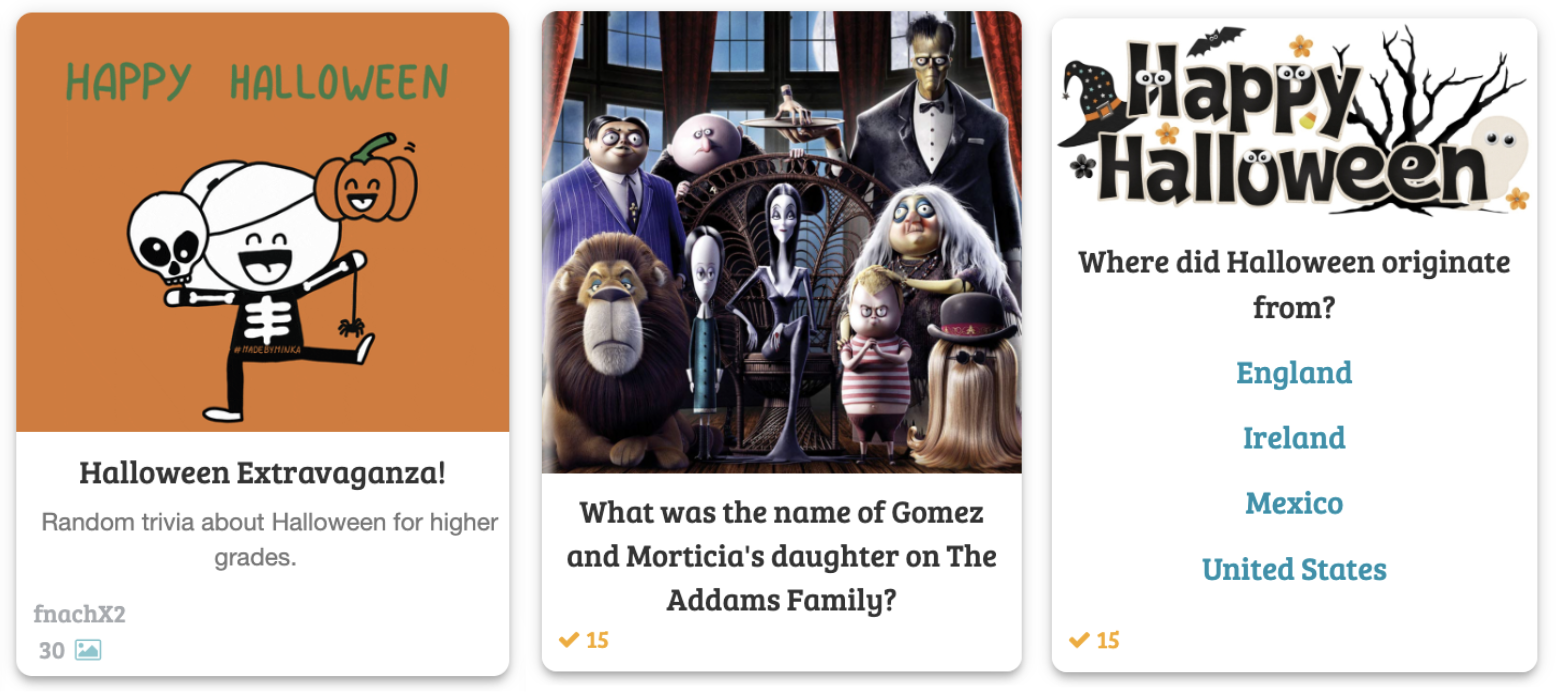 Made up of both multiple-choice mayhem and open-ended questions, this game covers a horrifying host of trivia topics.
You'll find anagrams, food questions, riddles, geography brainteasers, film trivia, history stuff, and plenty more. Some questions are relatively simple, while others are hauntingly hard.
Helps with: Adding a quiz to a Halloween class, challenging your students with some tricky questions, and covering a wide range of subjects
Best for: Grades 6 to 9
Baam-Link: Play now!
---
4. Halloween I Spy
By chiara22

This Halloween game takes the age-old 'I Spy' theme, and combines it with some rotten riddles.
What's something white that flies? What do you wear to be someone you are not? And what might you make a magic spell in?
Helps with: Lateral thinking, problem solving, and reading between the lines
Best for: Grades 4 to 7
Baam-Link: Play now!
---
5. Simple Halloween Prepositions
By Takarazuka English Academy

In this spooky spectacle, Baamboozle asks your students to choose the right prepositions for each spine-chilling situation.
Is "above" the correct term? Is it "on"? Or is it maybe "in"? And more importantly, why's that devil standing on an eyeball?
This is one of our favorite Halloween games for English classes… and it's great for introducing a potentially-complex subject in a super-simple way.
Helps with: Learning and applying prepositions, and simplifying a complicated topic
Best for: Grades 2 to 4
Baam-Link: Play now!
---
6. Let's Make a Ghost Story
By teachermarcosha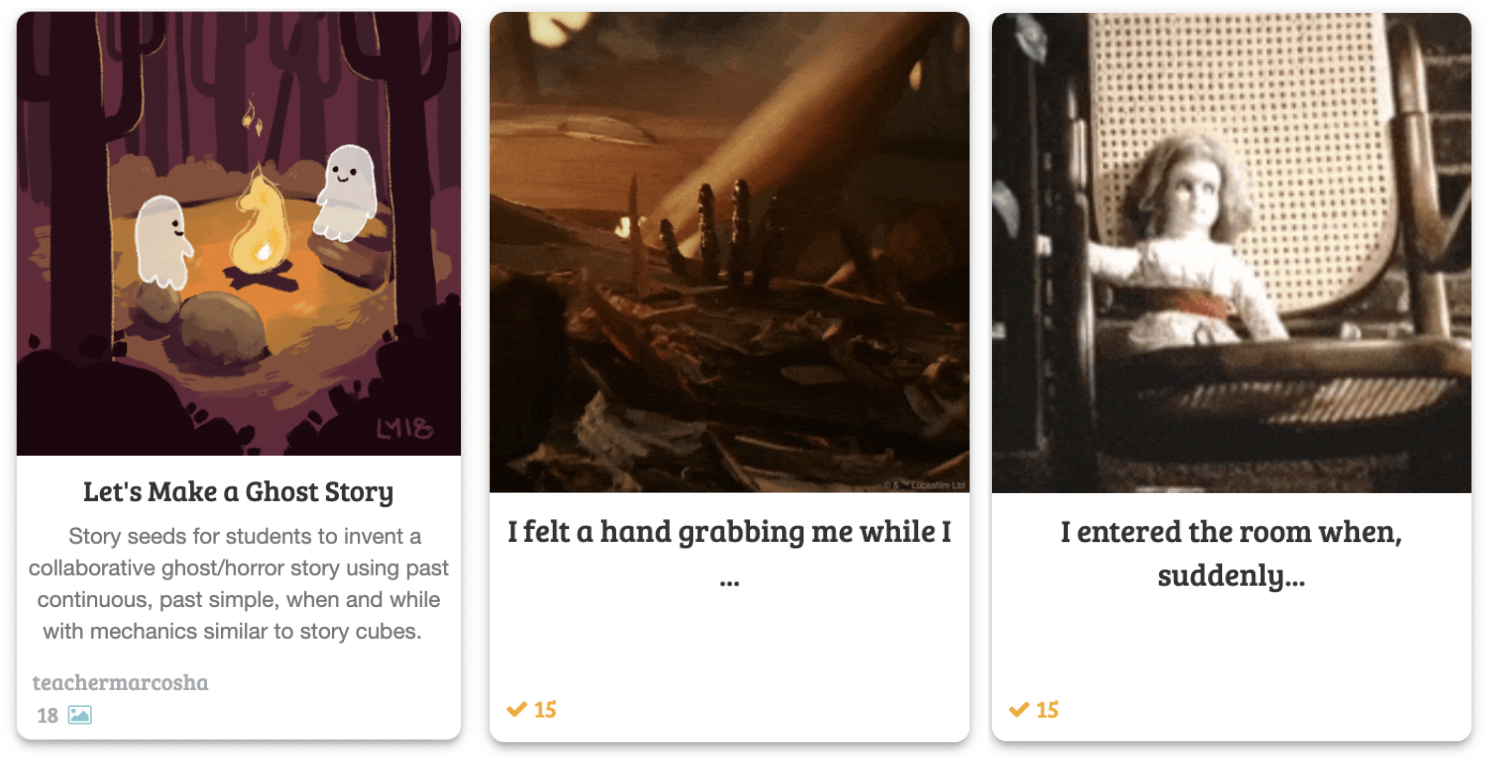 Each mini challenge in this storytelling activity comes in the form of a thought-provoking (but unfinished) small sentence.
Students take turns to finish these sentences, and craft a haunting horror story as they play. It's sort of like Story Dice, but Halloween-style!
Dotted throughout the game, you also get unpredictable story-changing elements, including the addition of zombies, ghosts, aliens, and other creepy creatures.
Halloween games don't get much more creative than this.
Helps with: Effective teamwork, getting all imaginative, and sneakily covering some complex grammar into an otherwise-exciting game
Best for: Grades 5 to 8
Baam-Link: Play now!
---
7. Name It for Halloween
By Unic0rns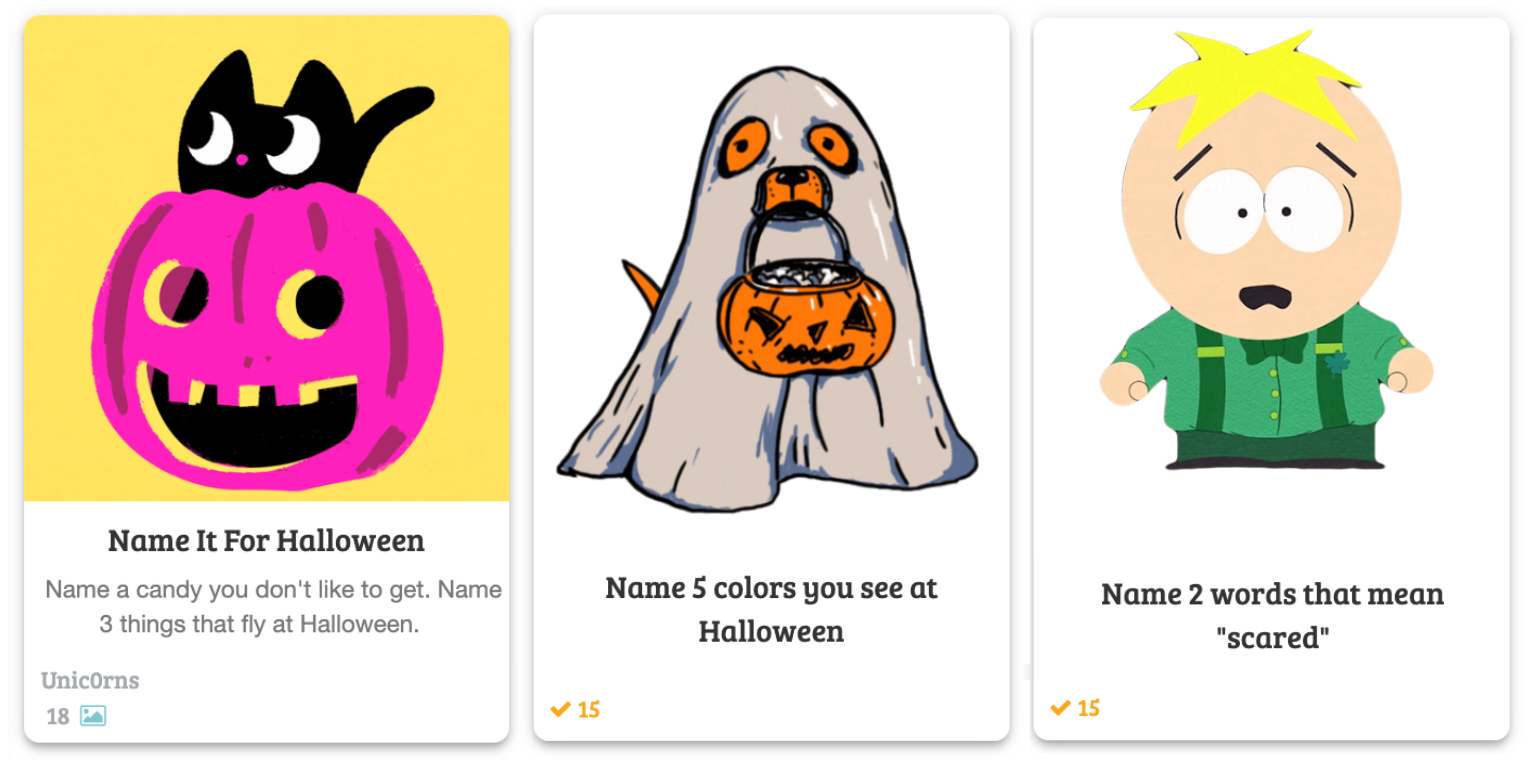 In this gruesome game, your students are tasked with swiftly naming bunches of Halloween-related stuff.
Can they quickly come up with 5 Halloween colors? 3 Halloween candies? 2 synonyms for scared? Or any other online learning platform quite as good as Baamboozle?
Helps with: Rapid-fire thinking, and some quick competition
Best for: Grades 3 to 5
Baam-Link: Play now!
---
8. Haunted Laughs for Halloween
By Erika GB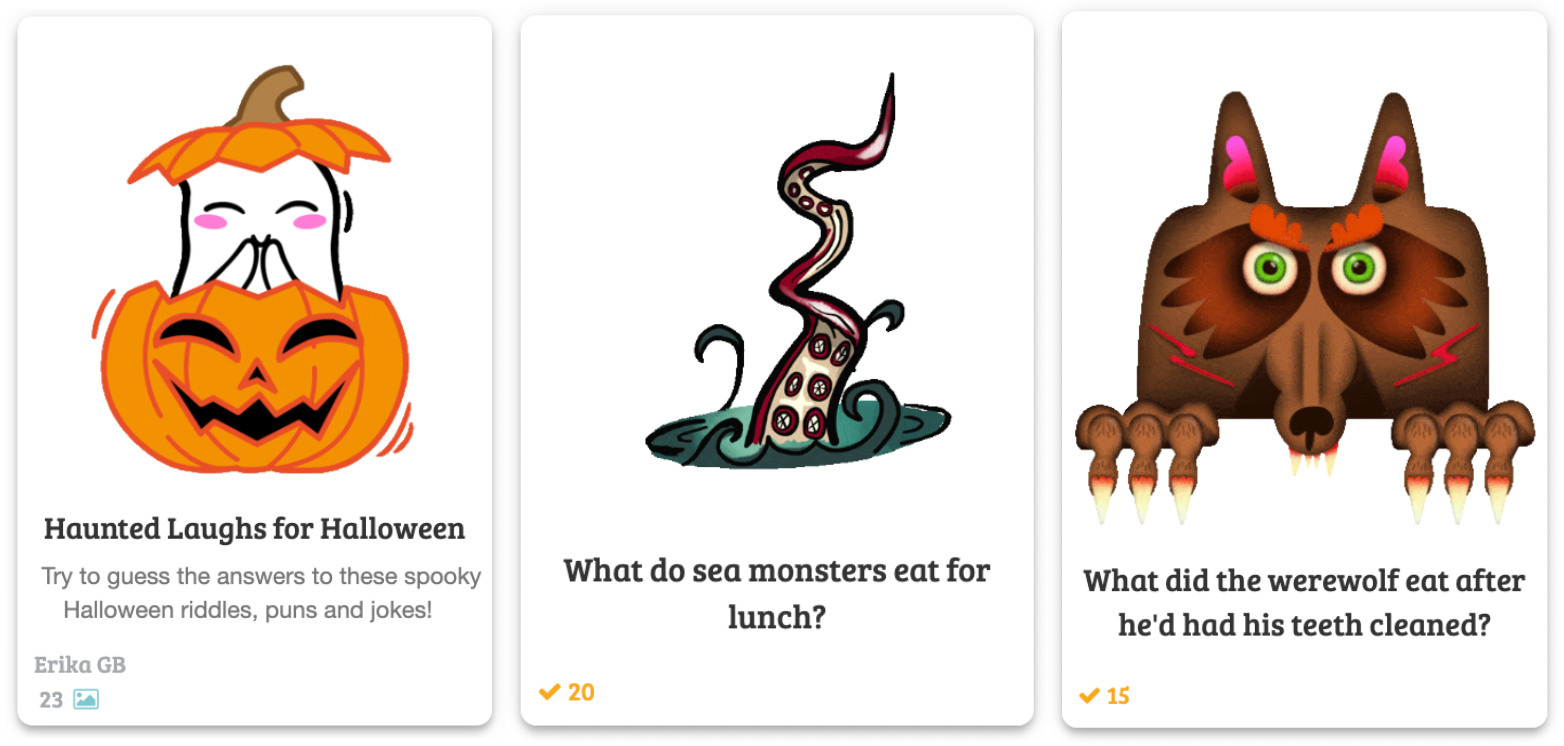 Giggling and guffawing have never been so scary. Stuffed with jokes, puns and gags, this is one of our favorite Halloween games for injecting fear with fun.
But don't let the cackling make you too complacent—scattered in amongst the laughter, you'll also find a few challenging riddles.
Helps with: Having a laugh, bringing students together, and filling a quiet classroom with fun
Best for: Grades 3 to 6
Baam-Link: Play now!
---
9. Would You Rather: Halloween Edition
By kvernon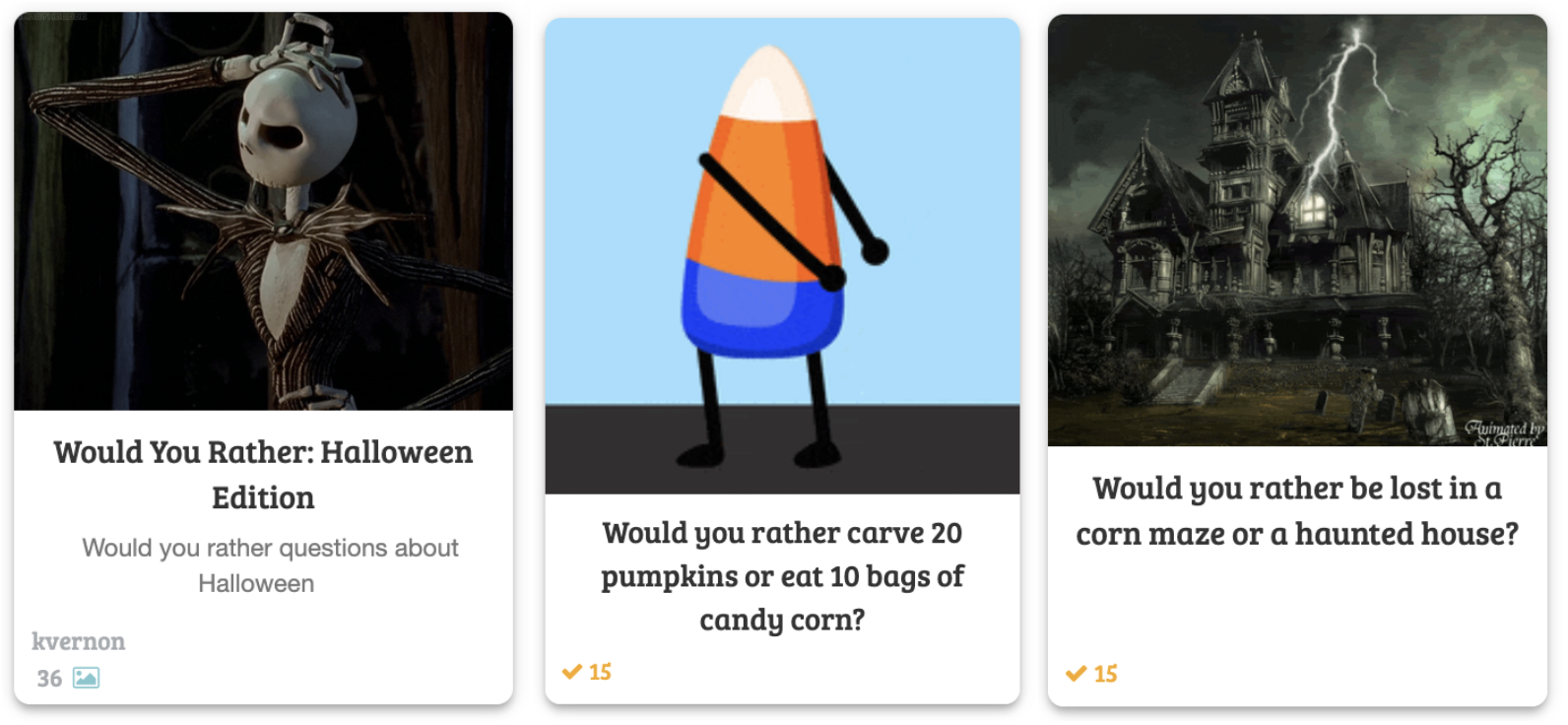 Stacked with petrifying dilemmas, this game takes the iconic 'Would You Rather,' and gives every question a Halloween-themed twist.
Would you rather have a pumpkin for a head, or pumpkins for feet? Would you rather be covered in spiders… or snakes? Would you rather hand out candy at home, or go out trick-or-treating?
And most importantly, would you rather be doing something dull, or playing another of Baamboozle's (more than one million!) great games?
Helps with: Thinking deeply, some topical debate, and getting students to tackle some surprisingly-tricky questions
Best for: Grades 2 to 4
Baam-Link: Play now!
---
10. Spooky Truth or Scare
By Lynette Coetzer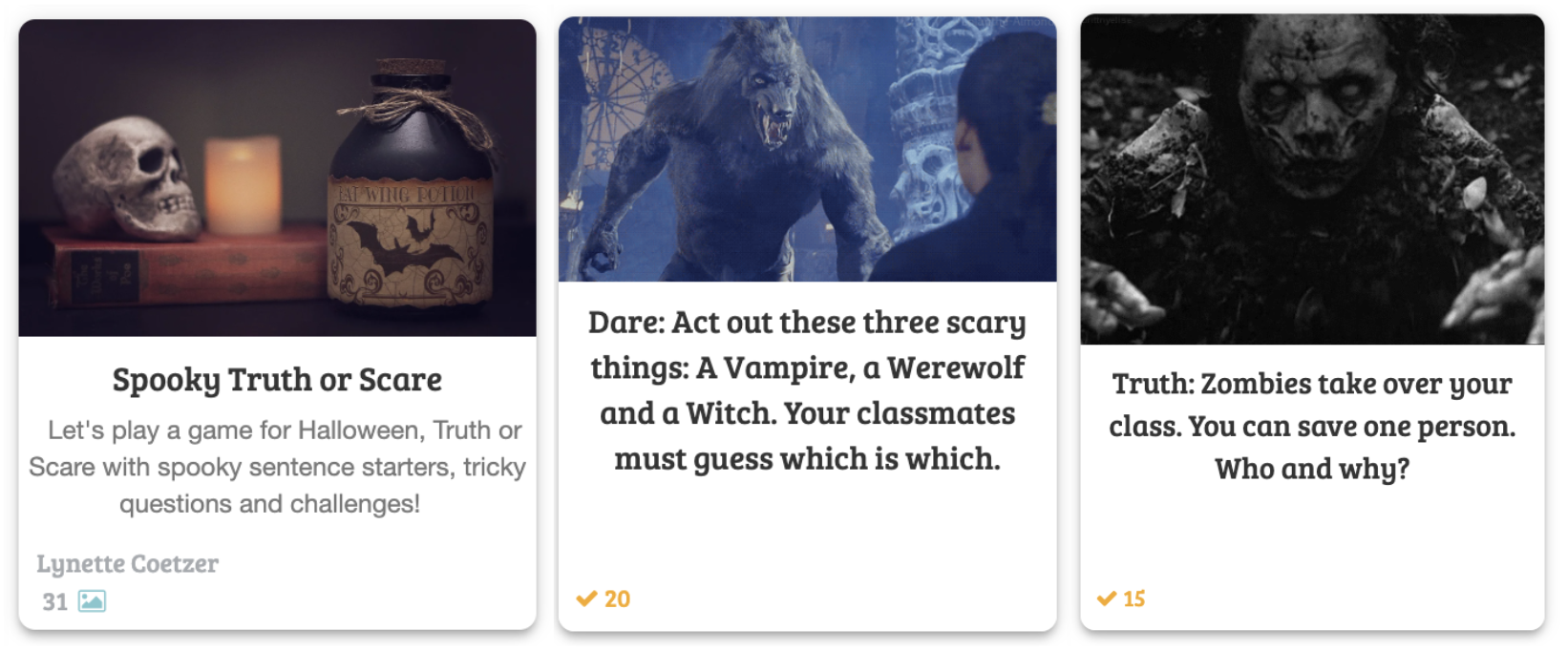 If you're looking for Halloween games with variety, you won't find better than this.
Featuring physical challenges, outrageous dares, truth-telling, unfinished sentences, and some genuinely-scary images and gifs, this game will keep your spooked-out students on their terrified toes.
Helps with: Getting all creative, getting all daring, and getting all truthful
Best for: Grades 6 to 8
Baam-Link: Play now!
---
11. Fix The Sentence: Halloween Version
by Susan Tourdot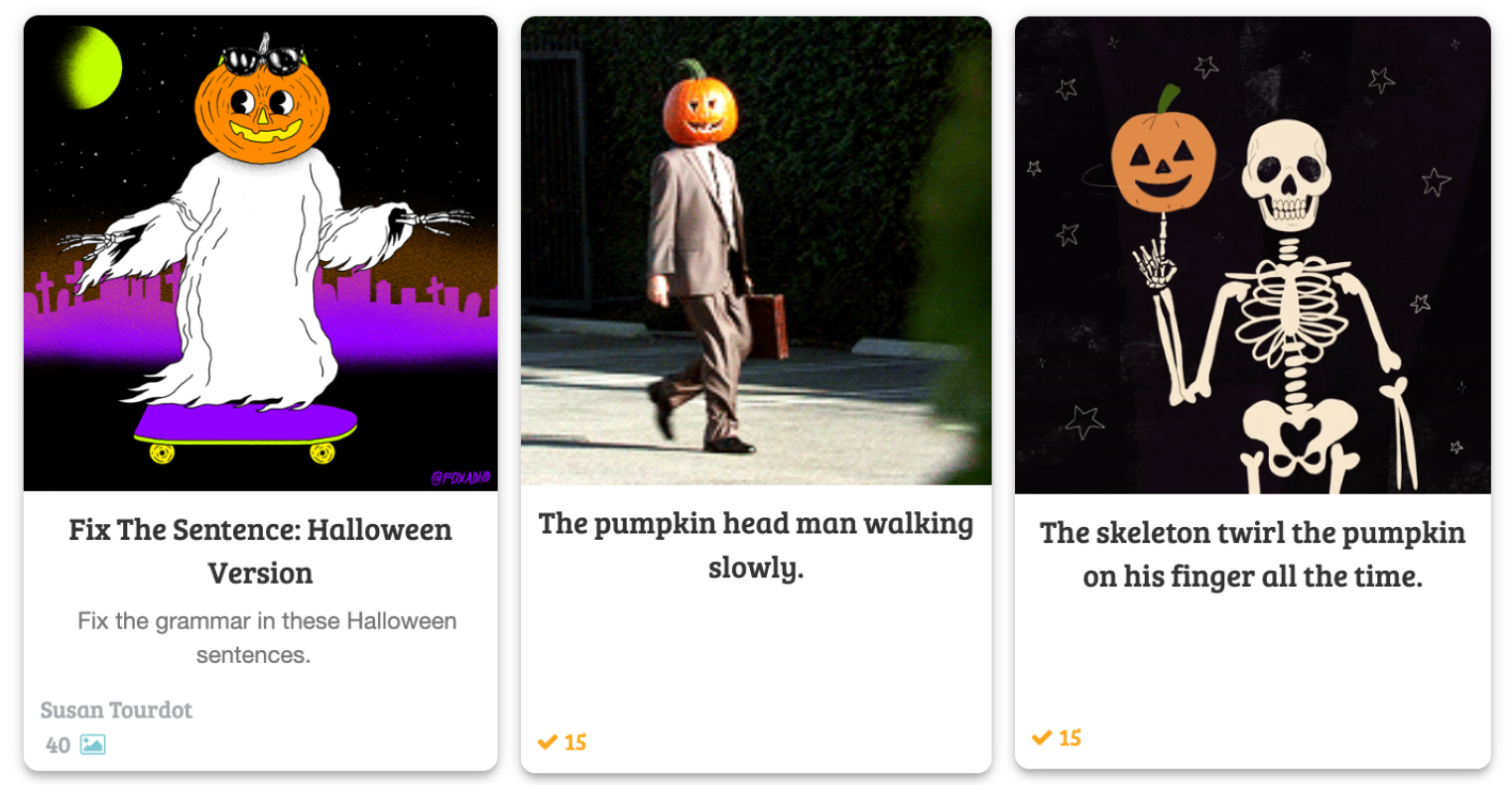 Correct the grammar in these Halloween-themed sentences. This pumpkin-infused game helps to build and consolidate grammar, vocabulary, and writing skills in kids, not to mention speaking skills.  Framing this as a quickfire plenary or as a fun starter activity will help to get brains fired up at home, in class and even over Zoom.
Helps with: Language, speaking, writing, editing.
Best for: 1st & 2nd Grades
Baam-Link: Play game
---
12. What Would You Do: Halloween
by Luh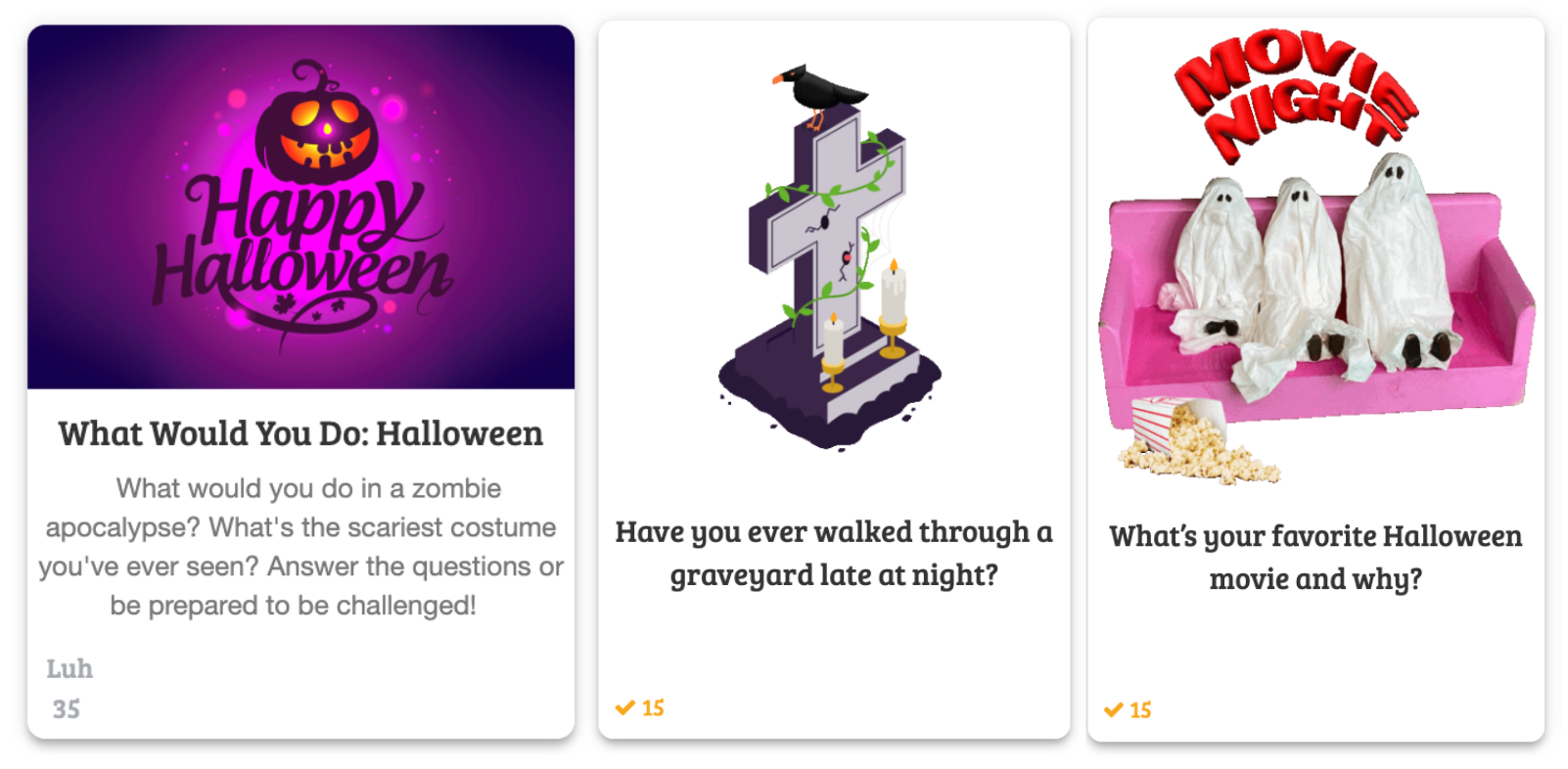 In a zombie apocalypse, what would be your weapon of choice?
Another gory game, another bunch of hypothetical horror.
Along with speculative Halloween-based questions, this addictive ice-breaker combines off-the-wall challenges with adventurous dares.
Expect acting skills, speaking with expression, some surprising senses of humor, and a whole load of strange responses.
Helps with: Confidence-building, participating within a group, mime, expression.
Best for: 2nd Grade+
Baam-Link: Play game
---
13. Simon Says Halloween
by JC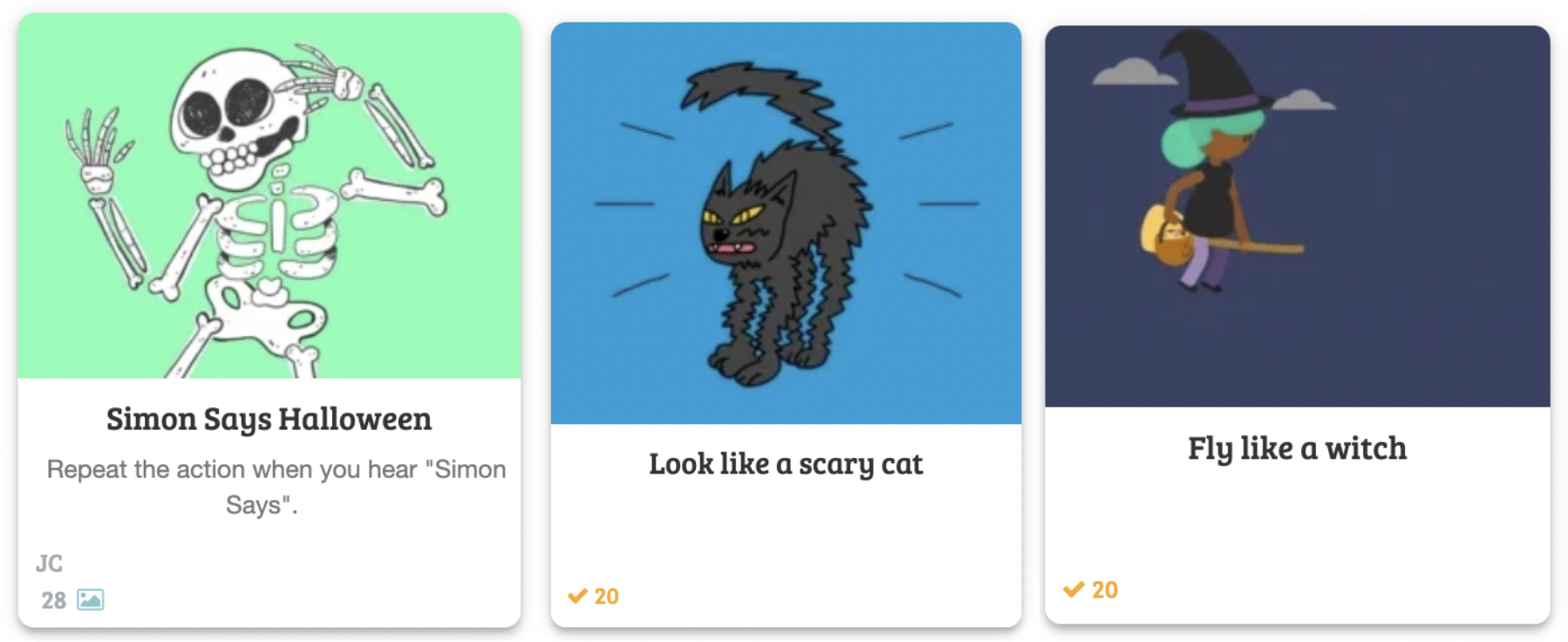 A stone cold Classic revamped for the Baamboozle era! Designed to be played with speed with an emphasis on mime and physical expression, this is perfect 'brain break' fodder to get the kids moving and exercising their muscles of attention. O yes, the GIF game is strong with this one :)
Helps with: Brain breaks, whole class participation, physical exercise.
Best for: 1st Grade+
Baam-Link: Play game
If you need more help, check out this full guide to physical activity in the classroom.
---
14. Halloween Jokes
by czambri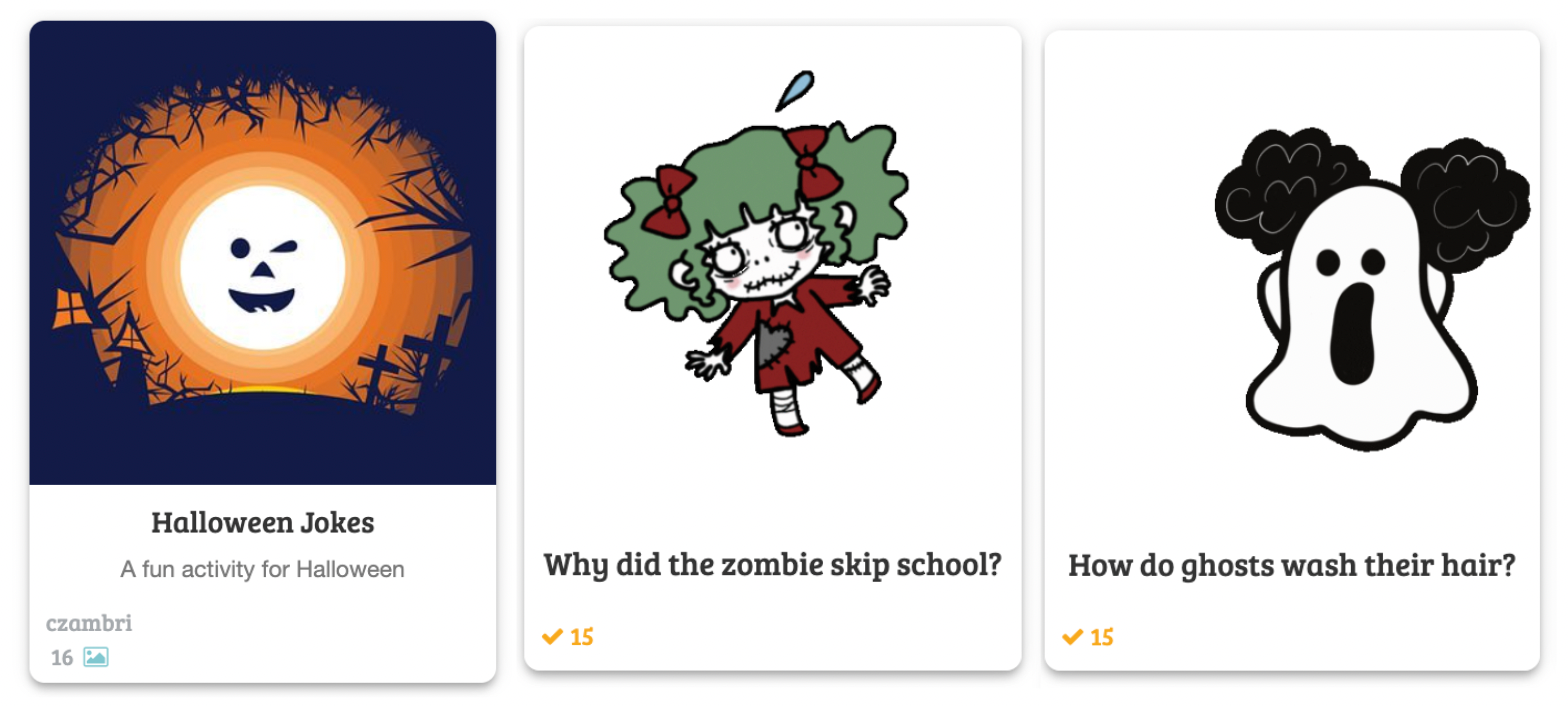 Next up, another scream-worthy selection of Halloween laughs—in this game, you'll find a pumpkin-load of cringe-inducing dad jokes.
Why did the zombie skip school? What does an evil hen lay? And why was the broom late?
Your little learners will love this knee-slapping collection of puns, japes, and double entendres (even more than candy corn!).
Helps with: wordplay, homophones, lateral thinking, idioms, humor.
Best for: Grade 2+
Baam-Link: Play game
---
15. Halloween Kids
by Winnie
Fast-paced observation game designed to strengthen mental acuity and recall in smaller children. The creator has made excellent use of the GIFs, ensuring gameplay is pacey, competitive and challenging (depending on the rules you implement and the power-ups you set!)
Helps with: Observation skills, retrieval, spelling, speed.
Best for: 1st Grade
Baam-Link: Play game
---
16. Halloween Scramble Spelling
by Miya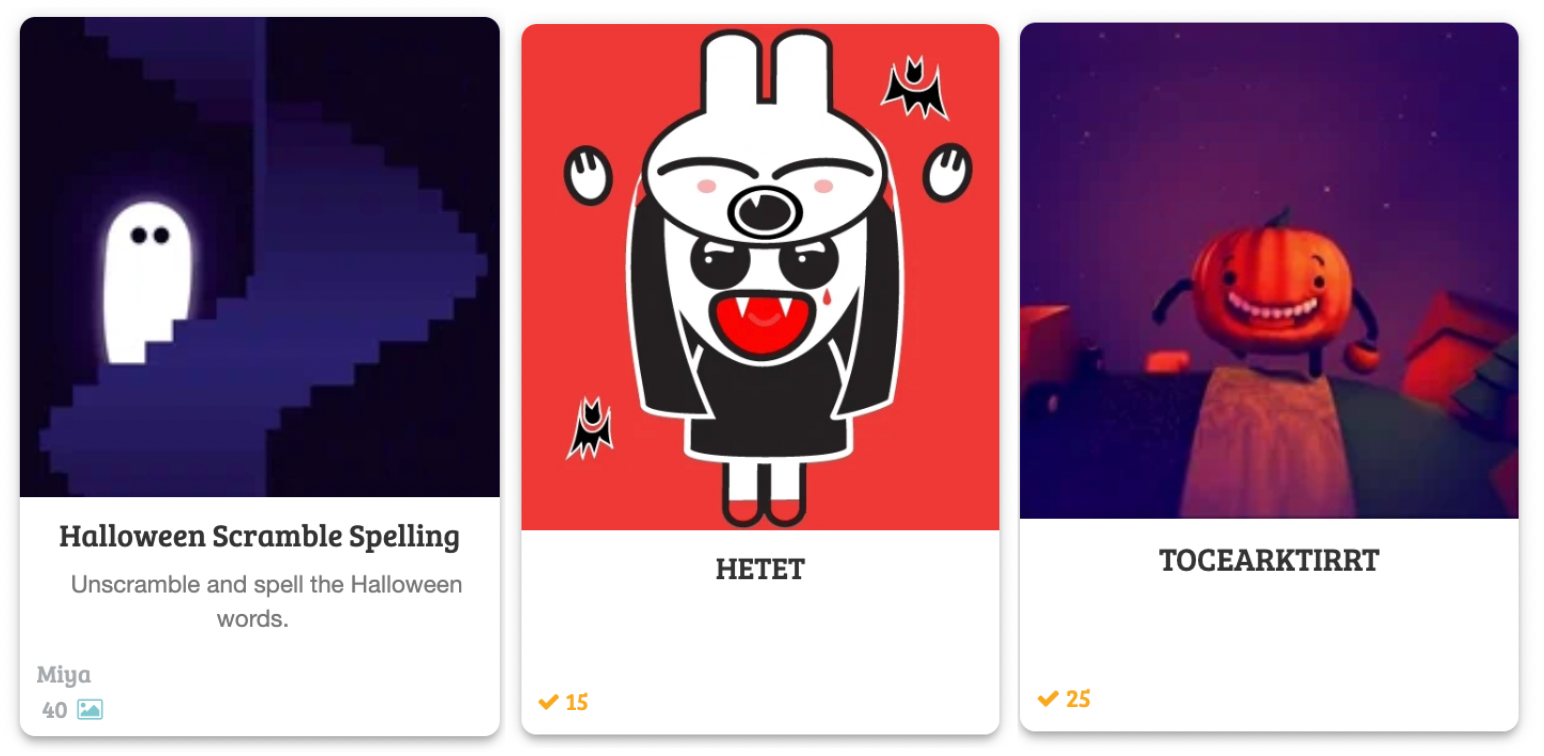 Did you know: Rosiest Input is an anagram for Superstition?
If your kids love scrambled words as much as we do, then you're in for a real trick-or-treat here. One of the best Baamboozles we've seen using anagrams that get gradually more challenging as the game progresses, meaning that no-one is left out and that kids of all abilities can show off their spelling prowess, either verbally or on their whiteboards. Great starter, plenary or attention-grabber activity.
Helps with: spelling, speed, linking words and images.
Best for: 1st Grade+
Baam-Link: Play game
---
17. Halloween Trivia
by Fitz4th

While Halloween is one of the most fun times of year for kids, many aren't aware of its surprising history. This simple yet curiosity-laden quiz game seeks to address that. On one level it's an end of day team quiz, but on another level the questions are conversation starters that get kids thinking and joining the dots between their own experiences and those of other cultures… with a few pop culture references thrown in for good measure ;)
Helps with: recalling facts, teamwork, quiz, conversation builder.
Best for: 2nd Grade+
Baam-Link: Play game
---
18. Silly Sentences: Halloween
by A.P.Chacon-Kreysa
One ghoulish day, I was wandering through Baamboozle's magical forest, and stumbled upon a witch's house. Of course, this was no ordinary witch, but a talented game creator named A. P. Chacon-Kreysa. She'd conjured up an incredible sentence-building game using popular Halloween characters. Scarily simple, yet amazingly powerful when coupled with creative writing, grammar or drama input. You (and your kids) will be cackling with delight over this one.
Helps with: fluency in speaking and writing, vocabulary building, easy differentiation.
Best for: 2nd grade+
Baam-Link: Play game
---
19. Spot It - Halloween
by kathrynnapolio

Eerily awesome observation game with a distinctive visual style. Works superbly using the slideshow feature and is also an excellent challenge for adults; OK, OK... I confess! I stumbled on some of these against my class (much to their delight!)
Helps with: Observation, attention strengthening, competitive, simple yet tricky.
Best for: 1st Grade+
Baam-Link: Play game
---
20. Happy Halloween!
by Winnie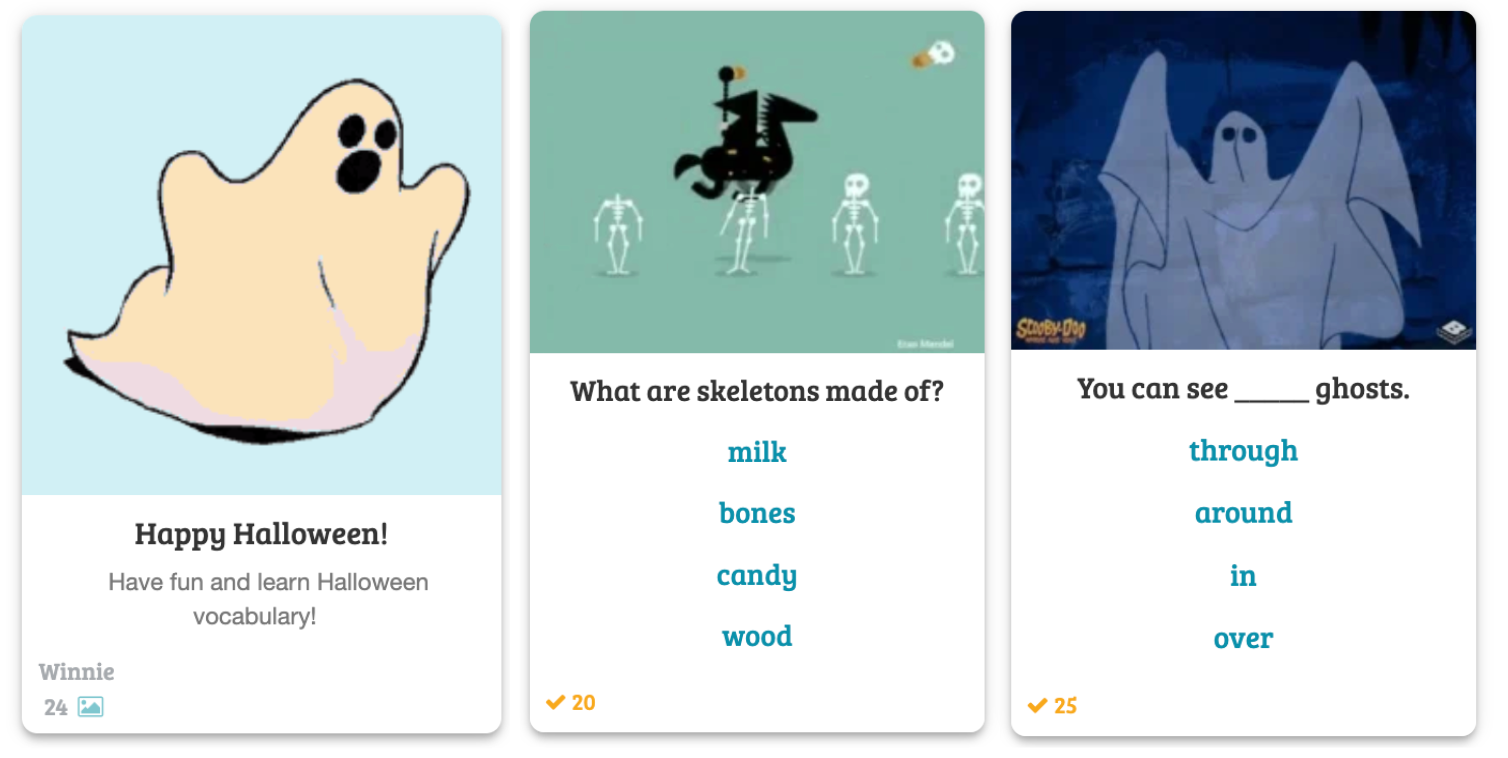 Pacey and with an array of punchy GIFs, this quick recall and identification game is a perfect tongue-loosener to kick off Halloween week. Enjoy... if you dare!
Helps with: Quick recall, ice-breaker, multiple choice.
Best for: 1st Grade+
Baam-Link: Play game
---
Baamboozle's Favorite Halloween Games: Final Thoughts
And just like that, we've screamed and squealed our way to the end of another Baamboozle-based list of themed in-class fun.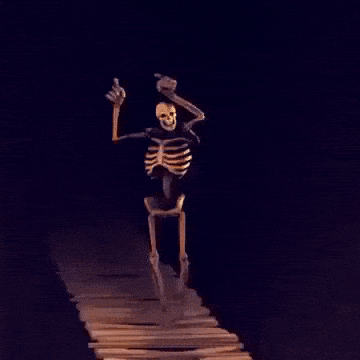 For much more, check out our collections of animal games, Christmas games, Easter games, food games, and April Fools' Day games (and that's just the beginning!).
And for even more ways to play all those games and more, consider Baamboozle+, our paid-for (but insanely affordable!) premium platform. It'll be the best educational investment you ever make.
Thanks for reading, thanks for choosing Baamboozle, and thanks for staying so spooky.