Top 10 Food Games for Learning English
Food, glorious food.
You can eat it, chew it, digest it, grow it, order it off a menu, and (as I've just demonstrated) list lots of things you can do with it.
And as babies and little kids know, you can also play with it. So in honor of their messy pastime, we've assembled this lip-smacking list of Baamboozle's top 10 food games.
On the menu today, we have irresistible idioms, greedy grammar, ravenous riddles, scrumptious scrambles, and lots of hearty reasons to work up an appetite. Grab yourself a napkin, load up your plate, and come join the flavorsome fun!
---
3 Words, 1 Food
By JC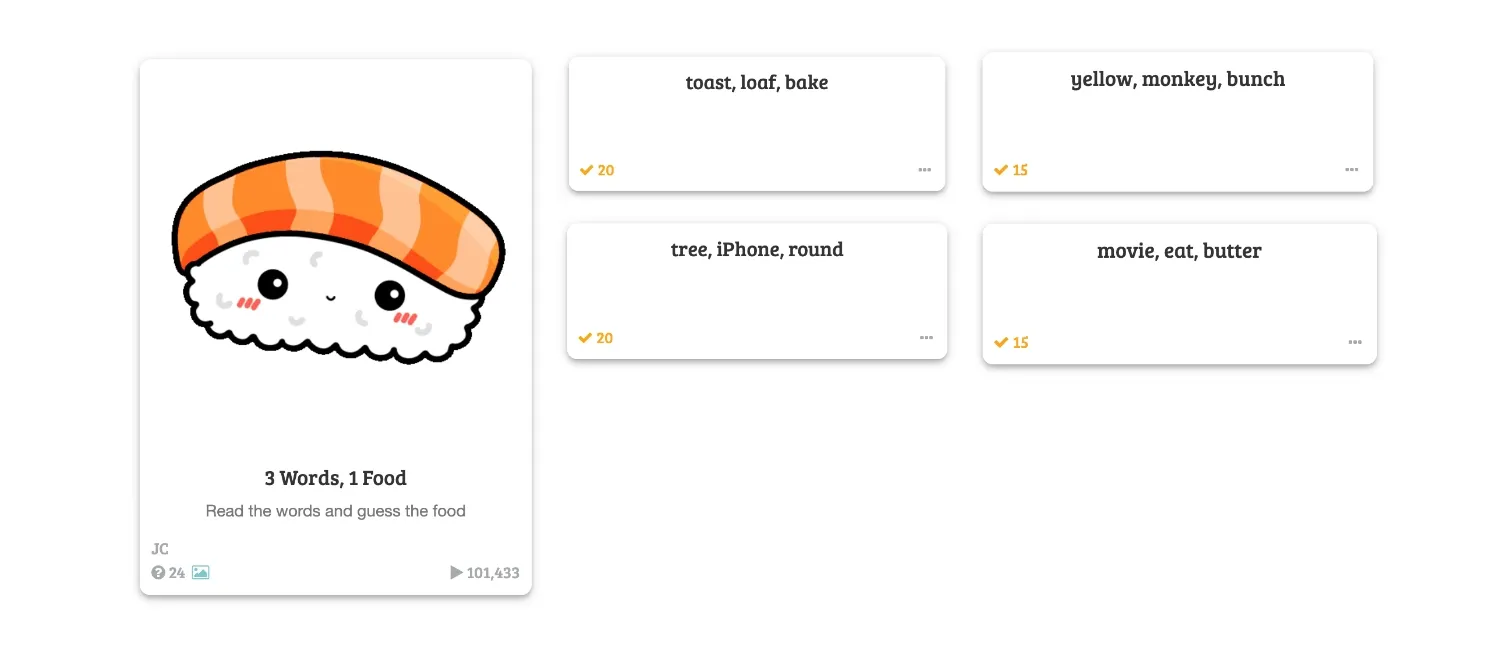 For this tasty treat, your students are given three seemingly-unrelated words… but can they guess which food item those three disparate words are describing?
Some clues, such as 'vampire, smelly, clove,' are pretty simple and straightforward. But others, such as 'hairy, green, spoon,' are a little more vague.
Helps with: Practicing adjectives, warming up brains, and a quick burst of fun
Best for: Grades 2 to 4
Baam-Link: Play now!
---
Alphabet Food
By Brooke_ellis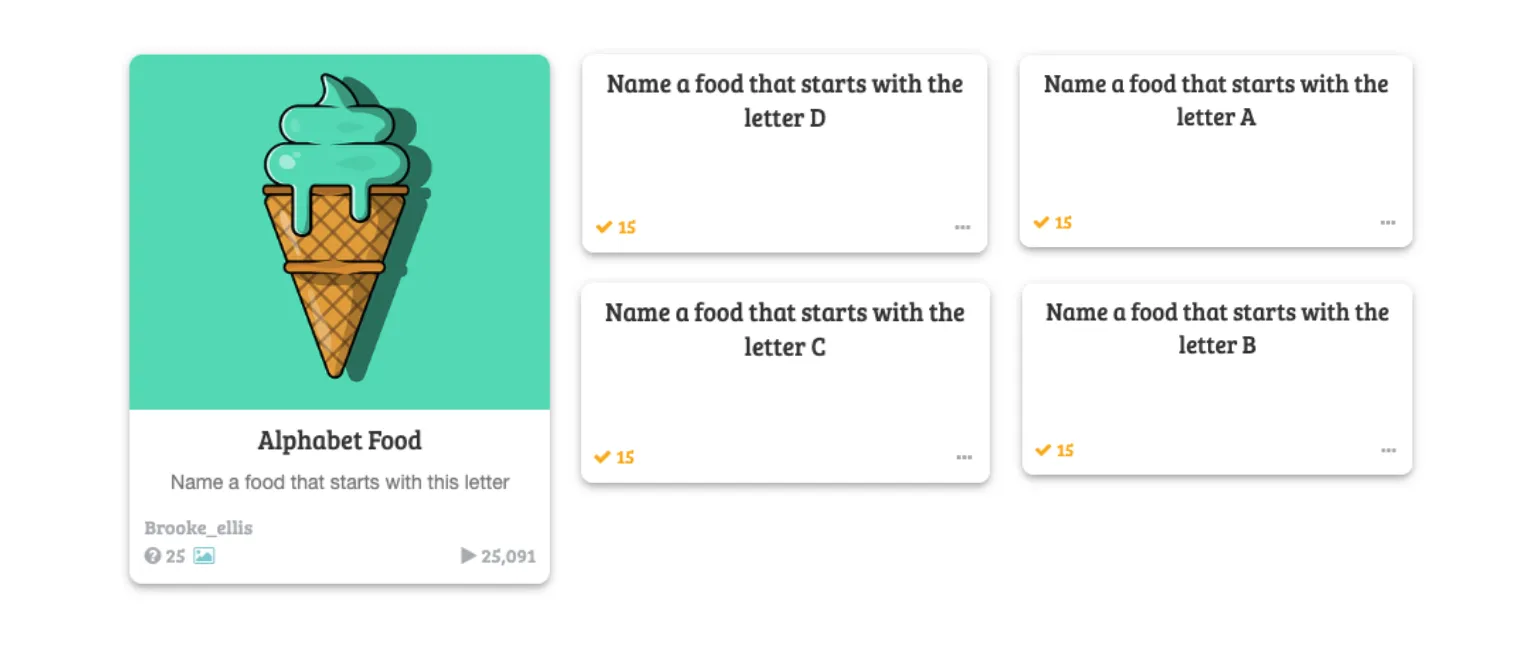 In this gastronomical game, your students' food-based vocabulary is pushed to its limit, as your little learners are asked to name foods beginning with each letter of the alphabet.
Alright, some of the letters might be easy… but coming up with a Z food might prove a little more tricky.
Helps with: Vocabulary, English classes, and running the gamut of greed
Best for: Kindergarten through to 2nd grade
Baam-Link: Play now!
---
Countable and Uncountable Food
By siforcat
This game is brimming with delicious determiners, as your students are tasked with choosing the right prefix for each meal and morsel.
Is it a chocolate, or some chocolate? A lime, or an lime? And is this just a fun game, or also an excellent way to practice some challenging grammar?
Helps with: Determiners, grammar, and choosing between 'a' and 'an'
Best for: Grades 1 to 3
Baam-Link: Play now!
---
Food Idioms
By Tatiana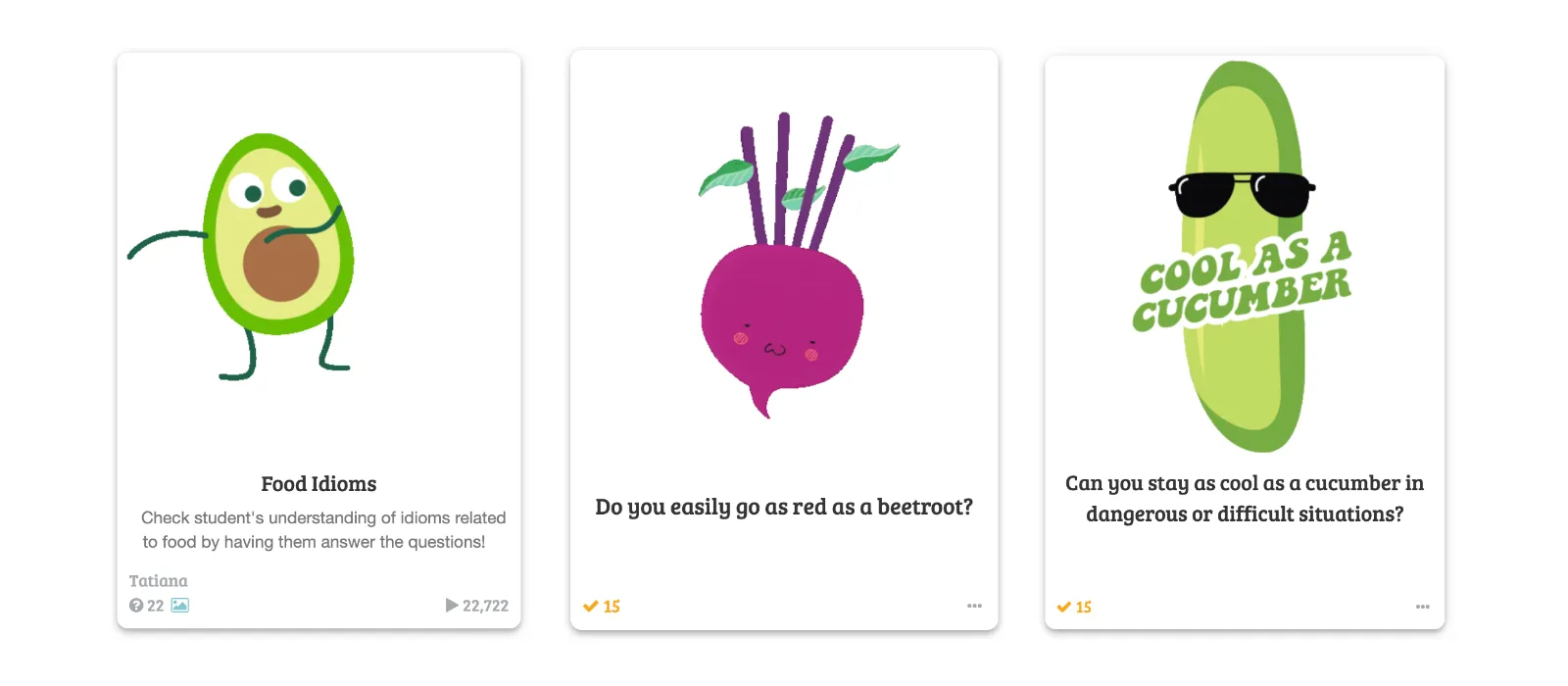 Something a little different, this game asks students to demonstrate the use and understanding of some pretty tricky idioms.
The twist? Each idiom is (as you probably worked out for yourself!) related to the world of cookery, kitchens and culinary crafts.
What's your cup of tea? What sort of thing do you consider to be absolutely nuts? And will a wrong answer give one of your learners a case of sour grapes?
Helps with: Idioms, a little lateral thinking, and getting all colloquial
Best for: Grades 5 to 8
Baam-Link: Play now!
---
International Food Vocabulary
By emartinwallace
This globetrotting foodest tasks your hungry learners with naming different nibbles from around the planet.
For each question, your students are given a drool-inducing image, and one simple task: can they name the delectable delight?
And as an added bonus, can they maybe even guess where each item comes from?
Helps with: Getting all hungry, naming various foods, and a unique way to explore geography
Best for: Grades 6 to 8
Baam-Link: Play now!
---
Fruit & Vegetable Word Scramble
By MsTammmie
Time for some appetizing anagrams!
Can your learners unscramble the letters to arrive at the names of some tasty fruits and vegetables?
It's a simple premise, but some of these chewy challenges are tougher than you'd think.
Helps with: Lateral thinking, English classes, and a fast burst of fun
Best for: Grades 4 to 6
Baam-Link: Play now!
---
Food Riddles
By Brunno Macedo
Great for older learners, this riddle-packed challenge asks your students to read inbetween the lines—some of these riddles and rhymes are pretty difficult, so they're great for getting your learners to think outside the box.
And with a hefty bank of 40 varied challenges, there's a lengthy amount of fun!
Helps with: Wordplay, leftfield thinking, and really testing your students
Best for: Grades 8 to 11
Baam-Link: Play now!
---
Name 3
By Ally
In this game, we discover that De La Soul were right all along: three really is the magic number.
Can your students name 3 ways to cook potatoes? 3 ice cream flavors? 3 kinds of cheese? Or 3 flavors of Doritos?
Helps with: Quick thinking, a speedy game, and assembling some tantalizing trifectas
Best for: Grades 3 to 5
Baam-Link: Play now!
---
Name That Food
By Joana Bastidas Fernandez
Food games don't get much more swift or simple than this. Your students are presented with various different foods, and they have one clear task: to name the item in the image.
Great for younger learners, this one proves that the best games don't always need to be complicated!
Helps with: Getting kids warmed up, fun for younger learners, and injecting some energy into the classroom
Best for: Kindergarten and first grade
Baam-Link: Play now!
---
Food Talk
By Nathhammerl

Ideal for kick-starting culinary conversations, this is a great game for shy students… and for encouraging little ones to learn about each other.
Do your kids prefer tea or coffee? At what time do they eat lunch? And how can they possibly have this many opinions on pizza?
Helps with: Chatting, debating, and getting to know each other
Best for: Grades 3 to 5
Baam-Link: Play now!
---
Baamboozle's Top 10 Food Games: Final Thoughts
There they are—our ten favorite food games!
And as we draw to a close, and cleanse our palates, it's finally time for dessert.
So for one final treat, we're dishing up more of our irresistible offerings: along with our massive collection of over a million educational games, we also have many more themed lists of fun for Easter, Christmas, Halloween, and plenty more.

And for even more educational inspiration, check out Baamboozle+, our excellent and affordable premium platform (and a great alternative to pricey Kahoot!). It offers lots more ways to play, and endless handy features for in-class excitement and adventure.
Thanks for reading, thanks for choosing Baamboozle, and make sure you stick around for much more!