Top 10 Educational Animal Games
Since the dawn of time, animals and kids' games have gone happily hand-in-hand.
Pin the tail on the donkey. Duck duck goose. Leapfrog. Buckaroo. Farmville. Angry Birds.
As I've now profoundly detailed with some probably-unnecessary evidence, the world of creatures and critters is ripe with opportunities for some fun-filled educational adventure. So in this blog post, we've ransacked our gigantic collection of educational fun to bring you our top 10 animal games.
Expect wacky hybrids, animal eyes, rhymes, lots of numbers, and some welcome references to Minecraft. If it moos, barks, meows, or poops on the floor, you'll find it in this guide!
---
3 Words, 1 Animal
By Ronan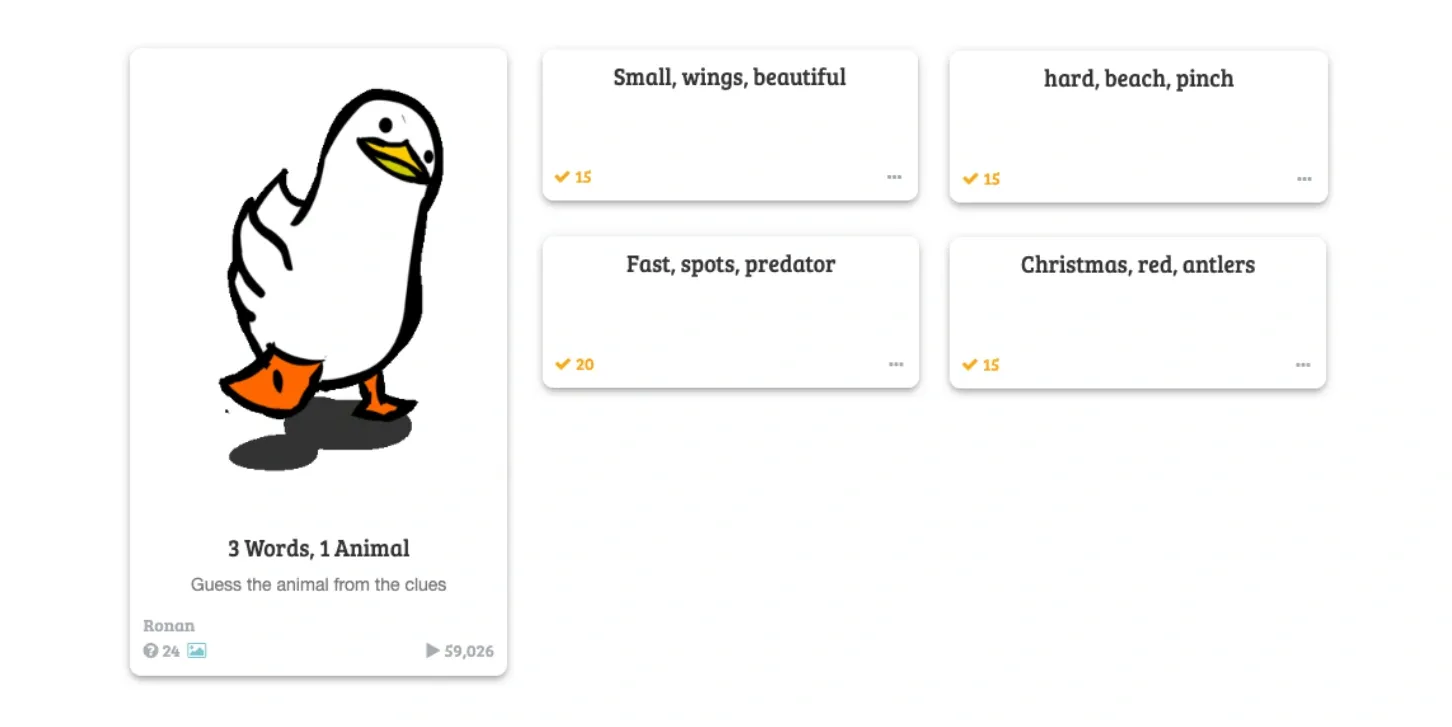 Perfect for exploring adjectives and vocabulary, this game gives a three-word clue for each of its animals. Can your little learners decipher the clues and come up with the correct creatures?
With a welcome mixture of both simple and complex words, this game is ideal for mixed-ability classes.  
Helps with: Vocabulary, adjectives, English classes, and learning some surprisingly-tricky words
Best for: Grades 4 to 6
Baam-Link: Play now!
---
5, 4, 3, 2, 1 Animals
By Baamboozle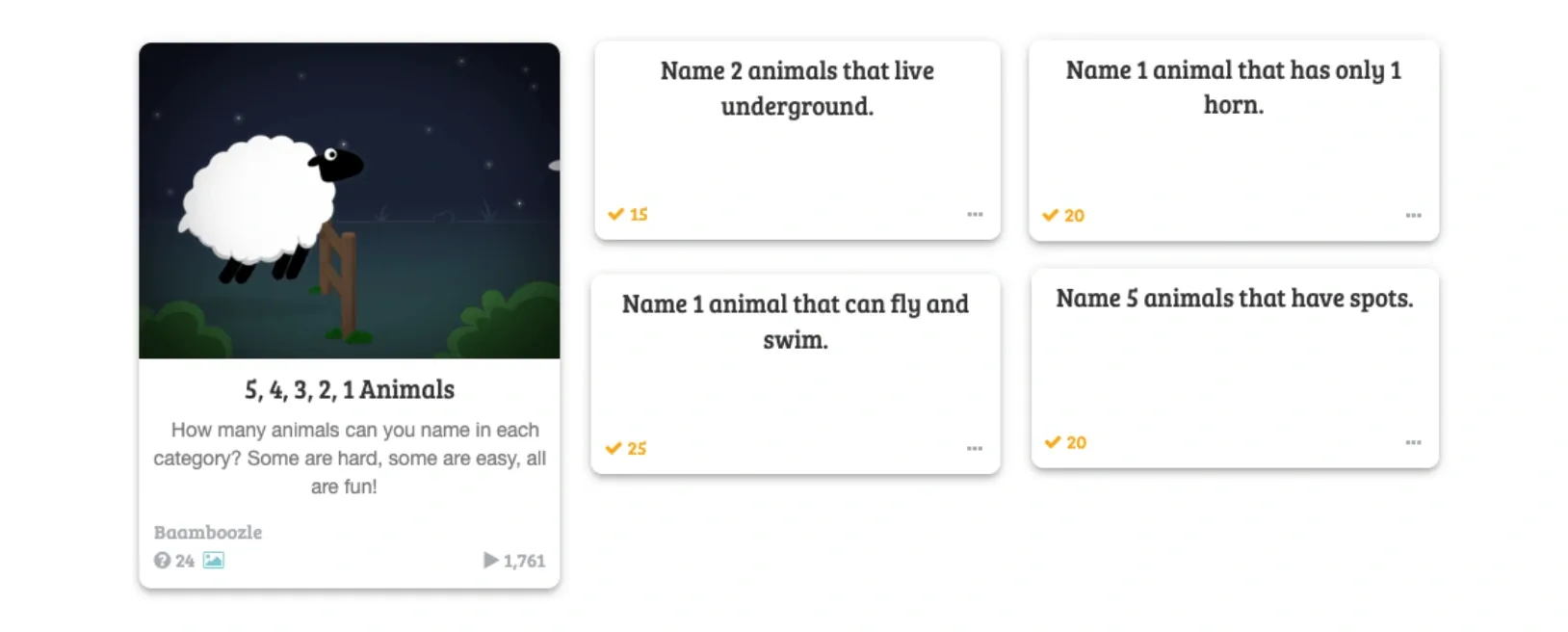 More animals, more numbers!
In this game, students are tasked with answering a bunch of varied creature-related questions. But here's the twist: each clue is related to numbers.
Can your students name 4 animals that live in trees? 3 animals that have stripes? Or even 1 educational platform as entertaining as Baamboozle?
Helps with: Numbers, quick thinking, and a varied collection of questions
Best for: Grades 5 to 7
Baam-Link: Play now!
---
Alphabet Animal Acting
By HelloHello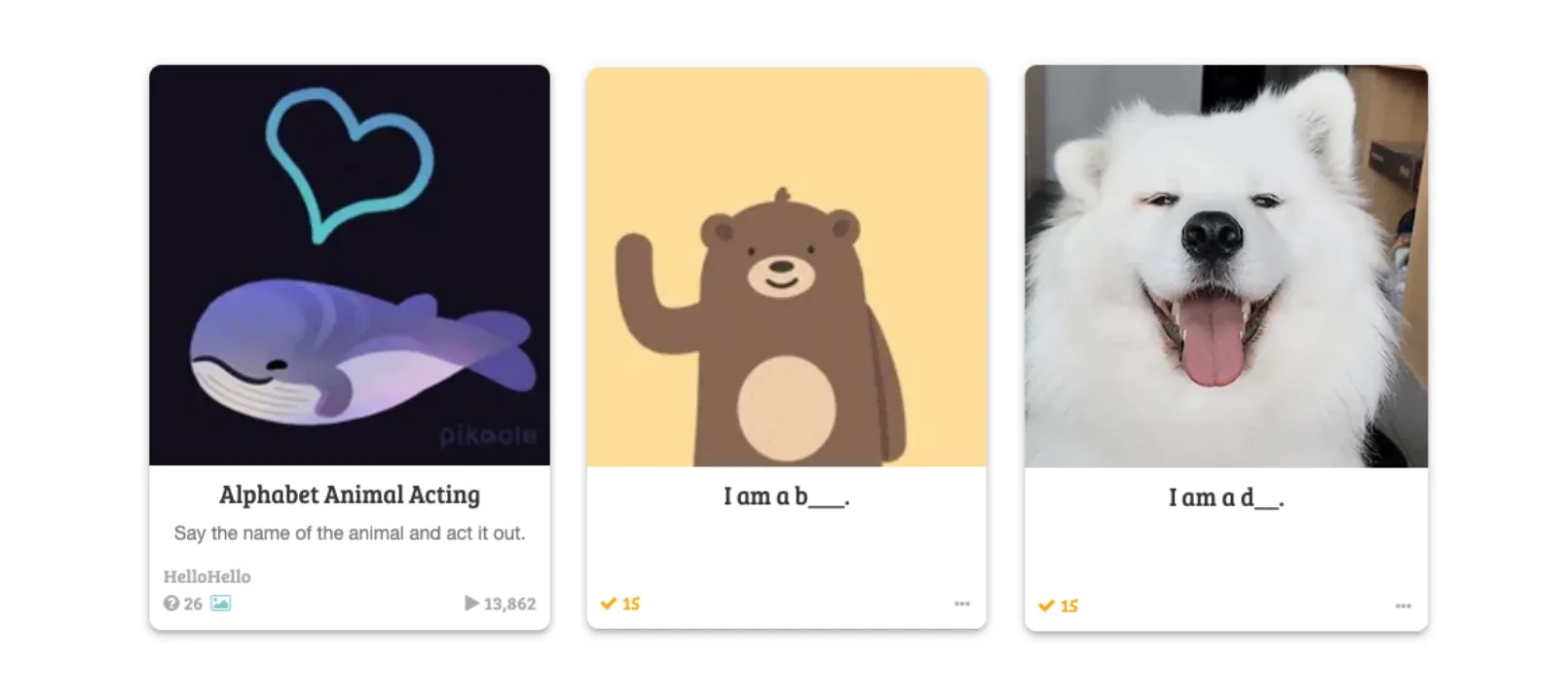 With gap-fill questions and some pretty quirky gifs, this game is ideal for young learners.
Each letter of the alphabet is assigned a creature… can your students use the letter, the image, and their gap-fill clue to accurately name each animal?
(Yes, despite what you might have otherwise thought, there is an animal that begins with the letter 'x').
Helps with: Vocabulary, recalling the alphabet, and learning about some pretty niche animals
Best for: Kindergarten through to 4th grade
Baam-Link: Play now!
---
Animal Eyes
By english1to1

Get up close and personal with some creatures and critters by lovingly gazing into their adoring eyes. Can your students recognize the animals by staring at their isolated irises?
Helps with: Visual learners, something a little different, and getting all creeped out by excessive eye contact
Best for: Grades 3 to 7
Baam-Link: Play now!
---
What Animal Is This?
By Joana Bastidas Fernandez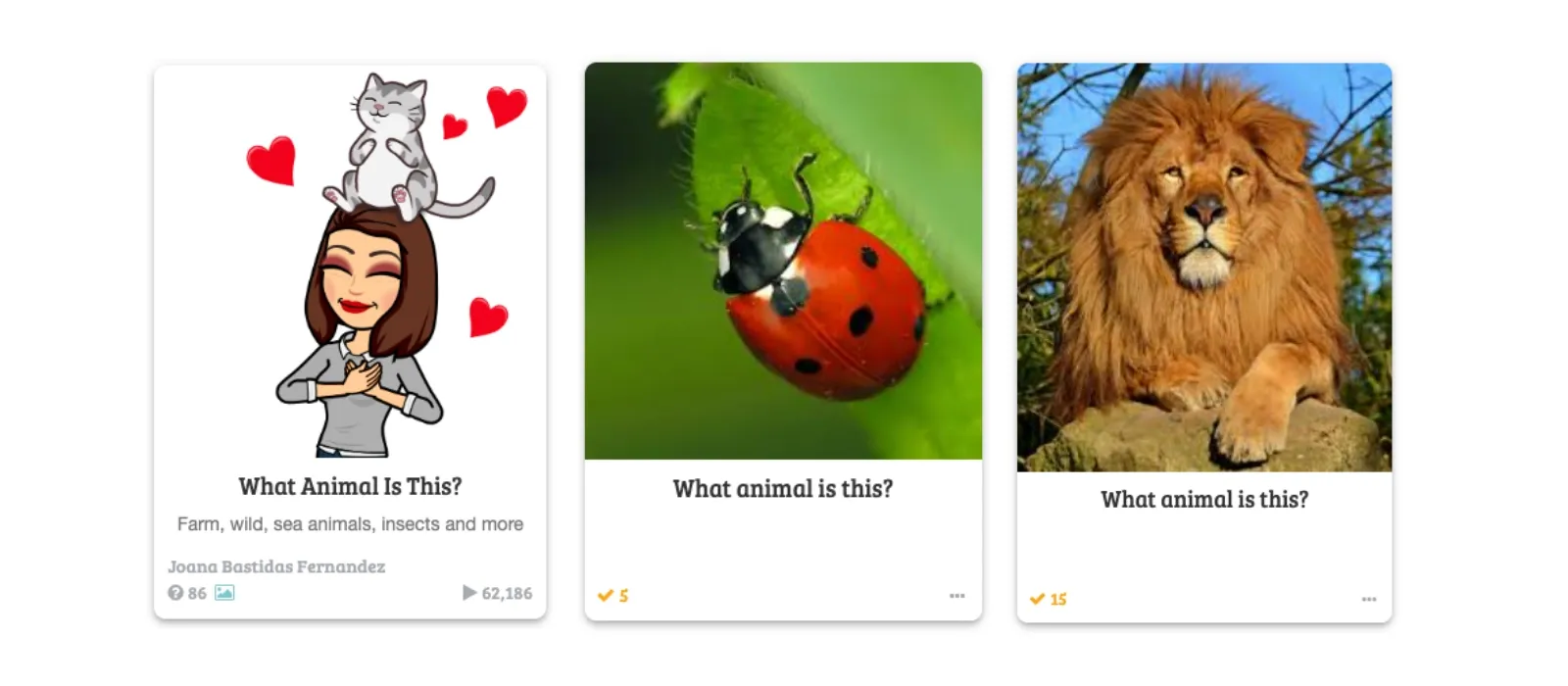 Ideal for little ones, this super simple game asks only one question. And as you might have guessed by its title, that question is pretty clear.
Your students are given images of various animals, including owls, parrots, pigeons, skunks, snakes and snails. Name the animal correctly, and you're the recipient of some precious points. It's simple and straightforward, but lots of the best games are!
Helps with: Recognising animals, basic classes, and introducing a host of kooky creatures
Best for: Kindergarten and first grade
Baam-Link: Play now!
---
Hybrid Animals
By rixoid

During this mishmash of mayhem, students are given a bunch of animal pictures… but with a major twist.
Each image is a gruesomely-constructed hybrid of two different animals, like a horrifying version of an already-horrifying Greek myth. If you think centaurs are weird, wait until you see a nauseating concoction of an orangutan and a fox.
Helps with: Lateral thinking, doing something different, and repeatedly saying 'that's disgusting'
Best for: Grades 4 to 7
Baam-Link: Play now!
---
Minecraft Animals
By teachernathalie

Kids love Minecraft, and kids love animals. Combine those two irrepressible passions, and you get this simple but entertaining game.
Can your students recognize the cuboid versions of some pretty common animals? Never before have parrots, fish and pigs had so few pixels!
Helps with: Quick fun, thinking outside the box, and keeping kids on-side
Best for: Grades 2 to 4
Baam-Link: Play now!
---
Animals
By T.MC

Basic by name, basic by nature, this is another great game for younger learners. Students are given a simple cartoon image, and tasked with one simple question: 'what is this?'
Featured animals include bears, bees, bats, spiders, snakes, and plenty more
Helps with: Recognising animals, working with younger learners, and some quick cartoon fun
Best for: Kindergarten and first grade
Baam-Link: Play now!
---
Rhyming Riddles
By Muykim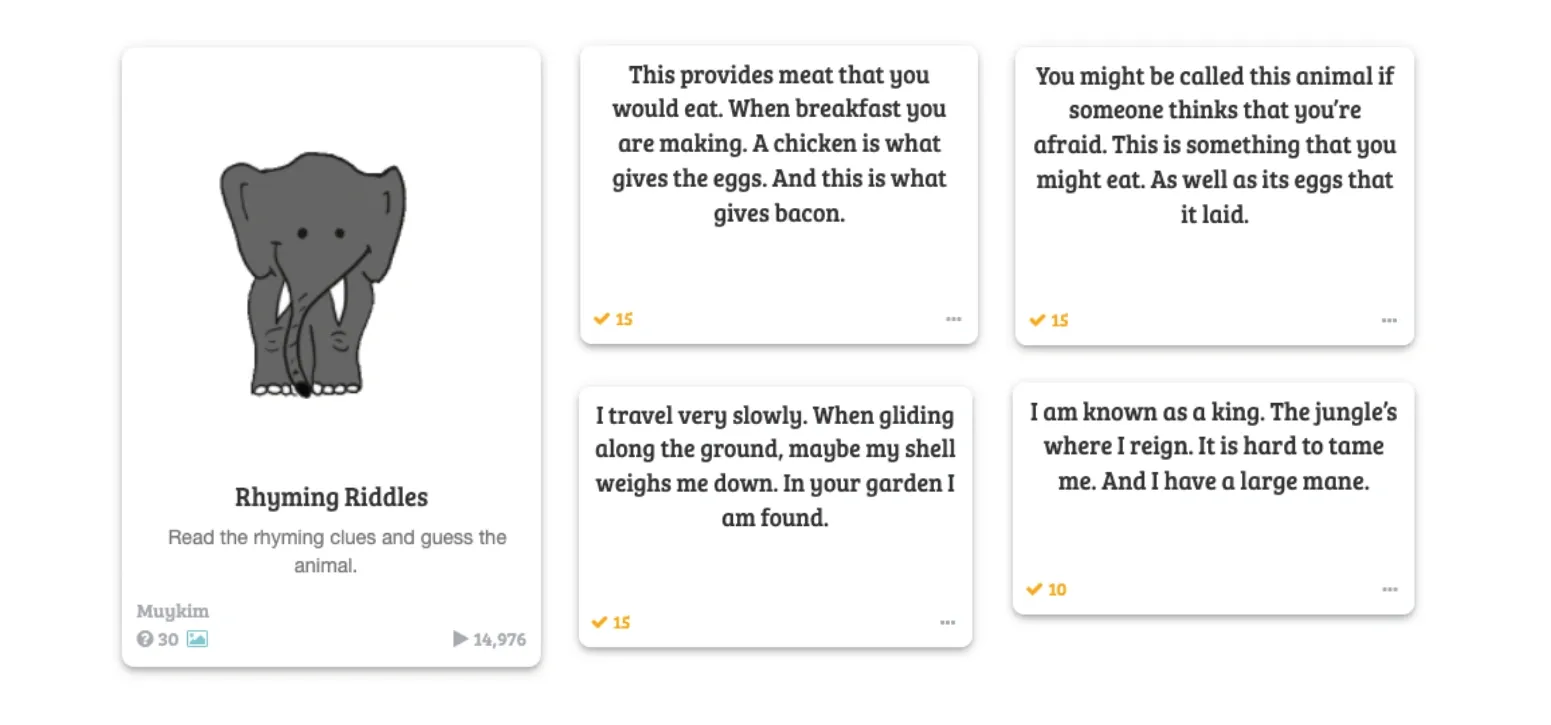 This riddle-based game features some tricky rhyming clues and complex conundrums. Some of the clues are enigmatic and unusual, while others are a little more literal.
If your students like solving problems and lateral thinking, they'll love this one.
Helps with: Solving riddles, complex wordplay, and some tricky mental gymnastics
Best for: Grades 4 to 8
Baam-Link: Play now!
---
One Clue. One Animal.
By Barley Teacher

Last up, a surprisingly tricky challenge.
Students get a one-word clue, and must decide which animal the clue is referring to. Though some are pretty easy to guess, others aren't so simple.
Which animal does 'howl' reference? Which animal is 'smart'? And why on earth is the word 'burp' a clue?
Helps with: Vocabulary, answering carefully, and getting all thoughtful
Best for: Grades 5 to 7
Baam-Link: Play now!
---
Baamboozle's Top 10 Animal Games: Final Thoughts
So here we are… the animal end. The creature conclusion. The feral finale.
If you like what you've seen, check out our collection of over a million educational games for much more fun (and many more animal adventures!).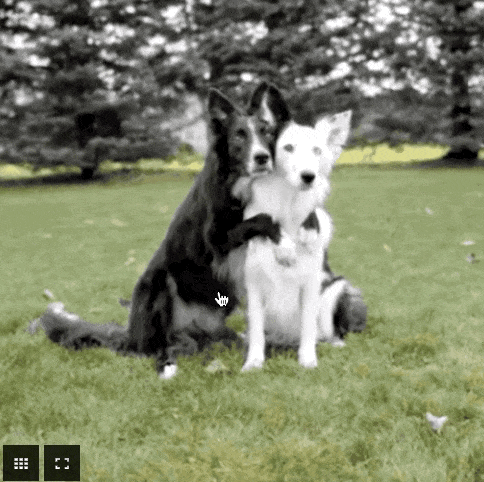 And if you're on the hunt for more themed lists, wander on over to our topical game suggestions for Easter, Christmas, April Fools' Day, and Saint Patrick's Day.
Last of all, if you want even more ways to play, adapt and explore our games, consider signing up for Baamboozle+, our hugely popular premium package. It's quickly becoming one of the most popular game-based educational platforms on the planet, and teachers across the world use it every day.
Thanks for reading, make sure you stick around for much more, and we'll see you next time!