35 Essential Icebreaker Games to Hook Your Class
If capturing and keeping the attention of your class feels like walking through treacle at times, wrap your eyeballs around this.
Our new breed of Ice-breaker games, deployed strategically, can help almost any teacher in just about any educational setting. If you're interested in creating a dynamic learning environment where kids are more willing to learn, without sacrificing quality input for cheap gimmicks, the next two minutes could transform your teaching practice from top to bottom.
Whether you're a high school or elementary school teacher, or even home-schooling your own kids, these plug 'n' play micro-activities could very well be the 'spoonful of sugar' your students need to re-engage them on their educational journey.
Skimming through our Baambooz-a-licious list, you'll discover a glut of inclusive, eye-catching, topical activities that encompass everything from handy brain-breaks and entertaining fitness games, right through to engaging team-builders and role-play challenges.
They're simple and easy to prepare, with no paperwork or log-ins needed - just hit the link to the Baam you want to play, and 👉
1. Introduce Yourself!
by thuyta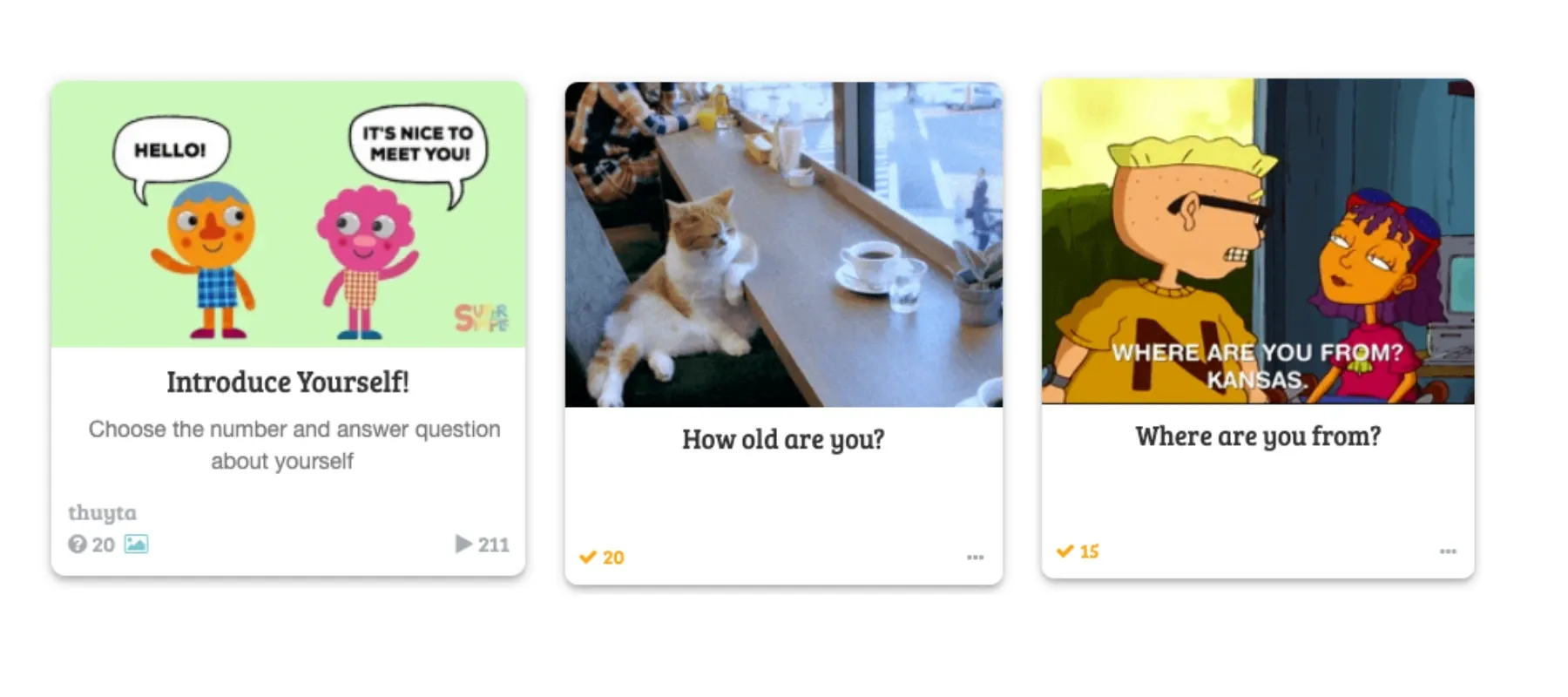 A simple game to get your students talking and getting to know each other. Great for the start of the school year or for stimulating discussion in a new class.
Baam-link:  Play Game
---
2. 3...2...1… Shout It Out!
by JC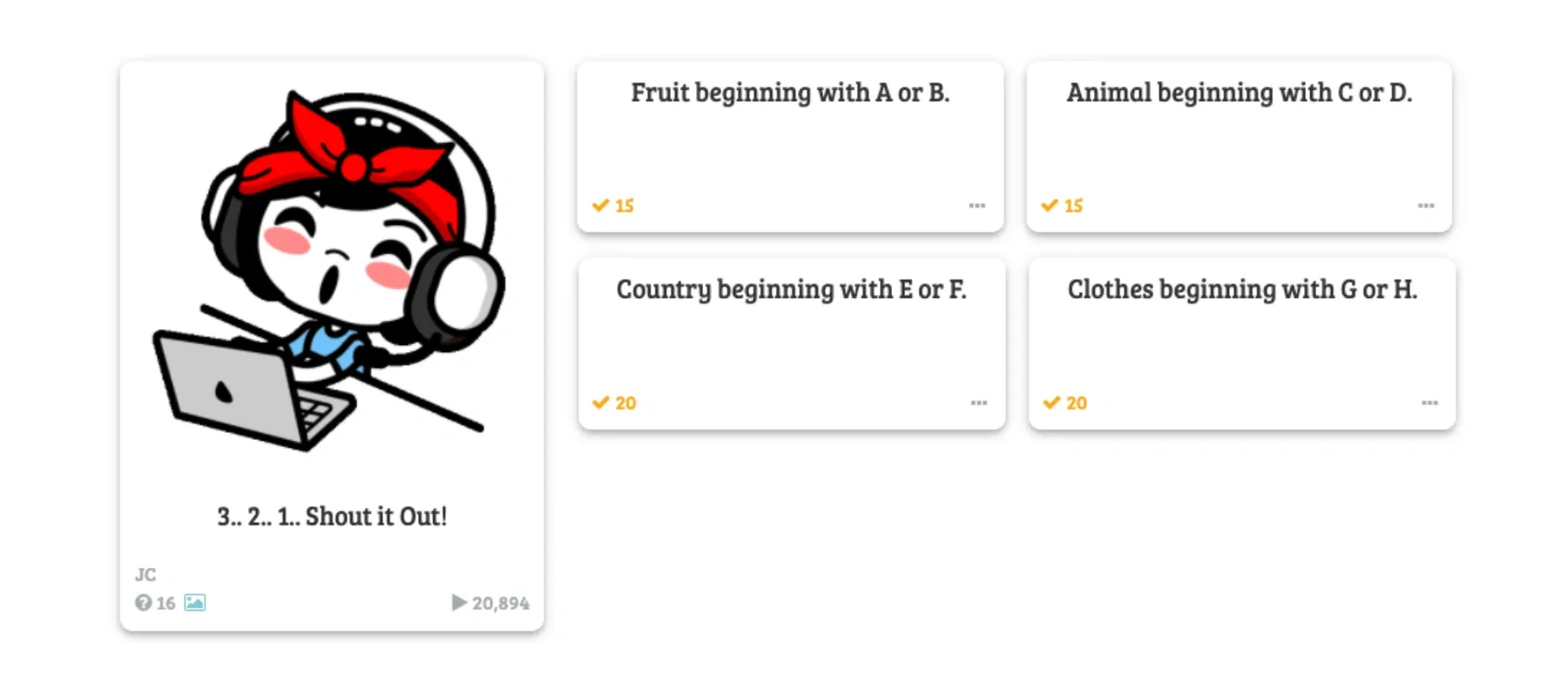 Ever asked to SHOUT out in the middle of class? Sounds counter-intuitive, but boy do they love it! Give yourself permission to give it a try :)
Baam-link: Play Game
---
3. Think of Something
by PrisLA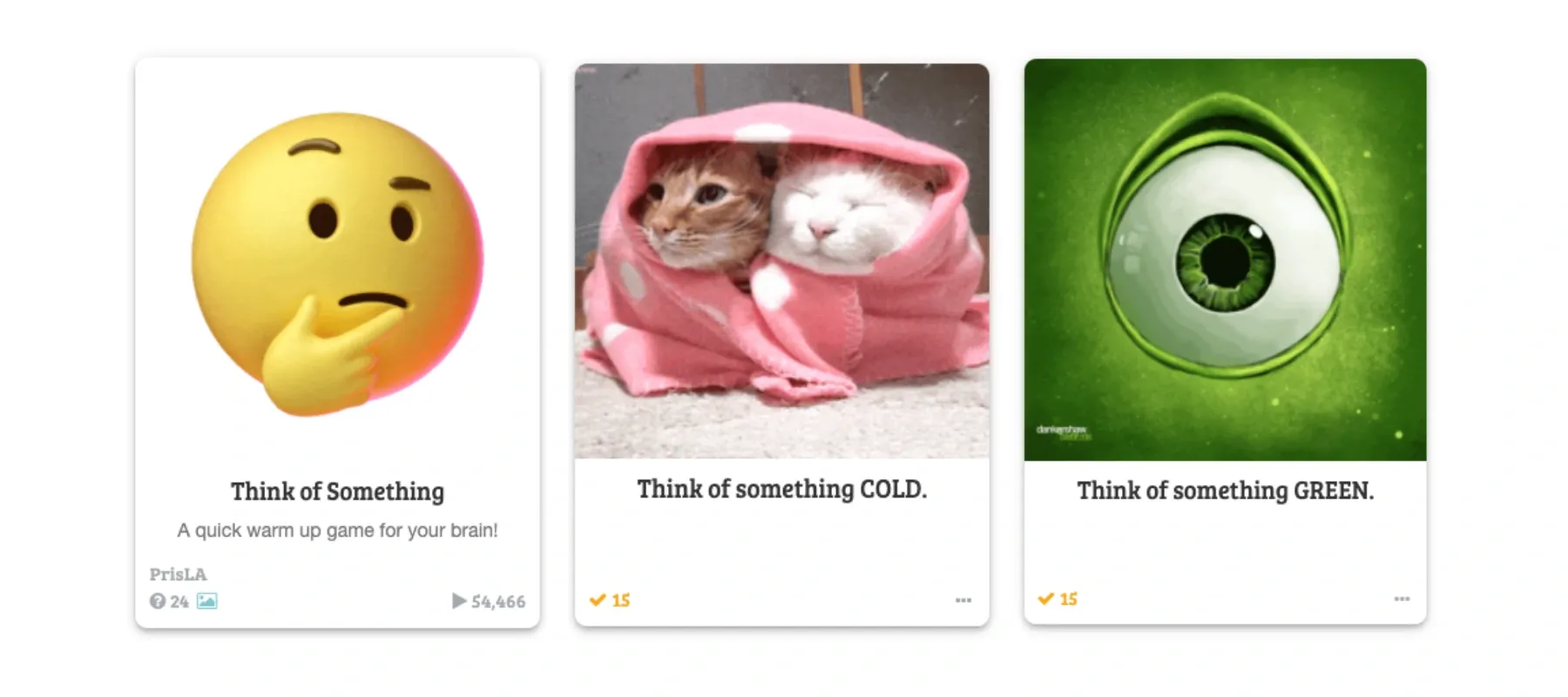 Think of something COLD! Think of something WET! Think of something that is NOT in this room right now!
This rapid-fire association brain-warmer will leave your class breathless and eager for more.
Baam-link: Play Game
---
4. Scattergories
by jannet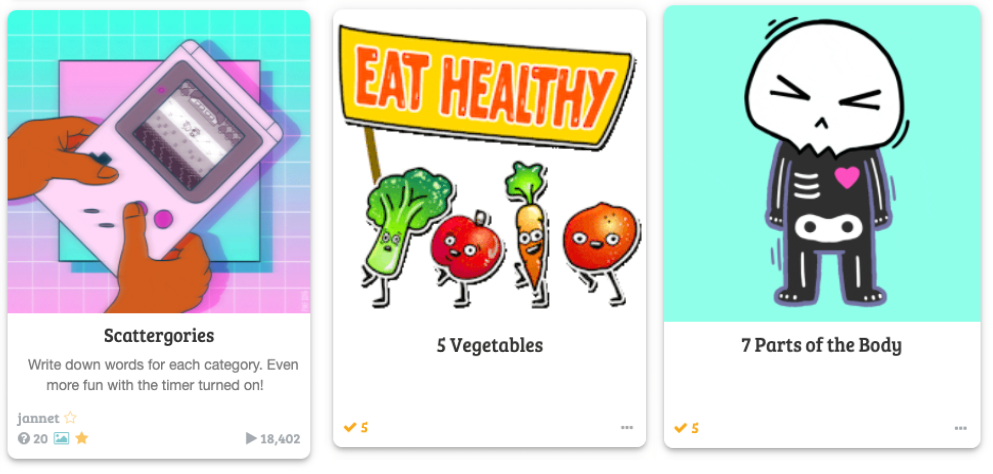 Gameshow-style naming game that can be played for prizes, pride or as a perfect post-lesson pick-me-up!
Baam-link: Play Game
---
5. 3 Words, 1 Food!
by Annie Nguyen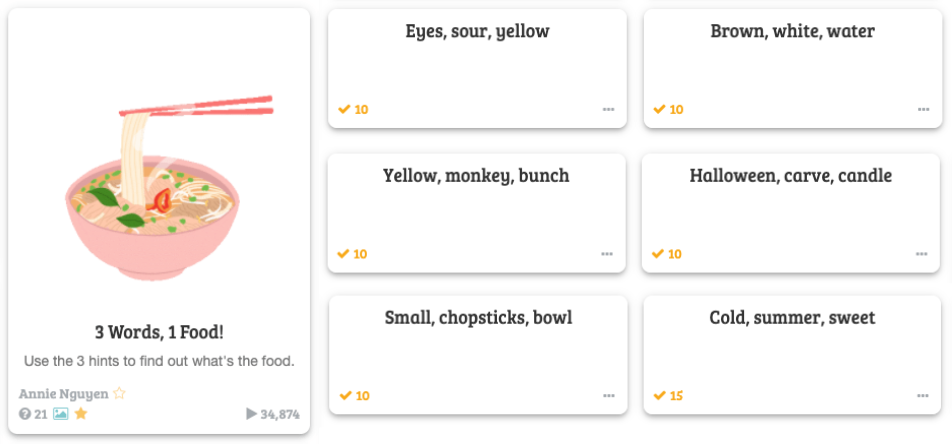 Tasty little Baam for the hungry hordes! A fast and furious food-based game to whet their learning appetites at the start of the day.
Baam-link:  Play Game
---
6. Snow & Ice
by Savanah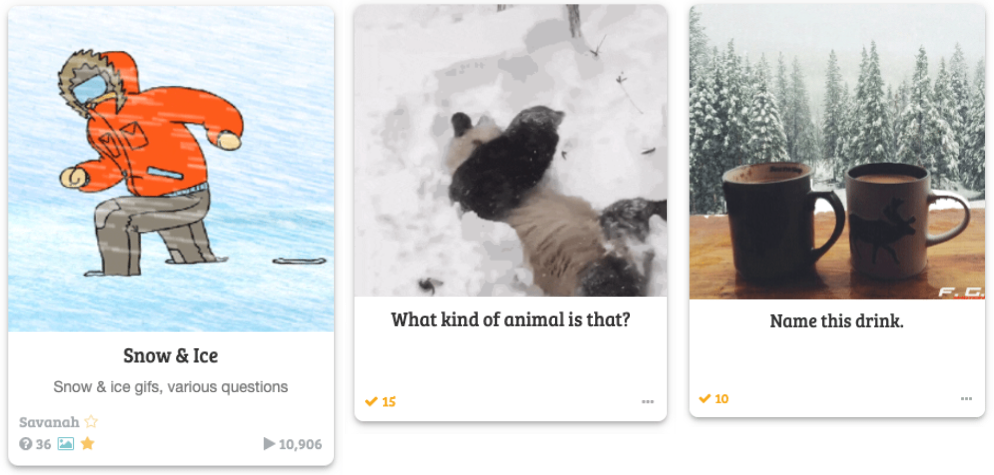 This winter warmer marries quick-fire questions and challenges with witty gifs and multiple choice answers, as well as the odd 'slippery one'.
Baam-link: Play Game
---
7. Move Around!
by pizzaandcats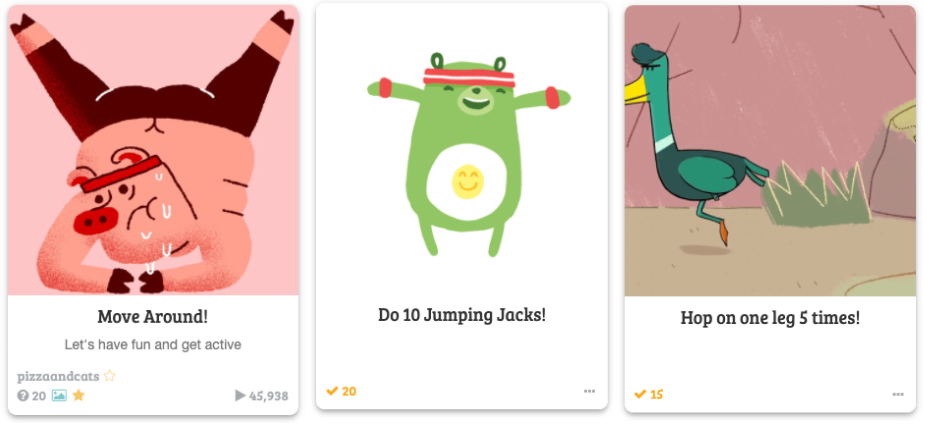 From walking like a zombie to jumping like a frog, this handy Baam will get your kids moving and grooving when their minds are feeling floppy.
Baam-link:  Play Game
---
8. Train Your Brain
by Mrs. Boyer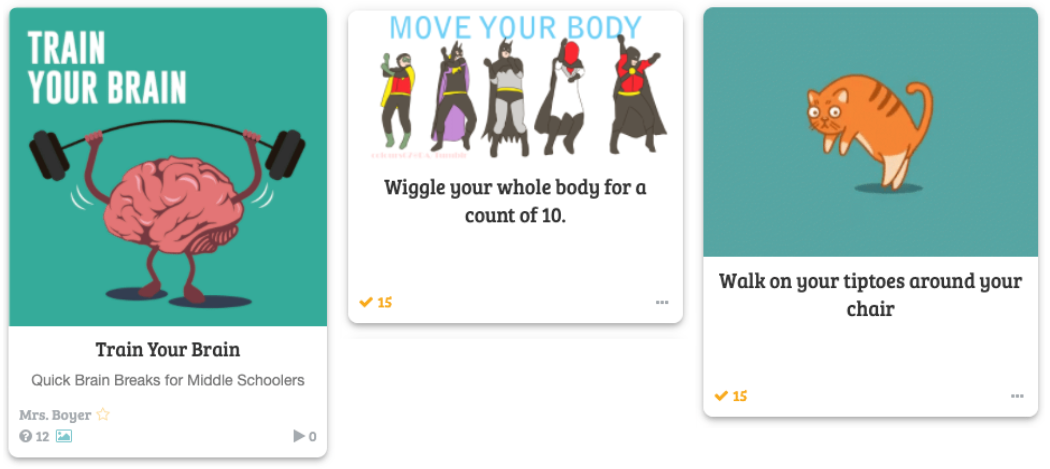 Creative in-class movement breaks to reinvigorate your students. Let's get that blood pumping!
Baam-link: Play Game
---
9. Santa Claus in Your Classroom?
by sheldonavalon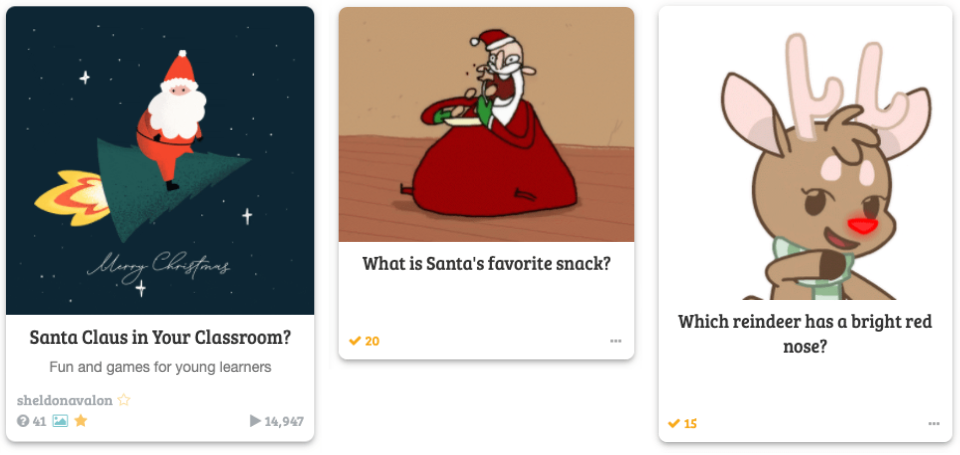 Hate to be the one to say it, but… Christmas is coming! And our teacher-creators have got you covered - the perfect mix of fun and Festive is merely a click away.
Baam-link:  Play Game
---
10. Funny Faces!
by jguyer

Mirror, mirror on the wall, who has the funniest face of all... May the 'battle' commence! Hit the link below to enter this unique face-changing game.
Baam-link:  Play Game
---
11. Word Race
by Winnie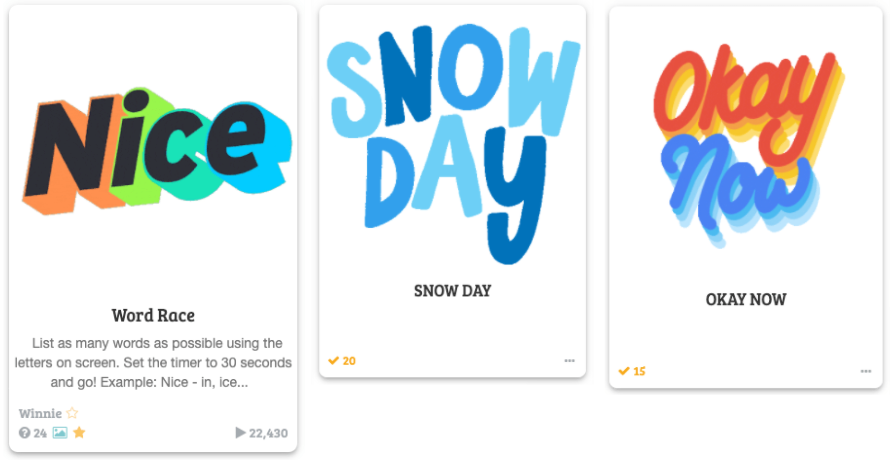 Ready… Set.... Go! Write down as many words as you can (with or without your partner) using the letters on the screen. One of my favorite starter activities.
Baam-link: Play Game
---
12. Let's Destress
by Jack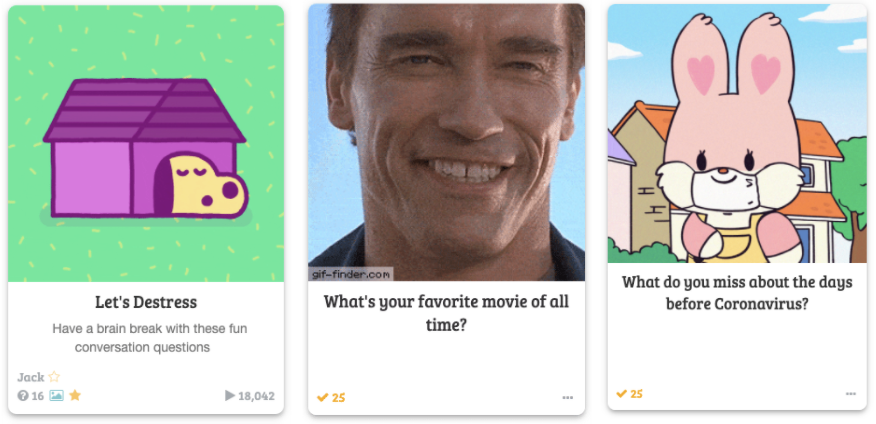 Mindfulness has become a mainstay in many schools since the pandemic took hold. Teachers have become incredibly adept at taking care of their students' mental health and well-being, despite the majority not knowing about such handy 'done-for-you' games as this one.
Baam-link:  Play Game
---
13. Would You Rather… ? [Fitness Edition]
by Baamboozle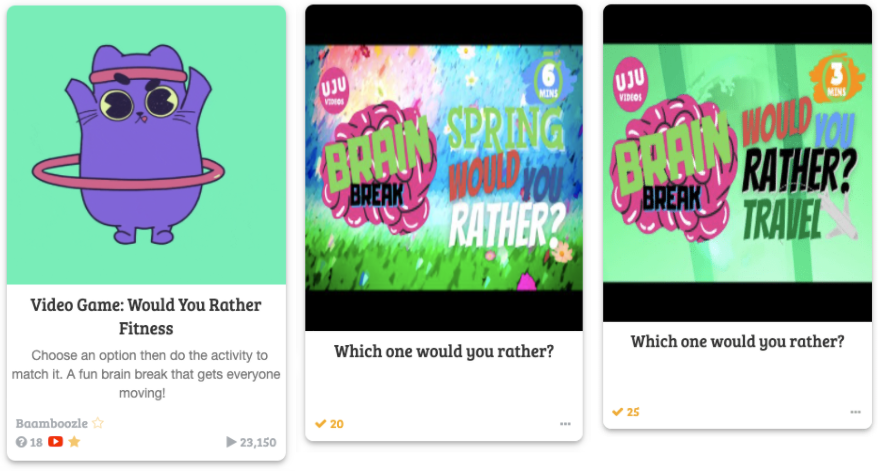 Addictive twist on the classic 'would you rather?' ice breaker game, posing a variety of fitness challenges ranging from 'Easy Peasy' to 'Anything but this! I demand extra Maths… NOW!'
Baam-link:  Play Game
---
14. Name Three Things
by Mason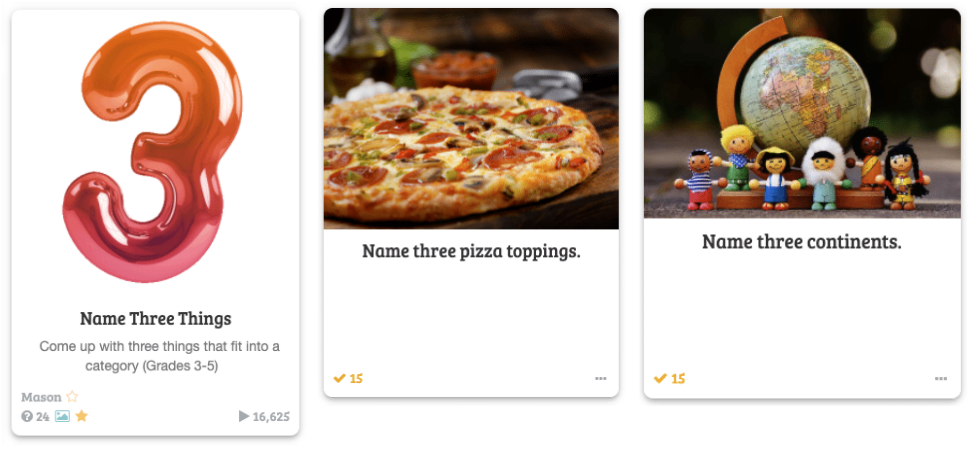 3 is the magic number! Well, it certainly is for this quiz game featuring wide-ranging topics and eyeball-snatching visuals.
Baam-link: Play Game
---
15. Have You Ever...?
by Luciano Cabral da Silva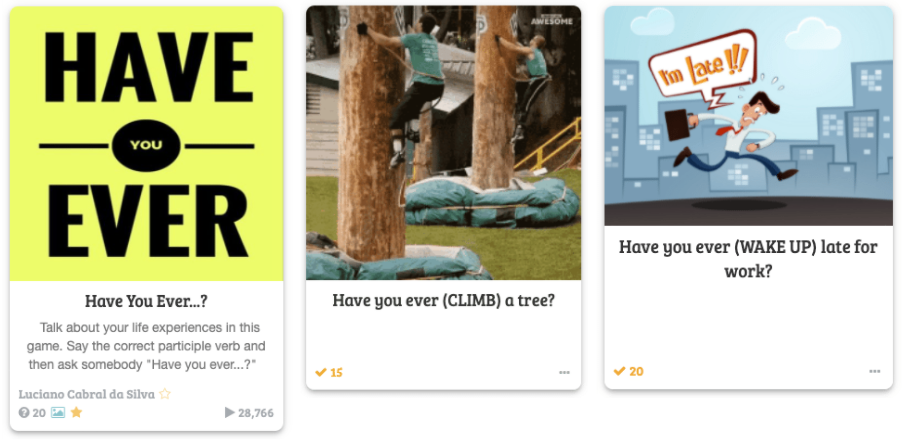 A ice-breaker game designed to test grammar and elicit opinion in the same breath, the visuals being the icing on the conversational cake.
Baam-link: Play Game
---
16. Video Game: Guess the Country
by Baamboozle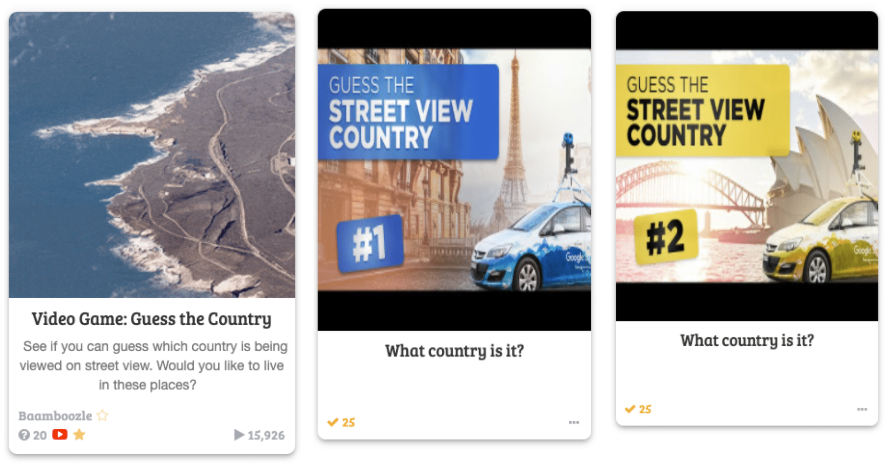 Baamboozle's teachers are infamous for their creativity, one example of which you'll find below. Embark on an epic 20-stop video voyage around the globe by hitting the link below.
Baam-link:  Play Game
---
17. Baamboozle Ball
by JC

Is your class brimming with soccer-mad students? Well, be sure to hotfoot to the gym for this one! Hit the link to score your new favorite P.E. starter.
Baam-link: Play Game
---
18. Comparison Scavengers Hunt
by Jack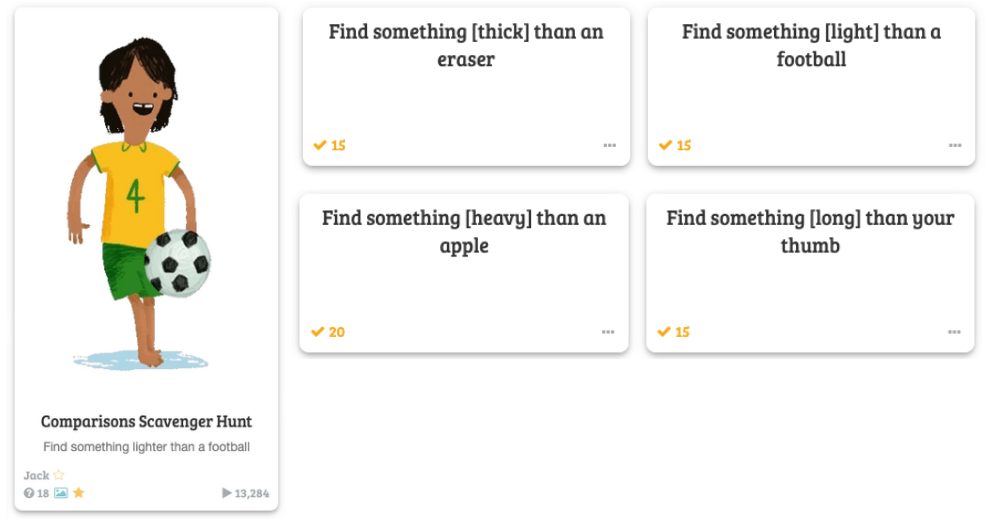 An up 'n' about language-centric scavenger hunt to get your kids moving about while engaging their intellects.
Baam-link: Play Game
---
19. Charades and Jokes
by carolina.croisfelt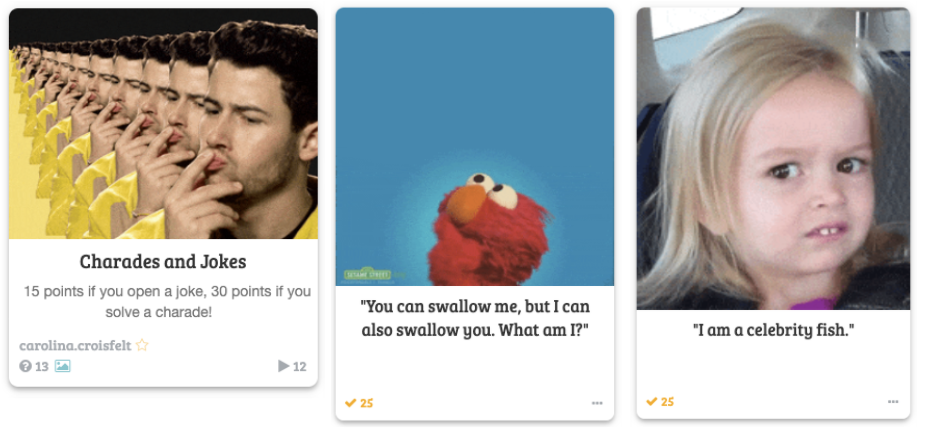 In general, kids (and teachers) never spend enough time on drama or performance. This fun Baam allows you to crowbar slide some drama into your school day without laboring the 'performance' aspect. Great warm-up activity!
Baam-link: Play Game
---
20. Group Storytelling
by Ariane

Who doesn't love a good story? One of our teacher-creators came up with this unique twist on storytelling combining improv and oracy for children to build their storytelling skills.
Baam-link: Play Game
---
21. Lie Detector
by mrothra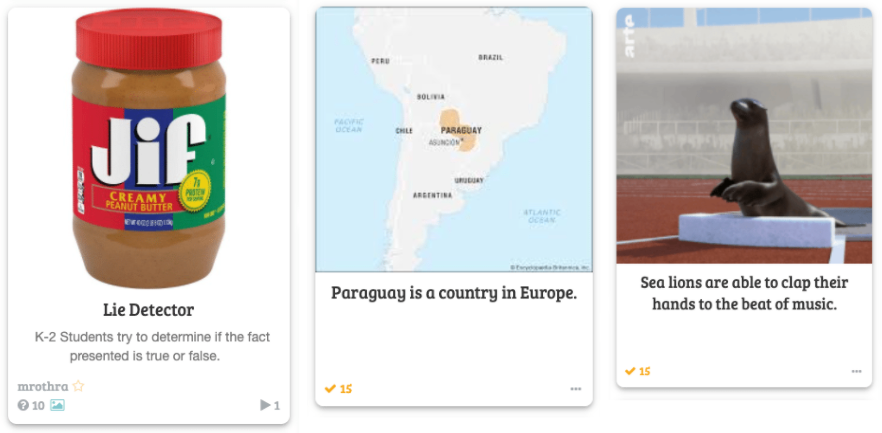 Fun Baam version of 2 truths & 1 lie that will keep your children entertained and engaged.
Baam-link: Play Game
---
22. A Different Point of View
by HelloHello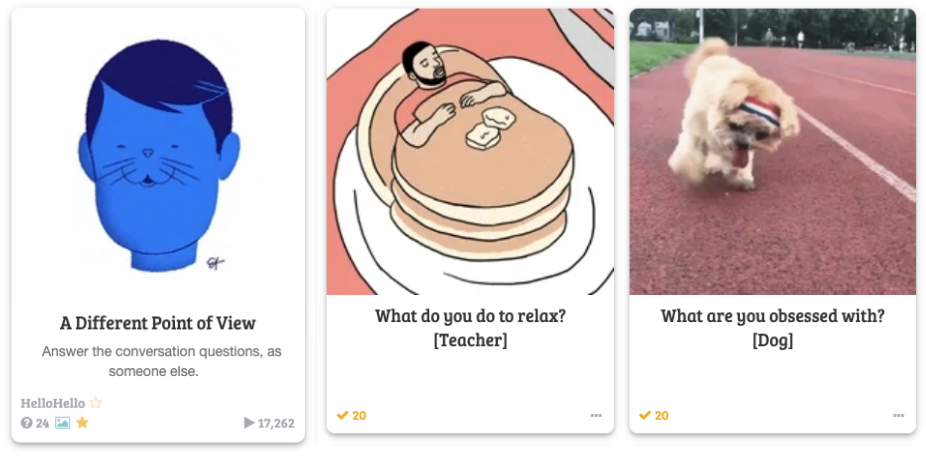 Want to get them flexing their Empathy muscles? Why not offer them the chance to walk a mile in someone else's shoes? We have you covered right here.
Baam-link: Play Game
---
23. Game of Games
by Charles Clancy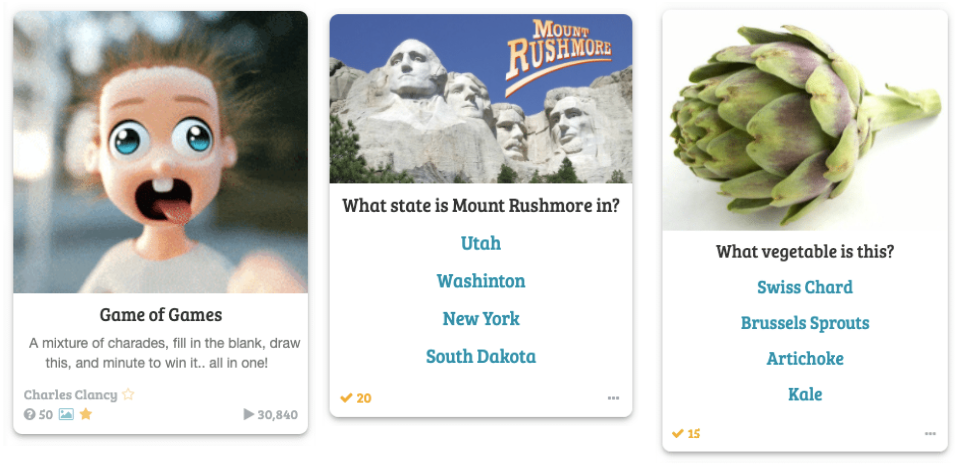 A baambooz-a-licious mixed bag of tasks and challenges that'll keep your kids active, attentive and itching to get involved. Want more details? You know what to do 👇
Baam-link: Play Game
---
24. Video Game: Odd Emoji Out
by Baamboozle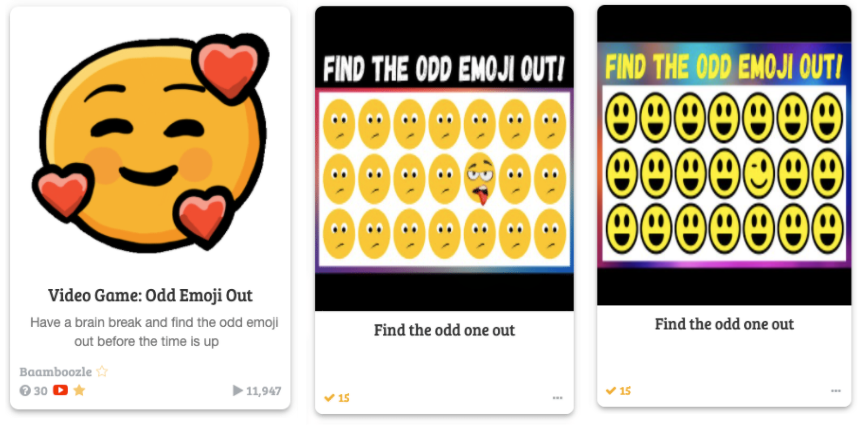 Video game designed to develop observation skills and flex that muscle of attention.
Baam-link: Play Game
---
25. Tell Me Why
by Winnipeg93

Such challenging and emotionally charged topics as divorce, smoking and stress are tackled in this Baam.
Baam-link: Play Game
---
26. Rebus Puzzles
by bkahler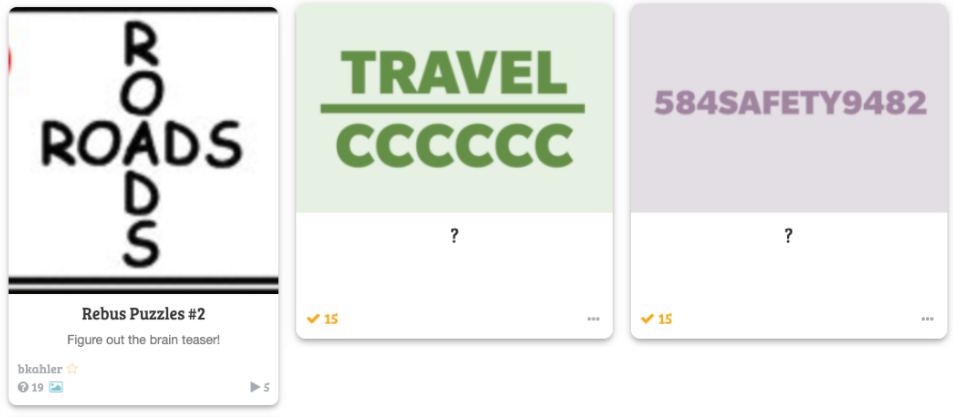 A Baam chock full of visual word riddles that has to be played to be understood. Great for vocabulary-building and discussions of 'out of the box' thinking.
Baam-link: Play Game
---
27. Can I Buy it?
by Helen Arce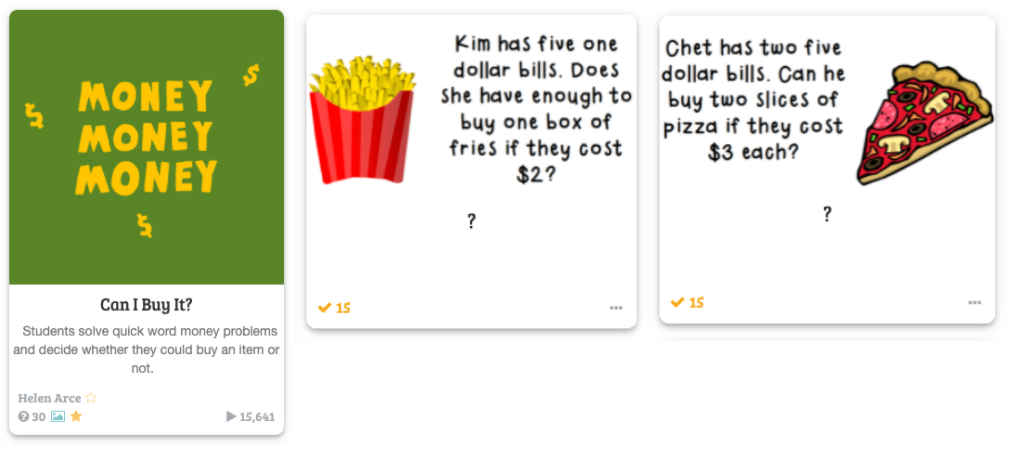 Short and snappy Maths word problems to get money on their mind. Can be used as a plenary or closer as well as a starter activity.
Baam-link: Play Game
---
28. Mission Impossible
by Winnie
Pose 'impossible' questions in order to stimulate discussions which are, in my experience, both surprising and revealing in equal measure.
Baam-link: Play Game
---
29. Talk for a Minute About...
by daniluk.s

'Talk for a Minute About' asks participants to talk for a minute on any given topic using expression and avoiding repetition or hesitation. Here's an cheeky entry-level version to get those synapses firing!
Baam-link: Play Game
---
30. What Would You Say?
by BS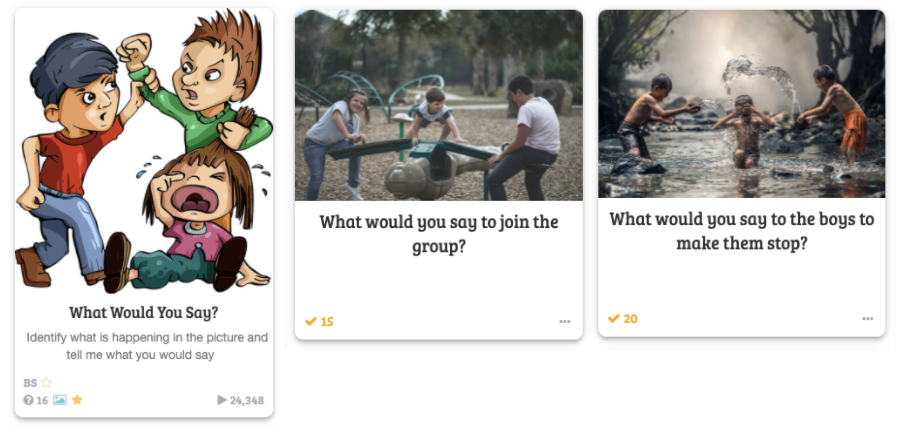 Comedy videos with interesting (and slightly 'leftfield') scenarios. While undeniably entertaining, teachers can reframe them as stimuli for lessons on consideration and social etiquette.
Baam-link: Play Game
---
31. The Pandemic
by Monalisa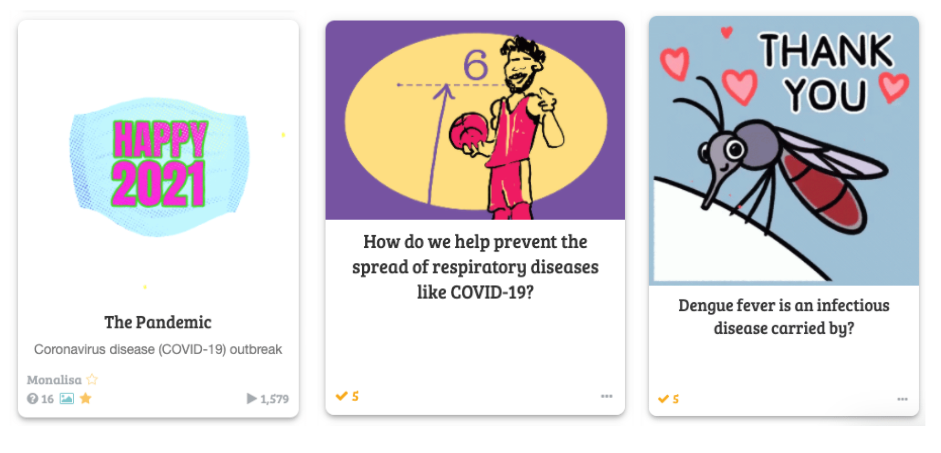 In these uncertain times, this quick and easy to understand guide to the pandemic is great for dispelling anxiety and getting students talking about what for some is a challenging topic.
Baam-link: Play Game
---
32. Mindful Week Review
by Jack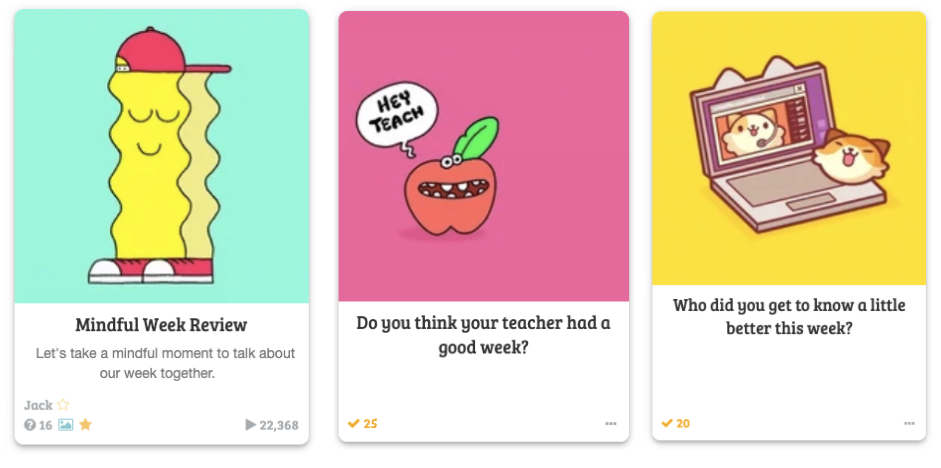 It's always good practice to take stock of one's mental health at the end of the week. This review Baam gives kids a golden opportunity to engage in self-reflection and confront situations head-on.
Baam-link: Play Game
---
33. Just Say Yes!
by Yurena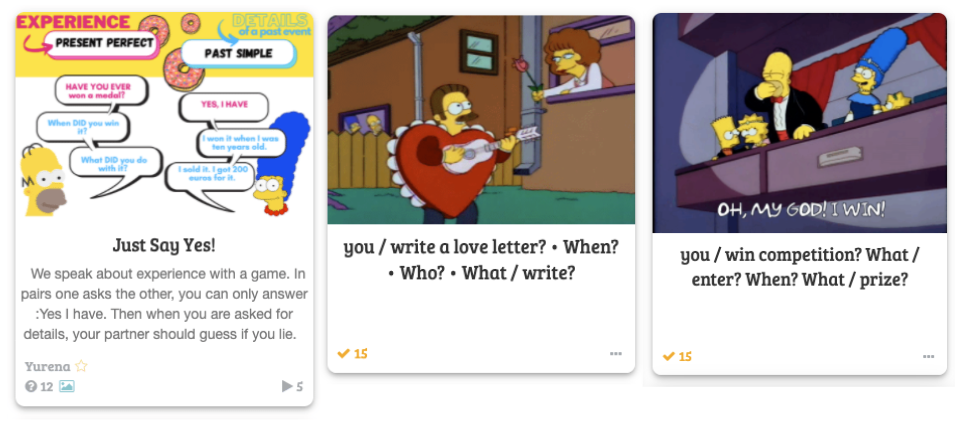 Improvisation games demand confidence from the participants. Here's an excellent improv game that I recommend trying out if you think your class can handle it. Saying 'no' is forbidden :)
Baam-link: Play Game
---
34. I Think I Can! I Can!
by Tilly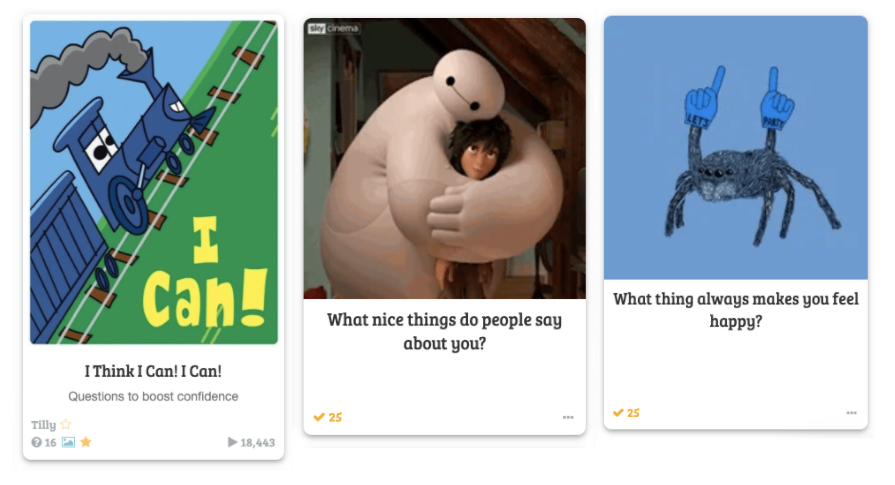 During these times we all need a pick-me-up to shift our focus onto the really good things we have in our lives. Enter 'I can!', where Positivity is the name of the game for your students, encouraging gratitude and positive self-reflection. We approve this message!
Baam-link: Play Game
---
35. What is Happening?
by willpetley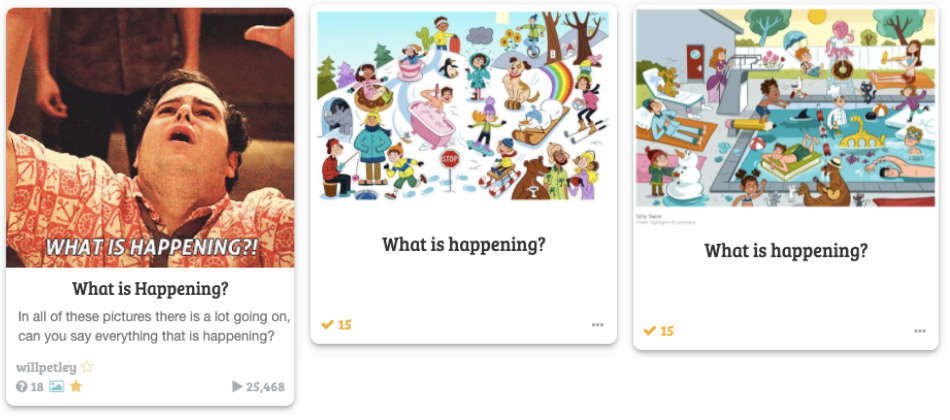 Reminiscent of 'Where's Waldo?' and 'Hidden Folks', this searching game will magnetize your kids' attention and keep them hooked with its appealing imagery, cute characters and the delicious chaos of the scenery. Adding a strategic competitive element is guaranteed to send your class into overdrive!
Baam-link: Play Game
---
Final Thoughts
These innovative ice-breaker activities are ripe for use today, folks. We really hope you find them as useful and playable as our kids have.
And the coolest thing? Our incredible community of Baamboozle teacher-creators is continually creating fresh, new games and activities for you to play and explore on our unique plug 'n' play platform.
The selection we've whipped up for you today is a mere smattering of what's on offer. And… holy mackerel! - I haven't even mentioned the awesome 'world-building' tools that are made available to you when you upgrade to Baamboozle+,...
Fact is, Baamboozle+, has been slashing teachers' planning time for years, as well as taking the sting out of home-learning for parents. Now we're back and more powerful than ever; even if you consider yourself an absolute noob when it comes to technology in the classroom (or anywhere else,) we've bypassed all the technical bits by delivering over 1 million+ easy-to-play games to your kids' fingertips.
Some wily teachers have even been using the awesome power of Baamboozle+ to challenge their high-achieving children to create games independently for their classes.
After all, Team Baamboozle's whole raison d'etre is to throw up new and surprising bridges between kids, teachers and parents, and to ensure intelligent EdTech takes pole position in your classroom, without upstaging the learning process. Get after it!
If you're looking for more amazing collections of educational games, wander over to our blog posts for Christmas, Halloween, April Fool's Day, and St. Patrick's Day. Also, check out our comparison blog post about the best Kahoot alternatives.