Top 10 Low-Prep End of Year Activities
When the end of the school year rolls around, you're tired, your students are tired, and your ideas are tired.
For all those reasons and more, you're probably on the hunt for some low-prep, low-planning, low-maintenance games. So lucky for you, your reliable buddies at Baamboozle have brought you exactly that.
Stuffed into this quick list, we have 10 varied games for some speedy end-of-year fun. Expect pop culture, kooky creativity, useful recaps, and some sneaky under-the-radar education.
Switch off your brain, put the planning to one side, and relax for once in your life. Today, Baamboozle have done the hard work for you!
---
Award Show Superlatives
By Winnie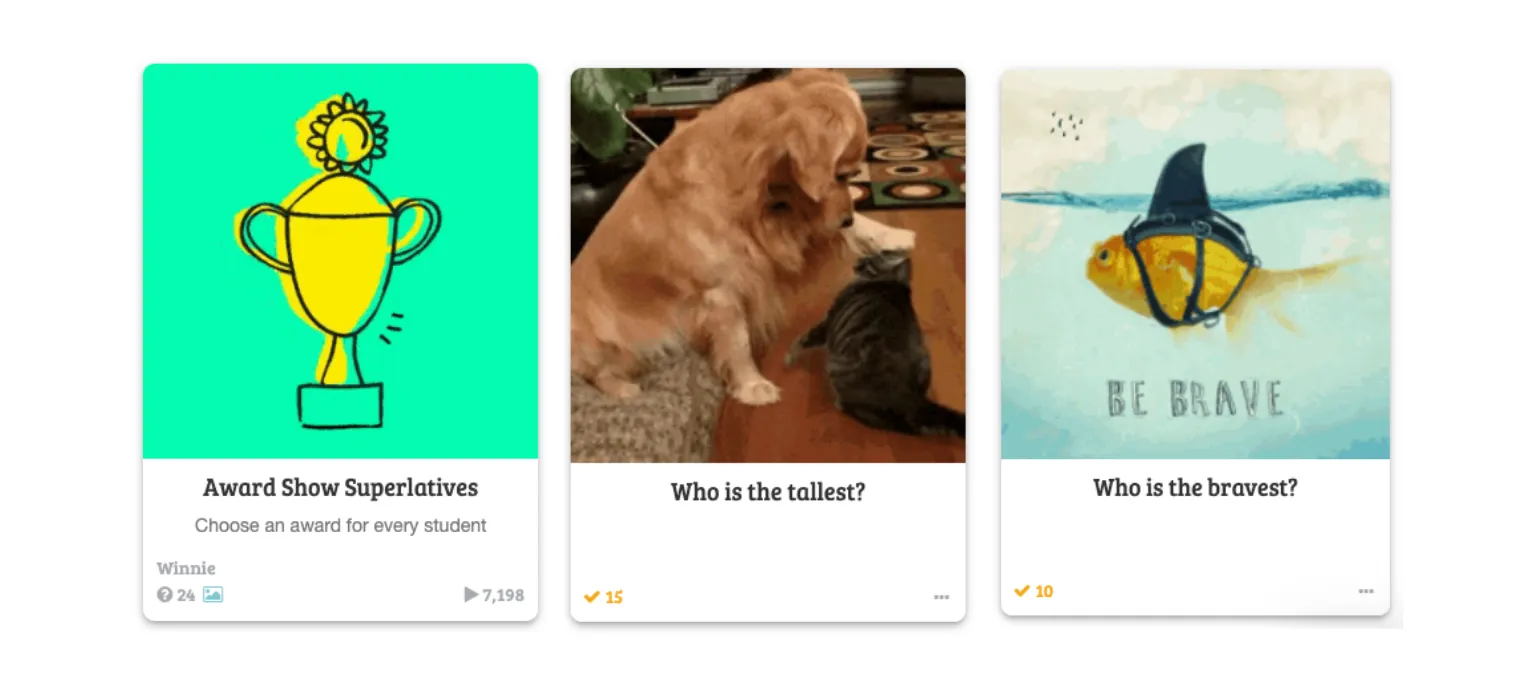 In this compliment-crammed activity, your students nominate one another for various awards, both serious and silly. Who's the best artist? Who's the funniest? And who's the nicest?
A lovely little way to wave goodbye to your students, there's nothing better than some maudlin nostalgia to wrap up a successful year.
Helps with: Acknowledging success, laughing with students, and getting all sentimental
Best for: Grades 2 to 6
Baam-Link: Play now!
---
End of the Year
By School SW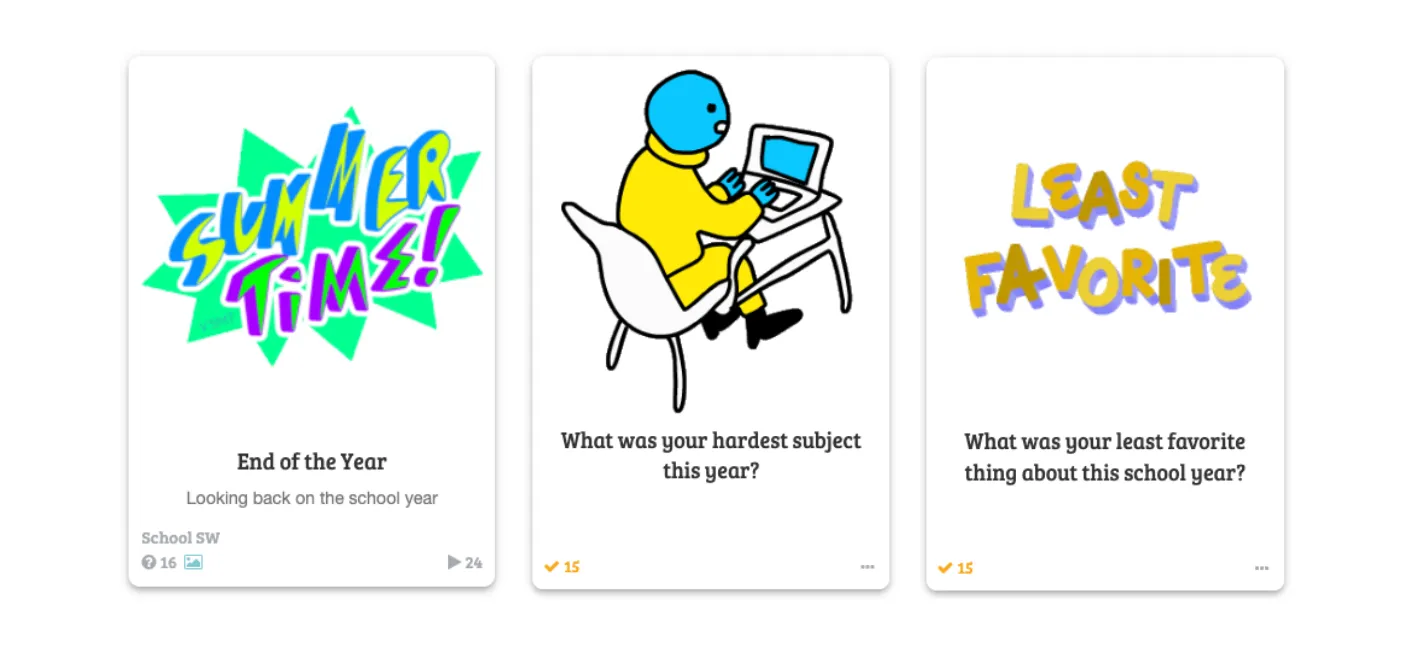 In another dose of heady nostalgia, this game asks you and your students to reflect on the year gone by.
What was the best bit? What was the most surprising bit? Did you make any new friends? And do you have something in your eye?
Helps with: Remembering and recalling, reflecting on the past year, and an attitude of gratitude
Best for: Grades 4 to 8
Baam-Link: Play now!
---
Find Something That…
By JC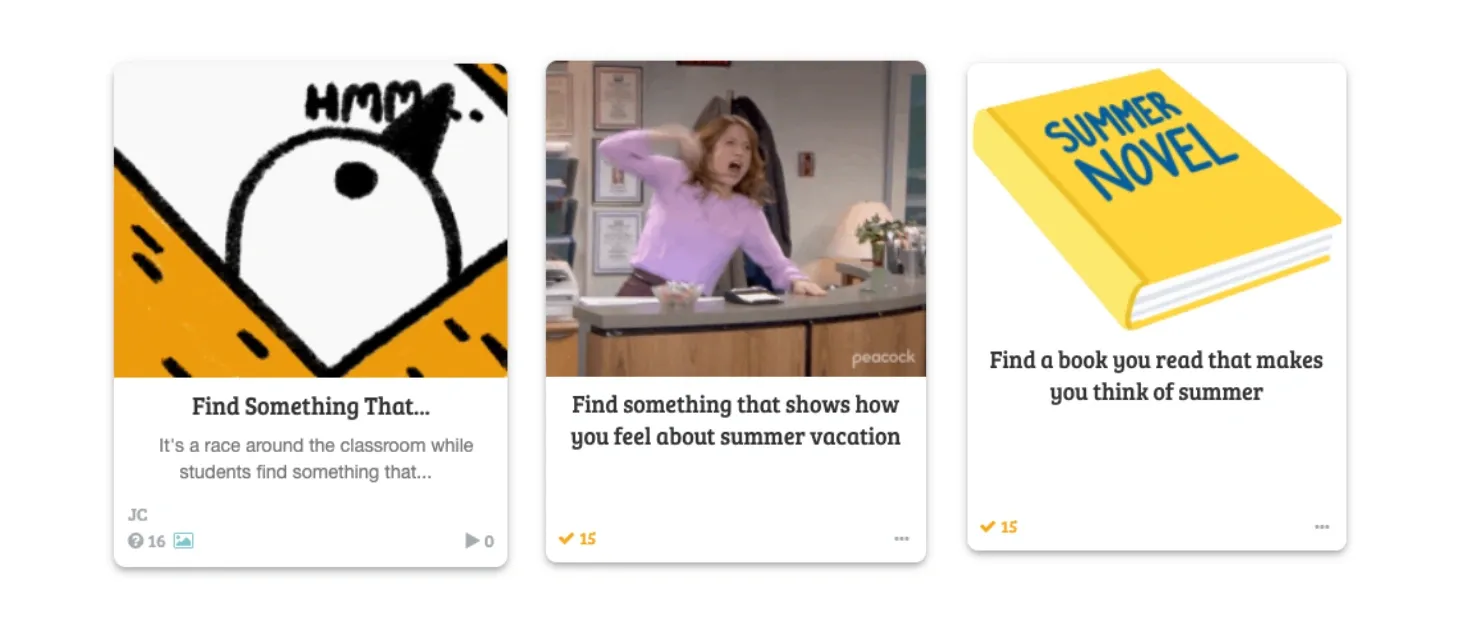 This rapid-fire scavenger hunt asks students to swiftly search for items representing summer, friendship, memories, and the events of the year gone by.
Great for injecting some much-needed energy into an end-of-year class, this one will have your students rampaging around the classroom in a crazy hunt for both the bizarre and the banal.
Helps with: Getting active and energetic, and some quick competition
Best for: Grades 6 to 8
Baam-Link: Play now!
---
First Grade Game
By pholm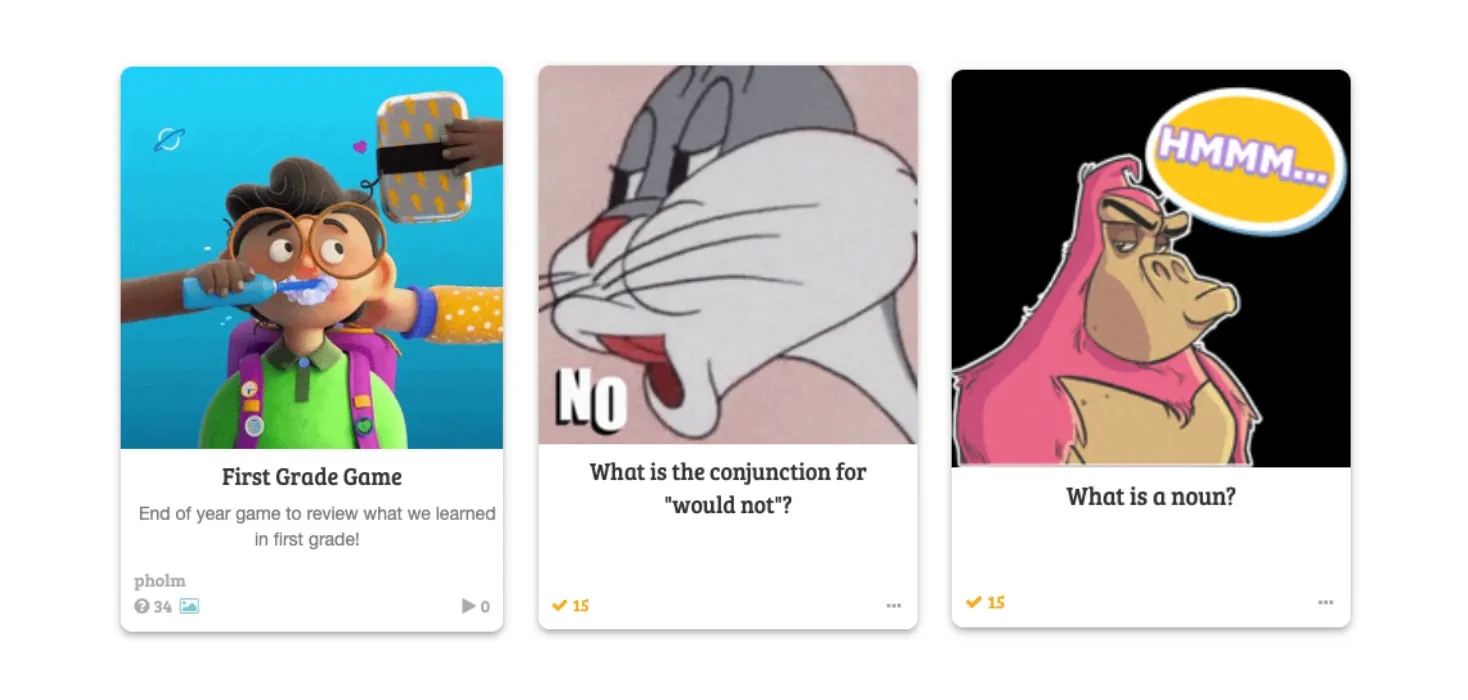 Custom-made for first-graders, this game asks students to recall some of the simple and fundamental things they've learned in the previous year.
What's a noun? What's an adjective? And what's 12+7?
This game is great for recapping… but it's also great for demonstrating just how much your students have learned.
Helps with: Quick-fire quizzing and recalling important basics
Best for: First graders
Baam-Link: Play now!
---
Most Likely To
By Tilly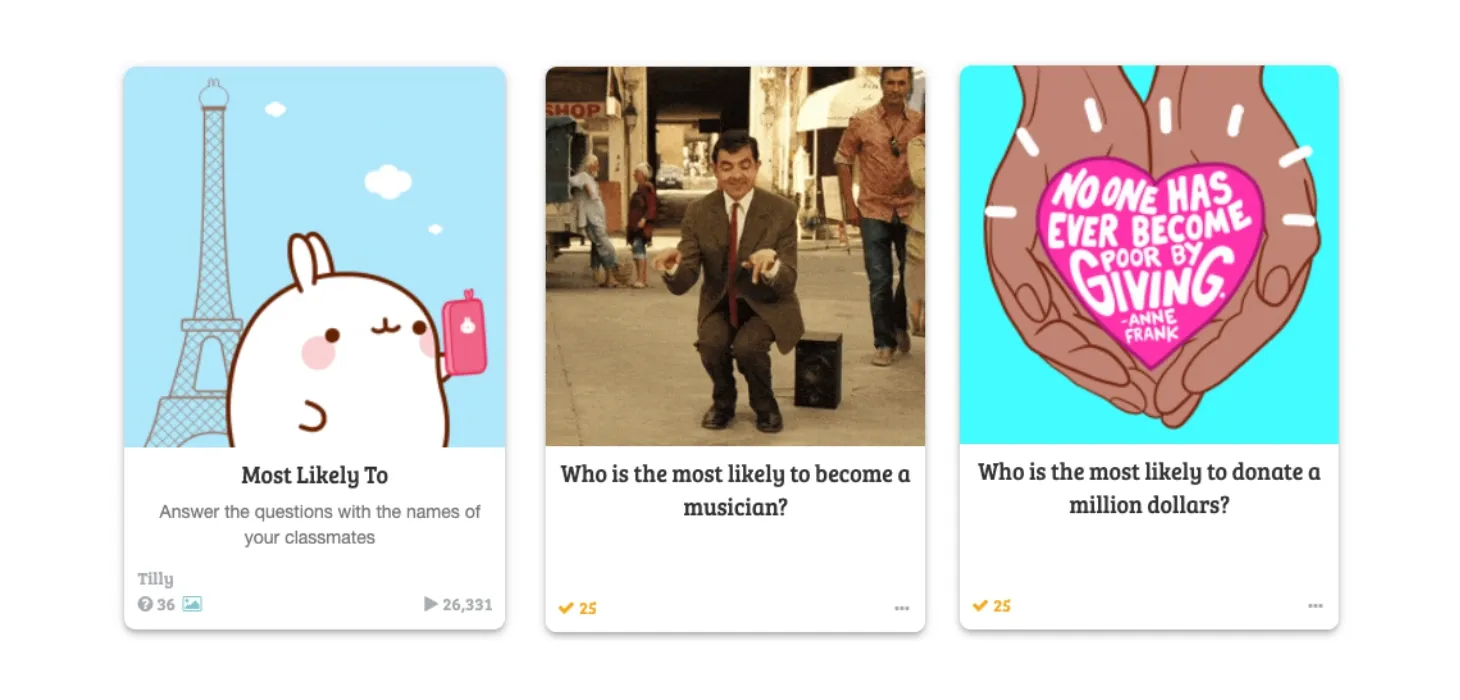 Another nomination sensation, this absurd activity asks your students to recommend one another for a whole host of awards.
But this time, it's a little more leftfield and unusual: who is most likely to become a billionaire? Who's most likely to get lost on the way to the bathroom? And who's most likely to marry themselves?
Helps with: Absurd accusations, poking fun, and sharing some laughs
Best for: Grades 5 to 9
Baam-Link: Play now!
---
Pop Culture Recap
By Ally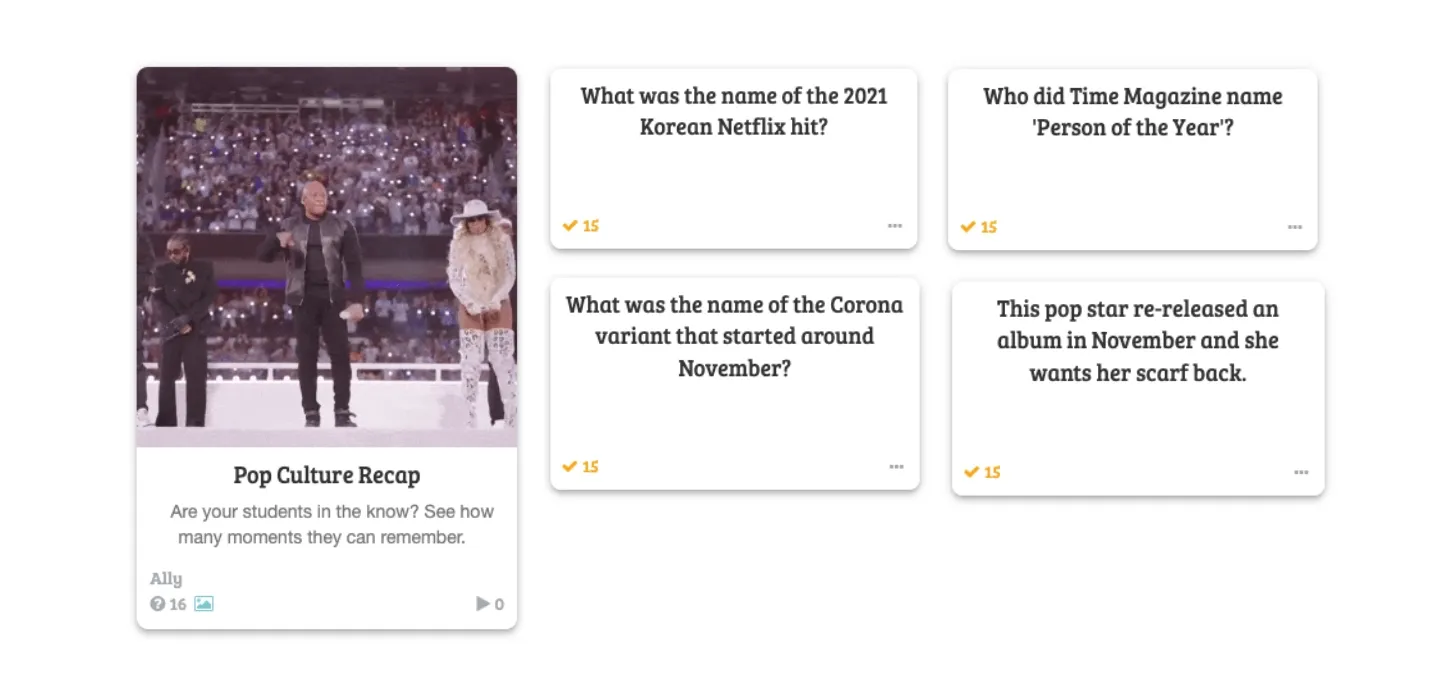 A welcome break from what you've been learning in class, this pop culture quiz asks students to recall and remember some of the most significant and newsworthy events of the year.
Expect references to music, Covid, social media, and that infamous Will Smith slap.
Helps with: Remembering some important out-of-school events
Best for: Grades 8 to 11
Baam-Link: Play now!
---
Give 2 for the Last Day of School
By MrLee123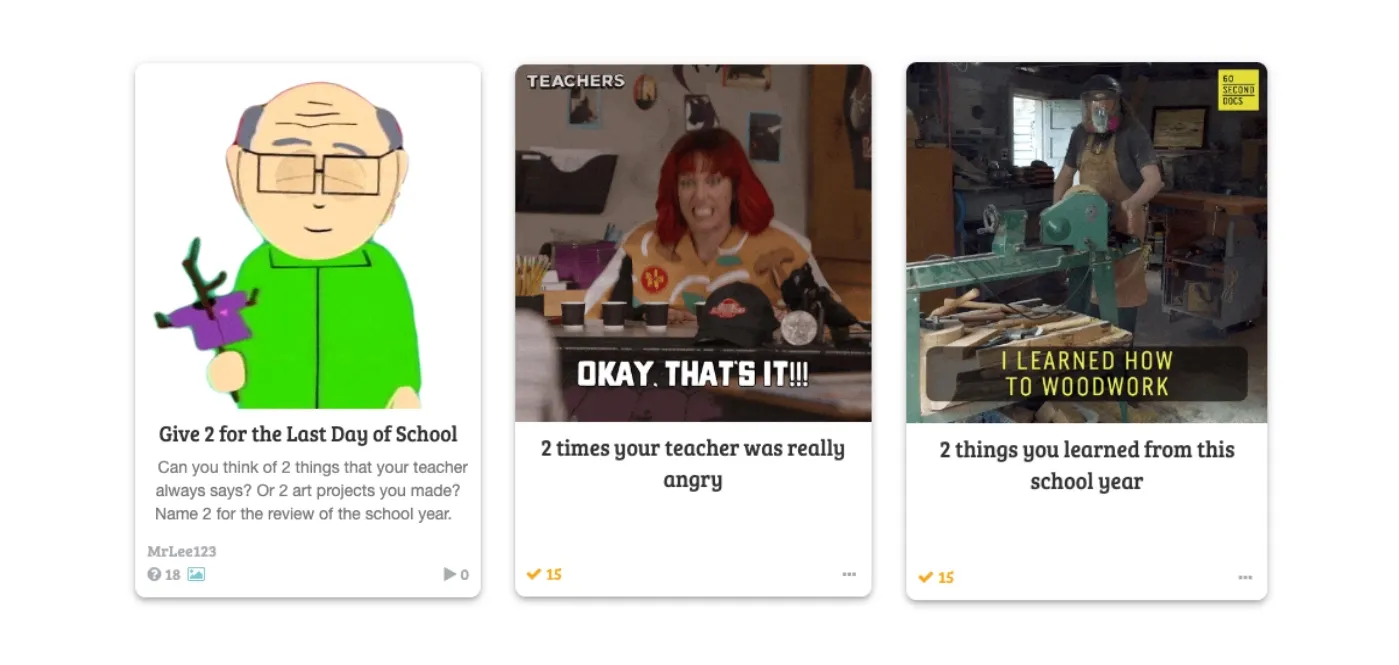 In this twin-themed test, students need to give 2 answers to every question.
Can your little learners name 2 things they love about school lunches? 2 things they're nervous about for next year? Or 2 things their teacher (that's you!) always says?
Helps with: Quick thinking, looking both forwards and backwards, and pairs of platitudes
Best for: Grades 4 to 7
Baam-Link: Play now!
---
School Days A-Z
By EwwDavid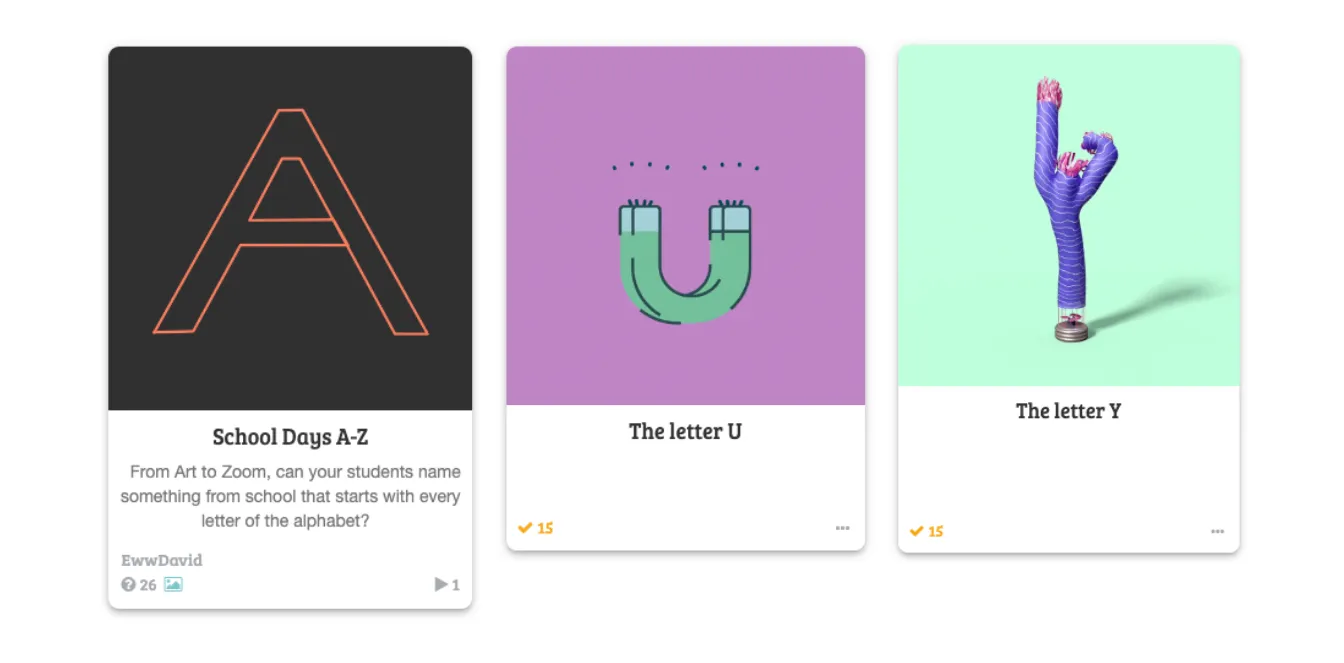 Perfect for end-of-year English classes, this game runs the entire gamut of the alphabet—can your students name school-related objects and items that begin with all the letters from A-Z?
Helps with: English classes, reinforcing vocabulary, and a fun-but-educational activity
Best for: Grades 2 to 5
Baam-Link: Play now!
---
Would You Rather - School's Out Edition
By PizzaLife

The old classic, but with a major twist.
Every one of these 'would you rather' conundrums are based upon school-centric life, events and predicaments. Some questions are superficial, while others are pretty deep… but they'll all precede some heated debate.

Helps with: Lots of debate, lots of conversation, and some surprisingly tricky dilemmas
Best for: Grades 4 to 8
Baam-Link: Play now!
---
Three Hints, One Word
By Josie_n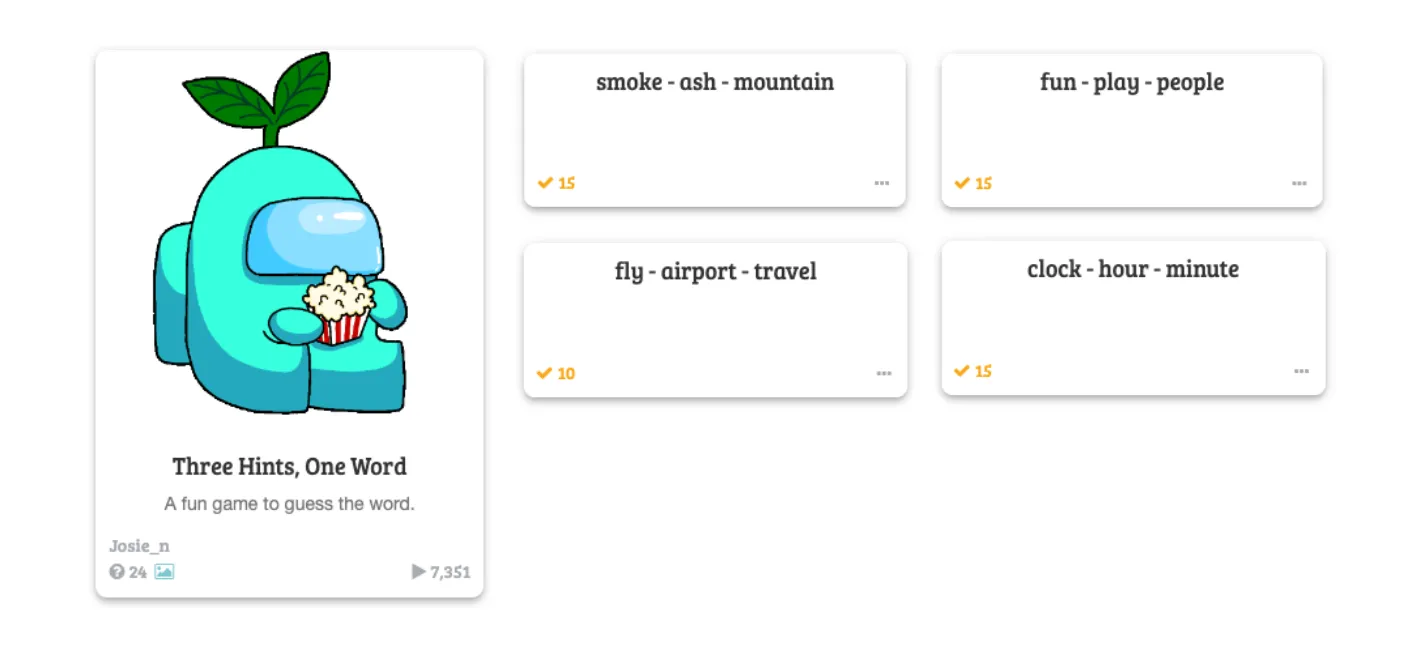 To round off our list, we've brought you something a little different.
This great game isn't about sentiment, nostalgia or the previous year, but it's a quick burst of fun—and it's perfect if you're on the hunt for an exciting-but-educational activity.
In this tricky task, students are given three separate words… and they need to work out the item or concept those three separate words are referring to. Alright, 'bed, night, tired' might be a pretty easy conundrum. But 'human, number, area' is a little more tricky.
Helps with: Lateral thinking, analyzing words, and some end-of-year education
Best for: Grades 5 to 8
Baam-Link: Play now!
---
Baamboozle's Top 10 Low-Prep End of Year Activities: Final Thoughts
And just like you'll be doing soon, we've reached that point where we need to wave you off with a teary goodbye.
But before you go, there's one last thing:
If you're looking for more useful collections of themed games, we have fun-filled selections of activities for Halloween, Christmas, Valentine's Day, and classes on animals and Easter.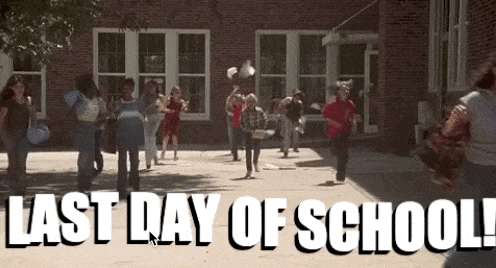 And for even more educational adventure, check out Baamboozle+, our premium platform stuffed with so many more ways to play. It's one of the world's most popular Kahoot alternatives, and teachers from around the planet are signing up every day.
Thanks for reading, enjoy your well-deserved end-of-year rest, and we'll see you around!