Top 10 Games for Thanksgiving
Grab your plate!—today, your fun-loving friends at Baamboozle are serving up a collection of yams, hams, and lesson plans!
For this belly-busting guide, we've yet again scoured our varied bank of over 1 million user-crafted activities… and we've brought you our 10 best Thanksgiving games.
Expect culinary conversations, tricky riddles, physical activity, and plenty more. And best of all, expect to do very little planning.
Think your grandma stuffs a turkey with unbridled enthusiasm? Just wait until you see how much in-class excitement we've stuffed into this list.
Nab a napkin, come collect your cutlery, and settle in for a hefty serving of fun!
---
Thanksgiving Scavenger Hunt
By johanah1201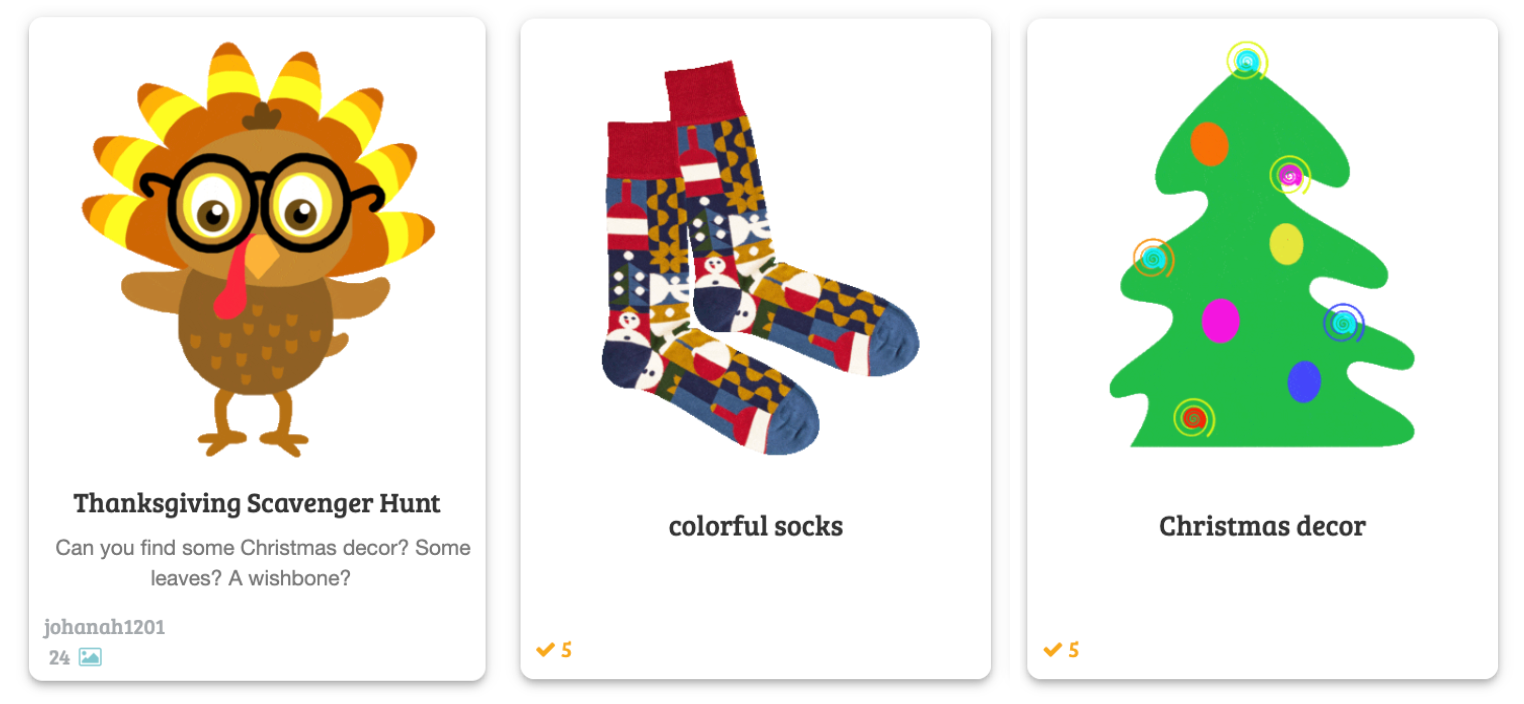 One of Baamboozle's many scavenger hunt games, this thanks-themed find-fest tasks your students with zipping around the classroom (and even further afield!) to seek out books, leaves, noisy stuff, and things that make them smile.
Helps with: Getting learners moving, encouraging students to think quickly, and finding some interesting ways to talk about feelings and emotions
Best for: Grades 1 to 4
Baam-Link: Play now!
---
Simon Says Thanksgiving
By teacher Clara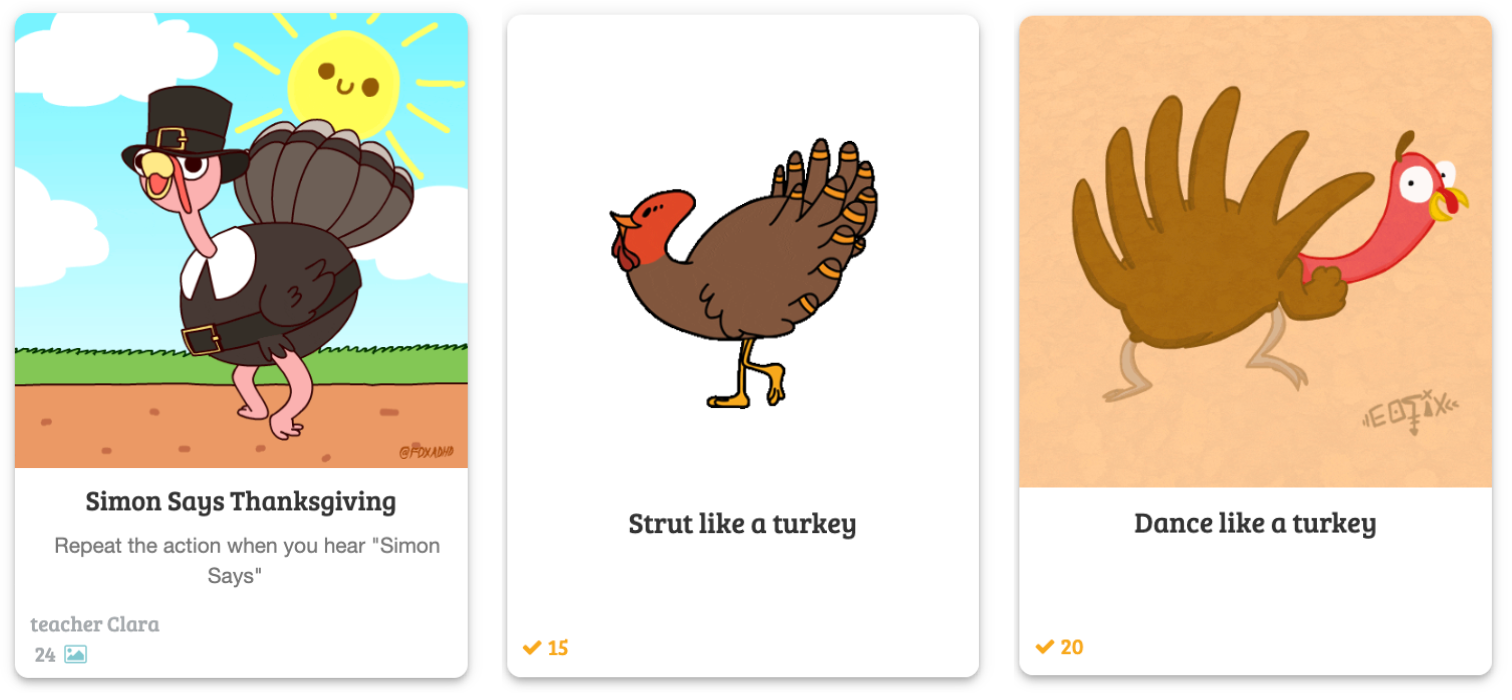 In this twist-on-an-old-classic game, silly old Simon shouts out a variety of bird-based actions.
Can your students hop like a turkey? Sleep like a turkey? Spin like a turkey? And more importantly, can they do it only when instructed by Simon?
Helps with: Lots of physical action, getting all silly, and warming up (or warming down!)
Best for: Kindergarten to grade 2
Baam-Link: Play now!
---
Thanksgiving 5 Second Rule
By seline123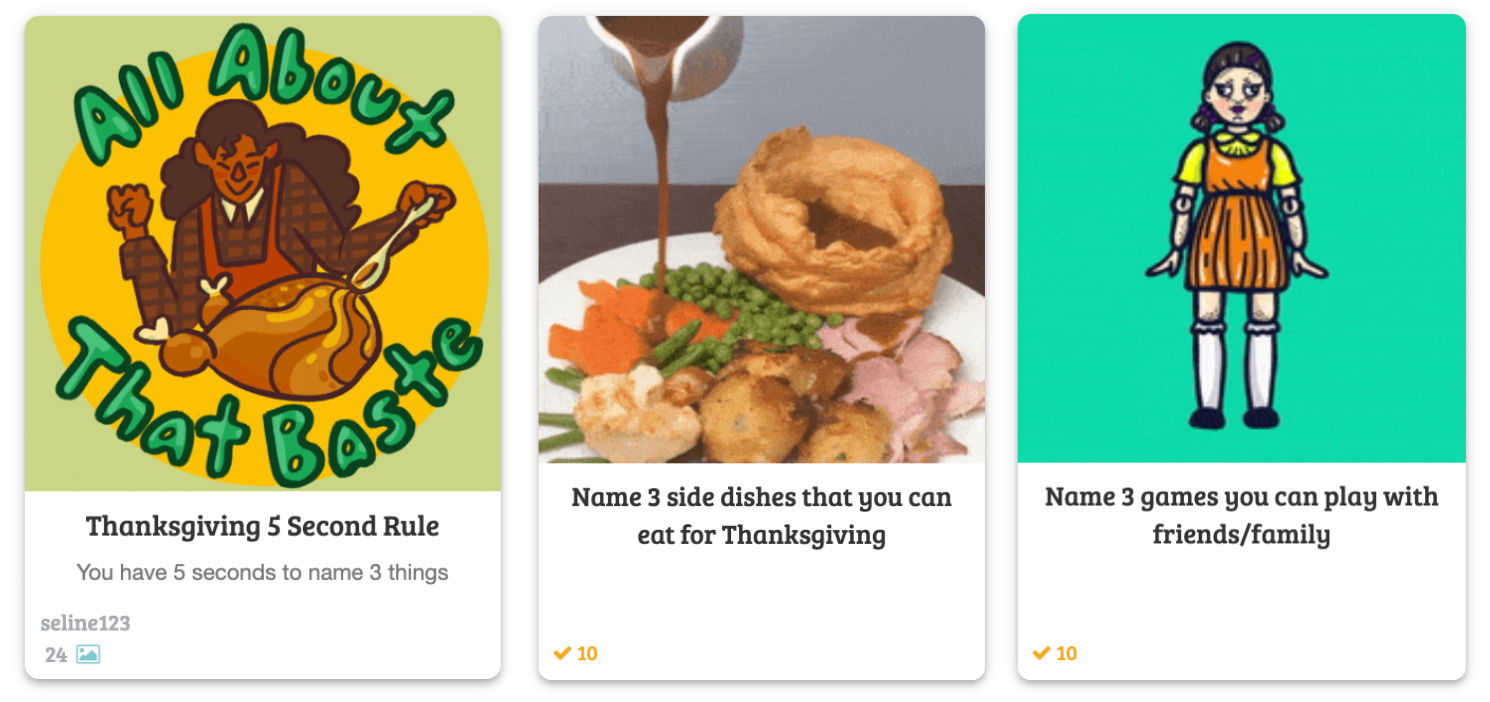 No, we're not asking you and your students to chow down on filthy little morsels of floor-found food.
Instead, we're giving you five (and only five!) seconds to name various types of Thanksgiving-related (… and sometimes Thanksgiving-unrelated…) things.
Can your little learners name 3 Thanksgiving side dishes? 3 things they might want to do on the big day? And 3 ways to start an awkward conversation?
Helps with: Swiftly getting started with a Thanksgiving class, giggling at some goofy gifs, and having some unusual conversations
Best for: Grades 5 to 8
Baam-Link: Play now!
---
Thanksgiving Conversations
By jojorox

This thought-provoking roleplay game encourages students to discuss Thanksgiving-related topics—and the wide-ranging themes include food, family, football, and favorite things.
Right now, you might have a shy bunch of students. Five minutes after this one starts, you absolutely won't.
Helps with: Speaking and listening, communicating effectively and openly, and injecting some life into an otherwise-quiet classroom
Best for: Grades 2 to 5
Baam-Link: Play now!
---
Thanksgiving Bingo
By rmday2791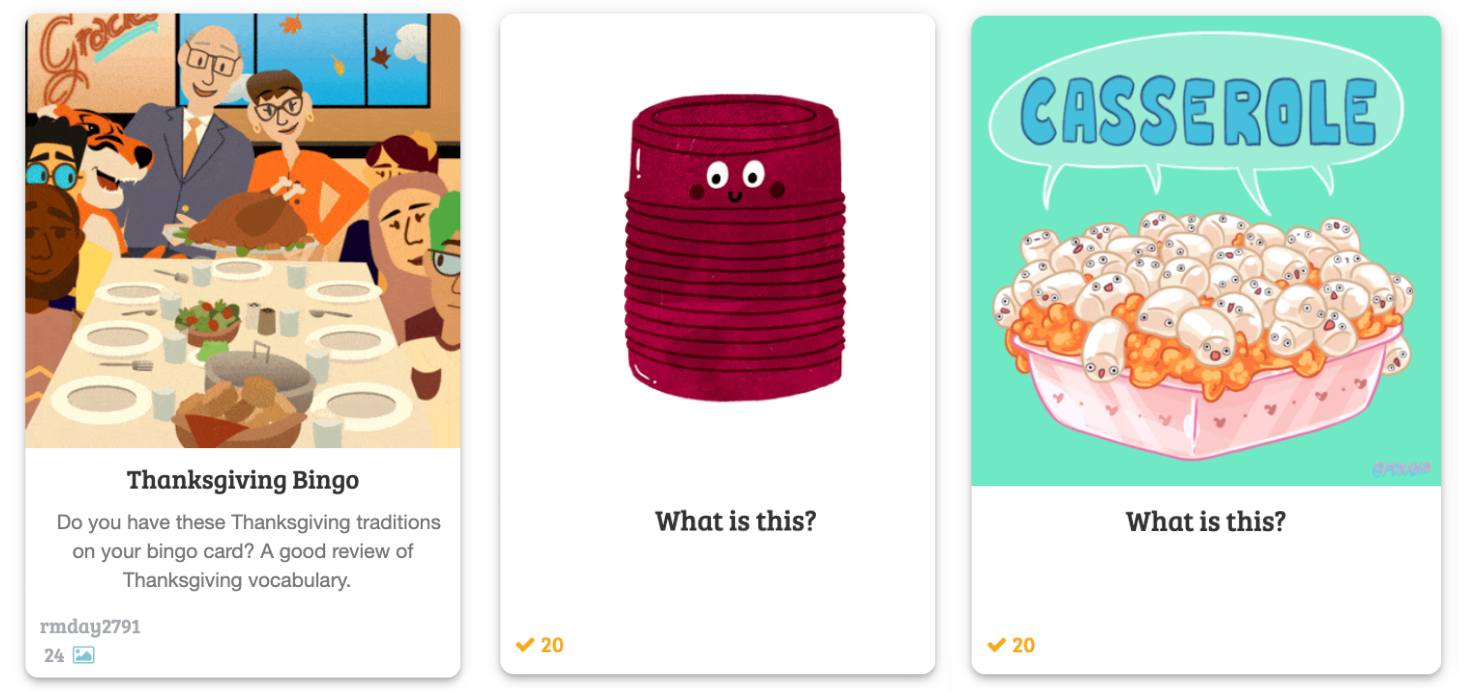 The old classic… but much more fun, much more interesting, and much more topical.
Instead of numbers, each Bingo tile in this version of the retro favorite is covered with a Thanksgiving-related image.
Gifs and pictures include corn, cats, pioneers, pilgrims, and… is that a spooky face inexplicably lurking beneath a creamy pile of mashed potatoes?
Helps with: A quick burst of raucous entertainment, and introducing the Thanksgiving theme
Best for: Grades 1 to 4

Baam-Link: Play now!
---
Thanksgiving Riddles
By w.ibarra

The creative rhyme-based riddles in this game all end with a missing word (or two!).
Can your linguistic learners use the clues, the rhymes, and the images to successfully finish each one?
Helps with: Lateral thinking, English lessons, introducing classes on rhymes or adjectives, and tackling some surprisingly tough word-based challenges
Best for: Grades 6 to 8
Baam-Link: Play now!
---
Thanksgiving Word Scramble
By Sam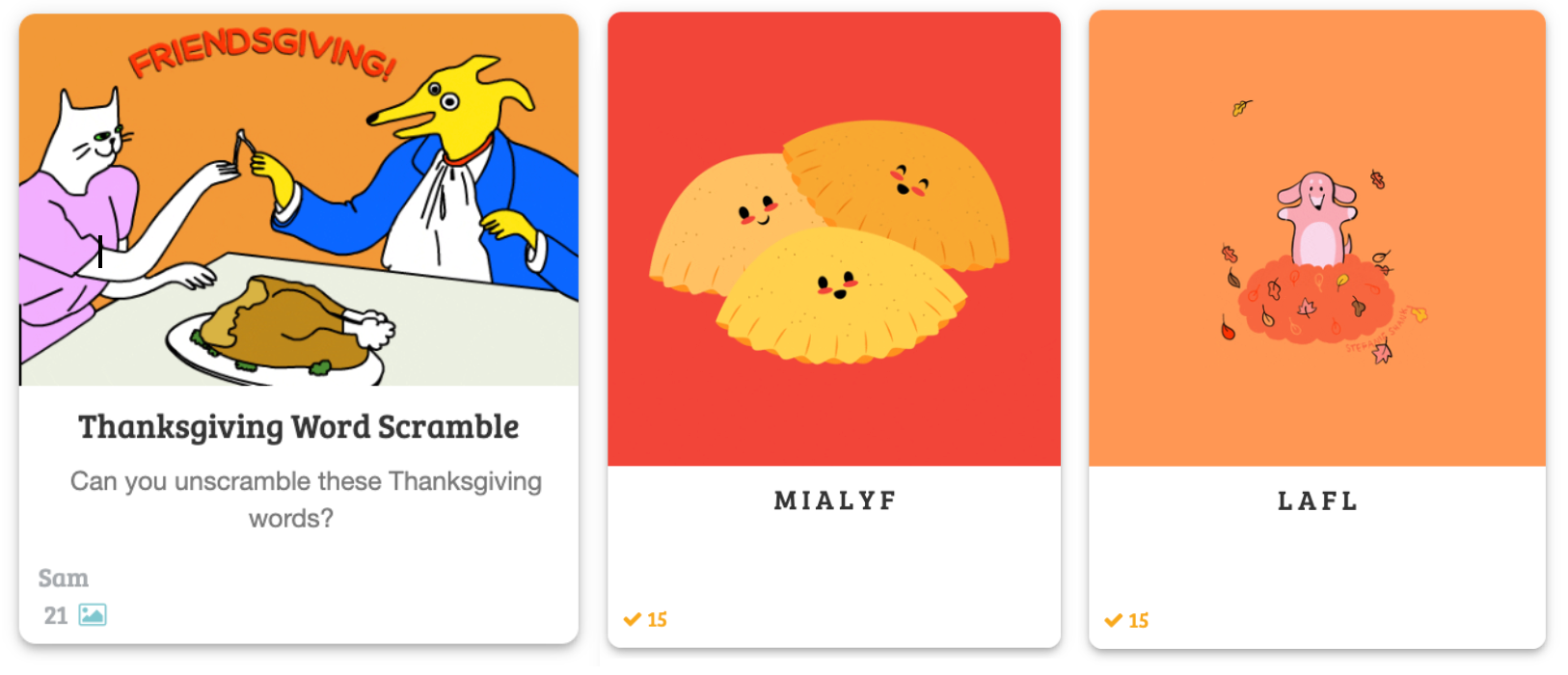 This anagrammatic adventure takes a bunch of jumbled-up phrases, and tasks your students with successfully unscrambling each one.
What's an 'agevoy'? Who are 'imglrpis'? And why are there so many confusing letters in 'eewst ottaop'?
For many more word-wrangling challenges, check out our quick list of Baamboozle's top 10 favorite spelling bees.
Helps with: Analytical thinking, introducing language-based lessons on the theme of the day, and encouraging quick responses
Best for: Grades 3 to 6
Baam-Link: Play now!
---
Turkey Day Trivia
By Flanaganandagain

This quizzy conundrum offers a broad bunch of brain-teasers… featuring topical dilemmas on math, history, animals, geography, TV, and more.
Included, you'll find a surprising boat-load of varied and challenging trivia—so don't be too shocked when even you don't know some of the answers.
Helps with: Drumming up some healthy competition, splitting classes into teams, and covering a wide range of Thanksgiving themes
Best for: Grades 5 to 7
Baam-Link: Play now!
---
Would You Rather - Thanksgiving Edition
By juliaadams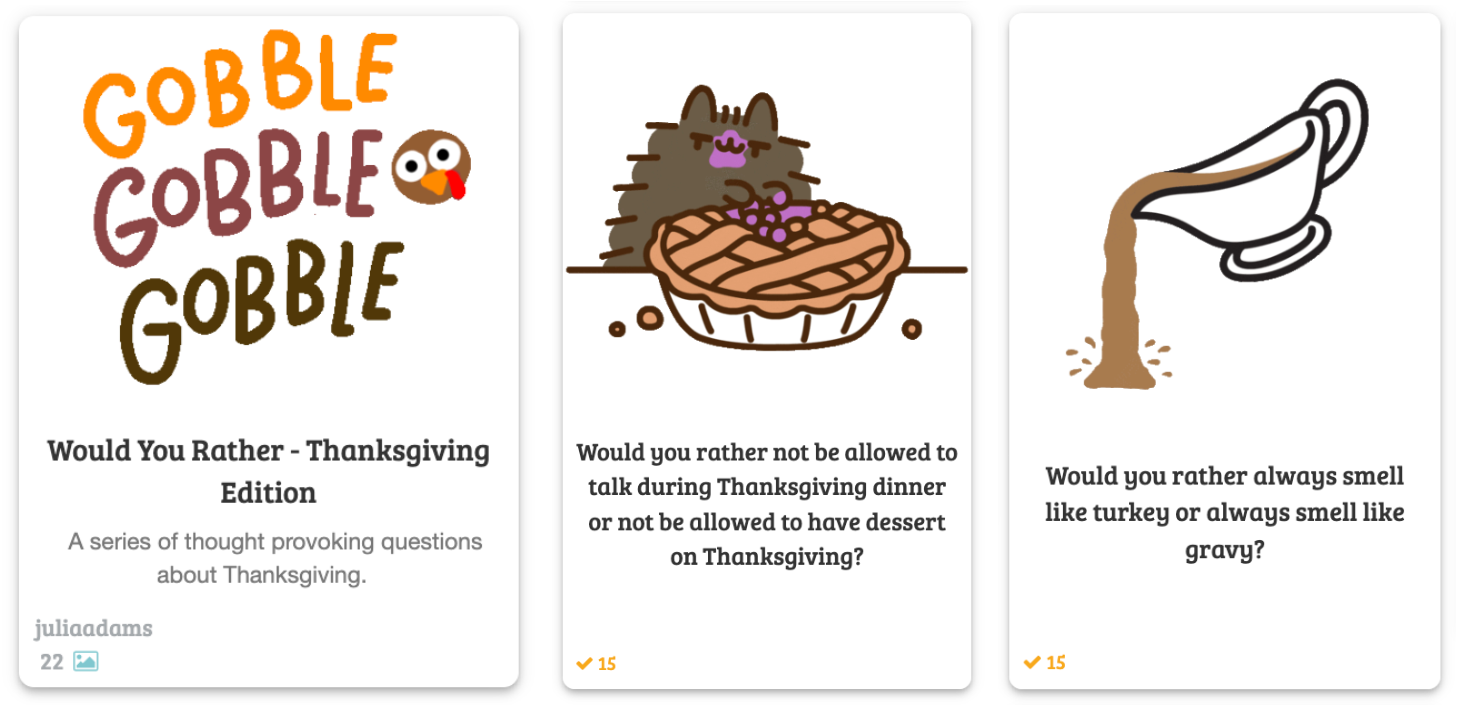 Would you rather smell like turkey, or smell like gravy?
Would you rather cook up the Thanksgiving meal, or clean up the dishes?
And would you rather be delivering another boring class—or using Baamboozle to make your educational experiences so much more engaging and entertaining?
Helps with: Stirring up some topical debate, getting conversation flowing, and encouraging students to chat
Best for: Grades 3 to 6
Baam-Link: Play now!
---
Black Friday Trivia
By Teacher Jesus Agreda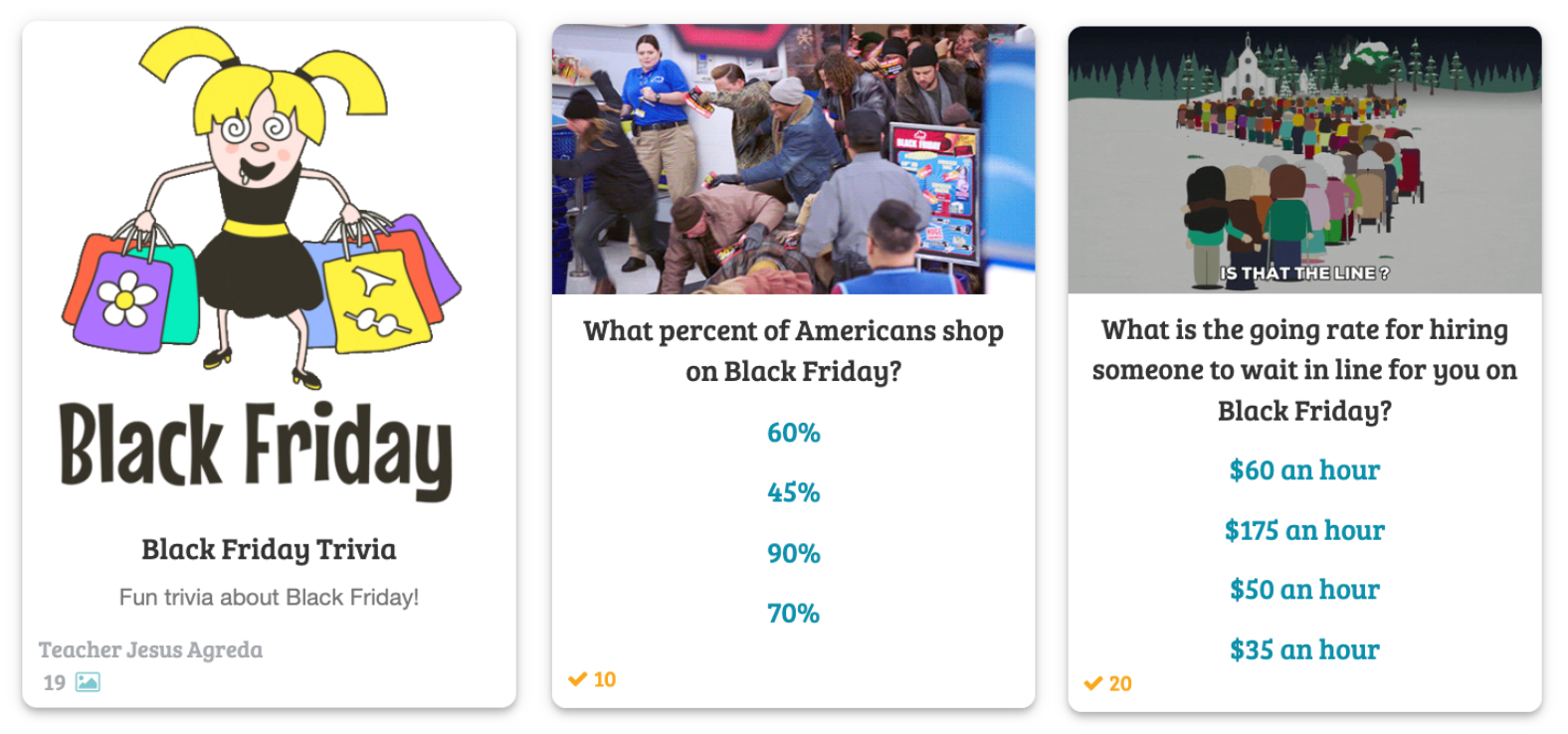 Finally, some quizzical questions on everyone's favorite ominously-titled mega-sale.
What do we call the Monday after Black Friday? What percentage of Americans go shopping on the big day? And why exactly do we call it 'black'?
Helps with: Rapid-fire questioning, introducing classes on math and social science, and looking at Thanksgiving a slightly different way
Best for: Grades 7 to 10
Baam-Link: Play now!
---
Baamboozle's Top 10 Games for Thanksgiving: Final Thoughts
Done! Quick as that, we've frantically feasted our way through these top 10 Thanksgiving games.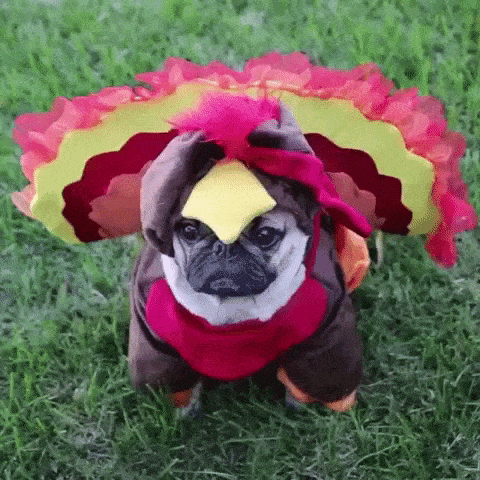 For more themed lists (all taken from our massive collection of over a million games!), check out our compilations of Halloween horror, Easter excitement, food-based fun, and animal adventures.
And for many more ways to make your prepping and planning much shorter (and much easier), check out Baamboozle+.
As a teacher, you sometimes (understandably!) run short of ideas. But with Baamboozle+, you never will. A super-affordable subscription gives you endless extra ways to play, and some other class-changing pros and perks.
So if you really want to give us some thanks (get it?), you can sign up with a quick click today.
Thanks for reading, thanks for choosing Baamboozle, and thanks for being such an educational innovator. See you next time!